As The Utah Review noted as part of its Sundance coverage in 2018, "there is a beautiful curation of artistry in every element of 306 Hollywood, a gem of a documentary directed by Elan Bogarín and Jonathan Bogarín."
This award-winning documentary, which premiered at Sundance and was a Utah Film Center fiscal sponsorship, will be presented in a free, public live stream screening April 7 at 7 p.m. Joining the event for a virtual talkback after the screening will be co-director Elan Bogarín. Viewers will be able to chat during the film in an accompanying chatroom and ask questions during the post-film conversations via messages. Information about the live link will be posted at the Utah Film Center website.
A solid, witty, heartwarming audience pleaser, this film played to sold-out screenings as part of Sundance's NEXT program in 2018. The following comes from The Utah Review published at the time: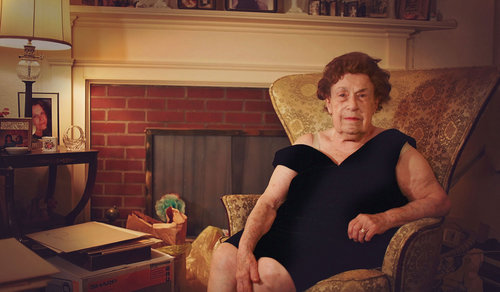 While it is a genuine bountiful tribute to the directors' beloved late grandmother, 306 Hollywood, which represented the street address of her New Jersey home, the documentary also is a genius example of rendering a full-scale cultural exhibition honoring an individual's life just as if it would be in a gallery or museum. As one of the interviews in the film indicates, if one were to think that the artifacts of an ordinary person's life were not important enough to preserve or archive, all we would be left with would be just the legacies and collections of the wealthiest and most elite individuals of the world.
As excerpts from an extensive collection of home video interviews the directors did with their grandmother during the last ten years of her life, Annette Ontell was a spirited, loving matriarch, a talented seamstress who loved fashion designs and a person who, frankly, knew how to enjoy life.
Ontell died in June 2011 at the age of 93 and her surviving family members transformed their grief into a cinematic celebration of her life that has charmed many Sundance audiences this year. Ontell's passing, indeed, left an emotional void. In one scene Ontell's daughter Marilyn, mother of the directors, breaks down in tears, as she expresses the guilt she felt for not being by her side at a Newark, New Jersey hospital when she died just before midnight. The family, which lived in New York City, had just seen her that afternoon, just hours before her death.
The house at 306 Hollywood Avenue was a modest residence. From the outside, one sees evidence of paint peeling, weeds in the yards and other signs of an old house that would need a lot of exterior refurbishing. Ontell had lived there for 71 years.
But, inside the house, there are thousands of items and mementos of the grandmother's long life. She wasn't a hoarder but she was a packrat, as a clip from one of the many home videos indicates. The idea of sorting through her belongings overwhelms Marilyn, who wants to sell the house. The family reconsiders the idea of selling the house and imposes an 11-month deadline upon itself to sift through and conduct what amounts to an archaeological excavation of the grandmother's home. One of the most significant takeaways from the film is that many family members might reconsider discarding the belongings and objects their recently deceased loved ones left. The convenience of quick disposal suddenly does not seem worth the risk of losing what could signify some of the most important memories of a person's life.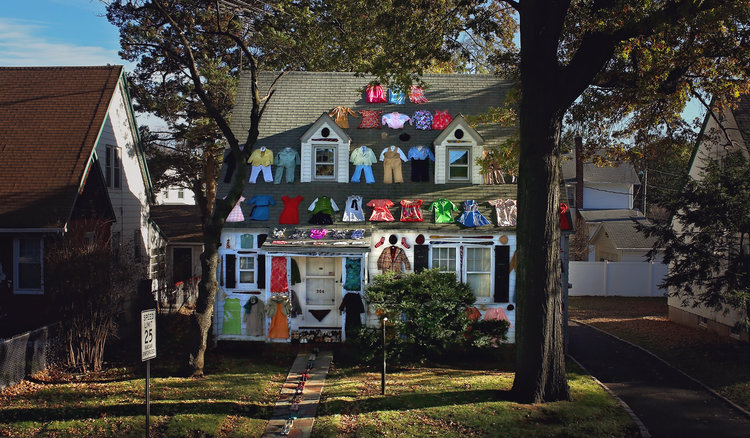 Soon, the family members recover all sorts of wondrous aspects about the grandmother's life and the expedition is contextualized with interviews from a variety of experts, who explain that perhaps we should be much more attuned to how we respect an individual's legacy after he/she passes and the basic idea that, indeed, there is a story worth preserving in anyone's life, regardless of fame, wealth or public persona. When Annette is asked if she has had a good and successful life, she responds without hesitation that it has been. "I have had a good credit line," she offers as one example.
The interviews with experts add nicely to this wonderful rendering of a cultural exhibition. They include MIT physicist Alan Lightman; Temple University archaeologist Jan Gadyne; Rita Fioravanti of Rome who directs the Biblioteca Casanatense; Bob Clark of the Rockefeller Archive Center; Nicole Bloomfield, fashion and textile conservator, and Sherry Anthony, a New York City funeral home director. Their comments accentuate the importance of preserving a person's collection of artifacts from his/her life. In Annette's case, these include dresses and gowns she designed, along with photos, shoes, toothbrushes, old bandage tins stuffed with coins and many other items.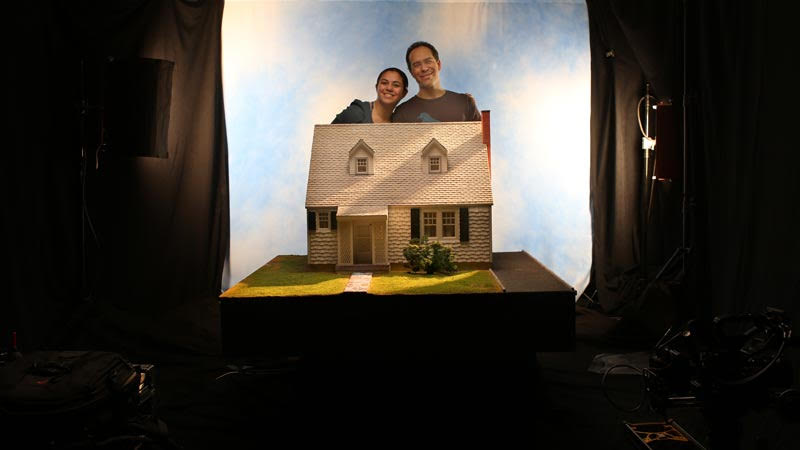 And, along with the excerpts from home videos, the directors bring in actors to recreate some of the scenes, as they lip-sync the audio culled from interactions Annette had with family members, after the family found a cassette recorded in 1972. Think of how museums occasionally recreate scenes that coordinate with the artwork featured in a gallery exhibition. The directors for 306 Hollywood transform and translate this exquisitely to the screen.
In one scene, there is a professionally choreographed dance. The directors brought in a sculptor to build a large old-fashioned telescope. Artists who specialize in calligraphy and hand-drawn lettering create first-class title cards for the film. Composer Troy Herion writes the soundscape and score that adds beautifully to the overall cinematic texture of the documentary. And a trio of crafts workers who specialized in dollhouses and miniatures produce a scale model of the home.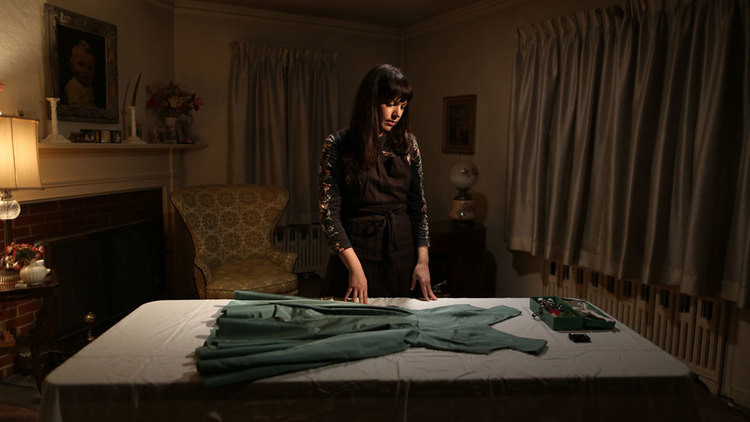 The grandmother's straightforward sincerity and self-effacing humor animate the film, which is paced perfectly. One of the funniest scenes from a home video shows Marilyn trying to help her mother try on one of the dresses she created. The grandmother used to be svelte and admits that she is a lot heavier today. But, true to form, the grandmother strips to her bra and panties in order to put on successfully one of the gowns. No embarrassment evident but it emphasizes just how willing this loving woman was in doing whatever her children and grandchildren asked of her.
Indeed, 306 Hollywood is an original take on documentary arts for how it blends nonfiction and the magic of memories rendered as myth and fiction and the result is a solid success.
The Utah Film Center also has published digitally a guide on maximizing the live stream experience for home enjoyment.