The Utah Film Center continues to expand its live stream programming options, including a free, public event featuring the 2019 documentary Waging Change and the launch of the Tumbleweeds on Demand streaming site, in which films for kids and family audiences can be rented at a nominal price.
Directed by Abby Ginzberg, Waging Change is especially pertinent, as everyone struggles with the shock of an economy that came to a ground stop when the coronavirus pandemic overwhelmed the nation. The film documents the movement, led by women, to end the federal sub-minimum wage of $2.13 per hour. Women comprise two out of every three employees in tip-based jobs, along with workers with disabilities, teens and, in many states, those who are incarcerated. The film includes appearances by U.S. Rep. Alexandria Ocasio-Cortez and actors Lily Tomlin and Jane Fonda.
Waging Change will be screened on April 14 at 7 p.m., with the director and Saru Jayaraman, president of One Fair Wage, participating in the talkback after the screening.
The film's visibility has expanded significantly, especially as the impact of the pandemic has paralyzed the restaurant and hospitality industry. The documentary received best of show honors in the Accolade Global Film Competition. One Fair Wage has established a workers' support fund while Restaurant Opportunities Centers United (ROC) is providing direct assistance as well as gateways to other sources of financial help during the pandemic.
Undoubtedly, the requests for assistance have been overwhelming. ROC received 10,000 applications for financial assistance in just one week. And, as indicated in an Eater.com report, "ROC has already begun sending out sums between $100 and $300 via PayPal to restaurant workers who applied for relief, a more complicated and time-consuming process than anticipated." ROC, which plans to raise $3 million exclusively for financial assistance, temporarily closed its application page but it still is getting up to 5,000 visits each day. It will reopen as soon as the current backlog is processed.
Tipped workers are being affected severely. As a recent Mother Jones report indicated, quoting Jayaraman, "Only seven states have what we call one fair wage, which is a full minimum wage with tips on top … So those workers are getting unemployment insurance based on $15 plus tips, whereas workers in most of the country are getting it, if they're eligible, based on $2 or $3 an hour."
Ginzberg is an award-winning documentary filmmaker, with recent credits including And Then They Came for Us (2017), which featured actor George Takei in the recounting of the Japanese internment camps during World War II and the historical connection to the Muslim travel ban announced in 2017.
TUMBLEWEEDS ON DEMAND
The new Tumbleweeds streaming platform was created to honor the spirit of one of the center's signature events: Tumbleweeds Film Festival for Kids. Just before social and physical distancing restrictions were announced in March, the center was about to start the second week of its ninth annual Tumbleweeds festival at the City Library in downtown Salt Lake City. However, the remaining 2020 festival events were canceled. The kids' film festival is the only one of its kind in the Intermountain West and it has a distinguished history for presenting award-winning international films for young audiences and their families, many of which have received their Utah premieres and, in some cases, their U.S. premieres.
Visitors to the streaming service will be able to select from among five titles, representing either films that have screened at previous Tumbleweeds festivals or are indicative of the type of film curated for the event. The first five titles will be available to rent until May 7, with new films being added regularly, ensuring a fresh rotation. The cost to stream a film is $6.99 for a three-day rental. 
The first five films are a cosmopolitan sampler, with stories coming from China, Denmark, The Netherlands and Kenya, for example.
In a prepared statement, Patrick Hubley, executive director of Utah Film Center, says, "As our world continues to adapt to physical distancing and families are staying home, we prioritized finding a way for our young cinema lovers to be able to watch Tumbleweeds films. Though it is a sad and challenging time, we're excited to launch this platform, and appreciate the support from all of our sponsors and community members, as well as the distributors, sales agents, and filmmakers who are working with us to make Tumbleweeds On Demand possible."
The first group of films include the following, some of which The Utah Review had screened for previous Tumbleweeds festivals.
The Detectives (Detektiverne) (Esben Tønnese, Denmark, Danish with English subtitles, ages 10+)
This 2014 film features a 13-year-old social activist-in-training (Mathilde) who decides to establish a detective agency for social justice reform. Joining her are two boys and the trio sets out to root out crime against the disadvantaged and their enterprise gains the attention of a local police chief.
Dragon Girls (Drachenmädchen) (Inigo Westmeier, Germany, China, Mandarin with English subtitles, ages 10+)
The documentary follows three Chinese girls, who are training to become Kung Fu fighters at the Shaolin Tagou Kung Fu School, adjacent to the Shaolin Monastery in China, which is believed to be the birthplace of the fighting art form.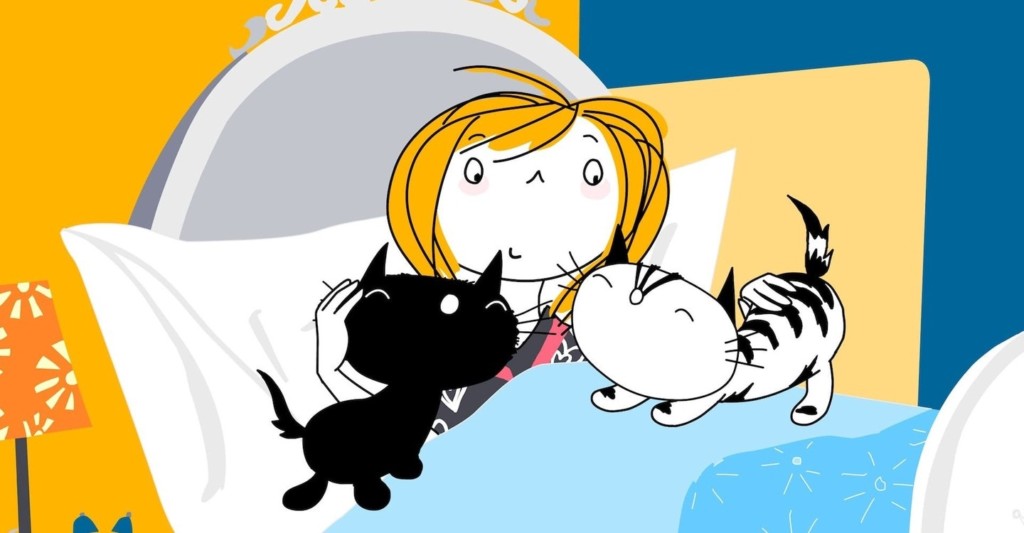 Pim and Pom: The Big Adventure (Pim & Pom: Het Grote Avontuur) (Gioia Smid, The Netherlands, English, ages 4+)
This is an excellent cartoon for Tumbleweeds' youngest audiences. Pim and Pom are street cats in this richly entertaining animation, which includes a lot of wonderful songs perfect for preschoolers.
Romy's Salon (Kapsalon Romy) (Mischa Kamp, Netherlands/Germany, Dutch, Danish, and German with English subtitles, ages 8+)
Romy, 10, is not thrilled about being watched by her grandmother who is busy with her hair salon and is annoyed by her granddaughter getting in the way. However, the relationship between the two changes in a more loving way, when Romy discovers that her grandmother is showing signs of Alzheimer's Disease. The film has won at least a dozen major film festival awards, including Best Feature Film for Children honors at the Ale Kino! – International Young Audience Film Festival.
Supa Modo (Likarion Wainaina, Kenya, Swahili with English subtitles, ages 8+)
The opening film for the 2019 Tumbleweeds festival, Supa Modo is highly recommended for young audiences. At nine years old, Jo is obsessed with superheroes but her remaining time is short because of a terminal illness. Jo's dreams about superhero stories run deep and her older sister Mwix concocts a way for her to play out her dreams with as much conviction and credibility as can be mustered. The community joins Mwix's efforts and they start making a film about Jo's staged superhero adventures.
In Supa Modo, Wainaina goes deeper, relying on the terminally ill children he met at Kenyatta National Hospital in Nairobi. He had asked the children to write their wishes on a slip of paper, and all of them would be read anonymously as a group the next time they met. It was a shy boy's wish that transformed Supa Modo's narrative development. As he recalls, "All this young child wanted was a helicopter, more Chapatis and for his mum to be happy. You see this brave young soul already knew he won't live long. He just wanted his mother to be happy… Her sadness was the only thing he couldn't live with."
For more information, see the Tumbleweeds on Demand link.