A creative collaboration of two artists who have become prominent in the Utah Enlightenment will see their new short film screen this week at the 2016 Slamdance Film Festival as part of the Fearless Filmmaking shorts program.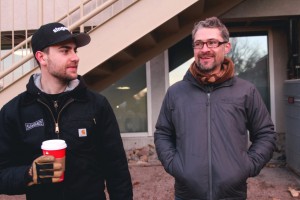 A dark, physical comedy running just barely six minutes, B+A is the work of Connor Rickman, his crew at the Salt Lake City production company of Ex Machina Films and Utah playwright Matthew Ivan Bennett. The film transforms the predictable rom-com form with a smashingly effective surreal tone framed by sharp tongued barbs and on-point humor.
The film is one of a series of shorts, which will be adjudicated by Slamdance alumni, in the Fearless Filmmaking program presented by Digital Bolex. B+A will screen Jan. 26 at 5:15 p.m. in Slamdance venue at Park City's Treasure Mountain Inn. This is the second year for Digital Bolex's partnership with Slamdance.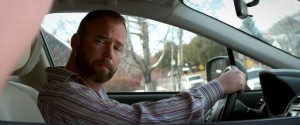 Bennett's script for the film, about a couple who have the perfect marriage but treat each other in anything but sweet, sugar-coated loving ways, is based on what he remembered from a high school psychology lecture when the teacher bluntly stated that every man is an A-hole while every woman is a B-word. The film features Daniel Beecher and Melanie Nelson as the couple.
The collaboration shines through in every aspect. Rickman's portfolio of successful projects is expanding nicely with several winning entries in Salt Lake City's 48-Hour Film Project. Last year, the company's Wildlife was judged as the Utah Short Film of The Year, as part of Fear No Film at the Utah Arts Festival. Definitely an exemplar of what enterprising independent filmmakers can achieve, Rickman tapped Ryan Darst as director for the story of revenge, which was set in Springville, Utah. The film, which also played last year at Cannes' Court Metráge, featured actors Whit Hertford, Lauren Lapkus and Jon Heder.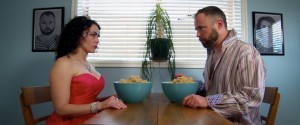 Bennett is a versatile writer with a highly sharpened sense of effect both in drama and comedy. As one of Plan-B Theatre's resident playwrights, he has written some of the company's most respected plays, including A/Version of Events, Eric(a) and Mesa Verde. Among the six episodes he has written for the Radio Hour series, sponsored by Plan-B and KUER-FM's RadioWest show, Otherwhere, which premiered during Halloween weekend last year, generated listener responses that echoed the famous 1938 radio broadcast of Orson Welles' production of The War of The Worlds. His Eric(a) won Best Drama at United Solo Theatre Festival in New York in 2013 and he received the Holland New Voices Award at the Great Plains Theatre Conference for The Cause.
Bennett's turns at comedy also have been successful. His full-length play A Night with The Family was premiered by the Omaha Community Playhouse, the nation's largest community theater, in 2013. The other is a relentlessly hilarious short Shark Week about two friends watching Discovery Channel's televised homage to sharks and one of them whose obsession with the cultural phenomenon breaches the barrier of a healthy interest.
The Utah Review asked Rickman and Bennett a few questions and here are their responses:
TUR: How did the collaboration arise and was B+A the original concept for both of you?
Rickman: Matt sent me the script a few years ago when we were toying with the idea of filming some sketch comedy. For whatever reason the sketches never happened but I remembered liking that script. When I heard about the Fearless Filmmaking competition I was searching desperately for a script that would appeal to that audience and fit under the eight-minute time limit. Luckily Matt knows that short films work better the shorter they are and even made some cuts from the original to make what you see today.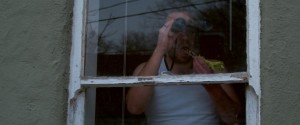 Bennett: We originally met to talk about collaborating a couple of years ago, but nothing manifested until now. I showed him "B+A," a short film script I'd written in 2010, and he—to my surprise—remembered it pretty vividly. Writing "B+A" was a cathartic, post-break-up experience. It's not auto-biographical in any way. I just wanted—in the midst of my rebound-gone-bad turmoil—to non-literally express how awful lovers can be to each other. And how, in the middle of these sadistic relationship storms, you can have heartfelt moments of connection.
TUR: Fearless filmmaking apparently gels nicely with the brand of Ex Machina. What were the most significant production challenges for making this surreal film work from casting to final edits?
Rickman: I was always nervous that the film wouldn't work because the script made me laugh out loud and I didn't know if the visual component would do it justice. Luckily our casting worked out very well. I've trusted Dan in my films before and told him to bring along an actress he could play off of well and that's how we got Melanie. It turns out that Melanie and Matt went to school together and he agreed she could pull it off, and she does. We lost the actress playing the photographer at the last minute so the girl you see on screen is actually our Set PA! She had a much different take on the character, but I think it works very well. It's funny that this goth girl seems to be more emotionally stable than the leads.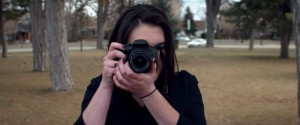 The film relies on a lot of visual symmetry and that's surprisingly hard to do both in the camera work and the production design but Matt was very helpful on-set and even helped me make some oatmeal at the last minute for the kitchen scene. The final challenge was trying to upload the finished film to Vimeo on Christmas Eve in the middle of rural Missouri, where I was visiting my in-laws. The slow internet dragged out my anxiety but it worked and I didn't stay up all night for nothing.
Bennett: My most significant challenge was stealing an electric shopping cart (and returning it within the hour). It was almost as hard as writing the script. I'm sure no one actually cared that I took the cart (or that I was faking a broken leg), but in my mind it was "Ocean's Eleven."
TUR: Both of you are successful creative producers/artists in your own right, what did you learn from each other in making this film that you believe strengthens your own creative foundations?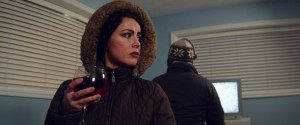 Rickman: Unlike Matt, I can't write to save my life so I need people like him to make what I do possible. I've been consistently impressed with his work at Plan-B Theatre company and I think his dedication to his writing is his strongest trait. I wish I had his discipline because I've seen how much of his success has come from finishing what he starts, although it also helps that once he's finished, the product is good! He's also spoiled me by being so flexible with his material and open to suggestions. I'm hoping that this film marks our first collaboration of many, or at least a few, because the process was so wonderful it would be a shame not to do it again.
Bennett: Once Connor asked to see this script again, I tried to sell him on a few others, but he insisted that this had the most cinematic potential. Since theatre is my native writing language and film is my second, it was invaluable to get that sort of a reality check. All around it was validating to have someone see and want to project my weird sense of humor. I think the project will make me trust myself a little more.