With just two weeks left to shop for that perfect gift, inspiration beyond the same old Best Buy gift card or bundle of socks can be tough. With that in mind we asked our writers to come up with interesting and off-the-beaten-path gift ideas to help ease the shopping pressure, and delight that special someone in your life.
Educational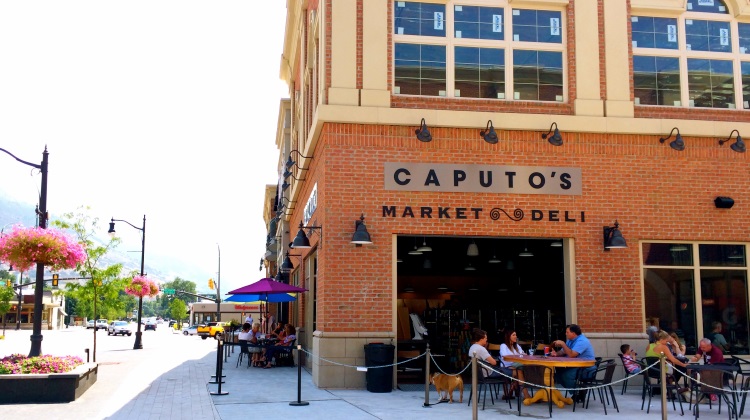 Caputo's Market & Deli: My favorite gift to give anyone (or should I say everyone?), whether it be the holidays or a birthday, is a Caputo's food class. It's a memorable gift not only because they are fun, but because there's always something to learn at Caputo's, even for the most well-informed food lovers. Plus, with the wide range of classes — they teach everything from whiskey and tequila tasting to how to make pasta — there's literally something that entices everyone. My personal favorites are the Whiskey 101 and any of the wide range of cheese classes… although I'll warn you that it's guaranteed to get you addicted to delicious cheese!
Did I mention that the classes are taught at three Caputo's locations? That means that it's a perfect gift even for those stubborn friends of yours who refuse to drive downtown. Caputo's classes range from $25 to $60. Sign up and pay online or grab a gift card covering the amount in stores and online. Kelli Nakagama
300 S 314 W (801) 531-8669
1516 S 1500 E (801) 486-6615
4673 S 2300 E (801) 272-0821
www.caputosdeli.com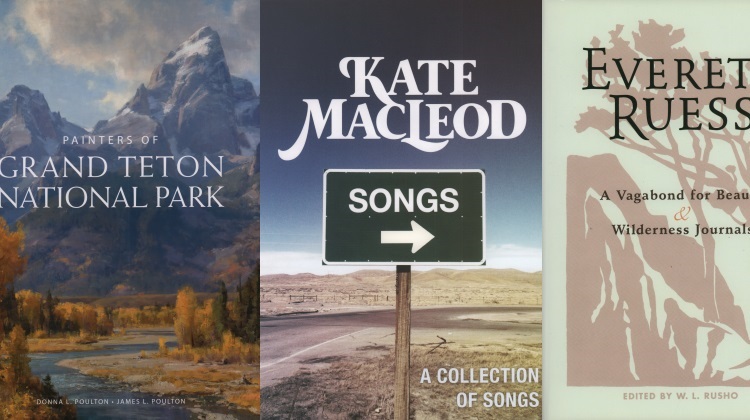 Ken Sanders Rare Books: One of downtown Salt Lake City's most distinguished cultural jewels, Ken Sanders Rare Books is a true full-service bookstore. In addition to many rare items, new literary releases and original artwork, the store has acquired many items for several of its best known collections including Utah and the Mormons, Native and Western Americana, maps and photographs, and illustrated books and wordless novels.
Several newer releases with strong local connections are outstanding examples of affordable book gifts, each priced at just $25. These include Kate MacLeod: A Collection of Songs (Dream Garden Press, 2016). MacLeod, one of the most enduring and influential songwriters and acoustic musicians in the Intermountain West, has had a selection of her songs published to signify the stories and poetry they express in small quarto book size with metal spiral binding and pictorial wraps.
Another is The Fifth Goal 1998-2003: Transcendental Graffiti Zine, jointly published by Division Leap of Portland, Oregon, and Hierophant, based in Salt Lake City. The book is a compilation of all eight issues of The Fifth Goal zine by the late Blake Donner, an outstanding representation of railroad graffiti art. Now in its second printing, the book includes contributors Travis Low and Adam Davis, Kate Davis, Greg Bennick and Laura Hamblin.
The ideal gift for devotees of Everett Ruess is the hardcover edition ($25) of Everett Ruess: A Vagabond for Beauty & Wilderness Journals, edited by W. L. Rusho with an introduction by John Nichols and afterword by Edward Abbey. The edition (published by Gibbs Smith, Inc., in Salt Lake City) is a comprehensive combination that is the definitive volume of one of the American West's most unusual creative and literary figures.
Art lovers will enjoy two 2015 releases, also published by Gibbs Smith. The first is Painters Of Grand Teton National Park by James and Donna Poulton, representing 200 years and nearly 400 paintings, drawings and photographs, including classic as well as more unique, contemporary interpretations of the magnificent Tetons landscape and wildlife. The second is The Art and Life of Jimmie Jones: Landscape Artist of the Canyon Country by James Aton, a magnificent biography of one of Utah's most celebrated landscape artists that includes art from his childhood years. Both books are priced at $75.
Many of the store's rare book items are, in the plainest terms, amazing and cool. These include a 1923 first edition ($250) of George Grosz, a critic of German militarism. The book Settlement Follows! 57 Political Drawings (Abrechnung Folgt! 57 Politische Zeichnungen) is in good condition, despite age-toned pages and a small tear in the paper. It is a great find for any German history buff.
For Wizard of the Oz fans, the store has quite a collection of items, some of which include original dust jackets, and most with the original color plates in first or early editions from L. Frank Baum and others such as Ruth Plumly Thompson. An outstanding find is Thompson's The Silver Princess in Oz (published in 1938 by Reilly and Lee), one entry in an extensive series based on the Oz stories. The full-color book ($450) is in very good condition and includes the original dust jacket, also in very good condition. Les Roka
268 S 200 E, Salt Lake City, UT 84111
(801) 521-3819
www.kensandersbooks.com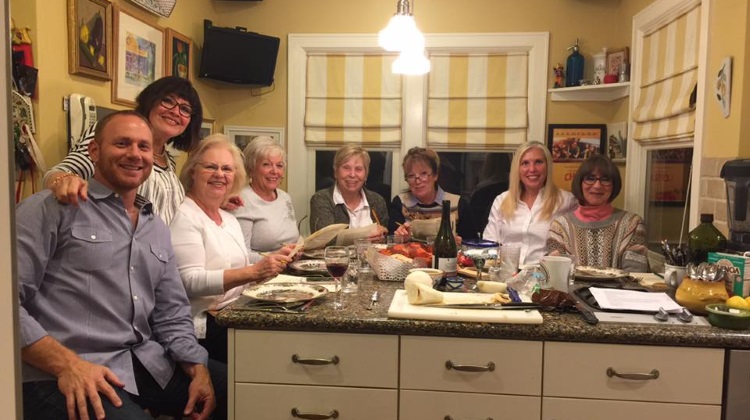 Marguerite Marceau Henderson Classes: Your foodie friends, as well as your loved ones who are, shall we say, less-than-gifted in the kitchen, will love and appreciate the gift of a culinary adventure via a cooking class with local culinary consultant and cookbook author, Marguerite Marceau Henderson. With years of experience as a cooking instructor, Henderson conducts the popular classes in her beautiful Salt Lake City home. The recipes on offer vary throughout the year, with the menus maintaining seasonal and holiday-relevant flair. For example, a recent autumn evening class featured a hearty rib roast of pork with honey molasses crust, spaetzle with parsley butter, and a sumptuous apple, pear and cranberry crumble.
January brings a class titled Come Home For Comfort Foods in Winter, which includes cheddar biscuits and country sausage gravy with baked eggs, sundried tomato and mozzarella mac 'n cheese, and caramelized onion and bacon tart. Talk about taking hibernating at home to a whole new level! If you give this gift, you'll definitely want to guarantee yourself a place at next year's holiday table from the recipient. Certificates are $65 each, the cost of one class, and can be mailed to the recipient or purchaser. Certificates along with details of upcoming classes can be found at http://www.margueritehenderson.com/classes. Wendi Melling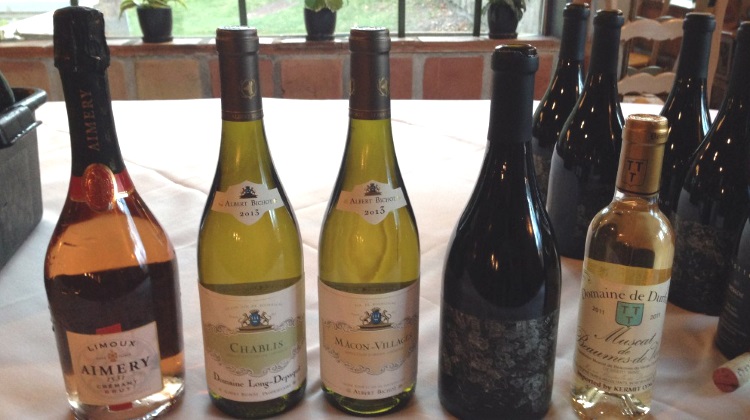 Wasatch Academy of Wine French Wine Scholar Class: Looking for the perfect gift for the oenophile who has everything? Give them the gift of wine education! Join the French Wine Scholar class for a full 10-week immersion into every wine region of France. The class will be held each Monday evening beginning January 25, 2016 and includes study materials, online quizzes and wine tastings. Attendees may test for the post-nominal FWS designation at the end of the course. The class is $950 per person (discount available for food and wine professionals). For $15 extra each class, Franck's Angel Café will offer French dishes to match with the regions being studied each evening. Visit wasatchwineacademy.com for additional information and see our weekly class review from the winter 2015 FWS class here. Heather L. King
Food & Drink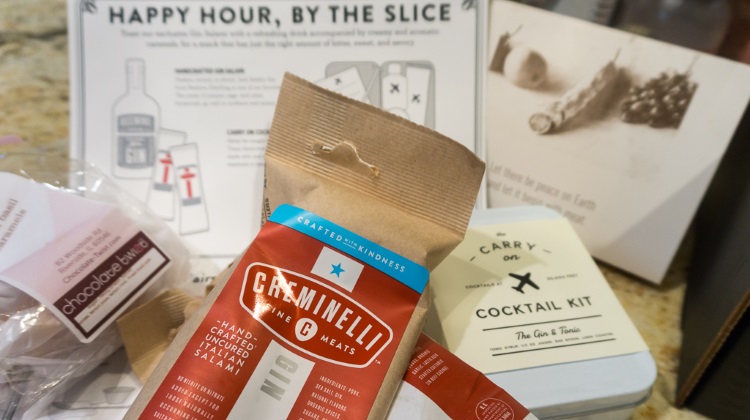 Creminelli Club: As Vanessa Chang, marketing & education manager at Creminelli puts it, "The Creminelli Club is basically like being a VIP." And if there's any VIP I could choose to be — it's one in the world of meat.
While you can purchase Cristiano Creminelli's award winning salumi across the state the Creminelli Club offers meat lovers like me a number of additional perks:
* The latest and greatest from Cristiano, the master himself, on your doorstep before anyone else even gets a look in
* Food pairings for the new salami with things that Cristiano loves; think small batch cheese, preserves, and such
* Tasting notes, pairing suggestion and fun additions such as those pictured above with the Beehive Distilling Jack Rabbit Gin Salami
* Free shipping on everything Creminelli — the club and anything on Creminelli.com
And of course, not only do you receive some of the finest, handcrafted salumi in the United States, but it arrives beautifully packaged; so much so you'd think a certain company in Cupertino, California was responsible. Boxes are also thoughtfully filled with a cooling brick to keep all components safe on your steps till you're able to dig in.
Shipments go out once a quarter in the months of December, March, June and September; priced at $50 per shipment with a yearly subscription, though you're free to purchase less frequent shipments.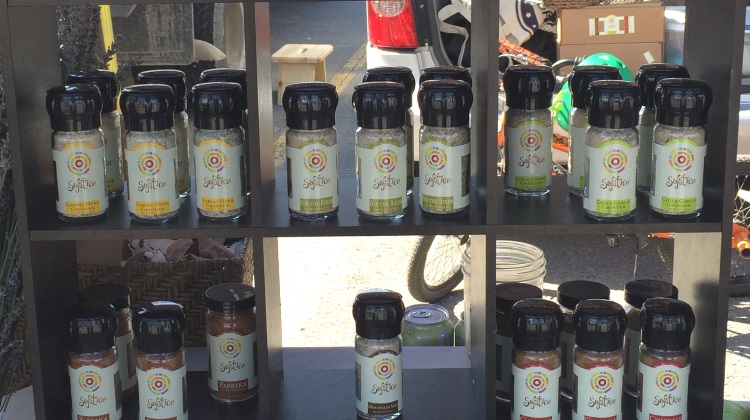 Solstice Spices: Whether you need a stocking stuffer or a meal enhancement, look to Solstice Spices to complete your holiday. Over the years, owners Heather and Tony Peeters have leveraged their business from small urban herb farmers selling fresh produce at Murray Farmers Market to the creators of Solstice Spices. From the beginning, the goal of the Peeters has always been to provide delicious food to their community and support local. They grow many of their spice ingredients themselves and source other raw ingredients as close to home as possible—the onions are from Hatfield Farm in Spanish Fork and the majority of peppers are from Petersen Family Farm in Riverton. Each spice ingredient is dried in small batches, for example, the Peeters smoke the peppers over dried herbs, cherry wood and rose wood before dehydrating and finally grinding into their special blends carefully crafted by chef Tony.
Try the smoky, sweet paprika to add depth to recipes; the Mountain Man for a spicy kick of fresh garlic, Utah-grown habanero, native chiles, organic basil, organic oregano, organic parsley and Utah onions; or the garlic herb grinder as a finishing salt for meats, pasta and other dishes. Spice blends are $12 each. Heather L. King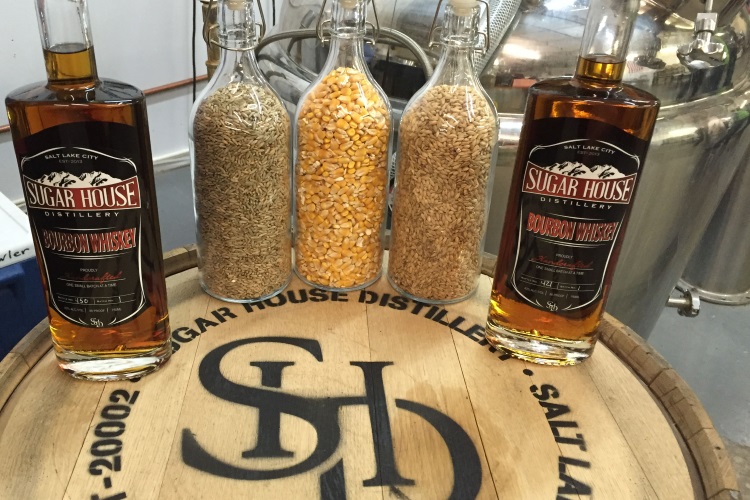 Sugar House Distillery: On Saturday, December 5 (Repeal Day) Sugar House Distillery released their newest product—bourbon whiskey. In addition to being a grain-to-glass product—meaning it is fermented, distilled, barreled and aged at Sugar House Distillery, all grains are locally sourced. The bourbon mash bill is 60% Utah corn, 20% Utah rye and 20% (Pocatello, ID) malted barley. This bourbon is produced in 15-gallon barrels and aged for under one year to put a nice flavor on the bourbon. The first batch is available directly at the distillery for $39.99. Sugar House Distillery also makes rum, gold rum, vodka and malt whiskey all available for purchase. For a tour and tasting, make a reservation at their website. Store hours are Monday through Saturday from 11 a.m. to 7 p.m.  Heather L. King
2212 West Temple #14, Salt Lake City, UT 84115
(801) 726-0403
www.sugarhousedistillery.net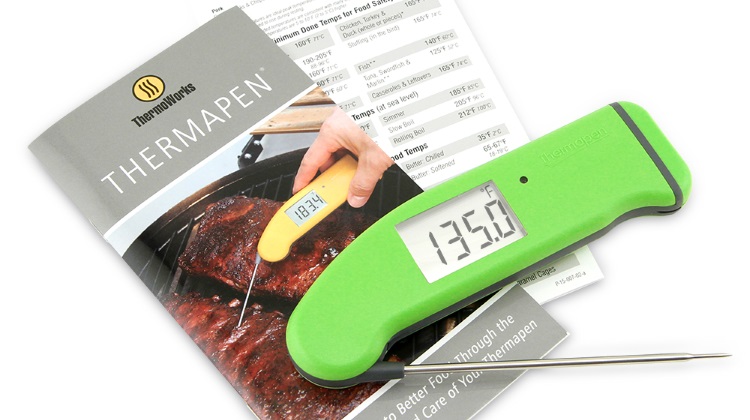 Thermapen: If you have a cook on your gift list this year, what better way to encourage their success in the kitchen then to give them the Cadillac of thermometers? The Thermapen by Thermoworks, located in American Fork, will give an accurate temperature read in as little as 2 seconds. The auto-rotating display allows readings to be done in either hand and in poor lighting as the display is backlit for easy reading. The Thermapen can be turned on by simply touching the display window and stays on until it is set down. Thermapen is waterproof and available in several colors for $99. Aimee L. Cook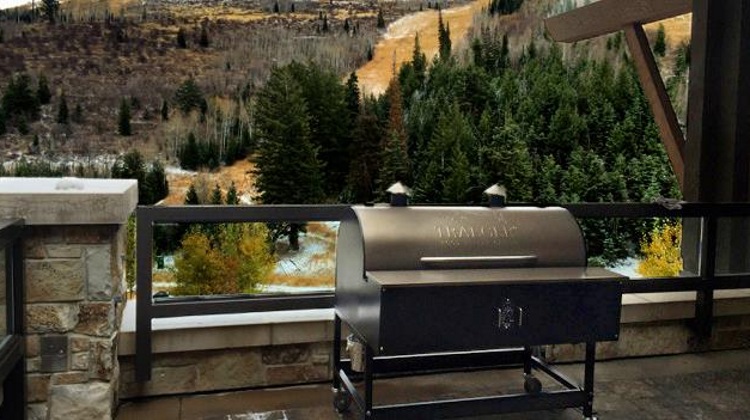 Traeger Wood Fire Grills: For that special someone that enjoys outdoor cooking, check out Traeger Wood Fire Grills. Traeger recently relocated their headquarters to Sugarhouse and is slated to open a retail store in 2016. Traeger grills will smoke, grill and even bake with minimal effort. With 8 flavors of wood pellets available, from apple to hickory, customizing your creations is easy. Just load the hopper with pellets, turn the dial to the desired temperature, place foods on the grill and check back later. Traeger currently has 10 models to choose from that range in price from $400 to $2000. Aimee L. Cook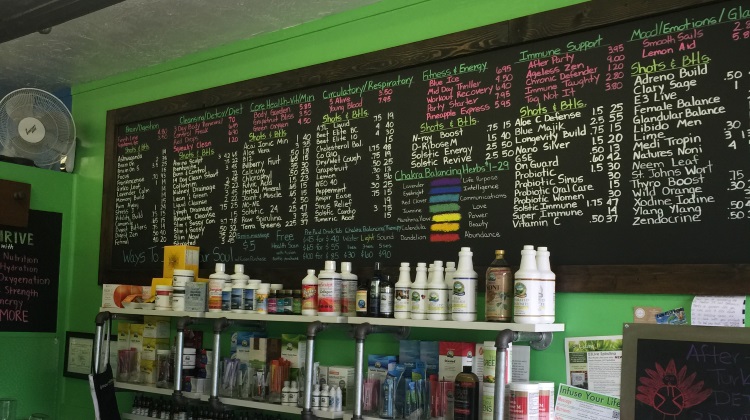 Water Fusions: The quandary of what to get the person who has everything is as old as gift giving itself. For the person who has the all the latest and greatest, finding something new and exciting is always a challenge. Maybe the secret to gifting such a person lies in revisiting the basics, only kicked up a notch. A gift certificate from Water Fusions can provide the most basic of the basics, air and water, enhanced and perfected to pack a super healthy punch. Water Fusions, located in Sugarhouse, is a one-stop natural health and wellness utopia.
The store front houses a juice bar and herbal store, an oxygen bar and a zen spa. Services such as chakra balancing, red light therapy and dietary consultations are offered. This is all in addition to the water bar, where a variety of vitamins, minerals, and herbs are added to water based on the customer's wants and needs. Who wouldn't love some extra health with their hydration? I know I'll be all over the Cleanse and Detox fusion post holidays. Gift certificates for any amount can be purchased in store. Wendi Melling
2309 E Highland Dr, Salt Lake City, UT 84106
(801) 486-1523
www.waterfusions.com
Miscellaneous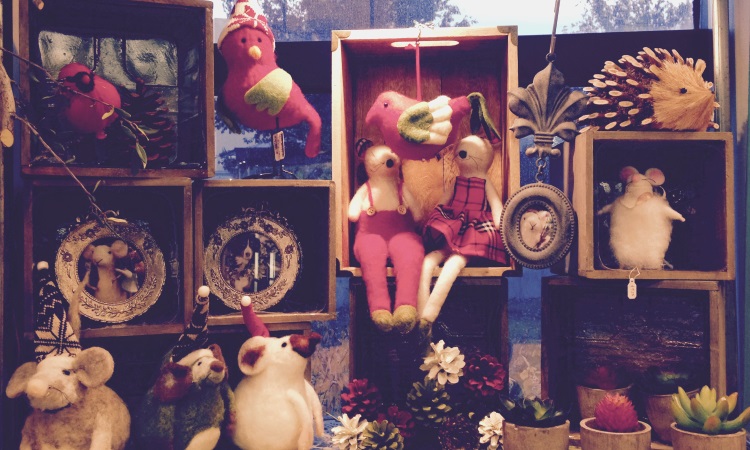 The English Garden: Ever since the new City Library opened in downtown Salt Lake City nearly 13 years ago, The English Garden has served as the botanical and floral oasis in the city's metaphorical living room. Owners Lyndon and Ximena Tan have offered an artistically inspired and eclectic array of fresh flowers, including exotic varieties both locally grown and imported, and plants, in beautifully appointed pots and containers, along with miniature gardens in boxes and terrarium bowls. Many of their arrangements and floral designs are featured at community events in the library. The couple also offer periodic gardening and floral design workshops for the community.
For the holidays, English Garden is offering customized service for designing floral and plant arrangements, which can be picked up at the shop or set for home delivery. Ximena Tan says many customers looking for unusual or unique gifts are immediately attracted to the flowers and plants the shop offers during the holiday season. These include miniature gardens of succulent plants with seasonally appropriate touches added for a décor accent.
In addition, the store carries a nice range of small gifts perfect as stocking stuffers, including hand-made items by local and international artists. This year, Santa Claus figures made either from canvas or painted concrete are the newest items in stock. Les Roka
210 E 400 S, Salt Lake City, UT 84111
(801) 364-6202
www.theenglishgarden.biz
Genesis Books: For those who demand their comfort and joy remain long after that which can be found at the bottom of a champagne glass, the holidays can be a particularly challenging time. Friends and loved ones in recovery will especially appreciate a nod to their commitment to sobriety amid the never-ending barrage of boozy celebrations. That's were a gift certificate from Genesis Books comes in. Genesis, the Salt Lake area's only recovery-based book and gift store, not only carries books on a wide variety of sobriety and addiction-related subjects, they also offer jewelry, 12-Step Program anniversary coins, tokens and commemorative cards, and a wide selection of free information pamphlets. Gift certificates are available in all amounts and can be purchased in store. Wendi Melling
248 E 3900 S, Murray, UT 84107
(801) 268-1919
http://www.genesisbooks-slc.com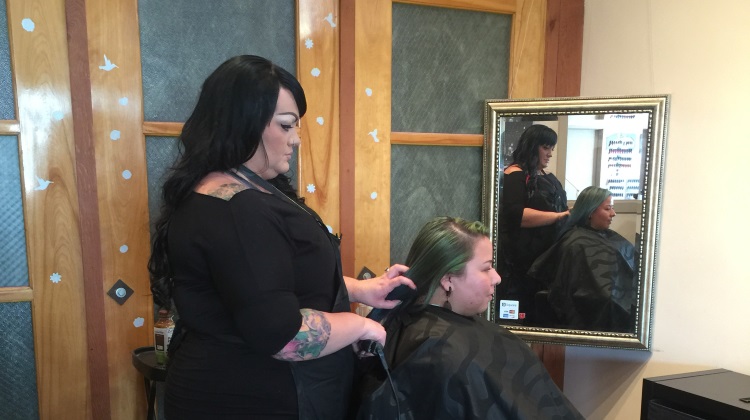 The Nail And Hair Room: There are those folks who just know how to make the holidays a little brighter for everyone else. The friend who plans the perfect celebration ensuring a great time is had by all, the mom who spends countless hours baking dozens of everyone's favorite cookies, the coworker who arrives early and stays late to decorate the office and spread holiday cheer. These are the people who definitely deserve a little post-holiday pampering. That pampering can be found at The Hair Room. A full-service salon, located within The Nail Room nail salon, The Hair Room offers clients the opportunity for a one-stop full day of beauty and relaxation. Ashley at The Hair Room is a Master Colorist who is always up to date with current trends. Whether the new year requires a new look, or just an update of an existing style, The Hair Room fits the bill. Gift certificates can be purchased in any amount. Wendi Melling
380 E 1700 S #1, Salt Lake City, UT 84115
(801) 485-6245
www.thenailandhairroom.com
Outdoors
Cotopaxi Tikal Rain Shell: The Salt Lake-based manufacturer is best known for their use of llama fur for insulation in bomber puffy coats, and their shells are just as tough. Picked up the Tikal for a late fall mountain bike trip to Idaho's Sawtooth Mountains. Bringing a shell along on bike rides is as important as an extra tube or water as weather changes quickly, especially on trails in the high peaks. I hardly noticed the weight of this shell in my pack, which is not typical of bulkier shells. Most importantly though, I trust the The Tikal's fully taped, 2.5-layer waterproof shell fabric to keep me dry.
Even though light in weight, this shell is tough enough for spring skiing days, and just might become my touring shell since it breathes so well, partly due to the ingenious perforated underarm vents. I also plan on using the Tikal on some spring climbing routes since it articulates well and moves with me. It's perfect for any outdoorsy-type person on our list, or would look great for a night out on the town.
Just as important as product, is a companies mission. Each Cotopaxi product bears the name of a community these corporate citizens are aiming to end poverty, improve health and impact education in. Paramount to Cotopaxi's business model is to sell direct to the consumer, which keeps cost low ($139). Nick Como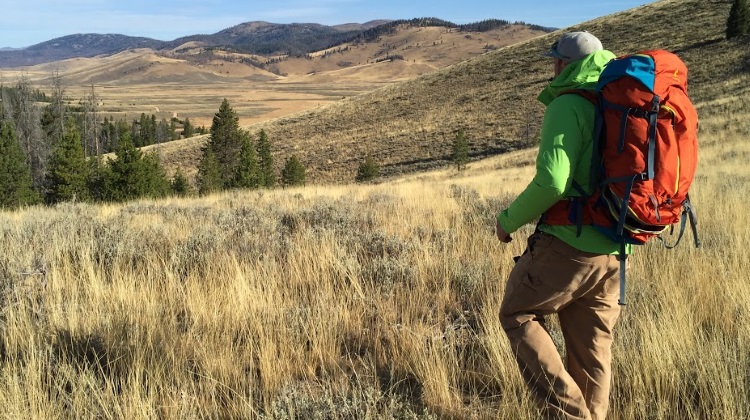 Cotopaxi Taboche Pack: The first thing I noticed on this pack is the bright colors. But, that's not the flashiest feature. The Taboche (which is a Nepalese mountain in the Himalaya) offers an adjustable suspension system to fit a wide range of torso sizes.
I would recommend this pack for parents who want to swap packs if one of them is carrying a child in a kid backpack and the other has all the gear. A three-second adjustment is all it takes to switch sizes. The backpanel can adjust up to 4.5 inches, and the waistbelt's range is 6 inches. I can also see this as a great gift for pre-teens who are still growing, since the Taboche can grow with them.
At a 55-liter capacity this pack intended for overnight backpack trips, but it's effective compression system works for day hikes and bike rides where you need extra space. On a remote 17-mile mountain bike ride I brought along numerous layers, safety gear, as well as extra food and water. All of this extra gear wouldn't fit in my regular riding pack, so I used the Taboche instead, which worked like a charm.
The price is right ($189), as the environmentally-minded Cotopaxi uses overrun fabric pieces from other brands to literally stitch together their packs. This is still a full-featured pack, with a separate lid pocket, two side water bottle pockets and a side sleeve for trekking poles, tent poles or a fishing rod. A separate zippered sleeping bag compartment provides easy access to the bag without unloading all the gear on top, plus several compression straps allow additional gear, or in my case a loaf of bread, to be attached. Nick Como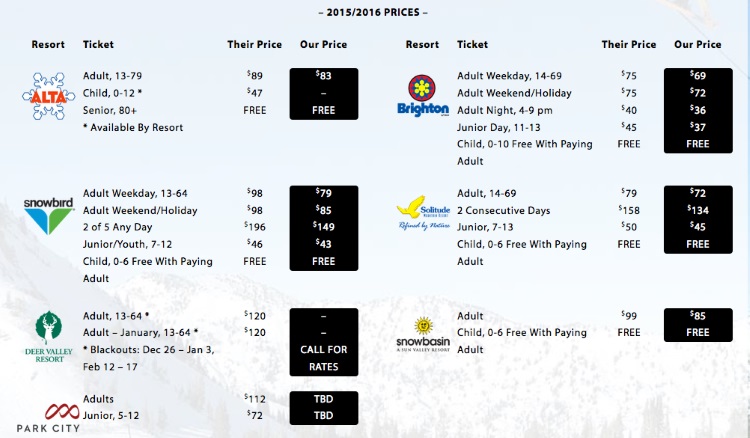 Lift Tickets: What do you get for the skier who has everything? Lift tickets! Even if they have a season pass, it's always fun to explore other resorts.
The best place to buy tickets is at ski shops in Salt Lake. You'll save anywhere from $5-20 off window prices, and the tickets are good through the rest of the season.
With a shop in downtown SLC, as well as a several others in the valley, Ski N See carries passes to Alta, Deer Valley, Solitude, Brighton, Park City, Snowbird and Snowbasin. Nick Como
Surefoot: My wife was having severe pain in her brand new ski boots. Even costing several hundreds of dollars, ski boots come with flimsy footbeds that do nothing to support your foot, or provide a solid connection. The solution is to add custom insoles, which are key to comfort and performance. Tired of only being able to ski three runs before hitting the lodge, we swung into Surefoot Deer Valley. I've had Surefoot liners ($419) and insoles for years and knew this would be the perfect gift for her.
Every boot fitter measures your foot, but Surefoot scans your foot. The process begins by standing on a "digitizer" with your weight off your foot so the machine can accurately measure your foot. This is better than just an image since the machine compresses softer spots as well as bones to provide a perfectly balanced measurement. This scan of your foot, like a digital topo map, is then transfers to a 3D milling machine (think CAD or 3D printing) for an exact replica.
These custom insoles ($235) are not only are more comfortable, they'll align how you stand. Dave, who spent over an hour helping us, says this not only helps posture, but performance as well. Being aligned is especially important for action sports because it puts the skier in a neutral, or balanced position. Laura's skiing jumped a level or two overnight as a result. Better yet, she can ski the whole day, pain-free, which is a gift for me since we can ski together for more than just a few runs now.
The next step beyond a footbed is the boot liner, which wraps around your entire foot and lower leg. Surefoot's liners use a foam injection process to match the exact shape of your foot and ankle. The whole process takes about an hour — time well spent for the comfort and performance results.
If you're in the market for new boots, Surefoot eliminates the normally included (read: worthless) liner for their custom liner. This swap equates to a full custom boot only costing about $200-300 more than what you'd get out of the box from another ski shop. Skier not on your list? Surefoot also makes softer soles for running or golf. Nick Como
Travel
Conestoga Ranch: Having just completed a knock out, debut summer season at Bear Lake, glamping resort Conestoga Ranch is offering online gift card purchases to allow holiday shoppers to give the gift of glamping this season. It's a stocking stuffer that is sure to offer luxury camping aficionados and those counting the days to warmer weather something to look forward during Utah's long winter.
The resort, which features Old West-style Conestoga wagons and spacious tents with indoor plumbing and electricity, has announced some new upgrades for the summer 2016 season. In addition to adding more wagons and wagon circles for groups of family and friends to enjoy close proximity, there will be a sizable yoga tent that doubles as a wedding ceremony terrace for couples to tie the knot. Sunrise yoga practices will relax and rejuvenate to get guests ready for a day of fun on the famed, turquoise-colored lake. Conestoga Ranch has created partnerships with local outfitters, and an activities concierge will book horseback riding excursions, water equipment rentals, ATV adventures and more for the convenience of their guests.
The on-site, open-air restaurant, Campfire Grill, which has been heralded for elevating Bear Lake's otherwise lackluster dining offerings, will feature new breakfast, lunch and dinner menus. A chuckwagon lunch will offer a salad bar, an array of sandwiches and Dutch-oven specialties like slow-cooked beef stew and vegetable chili.
Summer 2016 rates are $85-235 for Wagons, $165-285 for Grand Tents and $115-195 for Deluxe Tents. Deluxe tents are not equipped with bathrooms, but there are private bathroom/shower facilities at the Main Lodge. Firewood and s'mores kits are included. Various accommodation configurations are designed for couples, families, or groups of friends. Conestoga Ranch will be open May 13 to October 2, 2016. Be sure to check out our story on Conestoga Ranch from earlier in the year. Hilary Reiter
427 North Paradise Parkway Box 512, Garden City, UT 84028
(844) 464-5267
www.conestogaranch.com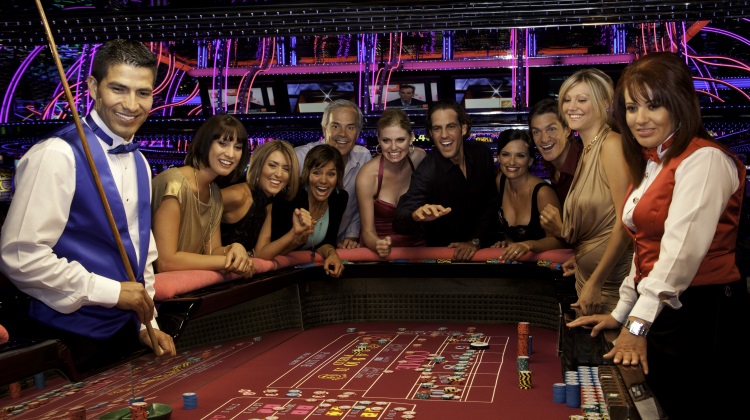 Wendover: We all know that one person. That get up at 6 a.m. to go to yoga, eats no red meat, saves for a rainy day and spends her spare time rescuing small animals person. That "I've been very very good this year" person.
What better gift to encourage her to let loose a little than a gift card for the Peppermill Resort Casinos in Wendover, Nevada. Sweet, sweet Wendover, that bastion of being so bad that it's good, just a 90-minute drive from Salt Lake City. Imagine your perfect friend overindulging at one of Wendover's buffets or restaurants, including my favorite Cafe Milano at the Peppermill, home of the all-you-can-eat soft-serve ice cream machine. Now picture her enjoying an adult beverage or six while staking her savings account on games of chance at Montego Bay. Let your mind wander to her having a sinfully good time dancing into the wee hours at the Rainbow's Show Bar. See, don't you feel a little better about yourself already? Mission accomplished. And if next year you happen to notice your friend's gifts from Santa include a lump of coal, congratulate her, you know she did Wendover right.
Gift cards in $25, $50 and $100 denominations can be used at hotels, restaurants, bars, gift shops, Spa at the Rainbow and espresso coffee bars. Cards can be purchased online at www.WendoverFun.com, in person at the resorts, or by phone at 775-664-4800 extension 36662. Wendi Melling
Disclosure: Some authors may have received promotional items to sample and/or keep in creating this guide.