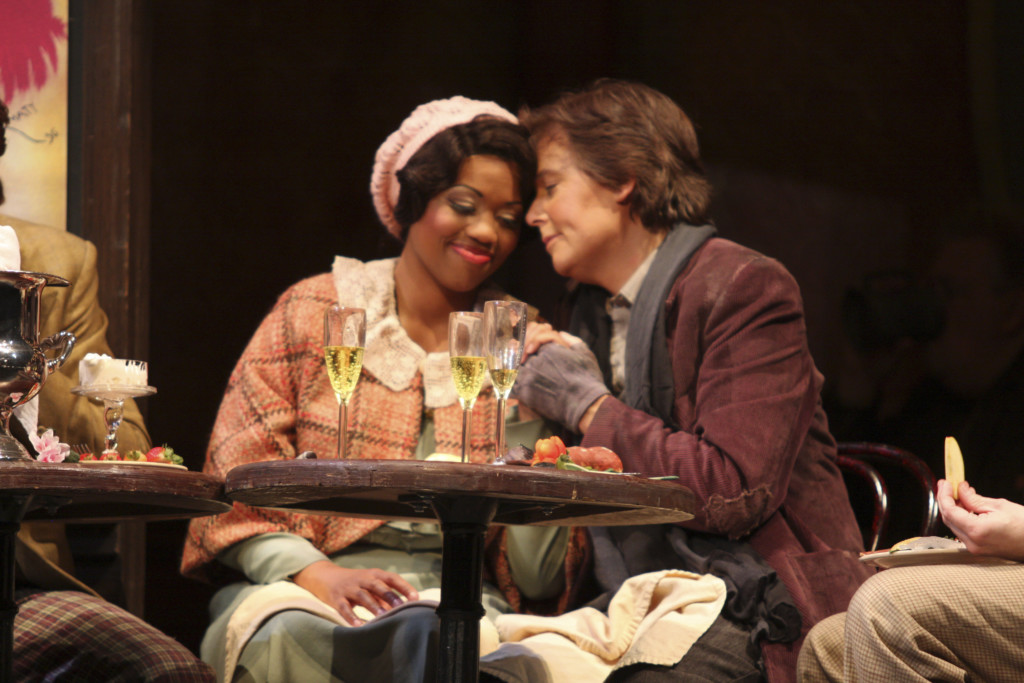 Utah Opera starts their 40th Anniversary Season with a traditional look back, not only at the opera that the company opened with in 1978, but also with a comfortable production of La bohème.
From the opening moments you are immersed in the lives of the characters and their journey of love and friendship. On Christmas Eve, four friends – a poet, a painter, a philosopher, and a musician – prepare for a celebratory evening out. The poet, Rodolfo, lingers behind and encounters a neighbor, Mimi, whose candle has blown out, and she has no matches to relight it. They quickly (very quickly!) fall in love, and meet the friends at a nearby restaurant, where they celebrate the joy of life, and falling in love. While there, the painter, Marcello, jealously runs into an old flame, Musetta, who rekindle their romance.
In Act 3 we jump ahead a couple of months to the rocky moments of the relationships – Rodolfo is trying to drive Mimi away. She is very sick and he feels that a rich lover could take care of her better, but their love keeps them together for a while longer. Marcello and Musetta are fighting a losing battle with jealousy, and they part ways. In Act 4 we learn Mimi and Rodolfo are no longer together, and Rodolfo and Marcello bemoan their lost loves. Musetta rushes in to get help for Mimi, who is too weak to make it up to the apartment. The friends comfort her as best they can, but she ultimately, and tragically dies.
Each member of the cast has moments to stand out, but also moments that were a bit rocky. The part of Marcello was played by Michael Adams, who was ill, so the singing in the final three acts was performed by John Nelson, who was positioned on the side of the stage. This seemed a bit distracting for the cast, and certainly distracting for the audience. Hopefully Adams will be ready to perform before the end of the run.
Ultimately looking at the cast as a whole, it was their relationship that gave the production such a warm, comfortable feeling. I felt like the love affair for Rodolfo and Mimi, although obviously at the forefront, wasn't the big standout moment of the opera. Rather it was the easy camaraderie of the main six characters, and their supporting bond of friendship that really drove the production. The banter between the four men, although present in the libretto, has never seemed so easy, and the friendly manner between Mimi and Musetta was gracious and not a feature I've noticed before. This is thanks not only to the cast, but also to the director. Each scene took the traditional blocking, but made it more vivid and real than expected.
The physical production was a lovely spectacle. The set was vast and versatile, and the costumes – which at times felt inappropriate to the period – were filled with color and texture.
Utah Opera's La boheme continues through Sunday, October 15 at the Janet Quinney Lawson Capitol Theatre. Tickets can be purchased at utahopera.org or arttix.org