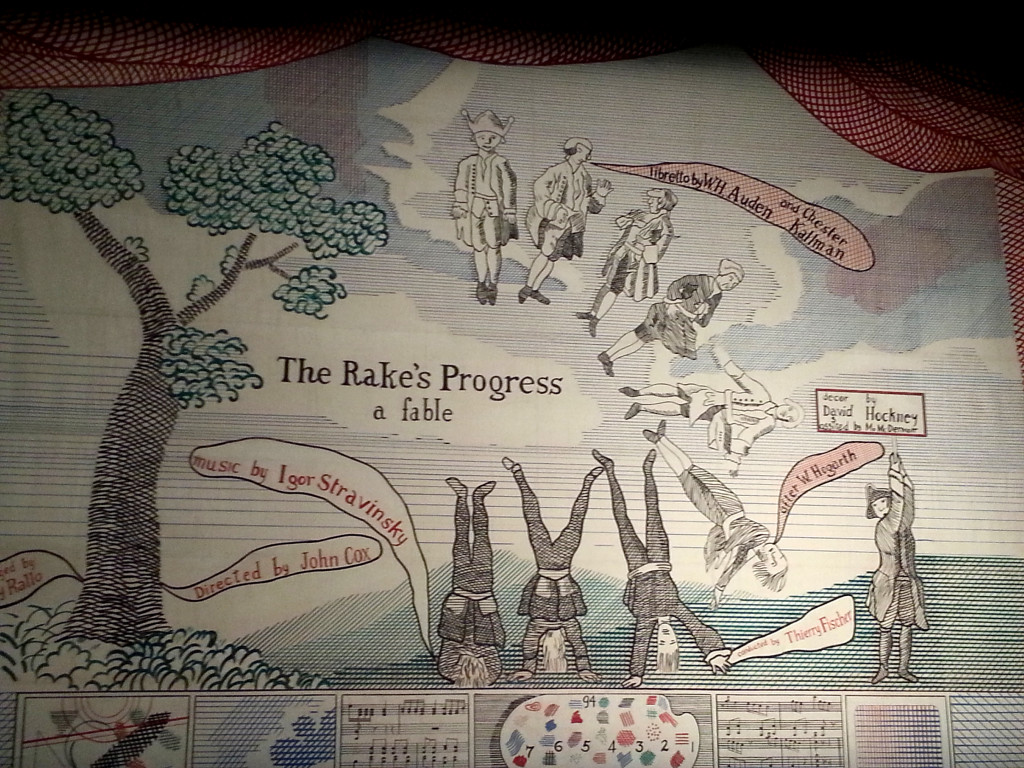 Utah Opera's production of Stravinsky's The Rake's Progress is new to Salt Lake City, but this 40-year-old production is one of the most iconic in the history of American opera.
The Rake's Progress follows the story of Tom Rakewell, a young man who decides to reject the life his future father-in-law has set up for him. Instead, he chooses to live off his wits, and trust his luck and fate. He meets Nick Shadow who grants his every wish and slowly leads him down a path of vice and ruin. He turns his back on the one woman who truly cares about him, Anne Trulove, and ends up alone and insane.
The Rake's Progress was composed in 1951 by Igor Stravinsky with a libretto by W.H. Auden. This production was first staged in 1975 at the Glyndebourne festival in England, with set designs by English artist David Hockney. With eight different settings, this stage design is one of the most extensive I've seen, and always gives interesting details to notice.
But even with so many unusual visual elements, the focus of this production is still on the singing. This cast features a number of artists new to Utah Opera. Norman Reinhardt, as Tom Rakewell, is present in nearly every scene and carried the action well. With such challenging music it would be easy to be overcome by the demands of the role, but Reinhardt voice stayed strong and eloquent throughout the evening.
For me, the true standouts were Joélle Harvey as Anne Truelove and Mark Schnaible as Nick Shadow. Harvey's voice exhibited a delicate quality in her relationship with Tom that never weakened in the upper register, even in the quietest moments. At other times her voice transformed into a bold powerhouse that was a pleasure to hear. I can only hope that Utah Opera is able to bring her back in future seasons, so that we can hear her in an even more substantial role. Casting Schnaible as Nick Shadow was a great move – his acting and mannerisms combined with a rich bass-baritone voice added great dimension to the character. Jill Grove and Alissa Anderson, as Baba the Turk and Mother Goose, added memorable vitality to their roles.
Special mention must be made to the Utah Symphony under the baton of Thierry Fischer in his Utah Opera debut. Fischer's knowledge and skill with Stravinsky's music has been notable in his work with the Utah Symphony, and the orchestra was in rare form in the pit at Capitol Theatre. The direction and playing was extremely nuanced, and it was the best I've heard the orchestra sound while playing for a Utah Opera production.
With thrilling voices and iconic sets, Utah Opera's The Rake's Progress is a production that should not be missed. The opera does include one scene in a brothel which, although restrained, might be uncomfortable for some audience members.
Utah Opera's The Rake's Progress continues May 11-17 at the Janet Quinney Lawson Capitol Theatre. Tickets can be purchased at utahopera.org or arttix.org