The problem with the symphony is it has a reputation for being a boring, stuffy event designed for the elderly. Luckily, there is an answer to that problem.  And the answer is Vivace.
Utah Symphony's Vivace is an everyone-is-invited group of classical music enthusiasts (including both genre experts and novices) that attend the symphony together and hang out afterward. The group's goal is to make classical music more approachable and more fun.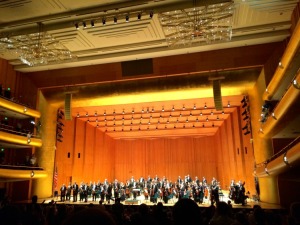 The social side of Vivace
Vivace members sit together at the designated performances, which happen about five times a year, and receive special program notes that casually explain what to listen for during the performance, how long each piece is and helpful hints like how not to embarrass yourself. Afterward, the group meets at a nearby restaurant for food and drinks. Many of the Utah Symphony musicians (or Utah Opera cast) come hang out and answer questions.
The money-savvy side of Vivace
The best part about Vivace, besides the fact that joining is completely free, is the discounts to the performances. Tickets to Vivace performances are only $34/each for orchestra-level (read: good) seats. Entrance to the after-party is only $5 (including food but not cocktails). To join, just mention Vivace when buying tickets or enter VIVACE as the promo code when ordering online.
Last month I joined the Vivace group for Dvořák's Syphony No. 7 and the after party at J. Wong's Asian Bistro. The atmosphere was casual and lively, with everyone mingling with each other. It was so much fun to talk to the Utah Symphony musicians about their instruments and hear how they came to joining the Utah Symphony. (Fun fact: Did you know most of the musicians aren't from Utah?)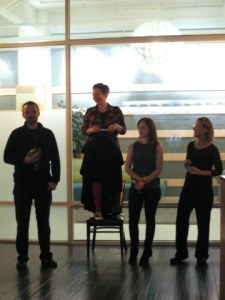 Upcoming Vivace performances
There are four more chances to join the Vivace party this year.
There are plenty of other great performances with the Utah Symphony | Utah Opera this year, too. Don't forget that students (8 years or older) and anyone 30 and younger are eligible for $10 tickets ($15 on the day of). Or for $49, attend as many performances as you want. Yes, seriously! The details are here.
Utah Symphony's Vivace group is a great way to attend classical music performances, meet fellow music lovers and get to know the musicians.
Disclaimer: I was graciously invited to the symphony and Vivace after party as a guest of a Utah Symphony musician.  All opinions are my own.