"We sold out of our elderberry marmalade yesterday, so we need to go find some berries to make more marmalade" said the message from Casee Francis, one half of the Amour Spreads duo. Casee and John Francis don't freeze fruit once picked, so when they're out, it's time to look for some more in the mountains. Casee remembered that their elderberry orange marmalade is my personal favorite of theirs. "We'd love to have you come along as we forage."
I joined Casee and John on a foraging expedition in the mountains near Ogden to document their search for the elusive elderberry. Available only for a short window in the Fall, elderberries can be few and far between, especially considering the Francis' face some stiff foraging competition: birds, deer and bears. Casee told me a story of her seeing a bear one day who had a few too many fermented berries for lunch and ended up tipping over on the side of the road.
These two are happy. You can tell by the smiles on their faces that these two are genuine, and they absolutely love what they do. John and Casee have made jams and marmalades for years, and have seen demand for their product at the Salt Lake Farmers Market and various other retail outlets skyrocket. And for those who have tried a taste of their handiwork, it leaves little doubt as to why.
Fruit (most of which is sourced right here in Utah, minus the citrus, of course), organic cane sugar, and organic lemon juice. That's all that goes into each batch of preserves. Keeping things simple allows them to "let the flavor of the fruit shine through." And that has certainly been the case for every one of their preserves that I have tried: Blood Orange Rosemary Marmalade, Cranberry Orange Marmalade, Italian Plum Jam, Pomegranate Citrus Marmalade, and my personal favorite, Elderberry Orange Marmalade.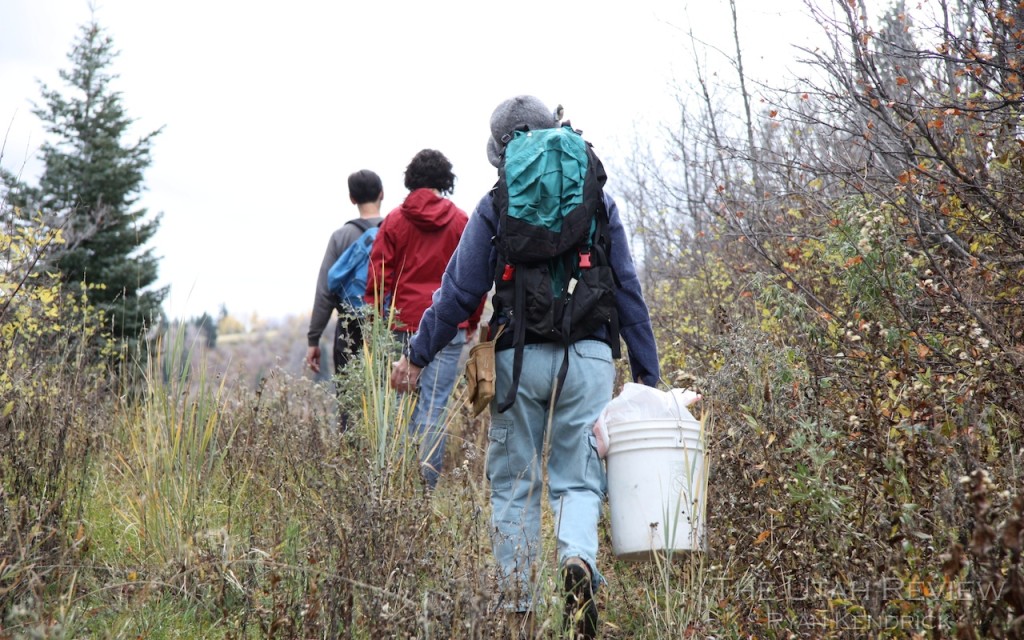 Our elderberry forage was a success, filling up two large buckets with the whitish-purple berries. Off they go to the kitchen.
It's plum jam day in the Amour Spreads kitchen, located in the Liberty Park area. This kitchen, which they used to rent by the day, is now owned completely by Amour. When I arrive, John and his employees (I named them the Little Jammers) are busy de-stemming the elderberries we foraged the day before, to be prepped and cooked tomorrow. Beautiful golden Italian plums with deep purple skins sit ready in French copper jam pots. "Copper has conductive properties that allow us to cook our preserves in a way that prevents scorching, and provides a more even cooking surface for the preserves," says John. Not to mention that the pots simply look gorgeous as well. Amour recently hired its first two employees to help with workload, as their entire preserving process involves no electric appliances. "After making over 50,000 jars of preserves by hand (just John and Casee), we were ready for some additional help."
"At boil!" yells John across the kitchen as the plums begin to roll and tumble in their copper pot, and the Little Jammers return fire with an enthusiastic "at boil!" of their own, ensuring that everyone is on the same page as to where they are in the cooking process. John stirs the plums with a seasoned eye of someone who has done one or two batches of jam in his life, constantly testing the consistency of the jam until it is just right.
No extra pectin is added in their cooking process. Most industrial jam producers rely heavily on sugar to supplement the sweetening of their mass-produced jams, since sugar is now much cheaper than fresh fruit. "Most large producers follow a one-to-one ratio of fruit to sugar to save on production costs," says John. "However, we generally follow a two-to-one ratio, and we only use organic cane sugar." When pressed as to why they follow this higher ratio, even though it increases their costs significantly, John replies "because we feel it's the right thing to do." This higher ratio of fruit provides sufficient pectin, found in the skins and seeds of the fruit, so that they don't need to add any extra commercial pectin to their preserves. Just fruit, sugar, and lemon juice. Simple. When a fruit doesn't naturally have sufficient pectin to produce the right consistency, John and Casee play around with adding other fruit to the mix that does, such as the case with their chokecherry jam, which requires a bit of apple to achieve the proper consistency.
Two thousand pounds. That's the amount of tomatoes that Casee grew in a large garden near their kitchen in order to provide enough to make their tomato preserves this year. Casee grows her heirlooms from seed, and in addition to being a jam maker is a master gardener, and runs a successful gardening business. This green thumb allows her to grow some of their ingredients as close to home as possible. "This one is a Berkeley Tie Dye," she says as we make her way through the enormous tomato plants. "Isn't it beautiful?" It really is.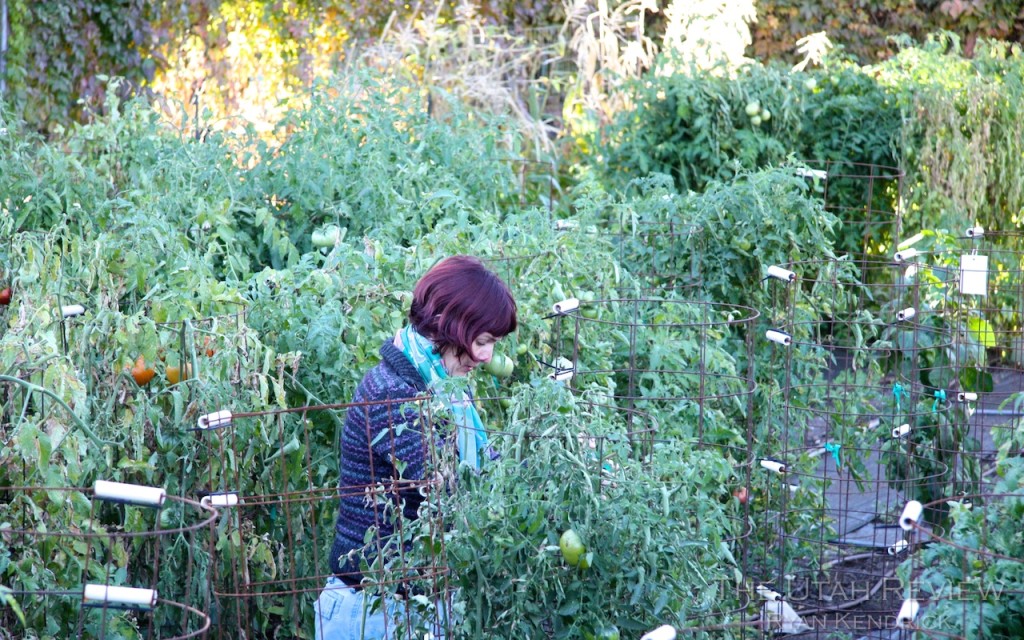 When the conversation turns to the local food community, Casee's eyes light up with delight. "Residents in Salt Lake continue to grow in their appreciation of simple, healthy foods that are produced with minimal processing." A large part of their job at the farmers markets is sampling their preserves and educating customers as to why their jams may cost more than mass-produced jams. As they continue to educate, they have seen demand for their product continue to grow. She praised local retailer Steven Rosenberg of Liberty Heights Fresh for being one of many local food purveyors who "gets it," along with Publik Coffee, who recently added Amour to their menu and has become one of Amour's best customers and local advocates. "We have such a supportive food community here in Salt Lake. If nothing else, I am forever grateful for the people we have met along the way. For us, Amour is about community, love, and giving back."