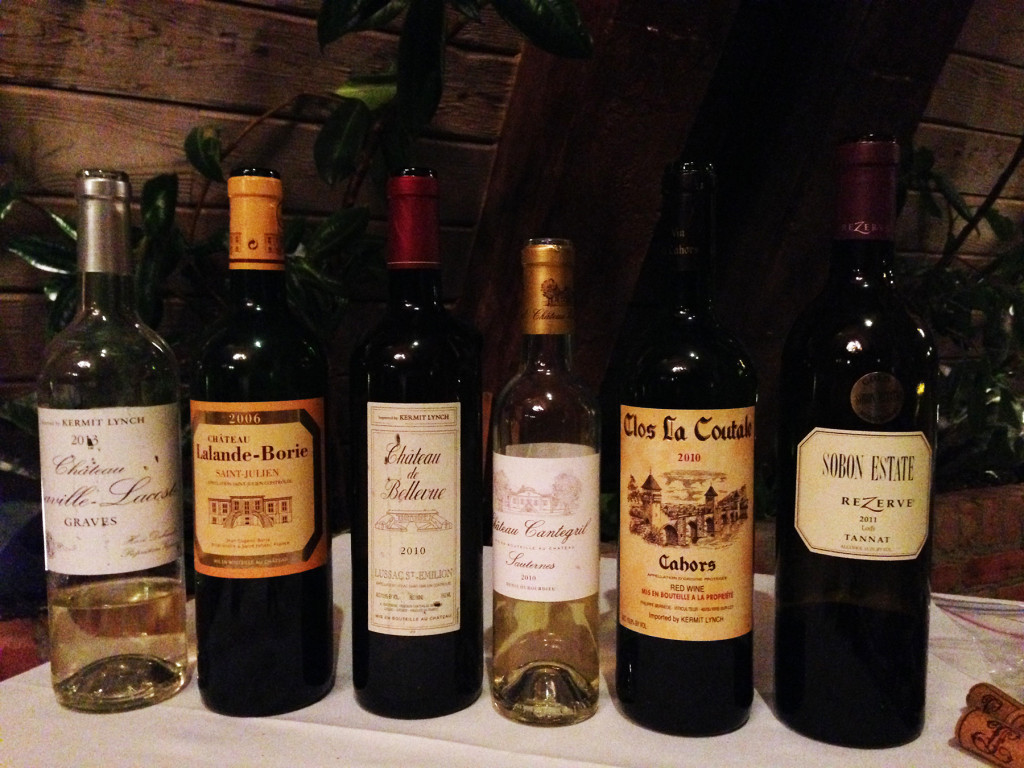 We've arrived in the South of France this week in class. So, we turn our attention to Bordeaux and the wines of Southwest France.
The wines of Bordeaux are a revered French wine icon. They are age-worthy and highly prized. When Robert Parker launched >Wine Advocate and fell in love with the 1982 Bordeaux vintage, the world's attention returned to Bordeaux.
Bordeaux produces one quarter of all the AOC wine in France and there is more Merlot and Cabernet Sauvignon grown here than anywhere else on the planet. These are the two primary red grapes of Bordeaux along with Cabernet Franc, Malbec, Petit Verdot and Carmenère. Three primary white grapes include Sémillon, Sauvignon Blanc and Muscadelle. Bordeaux wines are typically blended from the red and white grapes listed above.
Decant young Bordeaux to reveal the aroma and soften the tannins. If not decanting, allow to breathe before drinking.
While Bordeaux does not have a local cheese, it's traditional to eat Gouda with red Bordeaux. Bordeaux is also know for both its grilled meats (lamb or beef) roasted over grape vine clippings as well as seafood of the fresh and saltwater varieties. Most notably, the region is famous for duck confit and foie gras (served with Sauternes).
Southwest France
From world-famous Bordeaux, we travel to Southwest France where, despite the region's 2000 year old viticultural history, wines are still struggling to become an economic mainstay. Sparsely populated with just 10 people per square mile, Gascony is perhaps most famous for literary characters such as The Three Musketeers and Cyrano de Bergerac.
Many of the wine grapes grown in this region are the same as those of Bordeaux and even produce similar wine styles, however a number of lesser-known grape varieties are farmed as well.
Cahors is the most famous of all the Southwest France AOCs and produces red wines only. These wines must contain a minimum of 70% Malbec with up to 30% Merlot and/or Tannat.
The sweet wines of Southwest France can age for decades and like the reds of Bordeaux, Southwest reds can mature for 5-12 years depending on the vintage.
The region is known for duck and goose confit, foie gras, cassoulet and Périgord black truffles.
Wine wisdom from Bordeaux and the Southwest
There is documented mention of grape vines in Bordeaux in 77 BC.
The city of Bordeaux and the town of St.-Emilion are both UNESCO world heritage sites.
Vinexpo, the worlds largest wine fair, happens in Bordeaux.
Irrigation is not necessary in Bordeaux, which is good, because it also isn't legal.
Cahors is the birthplace of Malbec, known as the "black wine" of the Southwest.
Malbec also goes by the names Côt and Auxerrois.
And now for the tasting!
| | |
| --- | --- |
| | Château Graville-Lacoste Graves 2013: The 75% Sémillon, 20% Sauvignon Blanc and 5% Muscadelle grapes are hand-harvested in September each year. This is a great "go to" white for food. With citrus and ripe tomato notes and a buttery finish, it pairs nicely with fish, poultry, curries and lobster salad. It's available for $19.99 in Utah. |
| | Château Lalande-Borie Saint-Julien 2006: A wine worthy of aging, this could definitely still be laid down for a few more years. Notes of blackberry and redcurrant would pair well with sea bass, chicken stuffed with truffles and veal stew. It's a blend of 65% Cabernet Sauvignon, 25% Merlot and 10% Cabernet Franc. This wine is available in Utah for $34.49. |
| | Château de Bellevue Lussac St. Emilion 2010: This vineyard has been certified organic since 2005. It's bio-diversity is evident by more than 50 different varieties of plants and at least 5 species of birds observed on the property. The blend of 95% Merlot and 5% Cabernet Franc lends itself to the red berry fruits, cherry and cocoa aromas and tastes. It would pair well with duck. This wine is $29.99 at Utah DABC locations. |
| | Château Cantegril Sauternes 2010: My favorite offering of the evening, one vine yields 1-3 glasses of wine so the $17.50 pricetag is a relative bargain. Toasted almonds, honey, pineapple, orange peel and coconut are the primary notes of this 80% Sémillon, 20% Sauvignon Blanc blend. The vineyard straddles both the Barsac and Sauternes AOCs. This wine would pair beautifully with foie gras, Roquefort cheese, crunchy fried foods and fruit tarts. It is $17.52 for a 375 ml bottle in Utah. |
| | Clos La Coutale Cahors 2010: Owner Philippe Bernède is the inventor of a line of double-hinged corkscrews in addition to being the creator of this 80% Malbec and 20% Merlot blend. The classic pairing with this wine is cassoulet but it is also excellent when enjoyed with steak and potatoes. It is available in Utah for $17.99. |
| | Sobon Estate ReZerve Tannat Lodi 2011 (California): Tannat is a frequently planted variety in Southwest France. The grape is growing in popularity in the United States due to its high concentration of heart-healthy phenols so while we didn't have a French Tannat to try, we sampled a California version instead made from 93% Tannat and 7% Zinfandel. Aromas of licorice and vanilla would make it a great complement to rich dishes like braised short ribs. |
Read the full series of articles for the Wasatch Academy of Wine's French Wine Scholar program.