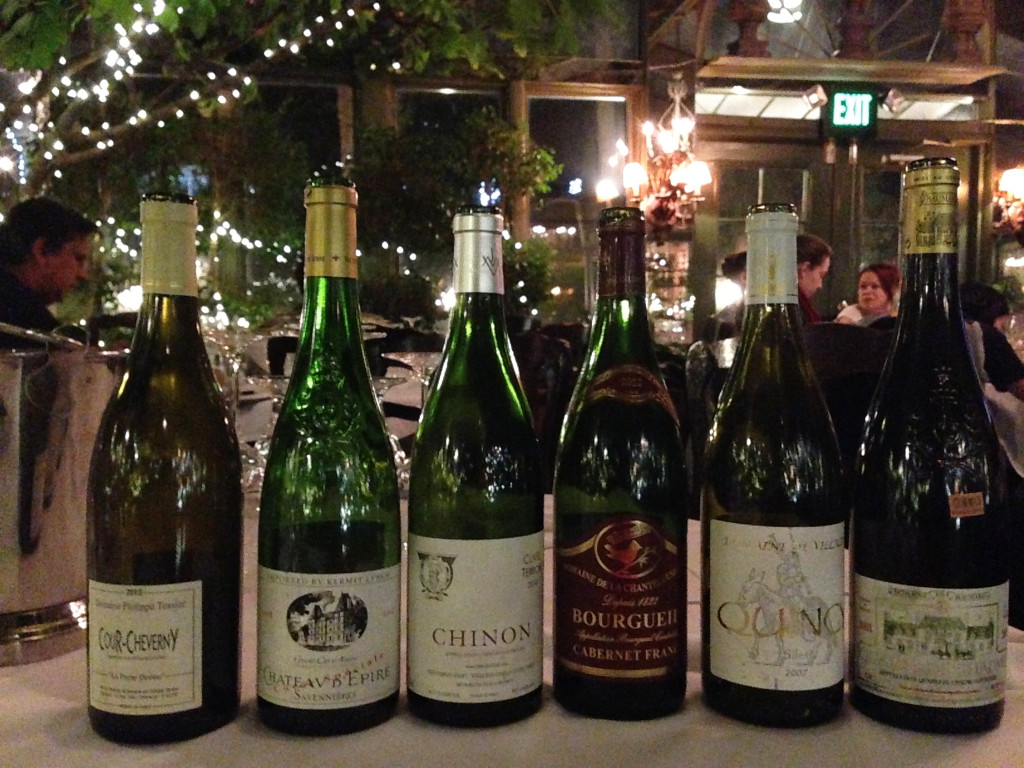 The Loire Valley is known as France's Garden. In 2000, the central (Middle) portion was designated as a World Heritage Site by UNESCO. With more than 300 castles and chateaux, the French say that the Loire is a queen that has been loved by kings as many have renovated and rebuilt glamorous summer retreats and hunting lodges.
The Loire Valley is France's largest white wine region and the second largest sparkling wine producer. There are three distinct regions making up the Loire Valley: Upper, Middle and Lower. Each grows grapes in different soils with different climates.
Principal grapes of each area are as follows:
Lower Loire: Muscadet (white) and Pinot Gris (white)
Middle Loire: Chenin Blanc (white) and Cabernet Franc (red)
Upper Loire: Whites here are made almost exclusively from Sauvignon Blanc and reds are almost exclusively Pinot Noir
Further, Chenin Blanc is the only grape used for the dessert wines of the Loire. Their high acidity combined with high residual sugar ensures that these wines will last indefinitely.
The Loire Valley also produces 70% of all the goat cheese in France so it should come as no surprise that most Loire Valley wines will pair excellently with goat cheese but a favorite is a Loire Sauvignon Blanc.
Wine wisdom from the Loire Valley
The grape Romorantin can be pronounced as: "roamaroundtown" without the hard accent on town.
The Savennières AOC produces what many consider France's most age-worthy whites.
Grolleau is the principal grape used for rosé production in the Middle Loire.
Cointreau (the orange liqueur) is made in Angers.
And now for the tasting!
| | |
| --- | --- |
| Domain Phillippe Tessier Cour-Cheverny "La Porte Dorée" 2010 | Domain Phillippe Tessier Cour-Cheverny "La Porte Dorée" 2010: This winery has been certified organic since 1998. The 100% Romorantin grapes are hand harvested from 60-80 year old vines. Due to it's relatively neutral flavor profile, it pairs well with oysters because of the subtle herbal and citrus notes. |
| | Chateau D'Epire Grand Cru Anjou Savennières 2008: This is one of the oldest and most famous vineyard in Anjou. Notes of hazelnuts and citrus are prominent in this 100% Chenin Blanc wine. Enjoy this wine with quiche, scallops or smoked salmon. |
| | Charles Joguet Cuvée Terroir Chinon 2010: Harvesting of the 100% Cabernet Franc grapes are done by hand. The wine presents wild strawberry, raspberry and violet and peony. This is a great wine to serve at Thanksgiving and the price is right as well — $22.99. In addition to turkey, this pairs with other poultry, lamb and goat cheese. |
| | Domaine de la Chanteleuserie Bourgueil 2012: This wine is one of the most age-worthy Loire Valley reds. The primary tastes of this wine—fennel, thyme, cloves and allspice—make this a very food friendly option. Available for $17.99 at Utah DABC stores. It pairs well with game meats, herbs, kale, grilled rosemary pork and goat cheese. |
| | Domaine de Villalin Quincy 2007: The vignerons who organically farm this land still use horse-drawn plows and harvest by hand. Due to the flint gravel soil the 100% Sauvignon Blanc grapes are grown in, there are lots of mineral notes in this wine along with floral, lime, grapefruit and green apple. The green herbal flavor pairs well with grilled trout, cod, shellfish and goat cheese. |
| | Domaine Des Baumard Quarts de Chaume 2003: This was perhaps one of the most wonderful wines I've personally enjoyed this class. The Chenin Blanc grapes are hand-selected in late season. Smells of golden raisins and cheese rind lead to deep raisin and apricot tastes in the mouth. This wine received 96 points from Wine Spectator and could be special ordered in Utah for about $66 a bottle (but you'd have to buy a case). It would pair beautifully with a rich foie gras, blue cheese or with poached pears or peaches with crème anglaise. |
Read the full series of articles for the Wasatch Academy of Wine's French Wine Scholar program.