As a major anchor in the makers' community in terms of skills, professional expertise, scientific and engineering backgrounds and access to equipment capable of producing items that meet rigorous quality control standards, Make Salt Lake (MSL) has stepped up during the COVID-19 pandemic to fabricate masks and face shields.
And, in terms of their finessed capacities to work with challenging conditions such as the essential requirement of social distancing for the sake of public health, Make Salt Lake members are moving gradually toward a critical mass of production with the best impact.
"I'm lucky that I work for Cricut [a South Jordan company that specializes in making tools for all types of DIY projects]," says Henry Haskell. "Our members, using our machines and a pattern that we have made free to the world, have created more than 130,000 fabric masks to help out, so I am humbled by their mighty effort."
Make Salt Lake also is fabricating masks and face shields incorporating a modified design from Prusa Research, a 3-D printer company based in Prague, which has made free open source files available to make them. Make Salt Lake's most critical networking needs have been to locate component sourcing and secure donations to accommodate a demand for masks and shields, which continues to grow exponentially.
Coordinating the efforts on the face shields has been Beth Sallay, as she and her MSL colleagues have been perfecting the design and testing the functionality of the items. The Make Salt Lake face shield comprises a headband and reinforcement piece, which are 3-D printed, and the laser-cut covering.
While MSL has three 3-D printers, some laser cutters and the materials and capabilities to produce the items, Sallay says that anyone who owns or has access to a 3-D printer would be welcomed to join the efforts, primarily to produce the 3-D printed headband portions. MSL will provide the instructions to produce the components as well as where to make safe, contact-less drops for the completed items. The files also are available at these links for the headbands and bottom reinforcement bands.  
MSL has outlined strict criteria for volunteers, who live in the Salt Lake City metropolitan area and decide to participate in the project. They include having a 3-D printer with at least a bed of dimensions 8" x 6" as well as sufficient PETG or PLA materials to produce the headbands. More importantly, all volunteers must adhere to the sanitation and safety protocol, as outlined here.
Sallay reminds volunteers that anyone, including members of their households, should not be ill nor have had contact with any confirmed cases of COVID-19. Volunteers will need masks, gloves (or hand soap), and, most importantly, sanitizer (which can be a diluted bleach solution, 70% isopropyl alcohol, or sanitizer such as Star-San) to participate. All participating builders must sign a safety agreement covering their own health conditions, following safety protocols and legal responsibilities. Contact information should be submitted at this MSL link.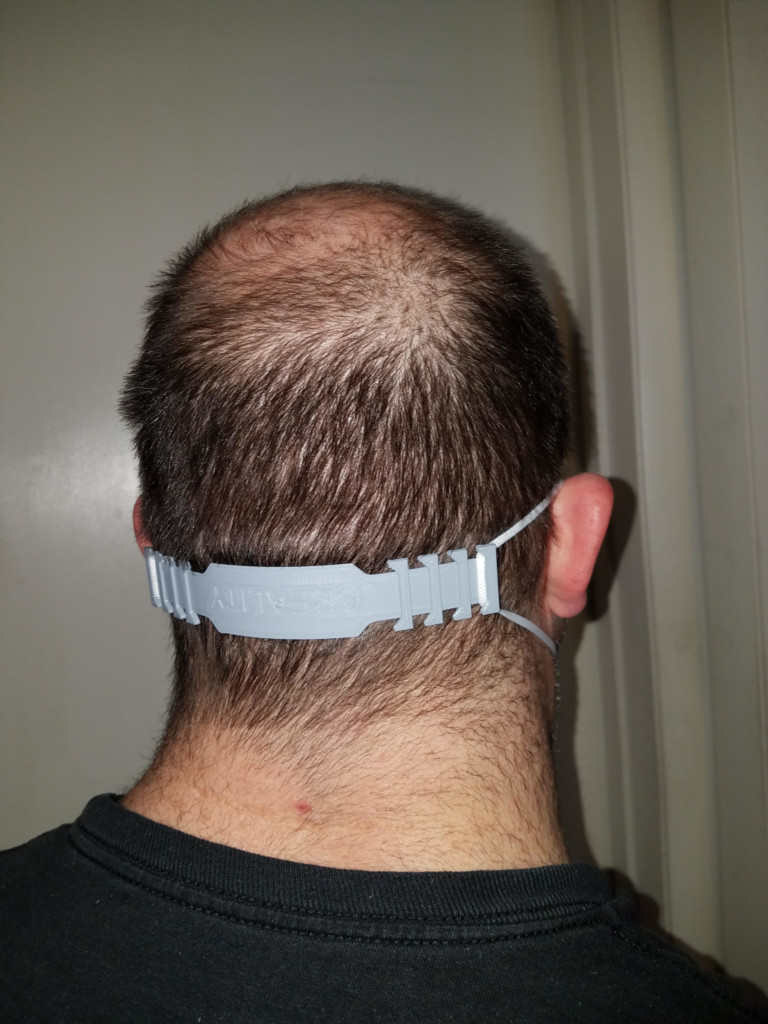 MSL will accept the completed parts from its members at its downtown location (663 West 100 South). Bins have been designated separately for PLA and PETG printed parts. For non-MSL volunteers, parts should be dropped off in a bin located at 3412 South Park Meadows Street in Salt Lake City.
MSL also is accepting donations in monies at this link, where donors can indicate how they would like their contributions to be used. Also, for those who have rolls of PETG or PLA filament available, arrangements for donations can be made at this link.  
Meanwhile, Haskell also has been pursuing another project, printing mask adjustment clips from files made available as a free download from Creality, an international 3-D printer manufacturer.
"I had picked this project based on the evidence that Creality had for the need of them in Shenzen (China) where the company is based," Haskell explains. "Creality invented the buckle to take the pressure off the ears for the people wearing the masks, and to adjust masks that had to be pushed past their serviceable life because of the demand imposed by shortages."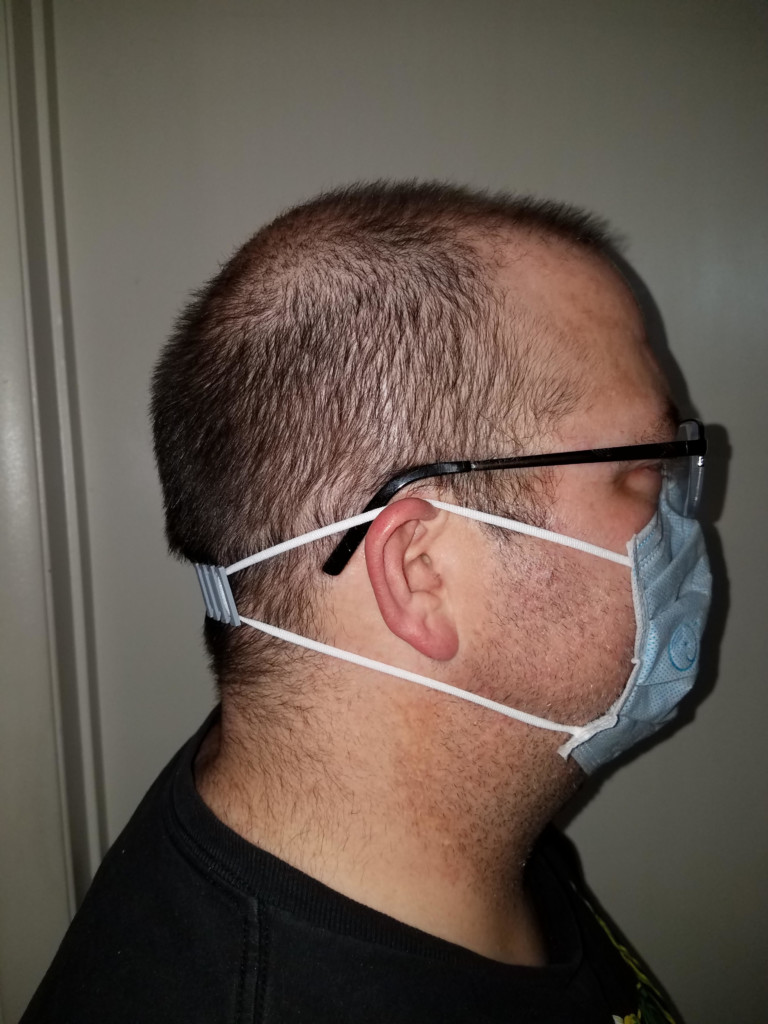 Haskell has noticed that health care providers have been using fabric masks in order to ensure their surgical ones are preserved in their sanitized state for the most critical and urgent uses when in contact with critically ill patients. "Health care workers said they would like to use the clips for the fabric masks to get the straps off their ears because they occasionally develop sores from constant contact with the fasteners," he adds.
The response has been quick and substantial. He filled orders for more than 250 clips within the first two days, sending 25 on average to each respondent. "I would like to keep making these as long as I can print them and give them away," he explains. "Social media seemed like an easy way to find people that needed them."
Haskell's point also has been amplified by tech journalists, such as Josh Constine in a recent TechCrunch.com article. "Facebook has grown into a fundamental communications utility, holding special importance during the COVID-19 crisis," Constine explains. "News organizations are sharing life-saving tips while non-profits are raising money for artists and businesses impacted by widespread quarantine orders. That means it's more critical than ever that Facebook keep information flowing properly."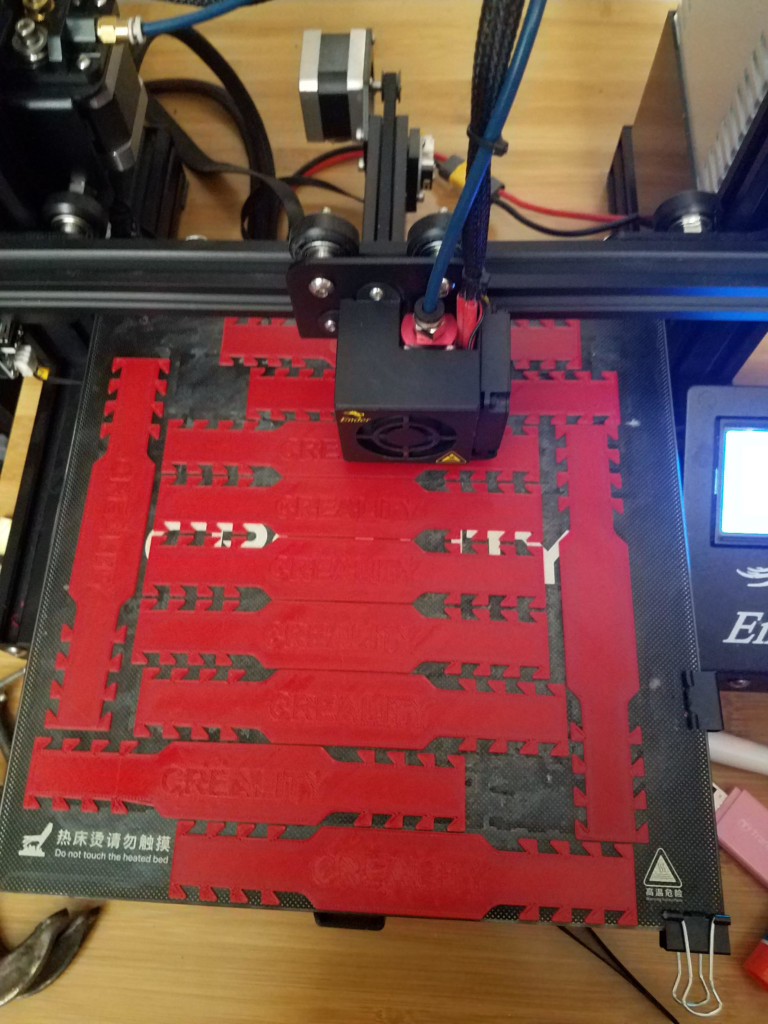 Another collaborative project in which MSL is participating is Folding@home (FAH or F@h), a distributed computing project for simulating protein dynamics, including the process of protein folding and the movements of proteins that are critical in understanding various diseases. As Kerry Geiler explained in a 2010 Harvard blog post, "By folding into distinct shapes, proteins can perform very different roles despite being composed of the same basic building blocks. To draw an analogy, all vehicles are made from steel, but a race car's sleek shape wins races, while a bus, dump truck, crane, and Zamboni are each shaped to perform their own unique tasks."
The project somewhat resembles the SETI project in its structure and format although FAH encompasses the rigors of hard science in immediate practical ways unlike SETI's search for extraterrestrial intelligence. FAH invites volunteer citizen scientists to run simulations of protein dynamics on their home computers. The data are gathered to help scientists gain critical time advantages for developing therapeutics.
MSL's portfolio ranges from DIY projects to creative craftsmanship and manufacturing high-quality components and to science and technology-based projects where rigorous data protocols are essential for function and replicable study.
MSL members, for example, have previously developed low-cost portable air quality sensors that connect to WiFi. The data collected are incorporated into a University of Utah database. The implications mean more precise targeting of air quality issues in urban locations, which could have an impact on improved policy measures. MSL also has been instrumental in making the Utah Arts Festival's Art and Technology one of the most popular venues at the annual event. Indeed, the COVID-19 pandemic has created unexpected opportunities for art and science to collaborate in communities on a large networking scale.