Bala Thiagarajan (Booth 104, Arvada, Colorado) may be a newcomer to the Utah Arts Festival but her portfolio is extensive with awards, gallery and solo exhibitions, juried art fairs, self-published books, workshops, live demonstrations and art lectures. More than 800 of her original artworks are in collections in the U.S., India, Germany, Hong Kong, Mexico, Chile, Costa Rica and elsewhere.
With henna styled textured acrylic paintings comprising a substantial portion of her output, the self-taught artist was born and raised in Chennai, India and came to the U.S.to earn a doctorate in biology at Kansas State University. But, in 2012, Thiagarajan dramatically switched course to become a full-time artist.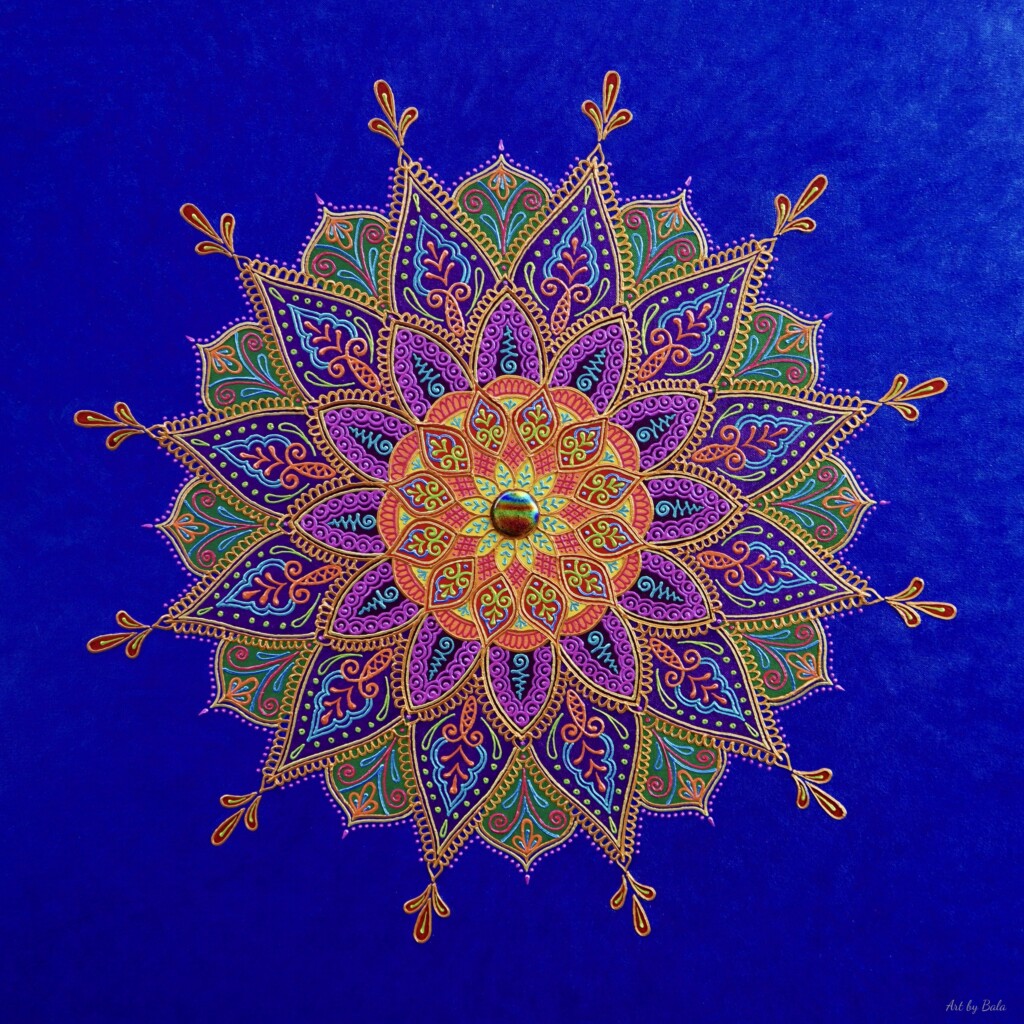 Her paintings are stunning for how they synthesize intricate mathematical and geometric symmetrical details with a luminescent meditative sensation, born of the images of the clothing (for example, cotton and silk saris), adornments and artistic traditions of her native southern Indian home. Working with acrylic paint, she has excelled, in particular, with incorporating elements of henna body art, kolams and rangolis that accentuate the rhythmic pulses, which inspire her at the easel when she creates mandala paintings.
In an interview with The Utah Review, Thiagarajan says, "I identify as an Indian immigrant artist who places on a canvas the culture and art that Tamil women in India do every day."
With no formal training, she approaches her art with the same problem-solving creativity she did in her research and experiment design as a scientist. Her process has evolved and diversified, thanks to experimenting with some 20 different kinds of paint. She also uses henna and pastry piping bags and squeeze bottles to place dots and lines with acrylic paints. Thiagarajan also works in ceramics.
Naturally, Thiagarajan was inspired by the artists from her southern Indian roots but she also was inspired by Claude Monet's paintings, such as Water Lilies. Indeed, an Art Institute of Chicago feature by Kimberley Muir and Ken Sutherland noted how Monet took advantage of 19th century advancements in the chemistry used to produce pigments that were like those of the colors in nature. "The pigment was fundamental to his painting technique and vital to the luminous, high-key opacity of his colors," they wrote. "He incorporated it into most of his paint mixtures to adjust the tones and also used it for texture, creating thick impasto on the surface of works or building up multiple layers."
Thiagarajan has enjoyed the transition from academia to life and work as a full-time artist. "Once in a while, I do miss the intellectual engagement, not teaching or doing field work," she says. Her postdoctoral work involved mathematical modeling.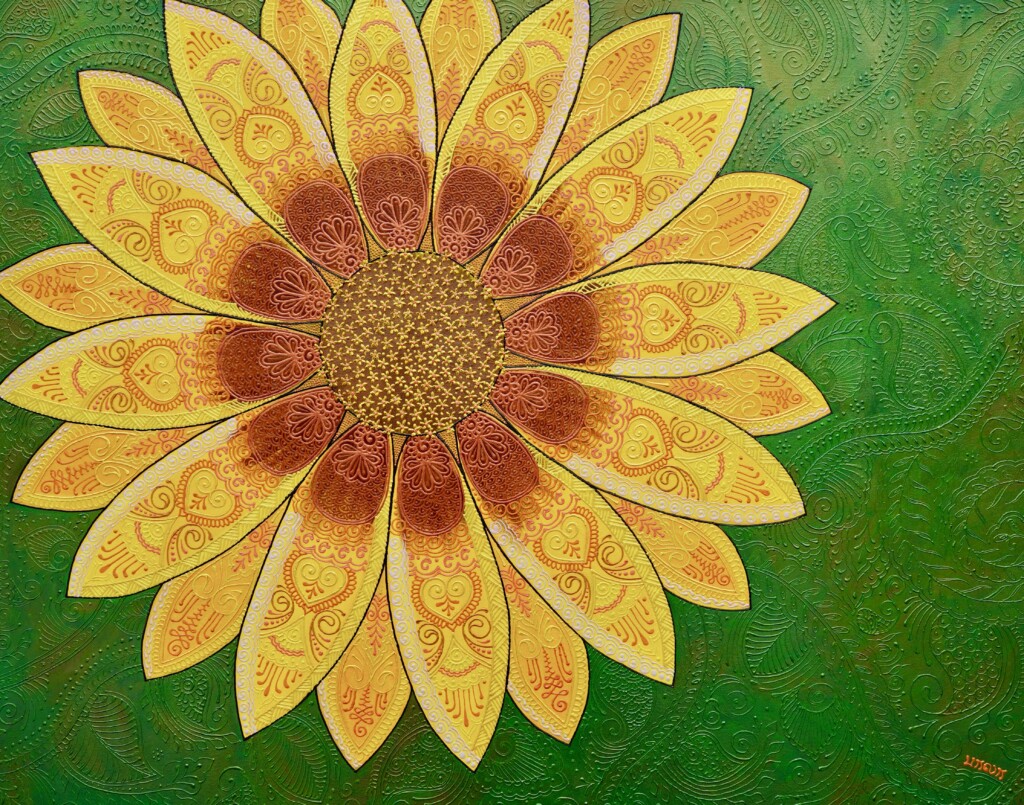 While mandalas are a part of many cultural traditions around the world, each has its distinct significance and meaning. "I paint mandalas as part of my identity, remembering how I grew up and how the colors reflect the precise and clear Indian influence in art. I see it as a productive way of educating people about Indian artwork," Thiagarajan explains. In addition to mandalas, there are other works highlighting animals and organic flowers.
She works on at least several pieces at once. "I am working on five small pieces while there is a canvas representing a different or experimental body of work sitting on an easel," Thiagarajan says. "I cannot work on a single painting from start to finish, so I try to use the eight hours a day to make the best use of time. And, I don't have an issue of going back and forth on a painting."
For more information and tickets, download the Utah Arts Festival app for free, available to Android and iOS users. There also are links to the UAF's standard website.