For 11 years, the Utah Film Center has consistently modified its approach to programming for the Damn These Heels Salt Lake City International LGBT Film Festival, which will be held this Friday through Sunday (July 11-13) at the Rose Wagner Center for Performing Arts in downtown Salt Lake City. In some years, the programming slate has taken on a distinctly political tone while others have been more aimed toward entertainment and comedy. Now, as the marriage equality movement has gathered steam not only in the United States but also in other countries, this year's festival represents a comprehensive snapshot of today's cultural and social barometers when it comes to the LGBTQ community. Indeed, the 16 films signify where progress is made and where work still needs to be done.
Profiles predominate in this year's documentaries, and there is the merited spotlight on transgender activism. There are amusing diversions but there is an excellent representation of coming-of-age stories in the fictional narrative selections, especially those from other countries. The most noteworthy feature is how many films situate sexual identity within a much larger exploration of family and community relationships. Several films already have won numerous awards at international film festivals and others are just beginning to gather their momentum on the festival circuit. "This year, the high quality of LGBT themed films made selecting a program incredibly challenging—it was tough to narrow our list down to 16 films," says Patrick Hubley – artistic director for the Utah Film Center and Damn These Heels programmer. "The programming committee has put together a lineup that is as diverse as our community."
For a complete schedule of screenings, see here.
'Compared to What: The Improbable Journey of Barney Frank,' directed by Sheila Canavan and Michael Chandler (US, 2014, 90 minutes), premiered in late April at the Tribeca Film Festival. This film will open the festival July 11 at 8 p.m. and will have Frank and his husband, Jim Ready, on hand, along with the directors, for a post-screening discussion.
Frank, who retired at the end of the 112th Congress, is typical of other strong personalities who came to Washington from Massachusetts – notably, the late Sen. Ted Kennedy and the late former U.S. Speaker of the House Tip O'Neill, who also reached across the partisan aisle. Although he was the first openly gay member of the U.S. Congress, it was not until late in his legislative career that he made his strongest impact – and it came as a result of the Great Recession. He led efforts to outline the details of the government's bailout package and the Dodd-Frank Wall Street Reform and Consumer Protection Act of 2010.
The documentary captures the essence of Frank, who, in reality, was a careful, measured legislative negotiator who saw the debate for marriage equality as one to be won on political and legal merits on a state-by-state basis. It's a good first take on considering Frank's historical legacy.
The other power-hitter documentary focuses on George Takei, a television star from the past who otherwise might have spent his remaining years in obscurity had he not become one of social media's most adept practitioners. 'To Be Takei,' directed by Jennifer Kroot (US. 2014, 90 minutes), is as true to Takei's now famously witty and approachable online demeanor as any cinematic treatment could be. Takei's family was among those in the Japanese internment camps during the 1940s and his biography is laid out in an immensely satisfying way that is as serious in moments as it is light-hearted in so many others. Takei is not just a novelty pop culture icon but also a deeply committed activist who always should be taken with great respect. This is an immensely successful film and one that would make a great example for any media studies or pop culture curriculum.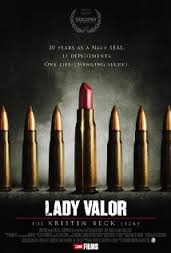 However, the undisputed star of the documentary offerings is 'Lady Valor: The Kristin Beck Story,' directed by Mark Herzog and Sandrine Orabona (US, 2014, 90 minutes), which chronicles the story of a former U.S. Navy Seal who now is one of the country's foremost transgender activists. Beck's story emerges so naturally, so effortlessly and so realistically that one hopes all biographical documentaries would follow the directors' wise choices of letting the subject speak with the purest emotions possible. Ms. Beck will be on hand after the July 12 screening at 4 p.m. for a post-screening Q&A session.
'Appropriate Behavior,' by Desiree Akhavan (US, 2014, 82 minutes), which received its premiere at Sundance last January, is often compared to Lena Dunham's film debut 'Tiny Furniture.' What sets Akhavan's smart, hugely entertaining autobiographical entry apart is how candidly and with self-effacing humor she blends in the tensions of dealing with her parent's strict Iranian cultural mores and norms with the easily parodied elements of Park Slope life in Brooklyn. In her story of a closeted bisexual, Akhavan uses comedic touches and approaches in the same way as Dunham but they come off as more interesting being viewed through a lens that invites willingly a sharp multicultural perspective.
As substantive as Akhavan's comedy is, Eytan Fox's 'Cupcakes' (Israel, 2013, 90 minutes) is pure palate-cleansing fluff. Set in Tel Aviv, the story follows a group of young fans watching a parody of a popular voice competition television show. Amid the revelry, the group do an impromptu performance of a song that is recorded on someone's cell phone and the video eventually ends up in the hands of the show's judges. Just as entertaining is 'Such Good People,' directed by Steward Wade (US, 2014, 95 mins.). It's madcap enough and unrealistic, too. The eye candy, however, is this film's redeemer.
A surrealistic exploration of earthly delights emerges in 'You and The Night' (France, 2013, 98 minutes), directed by Yann Gonzalez. Focusing on a young couple and their transvestite maid who prepare for a midnight orgy that includes 'The Slut, The Star, The Stud and The Teen.' The real bonus, however, is the music by M83, the French electronic group which has the style cachet of Daft Punk but not as evident in compositional skills.
Fictional narratives from the international entries deliver convincingly on many perspectives that broaden the global view on how to live one's identity as freely and as authentically as imaginable. For young, thoughtful audiences, Mischa Kamp's 'Boys' (Jongens) (The Netherlands, 2014, 77 minutes) is one of the best gay-themed coming-of-age stories to be produced. With four awards including the Best Feature for Youth from the Zlín International Film Festival for Children and Youth, this film is exceptional for the beautiful sensitive portrayal of how adolescents must confront and cope with insecurity. Audiences will immediately take to the sincere portrayals of both leads – Sieger, a 15-year-old athlete training for a national relay championship, and Marc, a friend whom Sieger also discovers has romantic feelings for him. The film is a perfect choice for teen audiences but also for adults who wonder just how to counsel and support their children who likely will go through similar situations.
Just as good as 'Boys' is 'The Way He Looks,' ('Hoje Eu Quero Voltar Sozinho') (Brazil, 2014, 95 minutes), directed by Daniel Ribeiro. The film is a feature expanding upon a short film Ribeiro completed four years ago about a blind teenager (Leo) who finds love with a friend (Gabriel). The feature-length treatment introduces Leo's parents who are understandably nervous about their son's condition. Ribeiro also fleshes out the friendship dynamics with Giovana, who appeared in the original short film, particularly as the three teenagers interact with others at their school. The film won two awards at the Berlin International Film Festival as well as honors in Guadalaraja and Torino.
'My Straight Son' ('Azul Y Non Tan Rosa') (Venezuela, 2012, 112 minutes), directed by Miguel Ferrari and tapped as Best Ibero-Amnerican Film in this year's Goya Awards, is a notable entry. Diego, a photographer in the high end of the fashion world, has been hit with several events at once. His boyfriend (Fabrizio), a gynecologist, is in a coma after a brutal attack. Meanwhile, he has been entrusted to care for his teenaged son (Armando), as his mother is finishing up her advanced degree in London. The boy cannot understand why his father is gay and that sets up the film's urgent tensions. The story is straightforwardly told, with the inevitable theme of tolerance, but it could have gone further.
Better is 'Tom at The Farm,' ('Tom à la ferme') (Canada, 2013, 102 minutes), directed by Xavier Dolan, which already has four awards to its credit, including honors at the Istanbul International Film Festival and Venice Film Festival, as well as acknowledgments by the Vancouver Film Critics Circle and the International Cinephile Society. The film, based on a Michel Marc Bouchard play, starts painfully, as Tom, whose boyfriend has died, travels to the farm where his boyfriend's family lives. Agathe (the mother) is clearly uncomfortable with Tom's presence and then there is Francis, who is homophobic, and is playing up a complex psychological web that swings between his grieving mother and the man who loved his brother. The film toys too much with the emotional thriller game element but then the viewer is always left guessing just how much and if indeed Tom doubts the real intentions of what Francis is trying to do.
One of the most complex emotional treatments in the festival is 'Dual' (Dvojina) (Slovenia, 2013, 102 minutes) by Nejc Gazvoda, a story about two individuals, one of whom is a Danish plane passenger stranded at at the Ljubljana airport. The other is a Slovenia van driver who transports passengers to and from the airport. Tina, the driver, takes the passenger out for a night on the town. Here there are lots of layers going on, not just with the emotional centers of the characters. This is a firm portrayal of restless, frustrated sentiments of a former communist country that has battled relentlessly in trying to gain a true sense of economic and social justice in a changing Europe. Draped against that background is the stark reality of how difficult one can find terms of comfort and happiness in living their identities as honestly as possible. To wit: the film won two awards at the Slovene Film Festival, including Best Actress and Best Music.
Dark in tone and story arc, Till Kleinert's 'Der Samurai' (Germany, 2014, 79 minutes) is little connected to the notion of samurai with the exception of a sword. The film centers on a queer werewolf but really is more along the lines of psychological exploration than it is an outright horror film. There are lots of metaphorical imagery with mythological hints in the scenery which features plenty of deserted streets and darkened forests.
Stefan Haupt's 'The Circle' ('Der Kreis') (Switzerland, 2014, 102 mins) is longish but there are plenty of scenes that support the docu-drama format of this film, which has won four awards including honors at the Berlin International Film Festival, Tróia International Film Festival and the Torino International Gay and Lesbian Film Festival. The story chronicles the long relationship of Ernst Ostertag and Röbi Rapp, who in 2007 were the first couple in their country to register their partnership. The title comes from a gay magazine of the same name. Ostertag (a teacher) met Rapp (a transvestite performer) at an event in the 1950s, and the couple recall the many events of their relationship, which involved as much risk and danger, especially in keeping it discreet and covered, as it did in the normal emotions of alternating joy and misery of any long-term courtship. Their stories are reenacted on the screen with young actors and the recreated scenes are done with a great deal of detail. The film provides a good historical account of state-sanctioned suppression against gays that was accepted by many with little or no protest.
Solidly situated in traditional documentary treatment comes the Puerto Rican entry 'Mala Mala,' directed by Antonio Santini and Dan Sickles (US, 2014, 87 minutes.), which was nominated for honors at Tribeca. A timely story, released just as Puerto Rican legislators enacted laws banning discrimination based on sexual and gender identity, the film tells the stories of various individuals, ranging from April Carrión, the transgender star and winner of Ru Paul's Drag Race television competition, to the particularly compelling profile of Paxx, a young transgender individual who survives on his own. The directors and Carrión will participate in a post-screening discussion on July 13 at 7 p.m.
Likewise, 'My Prairie Home,' directed by Chelsea McMullan (Canada, 2014, 76 minsutes), highlights the story of Rae Spoon, a Canadian musician who identifies as a transgender man but prefers the pronoun 'they.' The film, green lit by the National Film Board of Canada, follows an outstanding musician whose 2012 book titled 'First Spring Grass Fire,' detailing 'their' formative years in Alberta and 'their' family of evangelical Christian parents, was the basis for 'My Prairie Home.' The accompanying album soundtrack has been nominated for the 2014 Canadian Polaris Music Prize, which will be decided and presented in Toronto this fall. The film, which was nominated for a grand jury prize at this year's Sundance, won the nod for Best Canadian Documentary from the Vancouver Film Critics Circle and honors at the Cracow Film Festival.
Passes and individual tickets for the festival can be purchased here. The film festival is sponsored, in part, by Weinholtz Family Foundation, Dancing Llama Foundation, and Utah Pride Center.