There is an appropriate and gratifying takeaway from Bekah Brunstetter's comedic play The Cake, which the Salt Lake Acting Company (SLAC) is giving its Utah premiere in a well-acted, polished production. While many anticipated the U.S. Supreme Court to make a momentous decision last summer in the Masterpiece Cakeshop case involving a baker in Colorado who had been sued by a gay male couple, the decision initially left many on both sides of the case feeling disappointed. However, one thing became clear upon reading the decision. To quote directly from the Supreme Court decision: "Our society has come to the recognition that gay persons and gay couples cannot be treated as social outcasts or as inferior in dignity and worth."
And, Brunstetter's play, with heartfelt comedy and emotionally intelligent balance, expands upon that theme successfully. Furthermore, the SLAC production, directed by Justin Ivie, fleshes out this epiphany with strong acting in all four principal roles. It's a distinction worth noting, as the Salt Lake City production is running current with Off-Broadway performances at the Manhattan Theatre Club.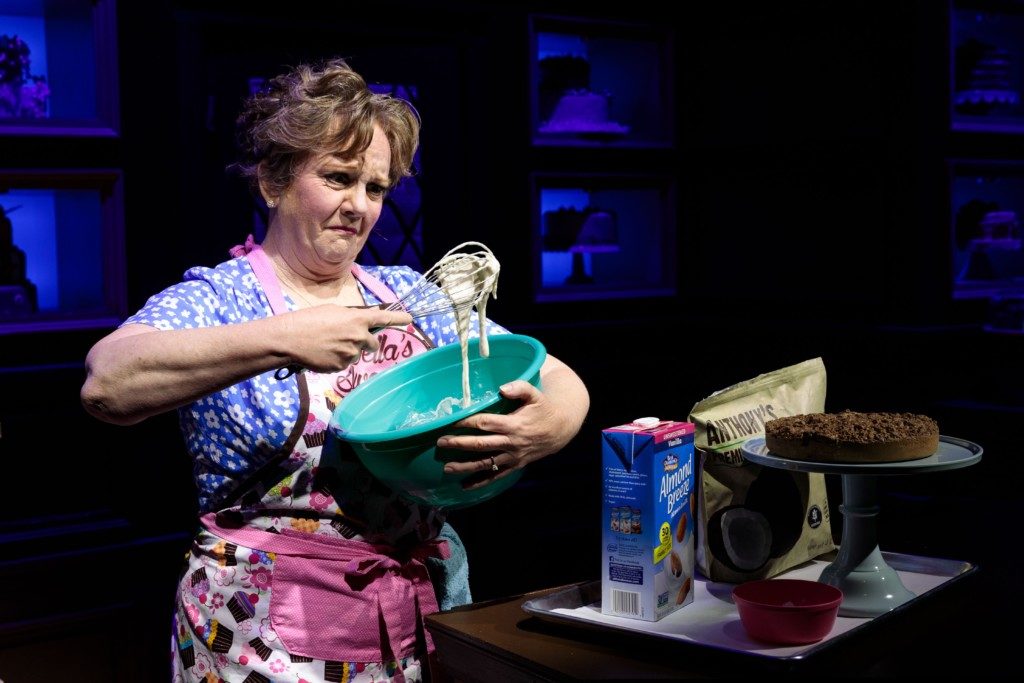 The play is set in the middle of red political territory in the heart of North Carolina. Sincere and effervescent in her Southern hospitality, Della (Betsy West) runs a cake shop and she is looking forward to competing in a television baking competition. Her cheerfulness also serves as protective armor. In addition to dealing with the stresses of running her own business, she wonders if her husband Tim (Joe Crnich) no longer finds her sexually attractive. She worries that their difficulties in trying to have children may have triggered the loss of their libido. Tim is goofy and awkward but in a charming way and Brunstetter ensures his character is developed as fully as the remainder of the cast.
The audience learns all of this after a bubbly exposition in the play but after the key tension takes shape. When Macy (Latoya Cameron) appears at the shop, Della tries to charm her new customer, including offering cake samples. Macy, an African-American in her early 30s, is aloof, refusing to engage Della's homespun hospitality, especially when Della professes her earnest Christian views. Announcing that she is on a gluten-free diet, Macy pulls a treat bar from her bag, which is a stinging insult to Della, even if she does not show how much it could shake her confidence. Appearing on a nationally televised baking competition could do wonders for her business. Meanwhile, Macy takes copious notes for an article that becomes part of a major plot point in the play. West and Cameron evoke with utmost credibility the tension that builds quickly between the two characters.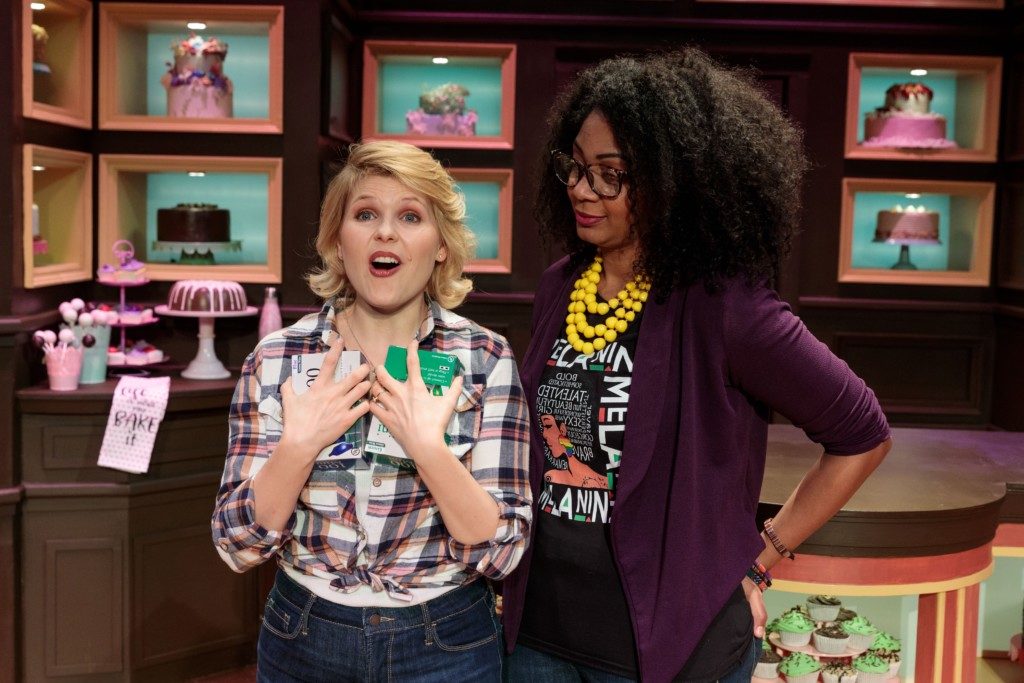 Della, though, is cheered by the arrival of Jen (Carrianne H. Jones), who has returned to her hometown to be married in an event with all of the traditional trimmings she has catalogued in her wedding binder. Jen's mother, who died years ago, was Della's close friend and so the cake shop owner welcomes her as if she was her own daughter. Della, of course, is thrilled to hear that Jen wants her to bake the wedding cake. The boom, however, is lowered when Jen introduces Macy as her fiancé. Della's refusal to bake the cake arises from more complicated circumstances than the plainspoken details of the Colorado case that landed in the hands of the U.S. Supreme Court.
Once the main plot is set, the play becomes ever more interesting. Reluctance, skepticism and hesitation define every main relationship in this play: Della and her faith, Jen and Macy, Della and Tim, Della and Jen, Della and Macy, Tim and his self-confidence, Macy and fidelity to her ideology. Brunstetter's writing blends the comedy and the dramatic touchstones well enough that one never feels a lapse in voice or emphasis. And, each actor handles the nuanced shifts throughout the script marvelously. Brunstetter is writer and co-producer of NBC's This Is Us.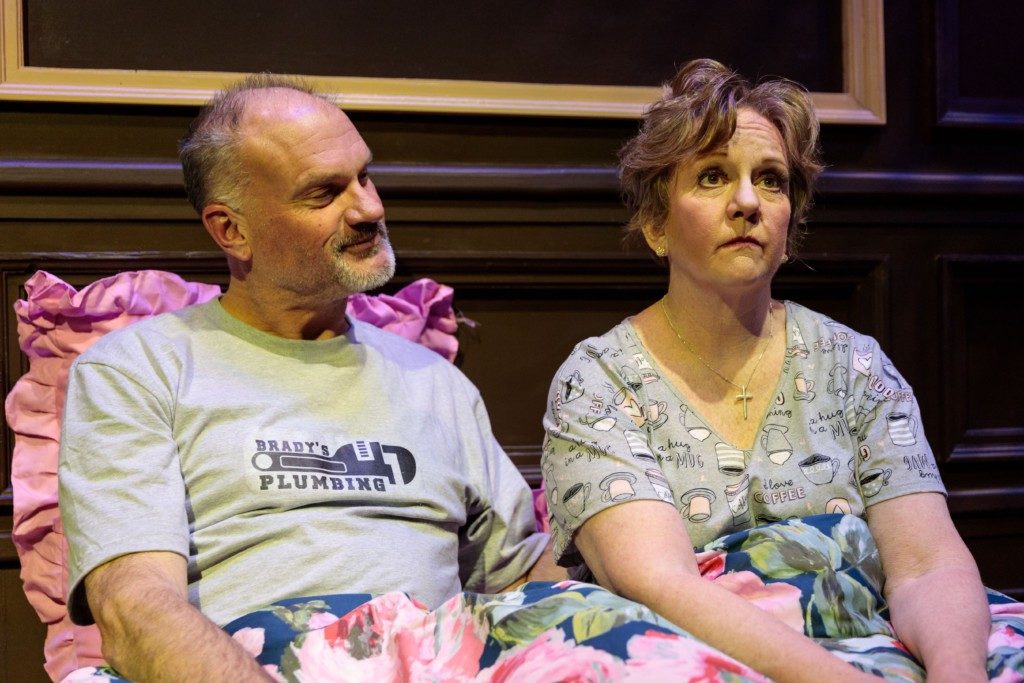 The Cake is timely. Of course, the right of marriage equality was decided affirmatively by the U.S. Supreme Court. But, that did not prevent all sorts of other disputes, seemingly more quotidian than the cases which ultimately decided the right to marriage. For example, small business owners such as bakers believed they had their own rights to assert, especially when such requests challenged their own spiritual bearings. At some points in the play, Della is not much different from the baker in the court case. Della sees her work as artistic expression. Her expertly designed cakes reflect the pure joy she sees when two people are married. But, she also never imagined that she would be called upon to bake a cake for a same-sex couple, much less the daughter of a cherished friend.
Many criticized the U.S. Supreme Court for failing to decide the merits of the case conclusively, which seemed even more frustrating given the length of the decision. In Brunstetter's play, the political ramifications are addressed in a productive, practical and entertaining way. Sometimes, we do not realize how much could be sacrificed in declaring victory or defeat in what obviously grew to a momentous battle. And, as both Della and Macy recognize, it makes more sense to set aside smugness and bitterness in discovering a better path to affirmation and respect on both sides of the fence. The play is a refreshing diversion for empathy, which seems to be missed sorely these days.
The set design stimulates the urge for a slice of cake after the performance. The prop cakes that appear in the show were originally designed by and for The Warehouse Theatre and the Contemporary American Theater Festival productions of the play. SLAC also offers the production with the Utah Pride Center and Flourish Bakery as partners. Wood handcrafted items made by Anderson Turnings and Boxes, LLC, also are available for sale with proceeds going to SLAC. The set also is cleverly designed for beds to slide out on both ends — one for scenes involving Della and Tim and the other for Jen and Macy.
The production continues through March 10. Performances are Wednesdays through Saturdays at 7:30 p.m. and Sundays at 1 p.m. and 6 p.m. Additional performances are Feb. 19 and Feb. 26 at 7:30 p.m. and March 2 at 2 p.m. SLAC's performing venue is in SLAC's Upstairs Theatre at 168 West 500 North.
Tickets and more information can be obtained via the SLAC web site.