A busy spring season for many Utah based performing arts company has produced memorable performances.
RIRIE-WOODBURY DANCE COMPANY: RETURN
In Daniel Charon's Return, the Ririe-Woodbury Dance Company created a new realm of dance theater by imagining the six dancers aboard a starship on a galactic journey, one of the most conventional elements of science fiction literature, and an original soundtrack composed by the Salt Lake Electric Ensemble stunning in how it verifies mathematically and convincing the technological elements of the invisible but ubiquitous interlocutor of artificial intelligence.
Return's representation of interstellar space succeeded magnificently. The dancers (Yebel Gallegos, Mary Lyn Graves, Megan McCarthy, Dan Mont-Eton, Bashaun Williams and Melissa Rochelle Younker) intensified the sensory experience in the limited space surrounded by the audience on all four sides. The quadraphonic effect of the original music emphasized just how well the dancers had done their homework in serving Charon's themes through their movements and gestures. Rounding out the production were costumes designed by Melissa Caldwell Clarke and superb lighting work by William Peterson.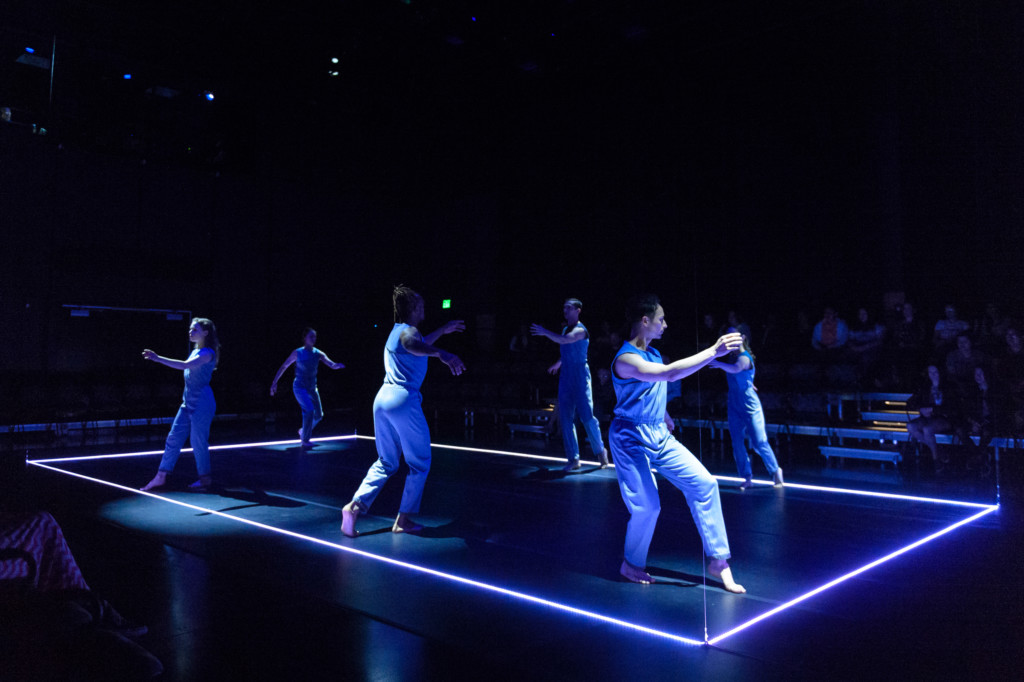 The venue was the Regent Street Black Box Theatre in the downtown Eccles Theater complex – a challenging place to set work like this. But, it unquestionably demonstrated just how the space could be used to its full artistic impact. Indeed, as the father of a five-year-old boy recalled after the Saturday family matinee of the company's Moving Parts Series, he loved it, "but he really got into it because it was the first show he's seen set 'in space.'"
Return completed Charon's trilogy of Together Alone, which included two previous installments titled Shift and Enter. In Return, the dancers speak text in several instances, including original dialogue by Robert Tennant, Google Artificial Intelligence and brief quotes from Kim Stanley Robinson's science fiction novel Aurora (Orbit, 2015). Some of the dialogue is spoken in Spanish.
The work, which takes just a little more than an hour, absorbs the audience. At times, the dancers convey restlessness in their isolated environment, building the tension of wondering how they will ever liberate themselves from a space that is so restricted and their capacity for fully human interactions is even prohibited. The surprising thing about the spoken text up until the last short soliloquy is its mundane futility but then the final words uttered by Mont-Eton clinch the redeeming effect. The passionate warmth of dance comes through – the opportunity to soothe the flattening pain of our digital and technological environment with the earnest appeal for loving interaction.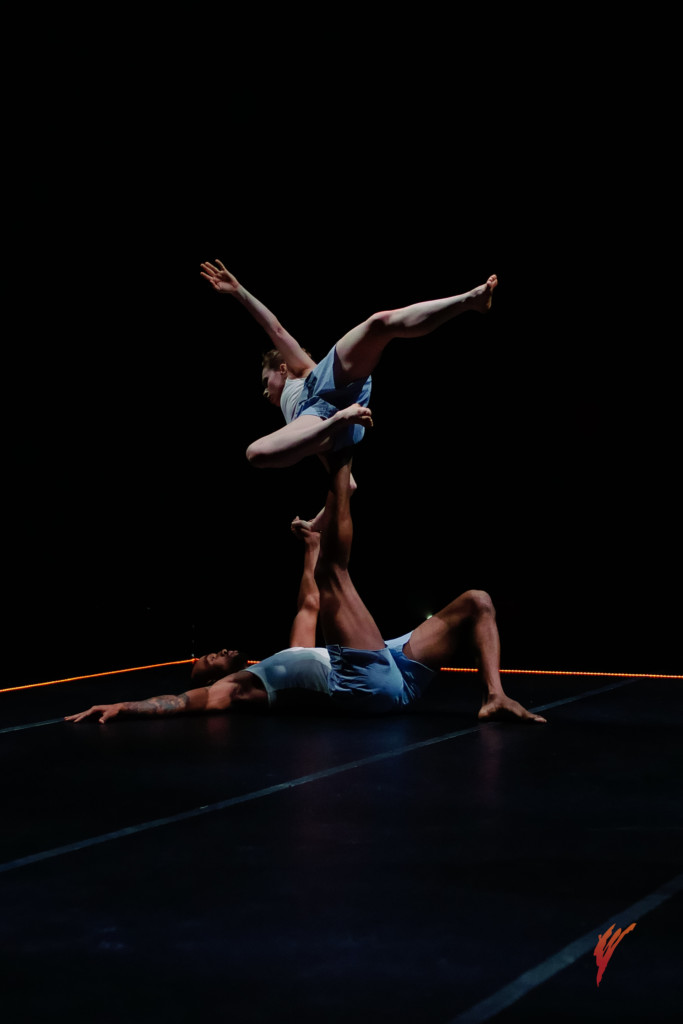 Meanwhile, Salt Lake Electric Ensemble's original score fuses elegantly with the choreographed narrative. One of the most fascinating aspects is how often the music reflects the inner space of the dance characters. Even more impressive is how the dancers respond to the occasionally abrupt switch in musical textures and the complex syncopated, additive and divisive rhythmic patterns that pop up throughout the work. The score was created by SLEE's members, including Austin Booth, Daniel Clifton, Ryan Fedor, Nick Foster, Charlie Lewis, Oliver Lewis, Matt Starling, Michael Wall and Scott Wasilewski.
While Return concluded a most courageous and artistically satisfying 54th season for the company, the dancers and key Ririe-Woodbury staff are in the middle of a cultural diplomatic tour this month. They remain in Mongolia until the 15th when they will then finish out May in South Korea. The trip is part of DanceMotion USA℠'s cultural diplomacy program, which is coordinated with the U.S. Department of State's Bureau of Educational and Cultural Affairs and administered by The Brooklyn Academy of Music (BAM). Ririe-Woodbury was one of three American dance companies selected for the program, which is in its seventh year.
NOVA CHAMBER MUSIC SERIES: CLOSING CONCERT FOR 40TH ANNIVERSARY SEASON
If every orderly transition in an organization or institution came off as exquisitely as last weekend's closing concert for NOVA Chamber Music Series' 40th anniversary season, we would be fortunate to move forward with less stress and more promise.
NOVA's milestone season already has generated many musical memories, as Jason Hardink prepared to hand the baton of music director over to Madeline Adkins, Utah Symphony concertmaster. This past season, as Hardink summarized in his notes, NOVA "presented eight world premieres of new works, seven chamber concerti featuring Utah soloists, a chamber opera, the completion of a Bartók and Haydn string quartet cycle, two vast instrumental works by Michael Hersch, six education concerts in public schools; all of this in addition to an array of beloved classical works by Bach, Mozart, Beethoven, Ravel, and Messiaen."
The final concert was filled with many knockout moments. Soprano Melissa Heath and pianist Frank Weinstock quickly set the tone with Olivier Messiaen's Trois Mélodies, all short songs that the composer won first prize as a Paris Conservatory student as he neared his 22nd birthday. It's one of Messiaen's earliest examples of his budding musical language and the songs use the octatonic scale, one of his limited modes of transposition that would make his harmonic colors so instantaneously recognizable. There's a peculiar mysticism in these songs about nature, love, and loss and memory and Heath captured the effect perfectly. Weinstock's accompaniment was so intricately balanced that it heightened the emotional impact of Heath's interpretation.
The duo returned later with an even more spectacular reading of three Schubert lieder taken from Johann Wolfgang von Goethe's text, including the famous Gretchen am spinnrade. The most poignant moment came in the second song An die Entfernte, which the composer wrote at the age of 25 in 1822. The song's first line translates to "So have I truly lost you?" But, it is the last lines that Heath sings with such emotional understatement that it genuinely brings a tear to the eyes: "Singing to you through all my songs, O come, my darling, back to me!" Weinstock's accompaniment could not have been more suited to this phenomenal moment. It makes one wonder just how Goethe could have been so indifferent to Schubert's praiseworthy adaptation of his verse. But, then Schubert always has been the victim of time's coincidence, as his short life fell almost entirely within Beethoven's existence and the teenager named Felix Mendelssohn was taking center stage as the new youthful genius.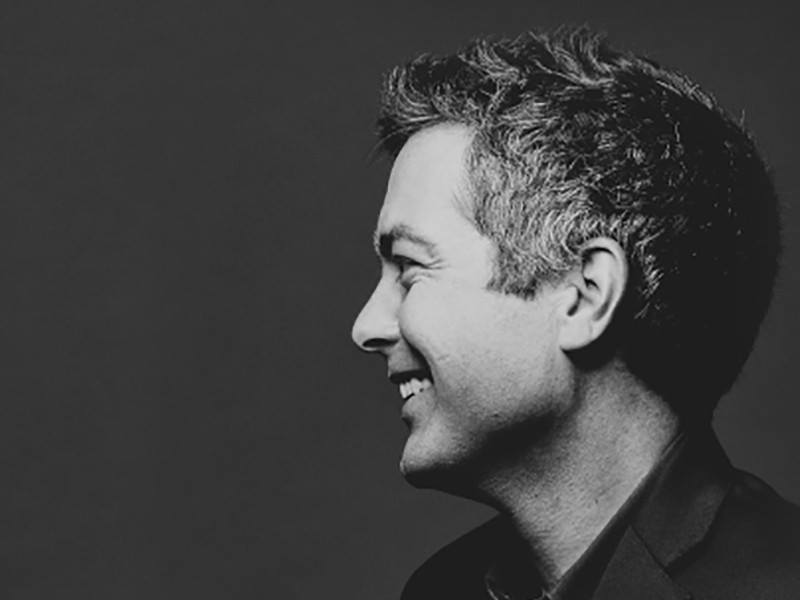 Sandwiched between the two short vocal sets was the miniature collection of five very short pieces titled Bukoliki (Bucolics), a work Polish composer Witold Lutoslawski originally wrote for piano but later scored for viola and cello. Violist Carl Johansen and cellist Andrew Larson exuded the full rhythmic vitality of the quick tempo movements. They follow accordingly in the interspersed slower movements that briefly suspend the momentum with an impressionistic take on folk melodies based on children's music from Poland's ethnic Kurpie region.
The closing work featured Adkins leading Schubert's Octet in F major, D. 803, composed in 1824 as a result of an aristocratic commission. There was a total enjoyment of music making here and the balance among all eight instruments, a combination of strings, French horn, clarinet and bassoon was executed without fault. Every instrumental line came through in the always challenging acoustics of the Libby Gardner Hall at The University of Utah.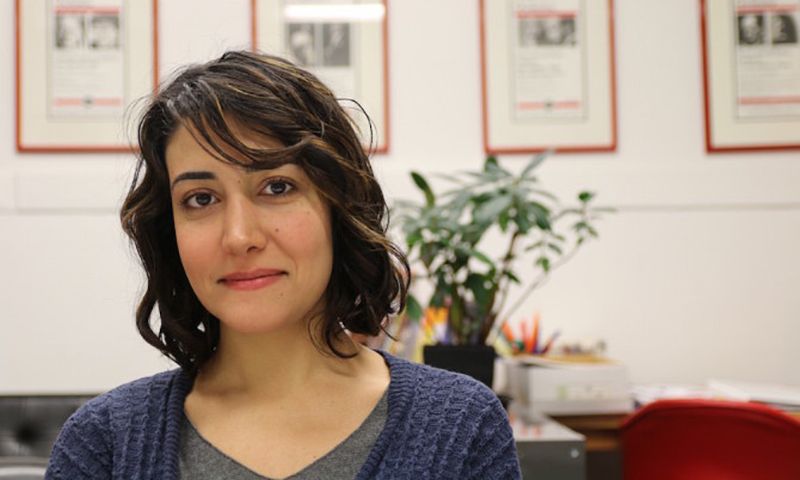 NOVA's 41st season schedule also was announced, featuring Adkins' curation which represents a marvelous bridge between Hardink's skills for creative juxtapositions of old and new composers and her own mark for adventurous programming. The series of six subscription concerts and the two gallery series programs are exciting in every respect. The series encompasses various themes carried across several concerts during the season as opposed to a single program.
These include a Response to War, highlighting various chamber music works by Debussy, Elgar, Prokofiev and Steve Reich. Another emphasizes the connection of poetry to music, including how composers set verse written by Henrik Ibsen, Edith Sitwell and Richard Dehmel. British composers who have appeared infrequently in NOVA's programming get a respectable representation this coming season, with works spanning more than three centuries from Henry Purcell to Benjamin Britten and the contemporary Thomas Adès.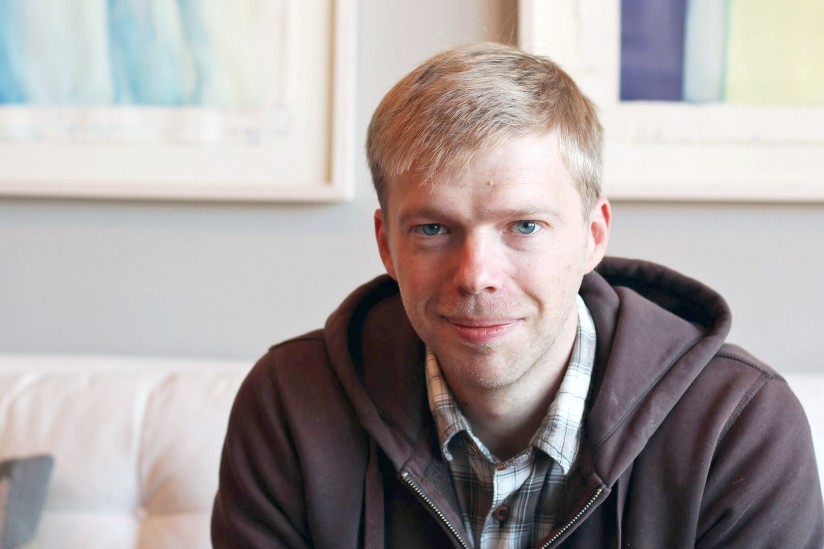 In summary, concerts will feature works by nine women composers from six countries, including a May 2019 world premiere by Augusta Read Thomas, founder of the University of Chicago's Center for Contemporary Composition, which will be conducted by Thierry Fischer, Utah Symphony's music director. Iranian native Gity Razaz, who moved to the United States when she was 15, will be represented by a performance of a ballet score that will feature local dance artists.
Adkins has included two dynamic African-American woman composers: Valerie Coleman, a Louisville native who also founded the Imani Winds Chamber Music Festival, and Florence Price, a composer from Chicago who died in 1953 but whose music only recently has been rediscovered. As Alex Ross at The New Yorker explained, "She is widely cited as one of the first African-American classical composers to win national attention, and she was unquestionably the first black woman to be so recognized."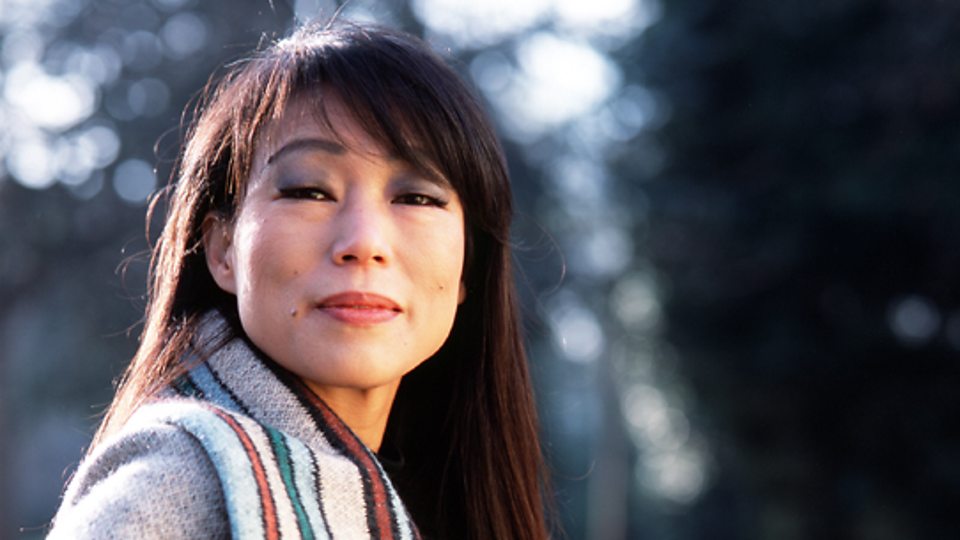 Composer Andrew Norman who appeared previously with the Utah Symphony and with NOVA returns to Salt Lake City next February when three of his chamber music works will be performed. Norman was named in 2016 Musical America's Composer of the Year. In the spring of 2019, Portuguese pianist Luis Magalhães will give the U.S. premiere of a jazz concerto by Nicolai Kapustin.
The season will open with a Oct. 14 concert featuring the rare pairing of Arnold Schoenberg's Verklärte Nacht (1899) with Alexander von Zemlinsky's Fantasies from a Poem by Richard Dehmel for Piano, Op. 9 (1898), along with songs of Brahms performed by the Madeleine Choir School students.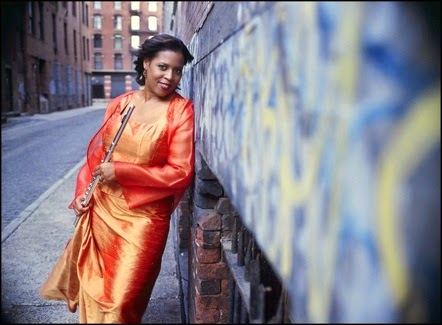 The season will close in May 2019 with a program The Head and The Heart, featuring works that signify Adkins' own music passions. The works for this concert will include the famous Bach Chaconne arranged for four cellos, the premiere of Reading's work, and the performance Mendelssohn's famous Octet for Strings in E-flat Major, Op. 20.
Another highlight for this concert will be the performance of Fantasie Mechanique by Unsuk Chin, a brilliant composer from South Korea who lives and works in Berlin. A musician who studied with György Ligeti, she is in demand for commissions around the world, including a clarinet concerto for Finnish virtuoso Kari Kriikku, and an opera based on Lewis Carroll's Through the Looking Glass,a commission by the Royal Opera in London which is anticipated to premiere next season.
For more information about NOVA's 2018-19 season, see here.
SAMBA FOGO: OUÇA
In every community, there are many fine ensembles dedicated to presenting the cultures of dance, music and folk traditions from various countries and ethnic diasporas. Some operate more loosely and casually than their more organized counterparts, which still embody a distinct passionately amateur flavor even as they are formally constituted as a nonprofit institution.
In Salt Lake City, as previously noted, Samba Fogo started out nearly a quarter of a century ago as a volunteer community ensemble of people dedicated to learning about the Afro-Brazilian dance and musical culture. It retains that fundamental character of cultural accessibility where any individual can come to the organization without any intimidation or hesitation, even if they have little or no professional performing experience. As it has cultivated a repertoire of works that respects the historical and cultural integrity of the songs, dances and rhythmic elements through extensive research, Samba Fogo has risen steadily as a performing arts company with solid professional credentials.
Indeed, Samba Fogo is a master case example of synergy in the performing arts as an open community group. The group has never performed better than in its latest Ouça (Listen) concert. The closing night audience at the Jeanne Wagner Theatre in the Rose Wagner Center for the Performing Arts consistently roared its approval through the 19 numbers in both acts for a program that ran two hours.
The company polished some of its best known pieces from its repertoire to a dazzling quality while presenting several new works that represented just how much progress the group has made artistically. No doubt the audience relished the full-throated theatricality of the fire-spinning ritual dances performed by Lorin Hansen, Samba Fogo's artistic director, as well as Sara Caldiero, Indigo Cook, Mallory Howard, Chaska Lance and Dawn Levingston. The drumline continues to grow in numbers and technical prowess. Audience members also were enthralled by the guest musicians, including strings, brass and woodwind, as well as Solange Gomes on lead vocals and George Edgar Brown on guitar and vocals who also composes original arrangements for Samba Fogo. Mason Aeschbacher kept the tightly paced momentum as musical director.
There were numerous highlights. As lead singer, Gomes transfers easily from one role to another. She evokes a dramatic stage presence, a nuanced feel for the yearning need to reconnect to cultural roots and the exotic sultry tones of ritual and celebration. The transition from the opening's otherworldly serenity feature the four sisters who signify the earth's elements to the bracing feel of Proteja (Protect), a dance about Ogum, the vicious, bloodthirsty, take-no-prisoners god of iron, technology and war, was a masterstroke. Many of the dance numbers highlighted legends of Afro-Brazilian deities of nature (the Orixá, pronounced as oh-ree-sha).
In the first act, two examples of the Malandro style samba dance were outstanding tributes to the genre. These included Hansen's performance in Jogue (Play), set to Noites Cariocas by Jacob do Bandolim, an original song recorded in 1960 that is a definitive example of the virtuosic choro song style punctuated by syncopated, happy-sounding rhythms.
That was followed by Conecte (Connect), a choreographed samba piece set to the beautiful, refined Preciso Me Encotrar (I Need to Find Myself) by Agenor de Oliveira (Cartola, 1908-1980), one of the most hauntingly profound songs of samba ever heard.
Likewise, cultural traditions were given a deeply respectful and exhilarating performance in the second act. This included Lembre (Remember), a rich tribute to Blocos Afros, the community drum groups and social justice leagues that showcase Africa culture in the Brazilian state of Bahia in Salvador. In the samba reggae tradition, there is an encyclopedia of drum breaks, which arise from constant musical experimentation. Notably, it is the blocos innovations which have influenced Axé music, a predominant cultural lifeforce for Samba Fogo and other groups.
In the closing number featuring the group's school anthem Enredo do Samba Fogo, written by Brown, the dancers were resplendent in full carnaval regalia – putting the best mark on a show that proves why these traditions always should be on everyone's cultural map and their value for preservation.
For more information about classes and a summer camp for children, ages 5 and older, see the Samba Fogo website.
PYGMALION PRODUCTIONS: RED BIKE
Pygmalion Productions has a worthy presence in the Salt Lake City theatrical scene as a producer and advocate of works by women playwrights. So it was a privilege to present Cardidad Svich's Red Bike as part of the National New Play Network's rolling world premiere.
Svich, who has an impressive portfolio of writing credentials stretching around the world, cast the play as a solid abstract look at abandonment of promise, particularly in small towns that lose their economic viability and their ability to control events to preserve their roots against the forces of gentrification. The play's rolling premiere includes stops at Simpatico Theatre (Philadelphia), Know Theatre (Cincinnati), and The Wilbury Group (Providence).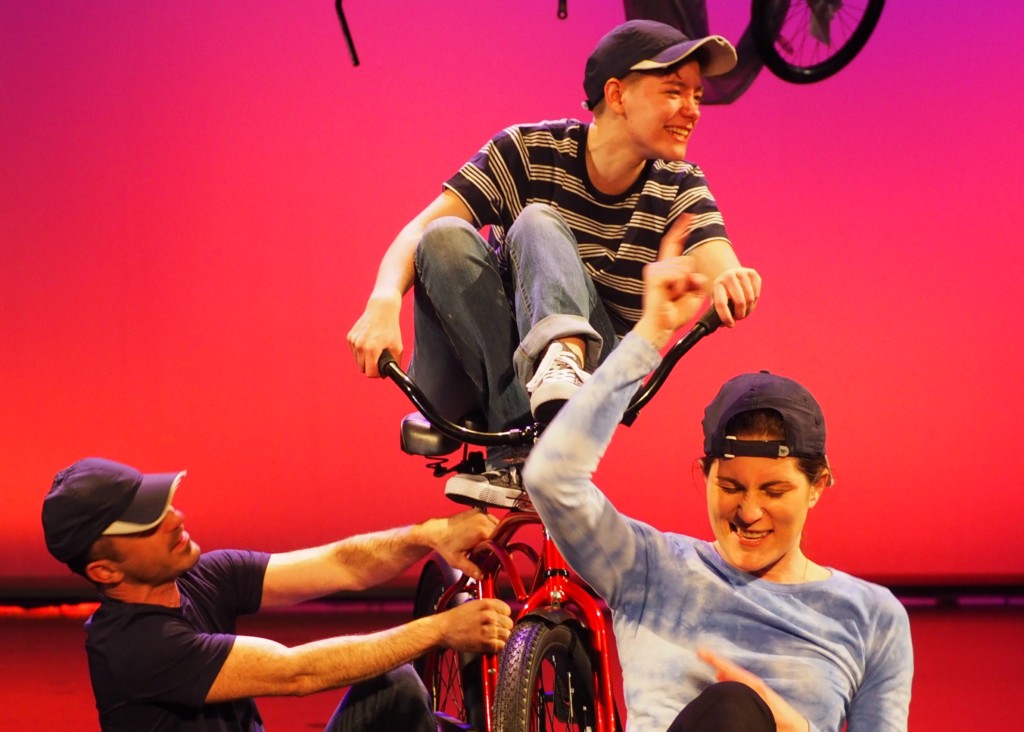 The Salt Lake City production, directed by Fran Pruyn, did a respectable job in bringing Svich's solid script to life. The cast comprises three actors who play primarily one character, an 11-year-old boy who experiences a terrible bike accident in the middle of the play. It leads to finding a new perspective in observing and understanding what is happening in his town. The actors also stepped briefly out of the main character to portray unseen community figures, such as the parents, an elderly man, and a businessman. All three actors – Sydney Shoell, Jesse Nepivoda and Andrea Kile Peterson – gave credible performances on opening night, which also included a talkback with Svich who attended the premiere. Early in the play, there is a distinct innocence a naivete in the actors' portrayals which gradually darkens in acknowledging how things will never be the same.
The set design, crafted by Thomas George, of course, included a striking red bike as the centerpiece, which stood out against other stage elements, including a clothesline with miscellaneous bike parts hanging. The disassembled look certainly added to the abstract feel of Svich's themes in the script.
Svich's script is filled with many good insights. It was developed in the States at the Lark Theatre and New Dramatists before it received a reading last year in the U.K., as part of a benefit for a children arts nonprofit organization. It received other readings sponsored by the National New Play Network in Orlando, Chicago and Flint, Michigan – all relevant venues, considering the storyline and the themes about abandonment that drive the narrative.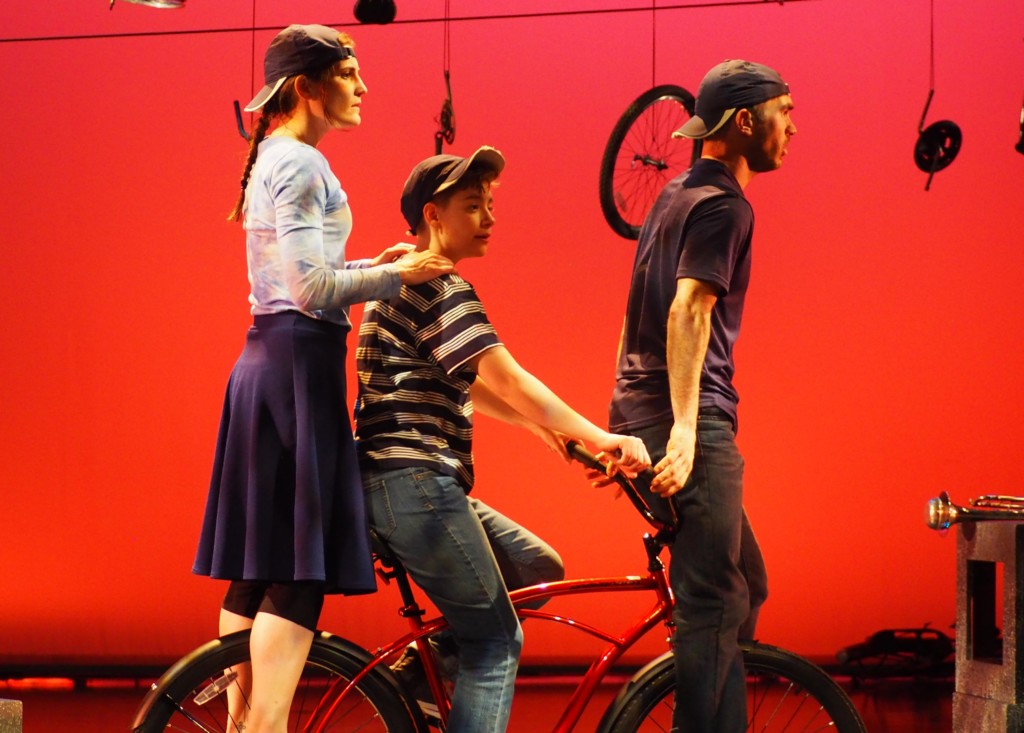 The reason for noting this is that while there were many admirable elements in the Salt Lake City production, much of the ephipany's significance was lost in a confusing, somewhat unimaginative presentation. There are instances where strong direction and excellent acting can lift a problematic script to a level worthy of artistic merit, as Sackerson demonstrated last month in its production of Scarlet, which was a U.S. premiere of Sam Freeman's play. For Red Bike, the direction subsumed the potential of Svich's excellent writing. Even in a minimalistic setting, the key transitions in this particular play require a more astute use of lighting and stage positioning to emphasize the looming presence of shadows and the amplified sense of abandonment. Nuances such as these become essential in allowing the audience to elucidate the complex substance of Svich's writing here.
Nonetheless, it always is heartening to see theater in Salt Lake City taken seriously enough to merit premieres not just by local and regional writers but also by playwrights from across the country and around the world who craft the essential diverse perspectives that are propelling the flourishing Utah Enlightenment movement in the arts.