EDITOR'S NOTE: Sundance's elite short film slate is highlighted. Les Roka's reviews five short films from various offerings while Thomas Dugrosprez reviews this year's Animation Short Program.
The following five films from this year's Sundance Short Film program stand out for their distinction and impact, as part of The Utah Review's coverage of the 2023 festival has highlighted:
I Have No Tears, and I Must Cry — Luis Fernando Puete
For immigrants, the wait times for a green card since the 1990s when quotas were updated in an American immigration system that already was becoming antiquated, doubled to an average for five years and eight months. For example, in 2018, more than 100,000 immigrants waited a decade or longer to obtain a green card. Just two percent had no wait.
The limbo often becomes emotional and frustrating for immigrants who have been conscientious and scrupulous about updating their status during a process that seems to become more protracted every year.
For his Sundance debut. Utah based filmmaker Luis Fernando Puente made I Have No Tears, and I Must Cry, a 13-minute narrative short entirely focused on Maria Luisa and her husband Jorge, as they are being interviewed by a U.S. immigration officer for Maria Luisa's green card.
Puente excels in showing that what might seem like a routine bureaucratic procedural step to an outsider, for immigrants it can be yet another emotional, tense experience in a process defined by long periods of limbo and costs to ensure everything is in legal order.
The dialogue is solidly credible but also compact and economical. With award-winning Oscar Ignacio Jiménez's exceptional cinematography, the emotional tensions are fleshed out in shots of the expressions and nonverbal gestures of the couple (played by Alejandra Herrera and Enoc Oteo) and the immigration officer (Cherie Julander). Before entering the building for their interview, the couple are sitting in the car, hopeful that Maria Luisa will be approved on the spot. In fact, they plan to go shopping for a new couch. But, their optimism also is guarded, as their facial expressions show. In the interview, the officer is stoic, not giving any expression. She scrutinizes every document and response by Maria Luisa. Her seeming skepticism appears a bit unsettling.
The nuances distinguish this outstanding short. Notice the angles captured during the interview. Puente, who came from Monterrey in Mexico and eventually became a naturalized U.S. citizen, explains, when his wife (Lizde) went through the process for her green card, "so much more was at stake." It is her experience that became the genesis for this short.
In the last 30 years, since the U.S. Congress last tweaked an immigration system that already was nearly three decades old at the time, the American economy has doubled in size and its population has grown by nearly 40 percent. Today's immigration system is disconnected from the realities of immigrants, like Maria Luisa and millions of others who have endured the frustrations and tensions of limbo in the process, while trying to remain as patient and gracious as possible.
Puente's film, produced in Orem, Utah. was supported by The Davey Foundation and the Utah Film Commission.
Will You Look at Me – Shuli Huang
Taking Sundance honors for The Short Film Jury Award: Non-Fiction, Shuli Huang's film Will You Look at Me is a superb piece of autobiographical filmmaking. He returns to China to have an open discussion with his mother about his sexual identity. She already had long known about her son being gay but she has stubbornly refused to accept the fact. Ultimately, he must accept the fact that his mother, even as she still loves her son, will never accept his identity.
The film brims with all of the complex emotions one would anticipate in a story like this. He is utterly open and candid about everything. It is not confrontational but it is touching in an unexpected sensitivity, as he hopes that there is still a possibility that both of them can love each other unconditionally. Shot on 8mm and 16mm, the film comes out like a cinematic chapbook of short poems.
The short debuted at the 61st edition of La Semaine de la Critique Cannes in 2022, where it won the Queer Palm award for best short film.
Under G-d – Paula Eiselt
Under G-d, a short film by Paula Eiselt, fits as an informative companion piece to the Plan C documentary, which premiered at Sundance and highlighted the work of the nonprofit organization which is committed to expanding safe access to the Plan C abortion pill.
Examining the fallout from the Dobbs U.S. Supreme Court decision last year, Eiselt's short is an intriguing, instructive example of being careful what you wish for and the surprising consequences that can arise. At the center of the film are Religious Freedom Restoration Acts (RFRAs), which ultra-conservative Christian groups have pushed for and have seen enacted around the country.
In the aftermath of Dobbs, Jewish organizations, members of the Judaic faith, rabbis and various interfaith organizations have gone to court and to challenge the raft of laws that have been passed, using RFRAs as their legal basis.
As the film indicates, many scholars of Jewish faith and rabbinical authorities believe a total ban on abortion is inconsistent with Jewish law and tradition. Under Jewish law, an abortion to save the life of the mother is permitted. The film alternates between Indiana and Florida. In Indiana, a Jewish mother and activist decided to have an abortion after it became apparent during the pregnancy that the fetus had a genetic condition that would prevent it from being able to live after birth. In Florida, a synagogue sued the state, against Florida's law banning abortions after 15 weeks of pregnancy.
The cases pinpoint the Establishment Clause of the First Amendment, as plaintiffs assert that abortion restrictions violate the Jewish person's right to make choices about their lives in accordance with the laws of their faith. It is an ironic possibility, given that recent Supreme Court decisions have been sympathetic when claims are based in assertions of religious freedom as the primary argument.
In 2022, Aftershock (now available on Hulu and Disney+) won the Sundance Impact Award. In that documentary, Eiselt and co-director Tonya Lewis Lee set the discussion of reproductive justice upon two stories of the utmost tragic irony when Shamony Gibson and Amber Rose Isaac, both expectant mothers, died of childbirth complications despite the fact that they could have been prevented.
Take Me Home – Liz Sargent
Liz Sargent's Take Me Home has two characters who are Asian adoptees but the film instead focuses on the "unique balancing act" for adopted families, as the director explains in her artistic statement. One adult sibling (Anna) has a cognitive disability who has been living with her mother, who has just died. When her sister (Emily) returns home and becomes frustrated in trying to sort out the essential medical care information, it sets the path for how the sisters are going to figure out their lives and independence formthe future.
The film deftly handles a potentially terrifying story which many have thought about what happens when the person who has been caring for a sibling or family member cannot live on their own, especially after the caretaker's death. A parent's death already is such a profound transforming experience for a child but in the case of a sibling who is living with an intellectual or developmental disability, the circumstances become even more daunting when a sister, as in this story, inherits the responsibility of caring for her sibling.
Anna might desire to live in her own home but Emily also is aware of the impracticalities at the moment, where an assisted living option is not immediately available nor affordable. The realism is solidly grounded in the film, as both Anna and Emily try to figure out the best solution to live together but also to respect each other's need for independence, for at least the short term.
The Family Circus — Andrew Fitzgerald
The Family Circus, directed by Andrew Fitzgerald, is based loosely on his events from his life. The film takes place on a night during the holiday season when a Vietnamese-American family's attempt to cover up a son's drunk driving accident unravels in front of a police officer. Fitzgerald says in his director's statement, he wanted to capture his own experiences of growing up in a Vietnamese-American family living in a small town in Pennsylvania, and "present the emotional turmoil, guilt and flaws we all present that sometimes spill out at the most inopportune times."
The film weaves so well between its darker comedic elements and the genuine emotional stressful moments, which enhance the riveting impact of this narrative. Fitzgerald captures every sidelong glance and the smallest miscues, as the family members try to keep their story straight in front of the officer. The family realizes how tough it is becoming, when the police officer ends up staying longer than expected. He is drawn to the family's Christmas tree which has the old novelty bubble lights. The mother invites him to have some dessert and he ends up sharing his own personal stories.
The family is doing its heroic best to keep the son safe, and Fitzgerald does a marvelous job at leveraging a lot of comedic and dramatic impact in a taut, viscerally exciting short.
SUNDANCE ANIMATION SHORT PROGRAM
To those who believe that animation is only for children, think again: this year's Animation Short Film Program at Sundance was a visual and emotionally stimulating feast that deserves to be regarded as high art.
Christopher at Sea — Tom CJ Brown
Christopher at Sea, directed by Tom CJ Brown, tells the story of the titular character who embarks on a cargo ship where he is slowly consumed by lust and loneliness in a riveting one-sided erotic thriller. Brown uses music and dream sequences to explore his character's inner struggle, but it is at its most vibrant in its bold animation styles choices. The contrast between the luminous, soft textures of characters' clothing and the hard, sharp features of their bodies is a constant source of poetry and tension, with Christopher singled out by being depicted through his beautiful mane of hair as he becomes infatuated with one of the sailors. When another passenger boards the cargo ship, Christopher loses his balance with reality, the sea threatening to swallow him whole as he dissolves into unrestricted desire.
Dugrosprez conducted an interview with the director For The Utah Review:
How was the concept for Christopher at Sea born?
It started out as a love story and Amanda, my producer, told me of a residency on a cargo ship. I realized it would be a great place for a story. Eventually, I thought a cargo ship wouldn't work for a heteronormative relationship as the people working there are mostly male and having a female outsider could lead to unwanted situations. So, I decided to make it a queer story and blend it with previously written fantasy sequences.
What inspired the animation style?
The artwork was mostly inspired by fashion magazines pinned on my walls. When it came to the flow of smoke and steam, my biggest inspiration was what I call Luchino Visconti's slow melody of the air. As for the clothes, Christopher's sweater was based on Nicholas Hoult in Tom Ford's "A Single Man" and I think it did a wonderful job making him stand out from the rest of the characters.
How close are you to Christopher, as its creator?
I realized I was gay when journeying, just like Christopher. Some scenes are also plucked from my memory. For example, during my first Sundance in 2007, I stayed in a huge communal room with bunk beds. As I went to shower, I saw a hot man with the curtains open, his soapy water traveling through the cubicles. Much to my parents' chagrin, it is a very deeply and honest personal story.
Christopher at Sea features elaborate dance sequences as our protagonist is slowly consumed by his desires. Could you elaborate on your process when it comes to including music in your storytelling?
I wanted something that was unequivocally gay that would contrast with Schubert's piano music. I met Casey Spooner who agreed to compose pieces that we would describe as "aggressively gay music". As for the dancing, my love of opera and stage performances bled into the narrative as we went further into the process.
How has the reception been for Christopher at Sea so far?
Reception's been really good so far ! People have recognized me from the outrageous blue sweater I wore during screenings. I'm also very happy that Sundance is so supportive of filmmakers, and that their animated short movie program curation is so fresh.
What can we expect from you in the near future?
I am currently developing a full-length sequel called "Christopher in the City", a musical melodrama set in the Lower East Side. Christopher will be living his truth. I'm also working on a queer Bonnie and Clyde feature.
Well Wishes My Love, Your Love — Gabriel Gabriel Garble
Well Wishes My Love, Your Love, directed by Gabriel Gabriel Garble, is a magnificent sensory experience where a boy lends his companion his prosthetic arm for a day out in nature. Words won't do the short's stunning artistry justice but as the boy explores the world, waves emanate from all things on screen. We are invited into the comfort of this world as if it were a ribbed blanket as the boy touches water, grass, his aura literally interacting with the world. When the prosthetic arm returns to its owner, its build-up emotional experiences are pulsating life into it, a gift of innocence and naiveté from a loved one.
Oxytocin — Jeron Braxton
Oxytocin, directed by Jeron Braxton, wants the viewer's full attention, daring viewers to give themselves fully into the wildest ride of their life. A satire of corporate greed and the lives it destroys, it jiggles, wiggles and shocks its way into one's subconscious, leaving the viewer to unravel what exactly was just watched, once the credits roll. This story of a man selling his organ for cash is almost a Y2K hyper-pop underground homage to David Lynch if he were inspired by Björk's Post Era and he only had a PS2 hardware with which to work. Truly, a one-of-a-kind, uncompromising and highly-rewatchable short.
Fur — Zhen Li
Fur, directed by Zhen Li, ponders: what happens to a teenager when their crush notices them? Cleverly using doodle-esque imagery and scraping sound design, Zhen Li gives herself fully into the horror imagery of growing and changing bodies, her protagonist trying to catch eyelashes that are ever growing before they can spell out her desire. Bodies are twisting and turning, malleable as clay, as she tries to escape the stare of the others around her, but never not having fun along the way.
Garrano — Vasco Sá
Garrano, directed by Vasco Sá, is the cautionary, contemporary eerie tale of a young boy and his horse. The boy, while foraging for scraps in the forest with his father, encounters a man about to commit arson near a seemingly-endless hole in the ground. Unfortunately, his father doesn't listen to his worries, instead blaming him for not enduring the hardships life throws at them. Garrano's subtlety lies in its background: father and son live on in a slum house while a highway leading to a big city looms over the horizon. An animal watches on as the tentatively arsonist gives the boy money, but never explicitly states why. It is a demanding watch about the power and cost of self-destruction and loss of innocence, but the rewards are plentiful.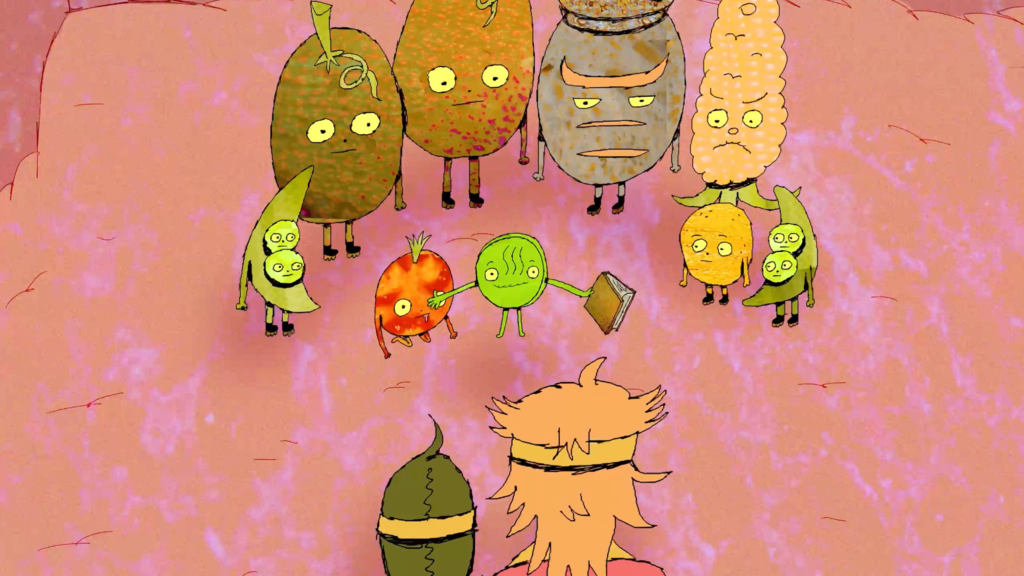 By Water — Iyabo Kwayana
By Water, directed by Iyabo Kwayana, is a deeply personal visual interpretation of a voicemail left by the director's brother, two years after his sudden disappearance. Kwayana smartly lets the voicemail play in full while filling the gaps in her brother's narrative with images from their childhood, on a quest for understanding and closure. The words are treated as poetry, as if one was trying to remember them from a dream, while real photographs and videos from the director's family are intertwined, remixed and rearranged into the simple and elegant scenery, uniting past, present and future.
BurgerWorld — Maddie Brewer
BurgerWorld, directed by Maddie Brewer, is some of the best short animated comedies of the last few years. Starring two fast-food workers escaping their boss's wrath by jumping into a meat-hole, they end up in BurgerWorld where a union of dissenting vegetables task them with killing the Burger King. The Beavis & Butthead and Adventure Time influences are distilled into their perfect essence as the two unlikely heroes try to make sense of their predicament in hilarious ways, including genuinely funny songs. If one listens carefully, you might still hear the audience's laughter echoing through the city.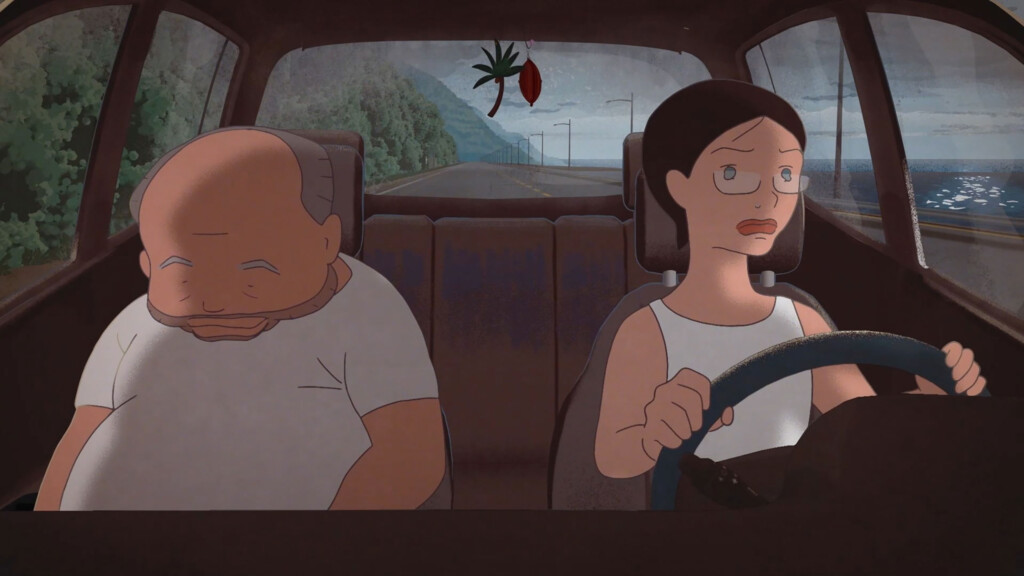 The Sea on the Day When the Magic Returns — Jiwon Han
The Sea on the Day When the Magic Returns, directed by Jiwon Han, reminded me of the brilliant contemporary tales from author Bora Chung. Addressing family issues and capitalism exploitation through magical realism, the film tells the story of Sejin who had the power to have anything she wanted by simply thinking about it, until she lost her gift. It would be a disservice to the poetry of "The Sea…" to try and compartmentalize its different genres, and Han generously experiments with time and space to give us a wonderful character study in search for closure and contentment.