Two of the dozen documentaries being screened at the Utah Film Center's 17th annual Damn These Heels Queer Film Festival offer fascinating cosmopolitan and cultural comparisons to the American LGBTQ+ experience. Both are outstanding: Transkids from Israel by director Hilla Medalia and Queer Japan, directed by Graham Kolbeins.
Transkids
The experiences of four Israeli transgender teens going through their emotional and physical transitions are captured in this highly recommended, captivating, elucidating documentary, directed by Hilla Medalia.
The four teens also must contend with aspects of their life that are mandatory for any Israeli citizen, including laws dictated by the customs of Orthodox Judaism and, more significantly, the tzav rishon, the mandatory call for military service that are Israelis must answer, beginning at the age of 16 ½. The process involves interviews, skills tests and physical examinations which the military uses to place individuals accordingly once they are drafted formally, which typically occurs after they have turned 18 and completed high school.
Dispensations also can be issued for teens to substitute civilian national service to fulfill the requirement. Although the Israeli Defense Forces accepts trans citizens, the exact number is not known, but there are at least several dozens. Trans teens typically must undergo a separate psychological evaluation as part of their assessment but they are drafted by the gender in which they identify.
In each case featured in the film, which also was presented in an expanded format as a five-episode miniseries on Israeli television, the family support is evident, although sometimes it involves complicated, awkward moments. In some instances, it seems as if parents and grandparents are grieving as the teens' external appearances are changed to align with their true interior selves.
Noam lives in a Modern Orthodox settlement in Samariah near the country's Green Line. As a child who was educated at a religious girls school, Noam attempted suicide before coming out and his family has learned to accept his true identity. There is a moment when his father sees transgender as a birth defect that can be corrected by the transitioning process, which will shock American audiences. In other words, the father sees transgender as more acceptable than coming out as gay. Indeed, Noam's father seems to have the most difficulty among the parents featured in the film, as he occasionally mentions how he misses his daughter.
Noam, however, receives encouraging support from his rabbi, which should pleasantly surprise American viewers. Noam, in fact, reaffirms his connection to Judaism more easily as a man than he ever did as a girl. And, he is determined to go forward with his military service.
Each story has unique moments. Liron undergoes a painful procedure to retrieve his eggs, which will be preserved – a step that occurs before the patient can start taking androgens. However, the hormones Liron received before the procedure to stimulate the follicles caused a cyst to develop. Meanwhile, Ofri undergoes the top surgery while Romy, who made the transition from male to female, is ready to have her bottom surgery done but in Israel, the procedure is not allowed until she turns 18. Ofri was the girl who played soccer with the boys. He always knew that he really was a boy. Romy, who was born as a boy, started playing with dolls and her family sent her to a religious school. She is now a model and has curated a growing number of followers as a social media influencer. Her father, however, has made no effort to connect with her since she transitioned. Liron consciously hid behind the costumes of makeup and shimmering dresses before coming to terms with his real identity.
Of the four teens, only Noam and Romy have been drafted. Ofri left school to work full time and Liron opted for civilian national service, doing riding therapy with disabled teens and young adults.
Queer Japan
One of the most fascinating elements of this snappy, fabulous, glorious travelogue about the nature of Japan's LGTBQ+ communities in cities around the Far East nation is the exuberant embrace of the queer identity and culture that really propels breaking through the taboos and ceilings of conservative mindsets.
In 100 minutes, the documentary, directed by Graham Kolbeins, covers a lot of ground without losing pace or clarity. Every letter of the justifiably cumbersome acronym representing the queer spectrum gets its fair due, demonstrating every possible expression of human sexuality.
Viewers see drag entertainers, Butoh performance artists, club entrepreneurs, manga authors, bear gays, erotic visual artists, politicians, fetish lovers, and more. There even is a sprinkling of Tom of Finland. This documentary is poised to be one of the most popular films of this year's festival.
The film opens with a pitch-perfect visual: Atsushi Matsuda, a handsome bald-headed man with a septum piercing and visible tattoos – incidentally, both of these have been considered taboo if seen in public — performs butoh dance moves under the cherry blossom trees while the traditional hanami (cherry blossom) viewing parties proceed around him. It is the quintessential juxtaposition of conservative tradition and cultural emancipation.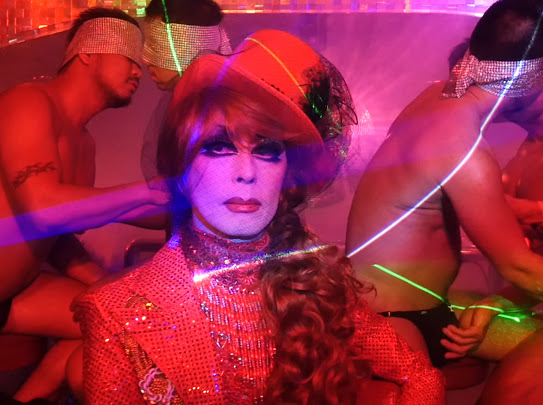 Viewers will delight in the ingenious ways of expressing one's alter ego, such as the use of inflatable rubber and misbehaving farm animals. There are some brief scenes highlighting photographer Leslie Kee's Out In Japan x 1000 LGBT exhibition.
The documentary clarifies a lot about the state of sexual politics and LGBTQ+ plus rights in Japan. The country has not enacted national anti-discrimination laws protecting LGTBQ+ rights but the Tokyo metropolitan government adopted its own ordinance to align with the Olympic charter, in advance of hosting the Summer Olympic Games in 2021.
In Japan, there are outstanding concerns about registered partnerships and marriage, the legal change of sex and gender, parental rights and equal employment opportunity and rights. These are mentioned in the film, with clips showing homophobic politicians who sound remarkably similar to their hate-mongering American counterparts. Discussions about the crises of bullying in schools and HIV as well as the limitations of sign language also are blended in seamlessly. The editing in this documentary is smashingly good.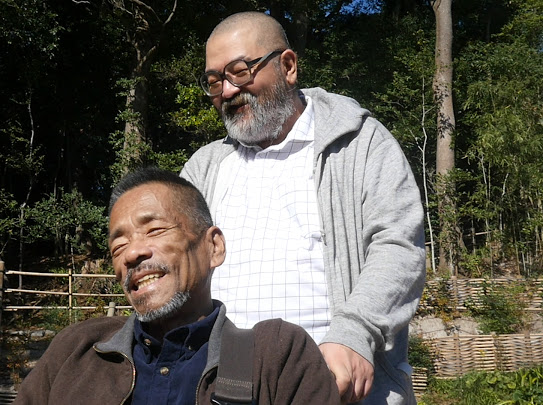 Nevertheless, it is a scintillating boost of positive energy that drives Queer Japan to its hopeful conclusion, as everyone unites for the same cause. Appropriately, it is the sheep costumed performer who puts it best about why does it matter if we're expected to all be good and face the same direction when we can learn a lot more by having fun in our own unique ways.
To put the finer point on it, Queer Japan is the perfect meta example for the Damn These Heels Queer Film Festival, in demonstrating the instrumental value of culture and art as drivers for true social change and affirmation of all identities as equal and deserving of dignity and respect.