EDITOR'S NOTE: For a detailed summary of UMOCA"s current spring exhibitions, see The Utah Review feature here.
One of the best recent developments in downtown Salt Lake City is the expanded public reopening of the Utah Museum of Contemporary Art (UMOCA), which also is marking its 90th anniversary this year.
The spring schedule of exhibitions is outstanding in every regard. This includes the opening of Baggage: Alex Caldiero In Retrospect, an expansive, splendid exhibition honoring one of the Utah Enlightenment's strongest cultural pillars. Widely known as The Sonosopher, Caldiero, born in Sicily and raised in Brooklyn, has lived in Utah more than 40 years and is senior artist in residence at Utah Valley University. What is evident in the exhibition is how Caldiero takes an idea and process (and not particularly a "literary" one) to the extreme. Sometimes, the words become progressively indistinct amid a palette of sounds – some musical, some natural, others synthesized – and then they're reconstructed as the process reverses. Or, perhaps a simple phrase or sentence is deconstructed with emotionally charged rhythmic loops that build the tension and then release it. One of the best things about the exhibition is how it captures Caldiero's creative restlessness. His art offers a worthy tradeoff – a memory so profound in its emotional and spiritual depths yet so acutely vulnerable to losing its strength for recreating precisely the experience of that first impact. As well known as Caldiero is for his performances, Baggage makes concrete his formidable legacy.
UMOCA also has produced a marvelous book to accompany the exhibition. Along with many images and archival photographs, there are essays by Scott Abbott, Scott Carrier, Tyler Chadwick, Craig Dworkin, Trent Harris and Stefene Russell. Writer and critic Richard Kostelanetz wrote the introduction. There also is an essay by Laura Allred Hurtado, UMOCA's executive director. She explains beautifully why a Caldiero show coinicides with the museum's 90th anniversary: "[W]e have spent a lot of time looking back at the breadth and scale of our own decades of work and have sought out significant ways to mark this singular moment." Noting that Caldiero was among the first artists to be featured when UMOCA moved into its current downtown SLC home and was featured in 1992, 1994 and 2002, Hurtado acknowledges his reputation as "the perfect blend of local flavor and national recognition." She goes on to summarize Caldiero's place in the Utah Enlightenment: "[H]e has a deep dedication to this odd and wonderful state, from his vantage of inside and out."
UMOCA's Main Gallery shows always strike gold, with the guiding efforts of Jared Steffensen, the museum's senior curator, but the latest exhibition Material Issues: Strategies in 21st Century Craft is a blockbuster. Presented by the Sam and Diane Stewart Family Foundation, the exhibition compels a fascinating epiphany about art history and how we have typically partitioned off folk and hand-crafted art from the historically authoritative spaces of power and aesthetics in the conventional museum setting. In this instance, however, contemporary local and national artists have crafted art, all by hand, that transcends the cultural propaganda of how we frame art history and the untenable distinctions between high and low art.
Horacio Rodriguez, an artist featured in Material Issues, also has an exhibit in the gallery adjacent to the Baggage show. Radicalized Relics is a sharp tantalizing offering about the simultaneous commodification, marginalization and exploitation of the people and culture along the southern borders. His wall pieces are based on pre-Columbian artifacts. From the original pieces, which are housed at the Utah Museum of Fine arts, he uses advanced digital scanning, 3-D printing, traditional plaster mold-making, and slip-casting ceramic techniques to create these pieces. He adds bits of contemporary references that literally stun the viewer into fresh consideration of the sociopolitical, commercial marketing and cultural media dynamics in play. Soda pop bottles and Lady Guadalupe candles, for example, become Molotov cocktails and guns as artifacts of resistance. Rodriguez creates a clarifying hybrid of contemporary cultural impulses and archaeological memories in his work.
This year, the CODEC gallery is dedicated to three truly elite pieces of video animation. The first is Mound, Allison Schulnik's extraordinary moving painting rendered in stop-motion animation and incorporating more than 100 figures. Later this year, the gallery will feature a video piece by Japanese animator Yoriko Mizushiri and Erick Oh's Opera, which is nominated this year for an Academy Award as the best short animated film.
Kathryn Knudsen's Plume, featuring wall works created from recycled felt and fabrics with lush textures, is a wonderful ancillary exhibit to Material Issues. Also, the latest Artist-in-Residence (AIR) Space exhibition is the exceptional seven-channel video installation piece by Zachary Norman titled, This Storm is What We Call Progress. Norman's presentation in the AIR Space gallery stands out for its exhaustive research of the intersectionalties at force in the strident debate surrounding the Northwest Quadrant in Salt Lake City and the proposed Inland Port project, which would devastate the historic natura habitat and its underpinnings.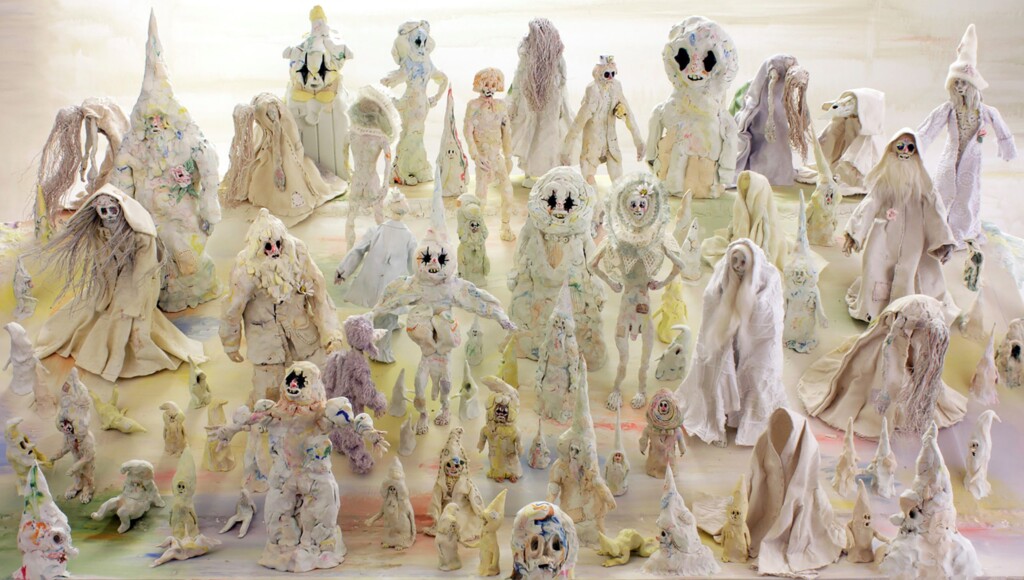 Visitors also will take note of the dramatically renovated welcoming space in the museum. Wth a gift from the Sam and Diane Stewart Family Foundation, museum staff worked with Wow Atelier to redo the lobby and art shop. As visitors enter, they also will note the impressive photo wall mural to their immediate right. The wall will feature work by Utah artists, and the first is by Daniel Everett, whose work periodically has been shown at UMOCA. The wall image was produced by the Italian company PixArtPrinting, which produced effects justifiably flattering the quality of Everett's work.
Visitors to the museum are required to wear masks and maintain social distancing. The museum is admitting visitors to meet 15% capacity at any one time. Admission is free but a donation of $8 is suggested. Museum hours are Wednesdays, Thursdays and Saturdays, 11 a.m. to 6 p.m., and Fridays, 11 a.m. to 9 p.m.
For more information about the museum, see the UMOCA website.