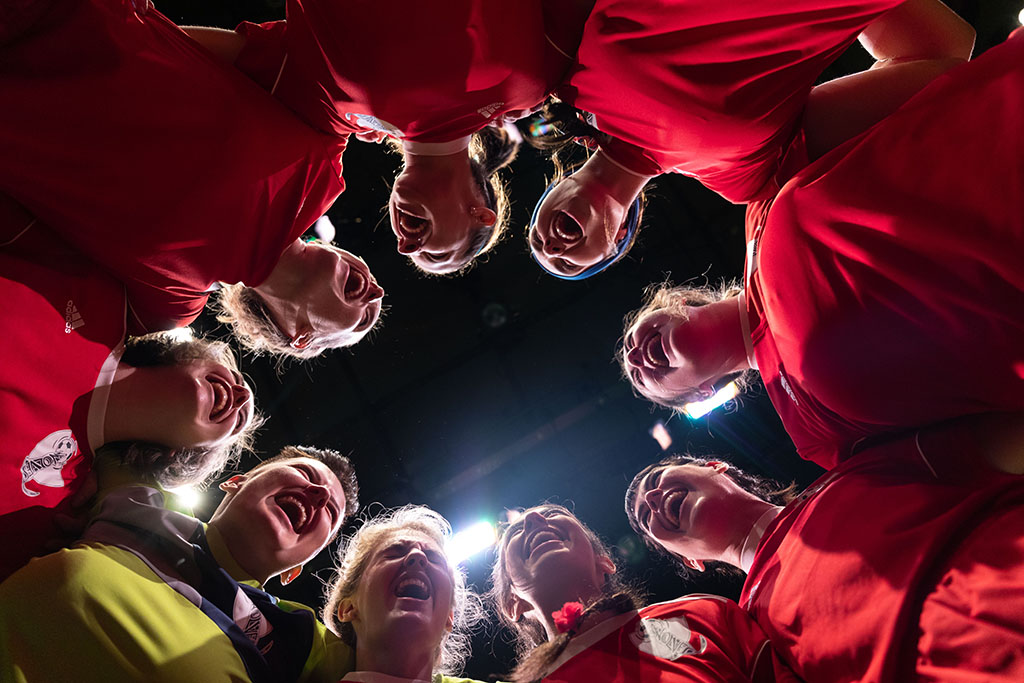 In the Pulitzer-finalist play "The Wolves," nine teen-agers burst onto a stage made of Astroturf, in braids and pigtails, and launch into overlapping backchat about tampons vs. pads, the atrocities of the Khmer Rouge, and how to pronounce Hermione, as they stretch for an upcoming soccer game.
As an audience member of this mesmerizing play staged by Salt Lake Acting Company, you may feel like the new girl on the team, #46, who is left behind in the conversation and tries to catch up on the gossip.
But you quickly become accustomed to the quick-paced dialogue in this coming-of-age play that examines what it's like to grow up as a teen girl in middle America, where the characters' emotions and conversations veer between horror about zits, to squeals of joy about eating orange slices, to serious asides about abortion. Just like real teens.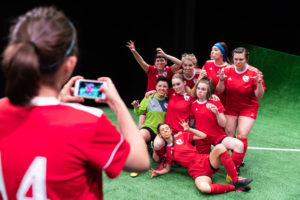 But in a refreshing and vital twist, the play doesn't view the 16- and 17-year-olds through the male gaze, or any gaze. In fact, "The Wolves" features an all female cast. Men are hinted at—an invisible and absent coach who may be a sleaze, a teammate's boyfriend, a heterosexual encounter that went too far. But these teens' arcs aren't centered around their relationships to men, and they aren't reduced to stereotypes or simple roles as daughters, girlfriends, jocks, sex objects. The audience feels like a fly on the wall, observing girls as they are without anyone watching, as they struggle to stand out and fit in, seesawing between the profound and banal. "We should like definitely not take our liberties for granted," says one. "Guys, guys, guys: She uses pads," adds another.
Playwright Sarah DeLappe has reversed the war/superhero movies on which "The Wolves" is based. This time the fully-realized female characters—whose histories and feelings are slowly revealed through hints about what happens off the soccer field—must come together as one to defeat a common foe, which isn't simply another soccer team.
Each scene of the 90-minute play—the length of a soccer game, by the way—takes place during warm-ups for an upcoming game the audience won't see. The characters perform exactly-timed stretches and kicking drills as they prepare for competition. The cast held soccer practice prior to rehearsals for nine weeks, and it shows.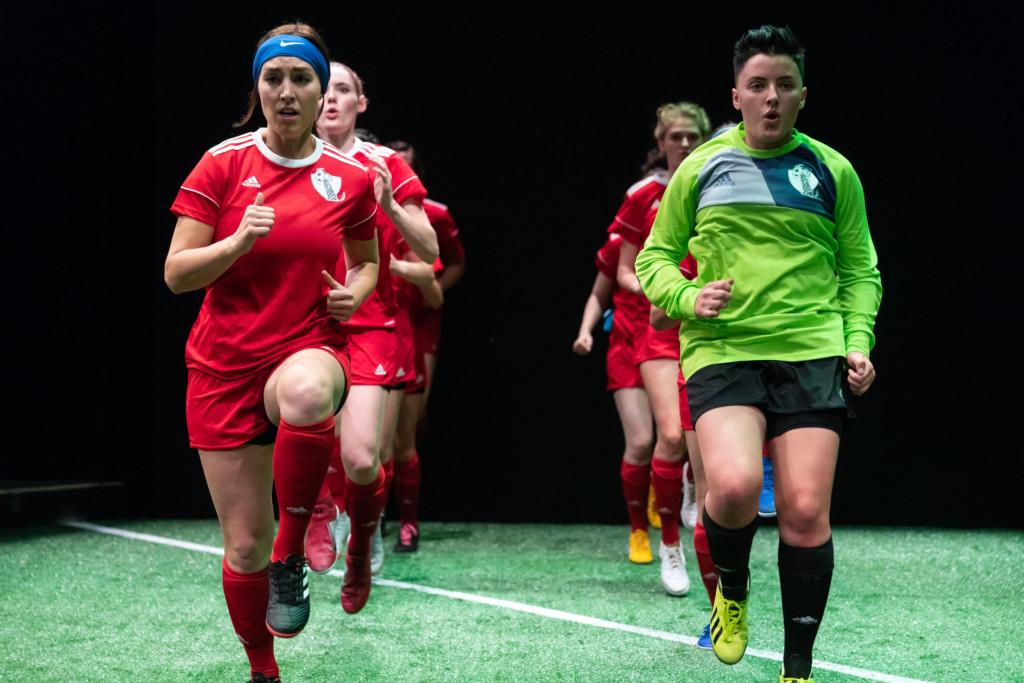 The characters are known by their jersey numbers, which makes it seem like they are anonymous. But you learn just enough about each character to leave you wanting more: #25 (Madi Cooper) is the team captain figuring out her sexuality; #14 (Louise Dapper), is an insecure sidekick to #7 (Mary Neville), a sarcastic alpha too cool for school with her college boyfriend; #11 (McKenzie Steele Foster) is an analyst who comes to it naturally because of her therapist parents; #13 (Hailee Olenberger) is the team clown who may resemble her older pot dealer brother; #46 (Alison Jo Stroud) is the awkward newcomer with secret soccer skills; #8 (Cezanne Smith) is childlike and silly, pushing down a family tragedy; #2 (Fina Posselli) is a do-gooder who may have an eating disorder. Finally, #00 (Ireland Nichols) is a perfectionist who vomits from nerves and whose few lines express the sad knowledge that marks adulthood, that there are worse things than losing a game.
In the final scene, the girls gather in a circle, closing out the audience to chant, "We are the Wolves. We are the Wolves."
You find yourself wanting to join them. 
Salt Lake Acting Co.'s "The Wolves" continues through Nov. 11. For tickets and showtimes, go to www.saltlakeactingcompany.org
###