Jazz's prominence at the Utah Arts Festival has been rising in recent years. Last year's show featuring the Salt Lake City Jazz Orchestra was a scorcher, with trumpeter Kris Johnson's tremendously well received festival commission piece A Shift West and a special appearance with Clarice Assad performing new arrangements of iconic Brazilian songs.
This year's concert (June 23, 7:45 p.m., Festival Stage) promises an equally entertaining repeat in outstanding artistic quality with the new jazz commission piece For Patrick by Alex Heitlinger, trombonist and composer who is director of Utah Valley University's jazz program, along with appearances by vocalist Andrea Miller and trumpeter Chuck Findley, whose music and sounds are surprisingly familiar to many people even if their names are not immediately recognizable.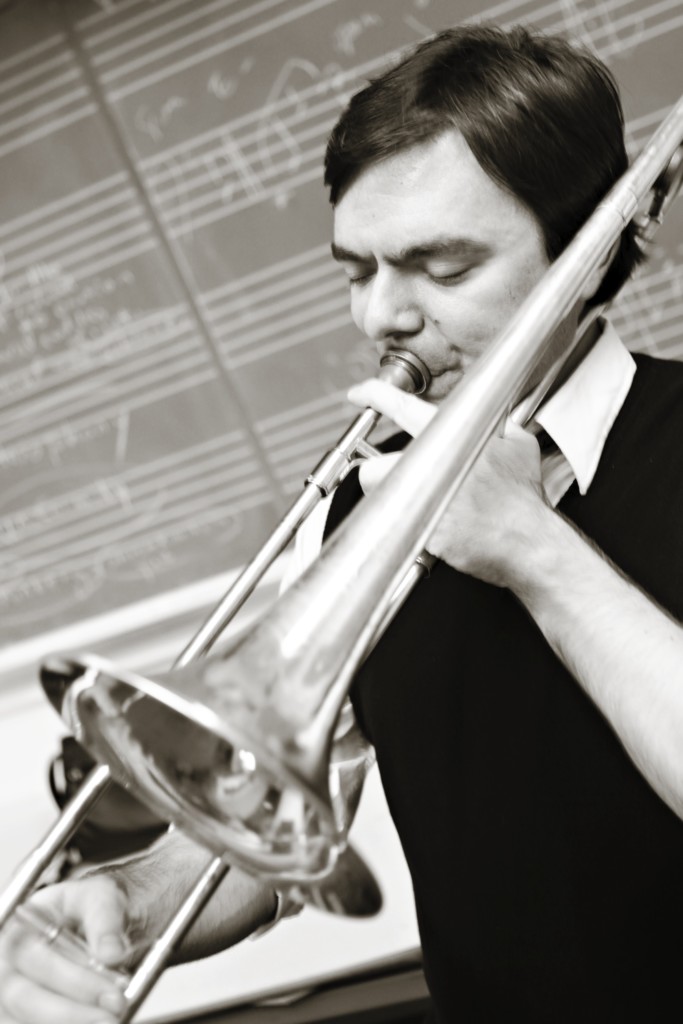 Heitlinger's composition is named in honor of his infant son and his birthdate 1-1-8-1-7 provides the recurring musical motif that is heard throughout the piece. He learned of the jazz commission shortly before his son was born and the news of the award, while welcome, came at a challenging time. "My wife was eight months pregnant and we were getting ready to move into our new home and then the heat went out," he recalls during an interview with The Utah Review. "This was not a good time to try to write the piece and I was writing in spurts while trying to get a hold of this project."
With his son's birth, the composition quickly took shape and it reflects a recent trend in the festival jazz commission pieces where traditional big band chart formats have given way to richer compositional structures. For example, Heitlinger's piece tries to emulate a typical infant's behavior, which can be restless at times and constantly shifting. For example, after the initial solo, the composition does not return to the initial melody and he sets different backgrounds for other solos. There aren't the usual prominent shout-out choruses or lengthy drum solos. In a span of six minutes, Heitlinger builds a cohesive structure with variations and concludes the piece with a harmonic chorale based again on the musical representation of his son's birthdate – a well-deserved moment of contentment.
Growing up in Minneapolis, Heitlinger was exposed to music as a child, as his mother taught pre-school music. He experienced the Orff Approach which makes music, dance and theater approachable as children playing. In middle school, he wanted to pick up the saxophone, "because it looked cool," as he explains, but eventually he was nudged toward trombone by his mother – for sentimental reasons, because of her late father's association with the instrument.
He stuck with the trombone, received a scholarship to study at the University of Colorado at Boulder. From that point, he augmented an extensive performing career with an expanding interest in composing. As the ideals of genre continued to collapse and the rules of jazz composition relaxed to admit all sorts of ideas, techniques and approaches, Heitlinger's efforts in writing music deepened. His 2004 debut album, Green Light (Synergy Music) gained solid respect in the jazz community and he subsequently moved to New York where he formed a band that became known for its lyricism and sophisticated compositions that produced sounds greater in depth and sonority than what one might typically expect from a jazz sextet. During this time, Heitlinger contributed plenty of new material for a 2008 album The Daily Life of Uncle Roger and three tracks earned the ASCAP Young Jazz Composer Awards.
From there, Heitlinger furthered his training as a jazz composer, earning master's and doctoral degrees, respectively, from the New England Conservatory of Music and the University of Texas at Austin. He wrote new music and arrangements constantly. Including one for Joshua Redman, one of the top saxophonists today.
He even managed to earn a bit of social media fame with a 2011 YouTube video called The Lick, which features a fast-paced montage of the variations of 'the lick.' It has been viewed more than 1.7 million times. Before accepting the position at UVU in 2015, he led the Urban Achievers Brass Band, a nine-piece ensemble specializing in New Orleans inspired arrangements of pop tunes.
In Utah, he has organized numerous jam sessions with jazz musicians throughout the state, including Johnson, last year's jazz commission recipient. One all-star group formed is the Utah Professors of Jazz.
The concert also will feature Andrea Miller whose voice is heard on some of the most familiar and widely accessed music today. As a teenager, Miller was training as an operatic singer. "However, I was feeling restricted and I wanted to stretch my singing," she says in an interview with The Utah Review. She spent a few years experimenting with pop and R&B and then 15 years ago, she immediately fell in love and felt at home with jazz. "I knew it was the art of improvisation and I felt it was the best way to have freedom of expression," she explains. "And, I have never looked back."
Her role models represent two of the greatest voices in the genre: Sarah Vaughan, as epitomized in her iconic rendition of Lullaby of Birdland, and Nancy Wilson, "who really is my top influence, with her sassiness and her emotional capacity in every type of song." She also cites Stevie Wonder as a significant inspiration. Recently, she has been opening for Al Jarreau at several venues, including the Newport Beach Jazz Festival.
Her latest album Maybe Today, which was produced by Michael Cunningham, includes originals such as the song identified as the album title and classics such as I'm Afraid The Masquerade Is Over, and the version she is most fond of was recorded by Wilson and Cannonball Adderly. Miller enjoys lush orchestral sounds in her arrangements. Other tracks include You'd Be So Nice To Come Home To and Let's Do It (Let's Fall in Love).
Miller loves the life of numerous shows on the road and studio session recordings in California. Last year, she did 192 shows, including a regular weekly hotel gig in Los Angeles where she lives. "Every gig is a gig of equal importance," she explains, "whether it is in a jazz club in France, or at the Brooklyn Academy of Music, or at the hotel." In fact, during her stay in Salt Lake City, she will record five songs with the Salt Lake City Jazz Orchestra for a future EP release.
She has sung on numerous soundtracks for films including Jurassic Park, Star Trek Beyond, Dawn of The Planet of The Apes, Zootopia, John Carter of Mars and numerous other projects, including albums, ringtones for Samsung, and a Barbie commercial for Mattel Toys.
Miller will perform originals plus her interpretations of classic jazz standards, including several selections from her latest album.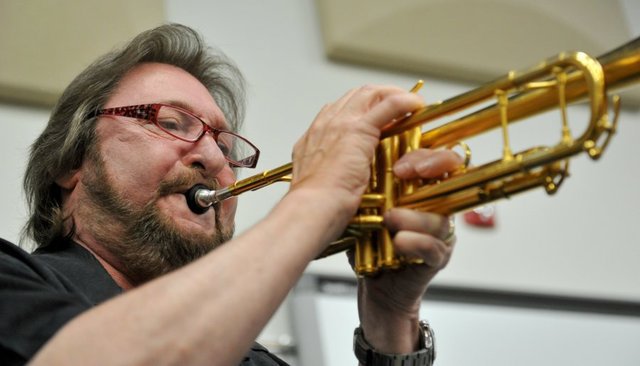 Chuck Findley's career as one of the most sought out trumpeters for recordings and gigs hasn't abated since the Maple Heights, Ohio native landed his first major gig out of high school in 1965 with the Jimmy Dorsey band. There have been many highlights in his career. He played the solo on Close to You, the 1970 blockbuster hit of The Carpenters, joined the Concert for Bangladesh in 1971 and then a 1974 tour with George Harrison and Ravi Shankar.
And, in the musician's world where the ideal of six degrees of separation is always prevalent, Findley met Jerry Floor, the founder of the SLC jazz orchestra, for the first time in 1966 when the touring bus for the Ice Capades show stopped in Utah. It would be another 40 years before the two were reunited and this week Floor will conduct while Findley plays solo on several arrangements.
Findley's Ohio childhood in the Cleveland suburb of Maple Heights was filled with music. His older brother played the trumpet and his father was a saxophonist who played regularly with a band at a supper club gig. By the age of 14, Findley also was playing professionally. "I was too young to drive so I would play those gigs and my dad drove me home while I slept in the back seat," he recalls during an interview with The Utah Review.
After high school, Findley played with the Jimmy Dorsey Band, which was then led by Sam Donahue, and he eventually enrolled in the Cleveland Institute of Music. He would pick up some side gigs, playing trumpet for commercial jingles and he continued to study privately. It was his teacher who encouraged him to play on the road, Findley recalls. At 18, he landed a gig with the Buddy Rich Band, an outstanding accomplishment for such a young musician, which proved to be his biggest break and he already had the experience of playing with some of jazz's best known musicians at the times and legendary musicians such as Dusty Springfield.
It was then that he left the Midwest for good, first landing in Las Vegas and then eventually Los Angeles where he has lived and worked up until today. At this point, Findley's career as a session musician for both live and studio gigs flourished uninterrupted. He played on some of the most iconic albums of the time that also included Christopher Cross' Sailing, the 1979 song that won the Grammy for Best Song of The Year.
His work introduced him to all sorts of music. "Working with Harrison and Shankar was absolutely fantastic," he recalls, adding that he was intrigued by the differences in musical traditions, phrasing, rhythm and notations between Western and Eastern music. He played with Al Jarreau, Jackson Five, Eric Clapton, Nelson Eddy and Frank Sinatra – "all my idols," as he says. He also played on the soundtrack for the 1991 film Dingo in which Miles Davis played a jazz trumpeter in Paris and who is idolized by a young man in the Australian outback.
Findley will play solo in several numbers, including two classic Jerome Kern songs: Smoke Gets In Your Eyes and The Song Is You, which was immortalized by Sinatra.
At master classes with college students, Findley advises prospective musicians to be as versatile as they can because today's schedule of touring and recording sessions require musicians to do more than, for example, "be a high-note trumpet player." He likens the circumstances to a steak dinner. "Once, a musician could go to a steakhouse and pick whatever he wanted – a T-bone or filet mignon," he explains, "but now it's like one T-bone steak for 12 musicians so everyone gets just a bite." Findley says he accommodates all types of request in his playing, whether its mainstream jazz, Dixieland or if the sound should be like Herb Alpert or Harry James. He emphasizes though that "if you're versatile enough, you don't have any reason to be discouraged because there's always room for a good musician."
Findley has enjoyed many gigs that have put him near some of the greatest names in entertainment. When one of the Tonight Show band musicians passed away during the Johnny Carson era, then bandleader Doc Severinsen tapped Findley to join the band, which he did for the final three years that Carson was the host. Then, two years later, after Jay Leno had taken over the coveted late-night talk show slot, new bandleader Branford Marsalis contacted Findley to join, which he did for a couple of years. As Findley explains, he's always looked out for the best breaks ever since he was a Cleveland teen.