For the 15th annual Fear No Film portion of the Utah Arts Festival, curator Topher Horman has crafted seven sequences of presentations in the most intriguing interpretations of the various ways in which memories are constructed, sustained, reshaped and anticipated. Each program is described below.
ROLLING MEMORIES (June 22, 2 p.m.; June 24, 6 p.m.)
This screening expands upon existing remembered moments. A memory itself evolves over time.
The screening opens with Home Movies (Mike Petrow, 14 min., New Jersey, 2016), which is culled from three generations of family video records that generally routine aspects of life in a suburban home. It also emphasizes that even the most quotidian memories of family life eventually take on a nostalgic impact, which can lead to a descendant's surprising epiphany about his personal growth and connection to beloved family members. The film has earned several honors, including awards at the NYC Indie Film awards and recognition for editing and directing at this year's Mindfield Film Festival.
Routine family memories take on greater significance in the narrative treatment of Have No Fear, (Marco Calvise, 20 min, Italy, 2016). An Alzheimer's patient is hospitalized in a clinic and the realities of each day are experienced as if they were new every morning. The concern is that the patient wakes up every morning reeling from a nightmare. The film exemplifies the toll on one's memory loss, extending beyond the clinical, and often misunderstood and misinterpreted side of the disease.
In The Farm (Richard Smith III, 4 min., Illinois, 2016), the director teamed up with writer Eleanor Detrich to script out a concise yet substantial reflection on how our emotional connections to the places of various periods of our lives evolve and how those perceptions shape our remembrances each time we revisit these places, especially when our experiences have moved from small town rural life to the metropolitan bustle of larger cities. The film was shot on a farm located in Bainsbridge, Ohio, a small town in south-central Ohio with a population of barely more than 850.
The Farm – Trailer from Richard Smith III on Vimeo.
In the Honeymoon in the West (Lune de miel dans l'ouest, Laurent Ardoint, Stéphane Duprat, 14 min., France, 2016), the playful take on false memories and the strange interpretation that occurs with cultural appropriation will delight audiences. This is the second appearance in Fear No Film for the directors, who took a Grand Jury Honorable Mention award in 2015 for Love and Commando, a witty musical short film. That film set the story of a World War II lieutenant trying to handle the simultaneous expectations of his personal life and military duty.
The screening closes with a film from Nepal, which is being represented for the first time in the festival's history. Chandra (Fateme Ahmadi and Asmita Shrish, 15 min., Nepal, 2015) is about a seven-year-old child who is traveling with his grandfather to Kathmandu to visit his mother and her newborn infant, his sibling. The challenge is that the pair must travel amidst the horrific damage caused by an earthquake. The trip is fraught with troubles, including car trouble. It is a stunning film with unforgettable cinematography. One breathtaking scene shows a low-angle view as the boy and his grandfather navigate a rickety bridge, while another captures the boy's reaction the first time he sees the earthquake's impact on the city.
Production was ready to begin in Kathmandu in April 2015 when the earthquake struck but the team then revised the script and filming began in May. Everything about this film stands out, from acting to cinematography to the equally captivating sound design and music from Filip Sijanec that communicates the juxtaposed emotions that come when we remember events that bring both tragedy and hope.
MEMORY LANE (June 22, 4 p.m.; June 24, 2 p.m.)
These films explore our unique ways of remembering things, individual takes on "the good old days."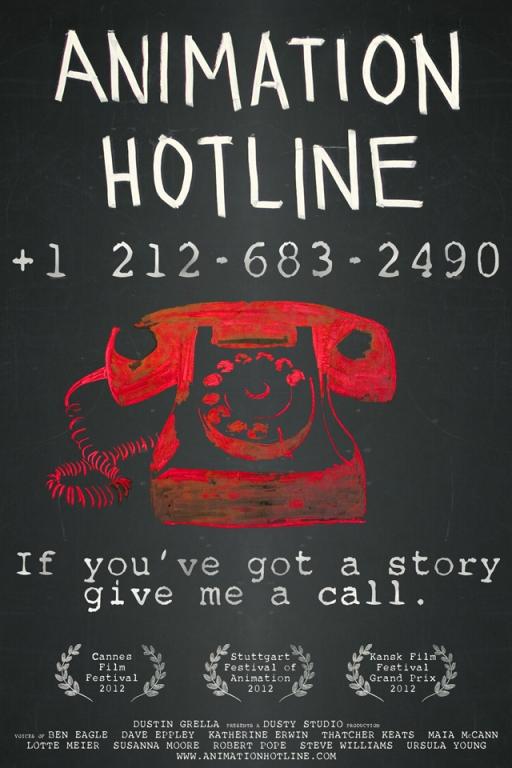 The screening achieves a Fear No Film first, as the opening and closing films in the sequence are two of a series of films by the same director. Animation Hotline 2013 and Animation Hotline 2015 (Dustin Grella, 5 min. and 7 min., New York, 2013 and 2016) are part of a project in which the director invited individuals to leave voice mail messages anonymously that could be any story or recollection they wanted to share. Grella collected more than 150 since the project started six years ago and he has been rendering the stories in digital animations.
The only instruction he offered was that the stories should be short and the shorter the better. The curated collection of stories in each short range from the bizarre to heartfelt humanity. One strikingly memorable story is about a homeless woman in New York City who was offered a ticket by her boss to attend a Broadway play and she was embarrassed wondering if she could be able to wear an outfit suitable for the theater.
The second film in the screening is Defector (Henry Moreno, 7 min., New York, 2016), which opens as a montage of media clips from the Cold War rhetoric of the 1980s without any dialogue or narration. The edited clips suggest the double-edge sword of propaganda and the true merits and shortcomings of both capitalism and communism. The film's second half turns to the story of Elian Gonzalez, the young Cuban who became entangled in a global fight about immigration and custody. As the director indicates in his artistic statement, "With the onset of the USSR, Perestroika, Cuban and Soviet defections turn into a powerful tool against communism. As Miami awaits the collapse of Fidel Castro's regime, the theatrics of defection become the ideal backdrop for spectacle, silliness and deception."
A natural thematic segue follows in Insanity (Lindsay Daniels, 6 min., Utah, 2016), which chronicles the story of Paul Antonio, a Native American whose life changed for the worse during his youth but then decades later he claims solidly the opportunities for redemption not just for himself but for the heritage of his people. The film received the Audience Choice Award at Salt Lake City's Open Screen Night 2016, which was hosted by KUER's VideoWest and the Salt Lake Film Society.
Spain has submitted numerous films in recent years for Fear No Film and film directors from that country consistently produce stories that convey introspective emotional themes in a matter of just a few minutes. Dear Tom (David Sanchez-Tembleque Valino, 3 min., Spain, 2015) is essentially the cinematic version of a Dear John Letter. The film comprises video and audio clips from the times the couple spent together during the three months they were together.
Alternative rock music shapes Closer (Andrey Ogorodnikov, 7 min., Russia, 2016), a film that seeks to capture the mystique of the unspoiled natural settings of Russia's Mari El Republic (Russia). In Ogorodnikov's cinematic debut as a director, he included the eponymous song he wrote that was performed by the alternative rock band Fobillora. The culture is unlike aspects one might typically associate with a Russian location. It emphasizes witchcraft and mysterious creatures such as mermaids. It is a commentary not only about conservation and preservation of pristine lands but also of the culture that resonates in an equally pure state.
Roohangiz from Elmira Bagherzadeh on Vimeo.
Iranian films have made impressive marks in recent Fear No Film programs. In 2015, the Grand Jury Prize for Best of Show went to The Story of a Rainy Night from Iran, directed by Mehdi Fard-Qaderi. This year brings several selections with solid award potential, most notably animation pieces made by women directors and which contain subtly subversive elements. A solid entry is Roohangiz (Elmira Bagherzadeh, 6 min., Iran, 2016), a sharp, funny film about a séance and how the medium's unexpected error unleashes a surprising disaster in the spirit that is being conjured up for the client's sake. The film, which is in Farsi, came from the Tehran University of Art.
Cultural memory and preservation are once again at the heart of The People (Amy Ollerton and David Padeken, 4 min., Utah, 2016), which profiles Eileen Tinhorn Quintana's expression of her Navajo spirituality in dance. As with Insanity, this film earned honors – specifically, the Jury Prize – at Salt Lake City's Open Screen Night 2016, which was hosted by KUER's VideoWest and the Salt Lake Film Society.
WHAT MIGHT BE (June 22, 6 p.m.; June 24, 10 p.m.)
This program explores anticipated memories, the hopes and worries of what might be.

An eviction notice is the coalescing element in No Fixed Motive (Jerome Peters, 14 min., Belgium, 2016), a narrative about an elderly couple whose comfortable, noneventful existence is suddenly usurped by this life-changing news. Peters, who worked primarily in commercial video projects and at MTV in London, made his fiction debut as a director with this film, which has played at numerous international festivals and has won several awards for acting, audience choice, and special mentions at festivals in Austria, Belgium, Malta and Spain.
The Monsters of Uncertainty (Beatriz Gutierrez Hernandez, 3 min., New York, 2016) is a contemplative animation piece that follows the paths of uncertainty a broken heart travels while waiting patiently for the return of promised affection and love.
Short form documentaries return to Fear No Film this year in appreciable numbers, the most in at least six years. IPA GUP Ghana (Karin Slater, 15 min., South Africa, 2015) excels not only in documenting a country's efforts to mitigate and ultimately eliminate economic poverty through projects of sustainability but also in showing the resilience and the backbone of the women who are participating in the Targeting the Ultra Poor Program (TUP) in northern Ghana. The positive impacts are significant: children are being sent to schools for education, women can begin to build nest eggs for their livelihood and the necessities of healthful, safe food agriculture and production are being taught.
Many of this year's animation short films represent tremendous enterprise and creativity from their directors, especially from advanced student filmmakers. Citipati (Andreas Feix and Francesco Faranna, 7 min., Germany, 2015) came from Germany's Filmakademie Baden Württemberg, which has seen student films consistently take the prize for best visual effects in a student project.
The story chronicles a dinosaur about the size of an ostrich who is dying as meteors are devastating the planet. In a podcast interview with Chaos Groups lab, the filmmakers explained their inspiration for the film came from Jurassic Park, the 1993 film by Steven Spielberg. By their remarks, one can see why their school has been successful in producing films that win awards at international festivals, as their film did in earning top honors from the Visual Effects Society. "One specific feature is that Filmakademie gives you the freedom to choose how you work on your project," says Faranna. "They provide an extraordinary infrastructure and let you design your pipeline. As you participate in the design of your own pipeline, you try things out and you get a better understanding of the whole production process."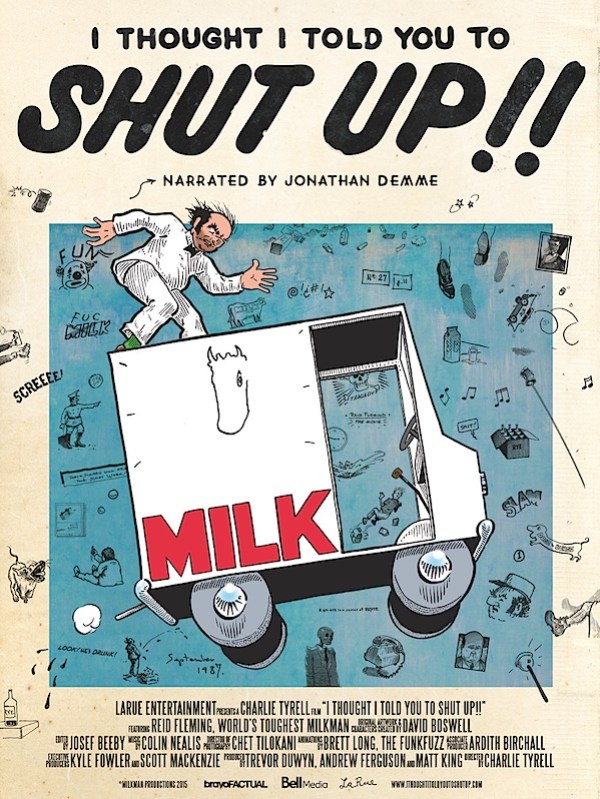 An outstanding documentary comes in I Thought I Told You to Shut Up!! (Charlie Tyrell, 12 min., Canada, 2015). Commanding complete attention, the film emerges as a critique of the Hollywood mindset for blockbusters and its selections for bringing comic book superhero characters to the big screen. Tyrell focuses on Reid Fleming, an anti-hero known as The World's Toughest Milkman, a character created 40 years ago by David Boswell. He zeroes in on the decades-long limbo that has prevented the story from being made into a major motion picture. Tyrell is optimistic that a beloved character from his childhood days of reading comic books will eventually become a major film, especially as Hollywood producers reassess the business soundness of big-budget adaptations of comic book properties and begin to look at lesser-known characters and story lines as candidates for new movie projects. The film is narrated by Jonathan Demme, who died earlier this year. Tyrell's film already has won many awards at international documentary film festivals
Marble (Marmo), (Nancy Allison, Lauro Boato , 7 min., Italy, 2016), is an exquisitely artistic film with an elegant fantasy. From a high ledge of a marble quarry, a sculptor wonders what sculpture will eventually emerge from the marble walls. The film poses the question of artistic inspiration and its source.
The screening closes with one of the most compelling short films under five minutes ever screened at Fear No Film. The Opera Singer (Steve Kahn, 3 min., California, 2016) is an exceptional study in concise story telling and is one of the most moving films ever screened at the festival. The film is about an elderly woman in a wheelchair at a nursing home who is reviewing her life as she prepares to die.
However, the film's epiphany is deeper, suggesting that it really is not about what-ifs or missed opportunities in one life as it is that no one should ever believe that hope, dreams or aspirations ever fall out of reach, no matter the stage of our life. As the director has suggested in several interviews, the limitations are self-imposed and once we realize this, we can overcome any uncertainty. The film is rich in elements every second, including the performance from Rena Dushey along with the narration by actor Shannon Elizabeth, whom many will recognize from American Pie. It is a beautiful send-off for audiences as they reenter the grounds of the Utah Arts Festival's cosmopolitan city celebrating the lifelong potential of artistic inspirations and soulful emotions.
MEMORY DISTORTION (June 23, 2 p.m.; June 25, 6 p.m.)
This program explores a wide range of ways we each cope with transition.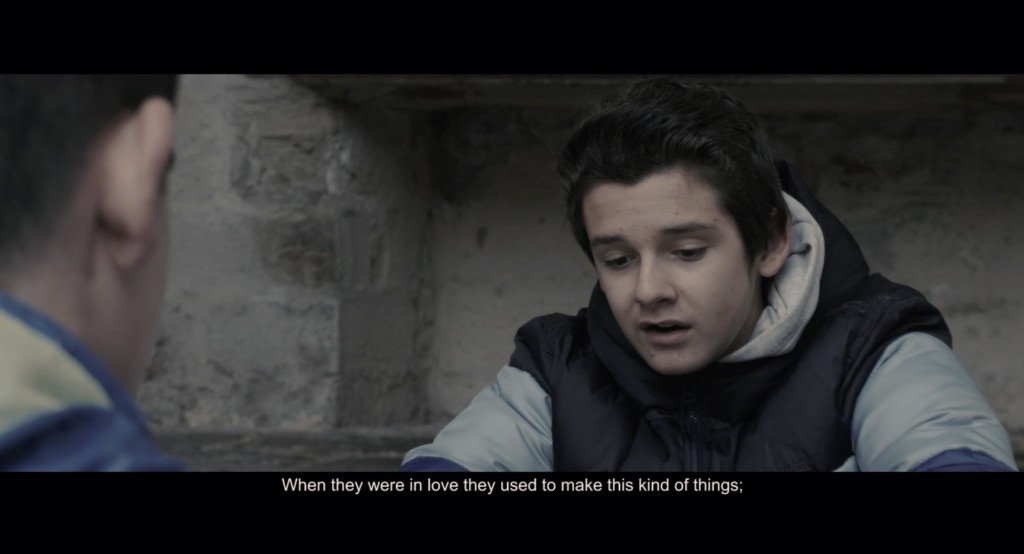 Egypt is being represented for the first time in Fear No Film with Wintry Spring (Rabie Chetwy) (Mohamed Kamel, 15 min., Egypt, 2015). A coming-of-age film that already has won more than 20 awards at international festivals, is about Nour, a young girl who is entering puberty. Nour is being raised by her father who cannot comprehend the physical and emotional changes his daughter is going through as becomes a woman. This lack of effective communication creates tension and emotional distance in their relationship.
The second film is There Are No Sundays (Sergi González, 6 min., Spain, 2016), a story about three kids playing who discover a bottle with a message in a clearing within the forest. The note indicates distressing news about a family.
The meaning of one's lifelong pursuits is at the center of An Ancient Problem and a Young Man (Yixing Li, 8 min., California, 2016), where a young man contemplates his future in a spartan-looking apartment. The boundaries of his current existence and his life in school prove to be distracting and he wonders how he can liberate himself from his confinement.
In Abu Dhabi, the Arab Film Studio's annual short film competition has generated works including a few that have screened at Fear No Film. Last year, there were four films from the United Arab Emirates. This year brings Rattled (Jafaar Al Madhoon, 10 min., United Arab Emirates, 2016), a story about a man's search to find a bride after being rejected repeatedly. Al Madhoon, 25, of Bahrain, received two honors, including best narrative and best script in the juried competition.
Another documentary, Paradise (Colene Paradise, 8 min., Utah, 2017) is an important first-person story about a mother's expansive efforts to heal from the grief of her son's suicide and the impact to help her community on the Owyhee/Duck Valley Indian Reservation Community. Her son, Antone, committed suicide three years ago in the community, located in the high desert of northern Nevada and southern Idaho, that also is home to the Shoshone and Paiute Tribes, and is located in the high desert of northern Nevada and southern Idaho. Colene and her husband, Gary, have four surviving children.
Paradise, who works with youth both as an instructor and athletic coach, began to help others understand and watch out for the signs of suicidal thoughts and depression. She also organized a group called Running for Wellness as a community health initiative. The group now holds a 5-K/triathlon event in memory of the son. The film is a heartfelt spiritually poignant testament to the power of bringing meaning and enlightenment from a personal tragedy.
Unbound Trailer from Maggie Mahrt on Vimeo.
A magnificent narrative to communicate an important social theme of the basic right to dignity and respect for any worker arises in Unbound (Maggie Mahrt, 12 min., California, 2016). Made possible through the directing workshop for women at the American Film Institute, the film's story is set as an allegory in Japan when a young woman is hired at a silk factory so she can support her poor family. However, there is an enormous price to be paid, as she cannot escape the metamorphosis that is occurring – as she transforms into the very commodity the factory sells.
The screening closes with the simplest of stories: a young girl just wants to see her father who appears to only be engaged with his work. The style is stark and spare in Semele (Myrsini Aristidou, 13 min., Cyprus, 2015). Nonverbal communication and body language are adeptly used to build the emotional epiphany in the film. Among the awards it has earned include a special prize as best short film of the Generation Kplus international jury at the 2016 Berlin International Film Festival.
GROUPTHINK (June 23, 4 p.m.; June 25, 2 p.m.)
From groups of strangers to our closest confidantes, these films demonstrate how our memory is shaped by those with whom we share it.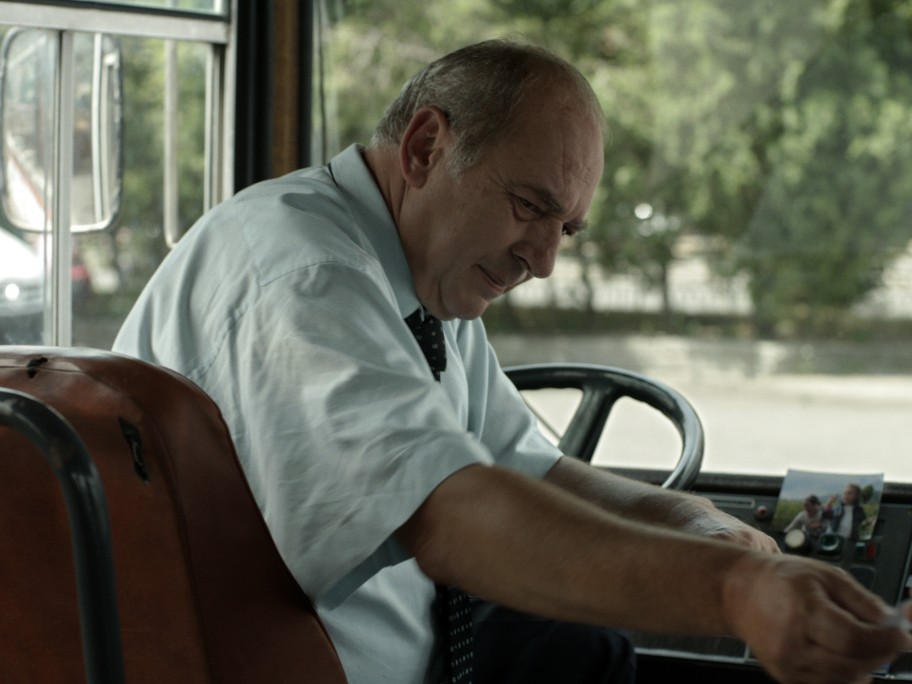 Last year, a film from Bulgaria won Fear No Film's Grand Jury Prize for Best of Show. Getting Fat in a Healthy Way was about something catastrophic happening to the planet's gravity and anyone weighing less than 260-some pounds floats directly into space. And, this year from Bulgaria, Red Light (Na Cherveno) (Toma Waszarow, 21 min., Bulgaria, 2016) starts on an equally quirky premise. En route between two cities, a bus driver is stopped at a red light in a small town and he refuses to proceed even when it becomes apparent that the traffic light has malfunctioned and is stuck. The driver, convinced that he must obey the law to every literal letter of the word, is unmoved by the protests of his passengers and local police officers. Then, an unexpected message arrives that shifts the tension of the film.
Unquestionably one of the most provocative documentaries to be on a Fear No Film program, Hitchhiking w/ a .357 Magnum (Jeremy Bryant, 13 min., New Jersey, 2016) will keep discussions percolating long after the screening ends. Filmed using his smartphone, Bryant decides to chronicle a hitchhiking trip covering more than 400 miles through the state of Oregon.
The young man is traveling to his grandfather's funeral and he carries a .357 magnum for his protection, which is legal under the state law. The film documents the experiences of drivers who stop to pick him up and their reaction when they find out he is carrying a gun. The short film poses lots of questions not just about the civil or constitutional rights of carrying a weapon, concealed or not but also about the perceptions and stereotypes people have about behaviors and how political views color their responses. In fact, people on various sides of the issues – those who want stricter gun control laws or want guarantees that their second amendment rights will be left intact –have responded both positively and negatively to Bryant's eye-opening film.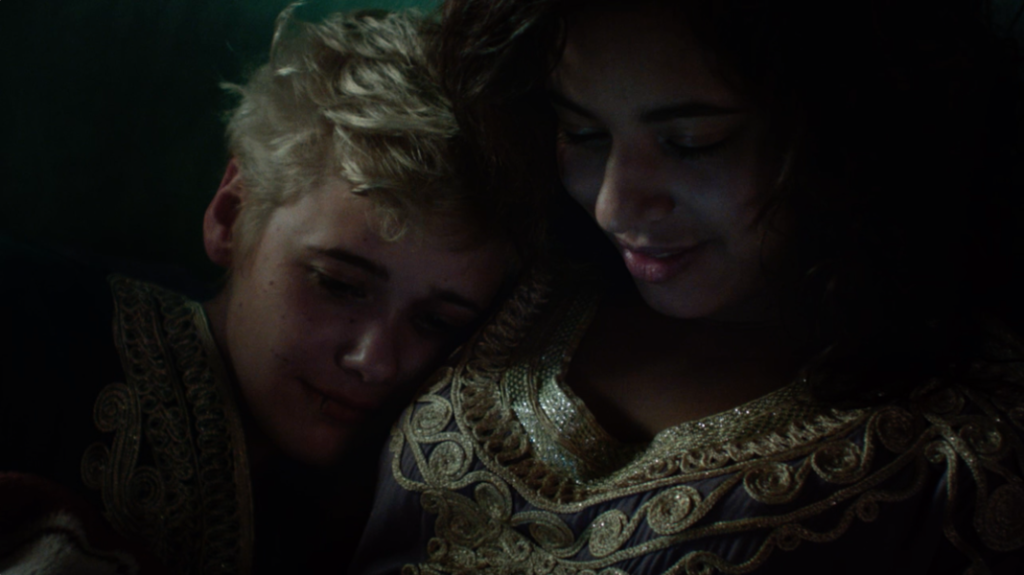 A substantive animation piece, Rumor (Leila Norouzi, 5 min., Iran, 2016) is marvelously accessible in depicting how a rumor begins to spread and change in detail and scope as it is disseminated across an expanding network. This is followed by a music video, a classic Fear No Film 'palate cleanser,' Krunk Unkles by Jacob & The Ladders (Jacob Glenn with Sam Base, 4 min., Texas, 2016) that uses toads to portray how memories evolve and are reshaped.
The screening closes on a Belgium film that will fully absorb the audience's attention. Snatched (Emmanuelle Nicot, 22 min., Belgium, 2016) is about two young women who live in a foster home and have been best friends. When one leaves without notice to live with her boyfriend in less than ideal circumstances, the other one searches for her and hopes to bring her home. The story becomes an example of the sacrifices we are sometimes called upon to make in our closest friendships and to decide if the memories of the best times spend together are worth losing in the face of difficult decisions.
CULTURAL DISSONANCE (June 23, 6 p.m., June 25, 8 p.m.)
This screening showcases stories of disharmony through our identity displacement as we reconcile each new memory.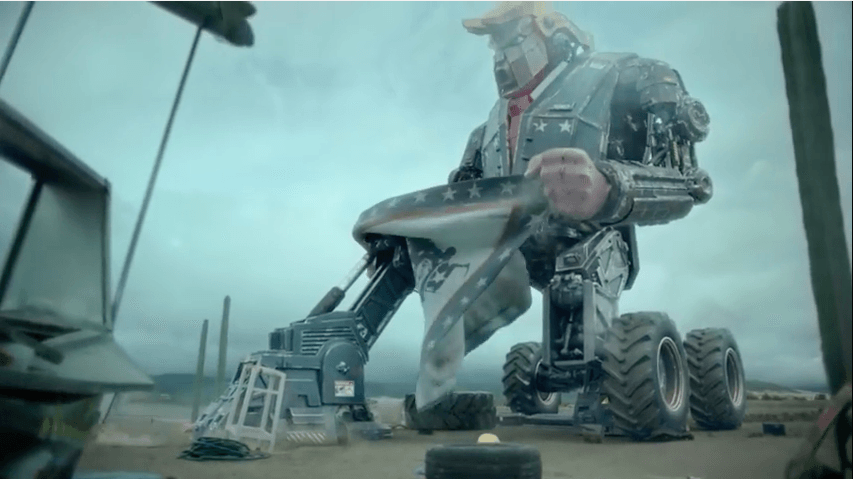 The opening film in this screening assuredly will offer a cathartic release for those still agonizing over the outcome of the 2016 presidential election. M.A.M.O.N. (Monitor Against Mexicans Over Nationwide), (Ale Damiani, 5 min., Mexico, 2016) was completed before the election but it was prescient, as the narrative, written by Enrique Codesido, Javier Cruzado, tells of a racist American president who uses hi-tech measures to expel Latino immigrants past the border wall. Damiani's film is wild, wickedly humorous and immensely enjoyable for those who still cannot abide the election's outcome. Truly, no more should be said about this film other than viewers will get a tremendous amount of cinematic entertainment in just five minutes.
As with other documentaries and the narrative in another screening (Unbound), Nobody Dies Here (Ici, Personne Ne Meurt), (Simon Panay, 23 min., France, 2016) deals with the tremendous price those who seek a better life and social mobility end up paying, especially in the most futile enterprises. Panay goes to Benin and the Perma gold mine, which has attracted many hopeful individuals. However, most soon realize that there is nothing of value to extract while others pursue the futile endeavor relentlessly, sometimes with fatal results. The film, which also has screened at the Oaxaca Film Festival and Big Sky Documentary Film Festival, won the first jury prize as best documentary at its world premiere in the Rhode Island International Film Festival.
The screening continues with Wait for Your Love by Bay Uno (Sebastian Mlynarksi, 3 min., New York, 2015), a surreal music video for a folk song, featuring a man whose heart has been broken and seeks relief by wreaking havoc on New York City streets.
Watch This! Is a youth-produced documentary television program that screens its videos online throughout the country, courtesy of Spy Hop Productions, the nationally known youth media organization in Salt Lake City. One of those films is Accommodating Anxiety (Olivia Anderson, 6 min., Utah, 2016) by a Highland High School student who explores how a teenager copes with her anxieties about life, friendships and love and finds how to gain control over her memories. Anderson is the youngest filmmaker being featured in Fear No Film this year.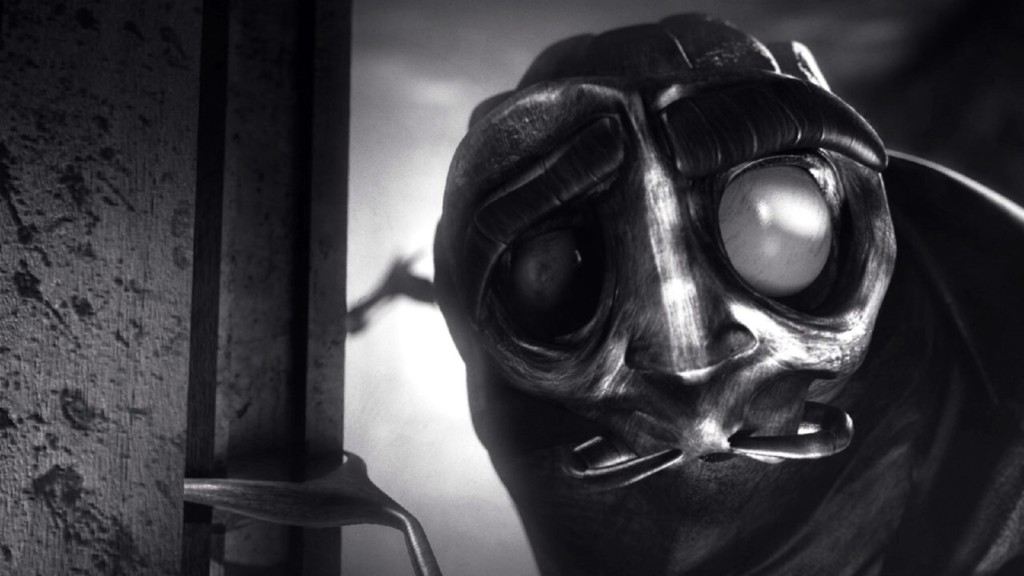 Echoing the film noir style, Black by KEOMA (Aviv Kosloff, Keøma, 5 min., Germany) is one of the best recent music videos to screen at the festival. Filmed in Berlin, the story is like an homage to the work of film director Quentin Tarantino, covering themes of vengeance among three characters: a woman criminal, her unstable accomplice and a no-holds-barred getaway driver.
Two years ago, Iranian filmmaker Farnoush Abedi's The Old Tree was featured in Fear No Film. It was an adorable, animated story about an old man and his son who live in a simple farmhouse on land that is little suitable for productive agriculture. The film touched on the significance of legacy and the profound sacrifices one occasionally pays to preserve that legacy. This year, Abedi's latest animated film The Servant, (9 min., Iran, 2016) is gaining equal attention on the international festival circuit, having shown recently in Seattle and Dallas. Abedi's film is about a master and his servant, which happens to be a gigantic cockroach. At first, the human-sized insect is compliant but it eventually is scheming to reverse the roles, which the master desperately tries to stop.
The closing film in the screening is Mates (Hannah Dougherty, 5 min., Australia, 2017), an absurdist comedy with a science fiction twist. Locked in a courtyard, a woman is trying to figure her way out, a desperate exercise which leads her to come to terms with the extreme fringes of her personality.
REVISIONIST HISTORY (June 23, 10 p.m.; June 25, 4 p.m.)
This program traverses the re-interpretation of moments as understood in our collective memory.
With Romania being represented for the first time in the festival, Libelula (Mihai Sălăjan and Adelina-Laura Bulibașa, 14 min., Romania, 2016) is an impressive original example of experimental filmmaking. The title is the Romanian word for 'dragonfly,' which citizens used pejoratively to refer to the Soviet-era housing blocks that comprised small apartments in which few could maintain any semblance of privacy in their routine lives. The film's principal voice is the building maintenance worker who describes these seemingly random happenings in the housing block that come out in stream-of-consciousness form. For Westerners, it is one of the more convincing representations of what residents endured during the Soviet regime and their efforts to manage through shortages of consumer goods that otherwise would be taken for granted in the West.
Social issues take front and center positions in Corp (Pablo Polledri, 9 min., Argentina, 2016), which synthesizes a broad statement about corporate roles in exploiting labor, polluting the environment, robbing individuals of their dignity, engaging in corruption and other deplored practices.
An ambitious documentary, Pork.0 (Brett Kuxhausen, 17 min., Montana, 2016) follows Carl Blake, a computer engineer who decided to go into farming after a serious automobile accident. Distressed by the inhumane aspects of factory agriculture, he decides to raise pigs of his own breed in his attempt to make pork production accountable. Kuxhausen, whose grandfather raised cattle, was drawn to Blake's story as the subject for his master's thesis project in film. In an interview with the organizers of the Jackson Hole Wildlife Film Festival, the director said he hoped the film would raise the conscience of consumers to think about the sources for their meat.
"I also really hope that it challenges preconceived notions on what the contemporary American farmer is like," he added. "Carl is definitely atypical, and I think it is important to continue to challenge the pitchfork wielding stereotype, because farmers are some of the most distinctive characters I've ever met."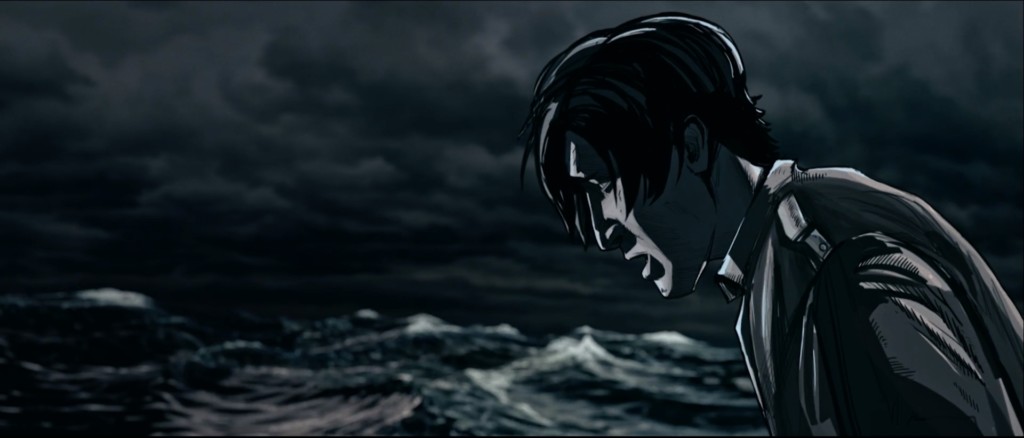 Another example of distinguished storytelling the short form documentary, Nowhere Line: Voices from Manus Island (Lukas Schrank, 15 min., Australia, 2015) uses animation to convey the details of two men who are imprisoned in one of Australia's most notorious offshore detention facilities even though they had come to Australia for asylum. More than 2,000 prisoners are held in such prisons and Schrank interviewed the two men by phone. The director redacted critical identifying details from their interviews to ensure they would not be subjected to incrimination.
The animation, done in a style reminiscent of the graphic comic books for Batman as drawn by Frank Miller, was selected because the director wanted to counteract a government published comic book that was distributed to people in Afghanistan in the hopes of dissuading them from applying for asylum in Australia. In a 2015 interview with The Guardian, Schrank said, "My first reaction was that it was a complete exploitation of the medium, so I started thinking of ways to tell a similar story from a different perspective. In this case it's the art form that is lending itself to the story. This film wouldn't be possible to make in any other way."
The screening closes with another documentary, Between Wagons and the Moon (Brian Oh, 15 min., New York, 2016), which highlights a Colombian-American musician who lives in the border town of Nogales in the Mexican state of Sonora and whose songs incorporate the stories of migrants as well as those who have been deported to Mexico.
KIDS! 3 AND UP (Daily, noon-8 p.m., hourly screenings, Kids Art Yard)
Animation with substantially meaningful stories dominate the kids' version of Fear No Film. The opening animated piece is Fetch (Shane Lewis and Kelly Loosli, 2 min., Utah, 2016), which involves teaching a dog to fetch a stick. The directors are affiliated with the Brigham Young University's award-winning animation program.
The second film (otto) (Marieke Blaauw, Joris Oprins and Job Roggeveen, 10 min., Netherlands, 2015) is delightful and odd, but in the most positive way. There are two character stories at the outset: a girl enjoys having an imaginary friend (Otto) and a young couple are being told by their doctor that they are not going to have a baby. All the characters end up in a café and the woman is enchanted by the girl's imaginary friend but then she steals him away. The story is carried through with excellent results ideal for a young audience, not a surprise for an animation team that also saw it's a Single Life nominated for an Oscar in a prior year.
Another animated confection is Cavities-Super Sweet Friday Mornings (Spy Hop Productions, 2 min., Utah), which features student filmmakers using hand puppets to tell the story. Following is a surefire audience pleaser, The Sheriff's A Chicken (Kelly Loosli, 5 min., Utah, 2016), also produced by BYU's animation center. Kids will see the town's new sheriff, who is a chicken, strive to remove the town's most formidable criminal, Big Bad Jim.
Examples of Iranian filmmaker's animation work are not just found in the categorical screenings at the City Library auditorium but also in the Art Yard. Light Sight (Seyed M. Tabatabaei, 7 min., Iran, 2016) is about a character trapped in a room who is trying to catch a hanging white light but finds it difficult because the room is filled with brightly colored spheres. At first, he is enchanted but then becomes frustrated and later angry because he cannot take control of the light, thanks to the spheres which are obstacles. At the end, he experiences a wonderful surprise.
The closing film in this screening will tickle any kid's imagination. Stinky Feet (Michele Seidman, 11 min., North Carolina, 2016) tracks a child's sock from the time the cotton seed is planted to the factory that makes the sock and then when it is presented as a pair by the child's grandmother.
KIDS! 8 AND UP (Daily, noon-8 p.m., hourly screenings, Kids Art Yard)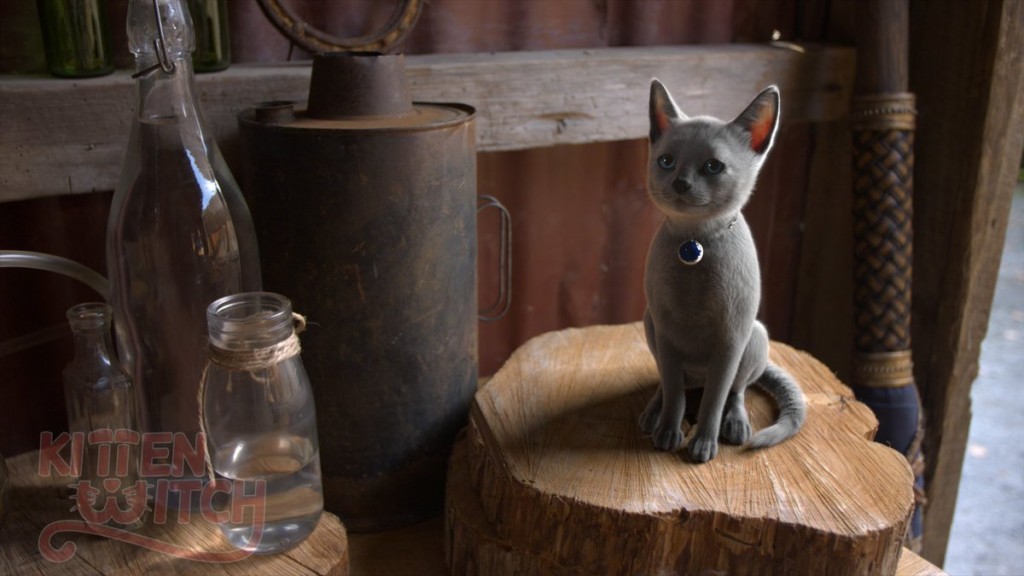 A mix of live narration and animation highlight the screening for older children. The first film is Super Girl (Vaani Arora and Hemant Gaba, 16 min., India, 2016), a smart story about a young girl, with a healthy curiosity about science, who is trying to figure out how to be a superhero and what unique power she should have. Kitten Witch (James Cunningham, 9 min., New Zealand, 2016) is a charming animation piece about a precocious kitten who must pass a test to become a witch but is frustrated until the witch makes an unexpected discovery.
The third film is a wonderful gem, Birdman (Yixing Li and Maisie Luo, 5 min., California, 2016), which was made possible through a grant from the Idyllwild Arts Academy foundation. In this stop-motion animation piece, the directors relayed the story of a young character resembling Icarus from classic mythology who desires to fly.
The screening closes with Mission Sunday (Rukshana Tabassum, 21 min., India, 2015) is about a 15-year-old boy who finds himself trapped in a time loop, which happens to be Sunday. And, the only way he can escape the trap is to master the art of managing his time so he can complete all the tasks that he is supposed to accomplish on that Sunday.