The Utah Short Film of the Year competition at the Utah Arts Festival has become more rigorous in recent years, as local filmmakers are making more adventurous films that especially show audiences outside of the state the high quality of independent film creativity. Four of this year's seven entries already have established a national, if not international, presence. Two of the films set new distinctions for the category: the most views ever (more than 30 million for Oxygen To Fly) and the most awards and nominations (Creating Whitechapel). Thus, the festival award has become one of the most coveted honors in the independent film making community, which, in Utah, is quite large relative to the state's population.
Each film has a significant chance of taking home top honors. The seven films comprise a versatile approach to film making. There is an entry from a filmmaker in the always adventurous University of Utah's film studies program. There are films from the stellar Brigham Young University's Center for Animation and SLC 48-Hour Film Project as well as a short documentary from Spy Hop Productions' PitchNic program, two independent productions and one produced through a major organization. One film premiered at Slamdance and another at SXSW in Austin.
Competition screenings will take place in the City Library auditorium Thursday, June 22; Friday, June 23, and Saturday, June 24, at 8 p.m.
This year's entries: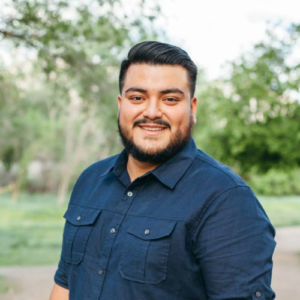 The People (Fernando Lara, 7 min., 2016), which premiered at this year's Slamdance Film Festival, was also among the top 12 finalists in the Fusion Network's annual Doc Challenge, which asked young filmmakers to create short documentaries of between four and seven minutes. Lara, who was born in Ecuador and came to the U.S. at the age of 14, captured some of the earliest protest reactions following last year's presidential election and curated the edited footage for his film, which is as visceral as anticipated.
Lara's film is among the finalists that will be distributed over the next year and a half on the Fusion network's television and digital platforms. He started as a filmmaker in 2010, posting videos on YouTube. He is a 2014 University of Utah graduate with dual bachelor's degrees in film and media arts and mass communications with an emphasis in new media.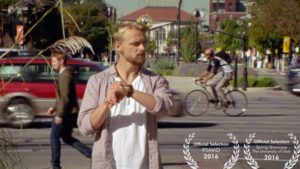 The Timekeeper (Peter Davidson, 3 min., A University of Utah Department of Film Studies Production, 2015) is an experimental piece with a tantalizing epiphany. The character's watch is precise so that when he winds his watch backwards, time moves accordingly and when he stops his watch, time stops. The timekeeper walks around the city, occasionally quoting Kahlil Gibran or Lord Byron. There also is a scene showing still photo images behind him while he is walking that communicates the illusion.
It is an intriguing experimental fictional film. University of Utah film school entries are strong competitors. Recent national rankings for the program include being 21st in the nation, as measured by USA Today; the top-ranked film program in the state, according to Filmcollege.com, which also places it 23rd nationally and 14th in the West. The school's interdisciplinary emphasis in Entertainment Arts and Engineering was ranked first for programs of its kind by The Princeton Review.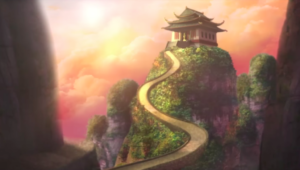 Taijitu (Connor Gillette, 8 min., A Brigham Young University Center for Animation Production, 2016) is the latest in a long line of strong entries from one of the nation's most respected animation programs. It was the 19th BYU animation piece in the last 13 years to be nominated for a College Television Award (more popularly known as a student Emmy). However, for those familiar with previous BYU animation nominees in the festival competition, they will notice Taijitu is not the charming comedy of its predecessors.
There are numerous sophisticated technical elements in the animation for this emotional coming-of-age story about Ten, a young boy who is given an important responsibility that has triggered intrepidation. For example, he is tasked with changing day to night and night to day by turning a medallion, a scene that has remarkable subtle effects in the hues representing night and day. The interesting sidebar is that Gillette met his future wife, Emma, who served as art director for the year-long project, which brought a team of more than 40 animation, illustration, computer science and music students. Seven of the students who worked on this film have since landed jobs or internships with Disney, Blue Sky Studios and Pixar.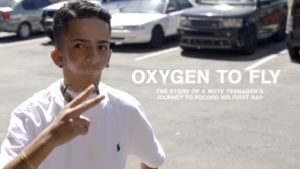 Oxygen to Fly (Torben Bernhard, 7 min., 2017) is among two films in this year's Utah Short Film of the Year competition that have established important benchmarks. It is coming into the competition, as the most-watched film in the history of Fear No Film, with a total number of views surpassing 30 million. The short documentary film, which has achieved a viral impact that few producers or filmmakers ever can imagine, tells the story of Isaiah Acosta, 17, of Phoenix, who was born without a jaw and has never spoken a word. The young man released his first lyrical rap song with the eponymous title on iTunes, with the grace of Trap House, one of the nation's most prominent rap musicians who collaborated with Acosta and gave his voice to the young man's lyrics and debut track. The song, which benefits Children's Miracle Network Hospitals (incidentally, Topher Horman, Fear No Film curator, was producer), is a vivid, compelling testament to the challenge of living with medical issues and conditions so serious that even many seasoned doctors and nurses are stymied.
Three years ago, Bernhard and his creative team won Utah Short Film of the Year honors for Transmormon, which told Eri Hayward's story just before she underwent sexual reassignment surgery. Likewise, with Acosta's story, Bernhard and his creative team found the same understated resilience of love, compassion and quiet humility that they represented in Hayward's story and that of her supportive family's unconditional love and acceptance. The film premiered at this year's SXSW festival.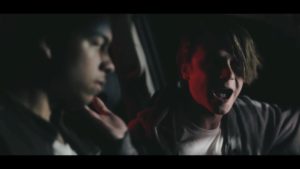 Every year on a weekend in June, teams of filmmakers and production crews work furiously to complete a short film in the SLC 48 Hour Film Project for the chance to win the competition and go on to compete with winners from other cities. The winning film from the previous year also is tapped as a nominee for the festival competition. Remembered (David Skorut, 8 min., 2016) is a tense narrative involving high school students who are contemplating an act of enormous consequences. The film, which also took best acting honors for its three-member cast and was produced by Nicholas Cockrell, features a first-rate original score composed by Carl Colby.
Dancing with Thorns (Mary Nejatifar, director, and Peque Curiel, cinematographer and editor, 14 min., 2016) was one of the two student documentary films produced for the 14th annual PitchNic premieres sponsored by Spy Hop Productions. An aptly titled film, this short documentary highlights three older adults with Parkinson's disease who participate in a dance therapy program Grey Matters: Stretching the Mind, the Body and the Soul through Dance. It was started in early 2015 by the University of Utah's departments of modern dance and physical therapy.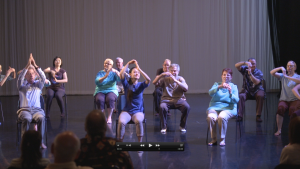 The film has a wonderful burst of youthful optimism, as the students capture their three subjects at ease talking about their symptoms and how the dance program has helped them deal with various symptoms. They intersperse interviews and scenes from the class with clips from a public performance and a chat with Juan Carlos Claudio, a university dance faculty member who is leading the program. It's a warm, encouraging, personable look at an alternative therapy that shows how art and movement trumps the limits of labeling patients who find new ways to improve their motor skills and physiological functions and coordination.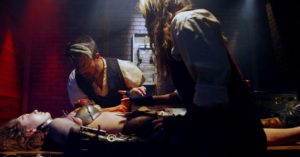 Creatures of Whitechapel (Jonathan Martin, 25 min. 2016) is the other Utah Short Film of The Year nominee to set a new benchmark, as the nominee with the most awards ever coming into the competition. The 28 wins and more than 30 nominations from festivals around the world, current as of press time, offer solid evidence of the film's strengths as an independent horror film that blends the Frankenstein and Jack the Ripper stories in a freshly gory take that present recognizable Victorian gothic inflections with steampunk aesthetics. Here, Jack the Ripper is cast as a woman.
There is lust, dark humor, thrilling twists and true sensations of horror throughout the film. It packs in more entertaining diversions than the standard feature-length horror film.