For Rebekah Campbell, a Provo High School student, her art work titled Transend, done in acrylic on paper, signified her decision at the end of her sophomore year to pursue art in college and as a career. Although she said it was a difficult decision to make, Campbell wanted to convey the contentment she experienced in deciding on her life's work.
"I wanted to capture this contentment in this self-portrait, so I chose subdued jade-ish hues for my background colors," she explains. "I included the hummingbird because they've always seemed to have an extraordinary sense of balance about them, and although I definitely don't right now, I want to be able to have that."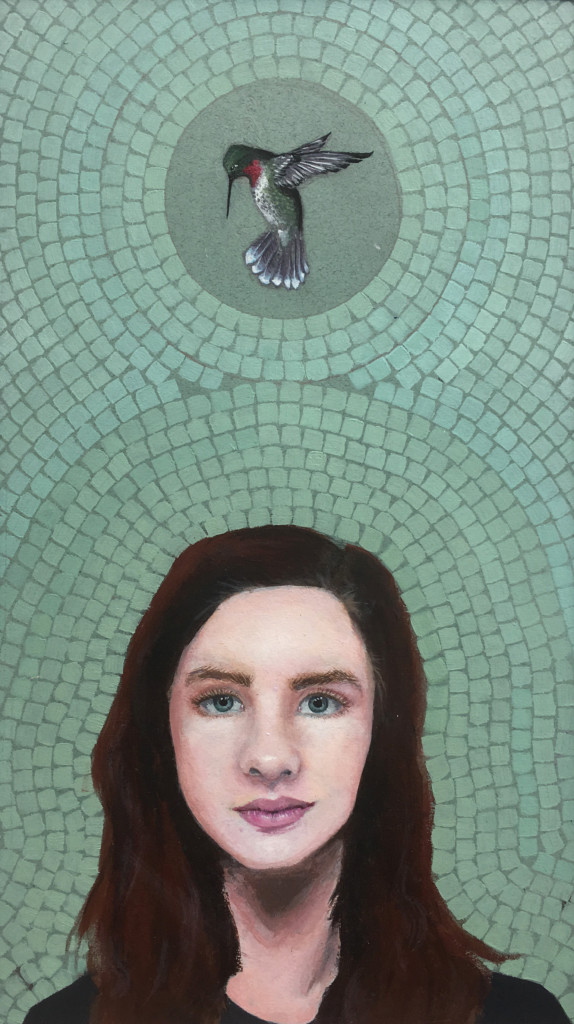 Campbell's work is one of 50 art pieces created by Utah high school students that is being featured in the traveling exhibition representing the 2016 and 2017 Utah All-State High School Art Show, which champions the work of juniors and seniors which are selected by a professional jury.
The exhibit, free and open to the public, will be unveiled on the opening day pf the Utah Arts Festival (June 22) in The Gallery at Library Square on the fourth floor of The City Library. A reception will be held for the artists and the public that day at 6 p.m.
Comprehensive in its diverse offering of art media and representation of young artistic talent, Utah's high school show is clearly among the largest of its kind in the U.S. The traveling exhibition represents the 44th and 45th annual versions of the all-state art show, which is coordinated by the Springville Museum of Art in conjunction with the Utah Division of Arts and Museums.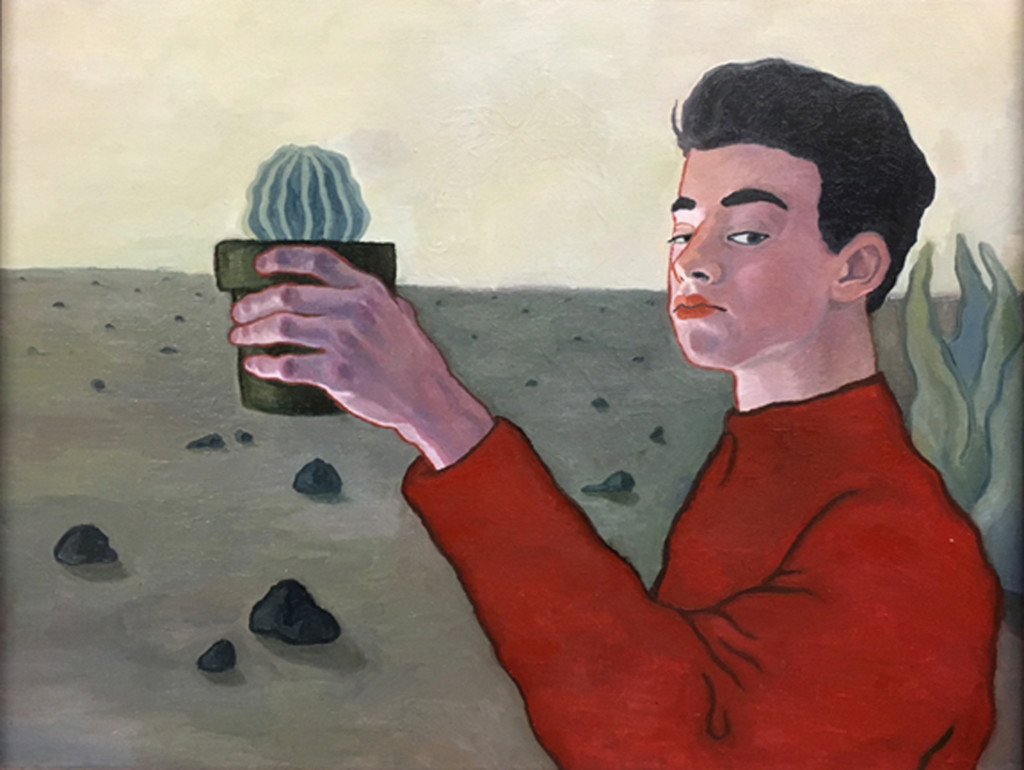 The all-state show for this year brought in 989 entries and a panel of professional artists and arts administrators ultimately selected 345 works representing 98 high schools in the state. In addition, the jury tapped a select handful of works for awards, including two 'best in show' awards, five juror's choice awards, and 20 awards of merit. Works also are selected to represent each of Utah's four Congressional districts and to be included in the national show at the U.S. Capitol in Washington, D.C.
The show is a source of great encouragement for young artists, says Fletcher Booth, who curates the traveling exhibition that also brings the work of young artists to libraries, schools and community centers across the state.
"We really look for the whole aspects of creativity in the student's work that includes their approach to the medium they're working in as well as how they are thinking about the subject of their work," Booth explains. He adds, that "for many schools regular participation in and attendance at the exhibition has become a great teaching tool, as students have been instructed and inspired by the work of their peers."
Thus, each year's exhibition brings new standards and new expressions that reflect upon what young artists might consider as particularly meaningful from a social or cultural perspective. "This year, for example, we've seen a lot of work about deconstructed faces and identities while in previous years there was a focus on landscapes or nature," he adds.
The exhibition also becomes intellectually rewarding for art teachers. Indeed, Campbell, whose work garnered one of the five juror's choice awards this year, credits James Rees, her teacher at Provo High School, as a major mentor.
"I've been taking art classes with Mr Rees for three and a half years now and I've absolutely loved having him as a teacher," she explains. "He's an incredible mentor and always knows exactly how to tweak and shape his students' ideas to take them to entirely new levels. A couple years ago, he had been flipping through my sketchbook and suggested that self-portraits could be a great thing for me to focus on. I agreed, and that year I did many self-portraits with an emphasis on different emotions and colors."
Campbell's enthusiasm is indicative of her school's successful art education program. Rees, who also is vice president elect for the Pacific region of the National Art Education Association, mentored six students whose works were selected this year for the all-state show.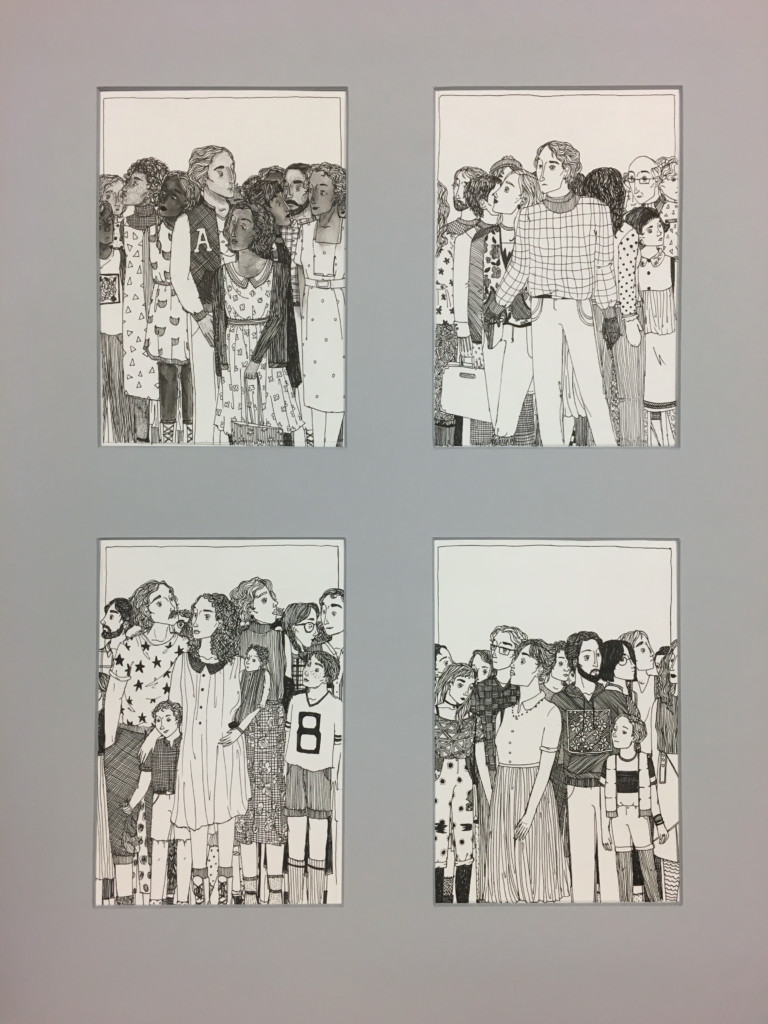 They include Liliana Briem, who also won a juror's choice award for her pen-and-ink work titled Alone in A Crowd. She says her work explores the theme of crowds where "four monochromatic images of groups of people are framed together. The allure of the crowd is that the group itself creates its own sort of body while still being made up of individuals, all of which are unique. In life, people in a group have different motivations and values and emotions and I wanted to capture that idea, especially the individual's relationship with and attitude toward the crowd. I also wanted to capture the overall emotion of the crowd, which is why I framed four images together."
Briem also credits her inspiration to the art education program at Provo High. "Art classes, especially in high school, created a safe yet critical and constructive environment for me to flesh out my ideas while continuing to hone my technical art skills and understanding of design concepts," she explains. "It has also offered me some unique opportunities to explore different aspects of art, such as curation (I had the opportunity to create and curate an art show this fall using artworks from my classmates). These experiences can further enhance my understanding of art, and I am so grateful for the opportunities I've had to have art be a part of my education. I plan to pursue an art or design related career in the future."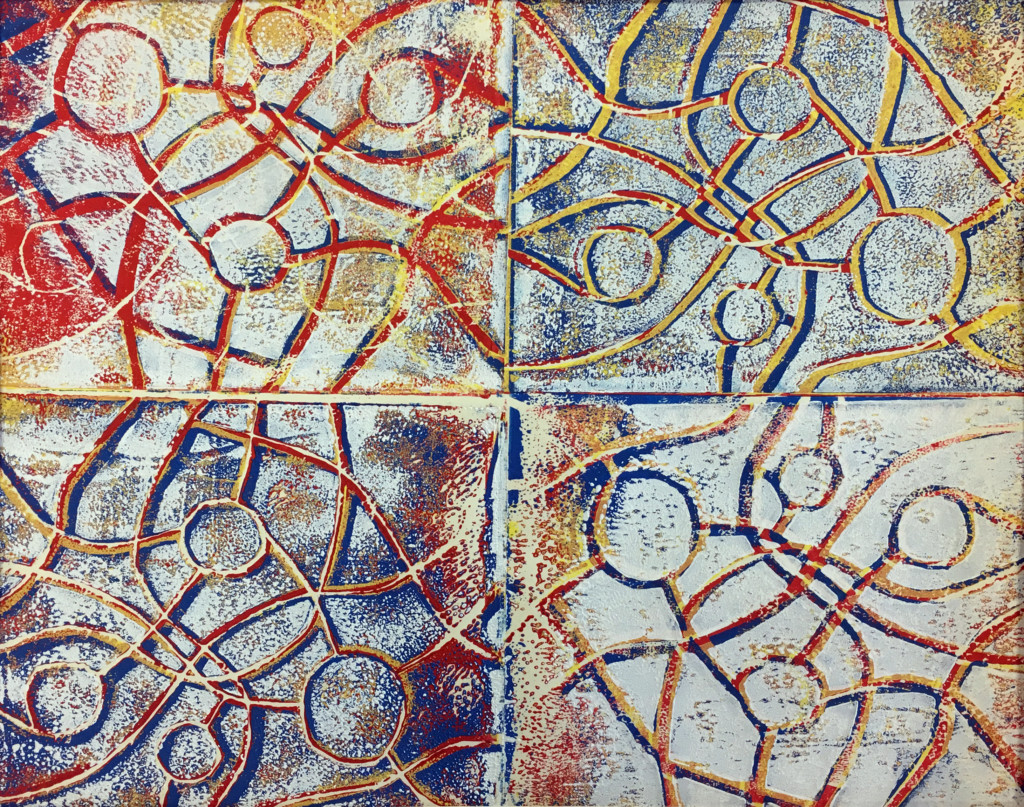 Booth adds that he and his colleagues are pleased to provide students with the kind of opportunities the Utah Arts Festival offers – not only because it is great exposure for them as artists, but also because it gives them the kind of experience they may be seeking out in the future as their careers progress. Students decide to include their work in the traveling exhibition and many also are available for purchase, so students get their first glimpse at the business aspects of the art world.
The art represents many media forms, including drawing, painting, watercolor, sculpture, fiber, printmaking, jewelry, photography, ceramics, and various commercial and mixed media. Students are ambitious and meticulous in their creative process. For her work, Campbell said the background pattern was influenced by religious mosaic works dating to ancient Rome. "I love painting along to audio books; this one I did while listening to a copy of the classic Jane Eyre," she adds.
Briem zeroed in on many fine details of design to communicate her ideas about crowds. "For example, to show the individualism of each of the figures, I used different textures on their faces, clothing, and hair," she explains. "To help produce the overall feeling of the group, I often considered the shape that the crowd might take (some are random, while some are rectangular or triangular)."
Gleaning comments from jurors who evaluated the 2016 works that also are part of the traveling exhibition, one immediately sees the strong endorsement from the professional community. The jury for painting concluded, "It was immensely difficult to make eliminations. We saw a high level of engagement with the arts and an immense time commitment to the field of painting. Additionally, the quantity of portraits and high level of creativity within that genre was great. They were highly personal and pushed the boundaries of realism." The jury examining mixed media and 3-D art works summarized their evaluation by noting that "the level of sophistication on some of the pieces could be considered professional, i.e., fit to be included in collections in New York and L.A."
The exhibit will be open until July 28. For complete information about the Utah Arts Festival, see here.