Saad Haddad's story is quintessentially American. A first generation American, he was born in Georgia in 1992. His mother is Lebanese and his father is Jordanian. His parents met in the U.S. but they have never visited their respected homelands since their respective families came to the U.S. As a child growing up in southern California, Haddad heard lots of music from the 1980s, especially Michael Jackson and other icons of the pop scene (think, Toto, Air Supply and the Bee Gees), which was the music his mother loved. Neither of his parents are musicians.
However, Arabic language and music also showed up constantly at every family gathering, holiday celebration and weddings. Even as Haddad started to listen closely to great composers (starting with Mozart, whom he learned about in a book for an elementary school assignment), he unconsciously absorbed the unique harmonies, rhythms and tonal textures of the music from his parents' homeland. One's cultural DNA is exceptionally resilient, even when it is not always prevalent or if a descendant has not visited the homeland.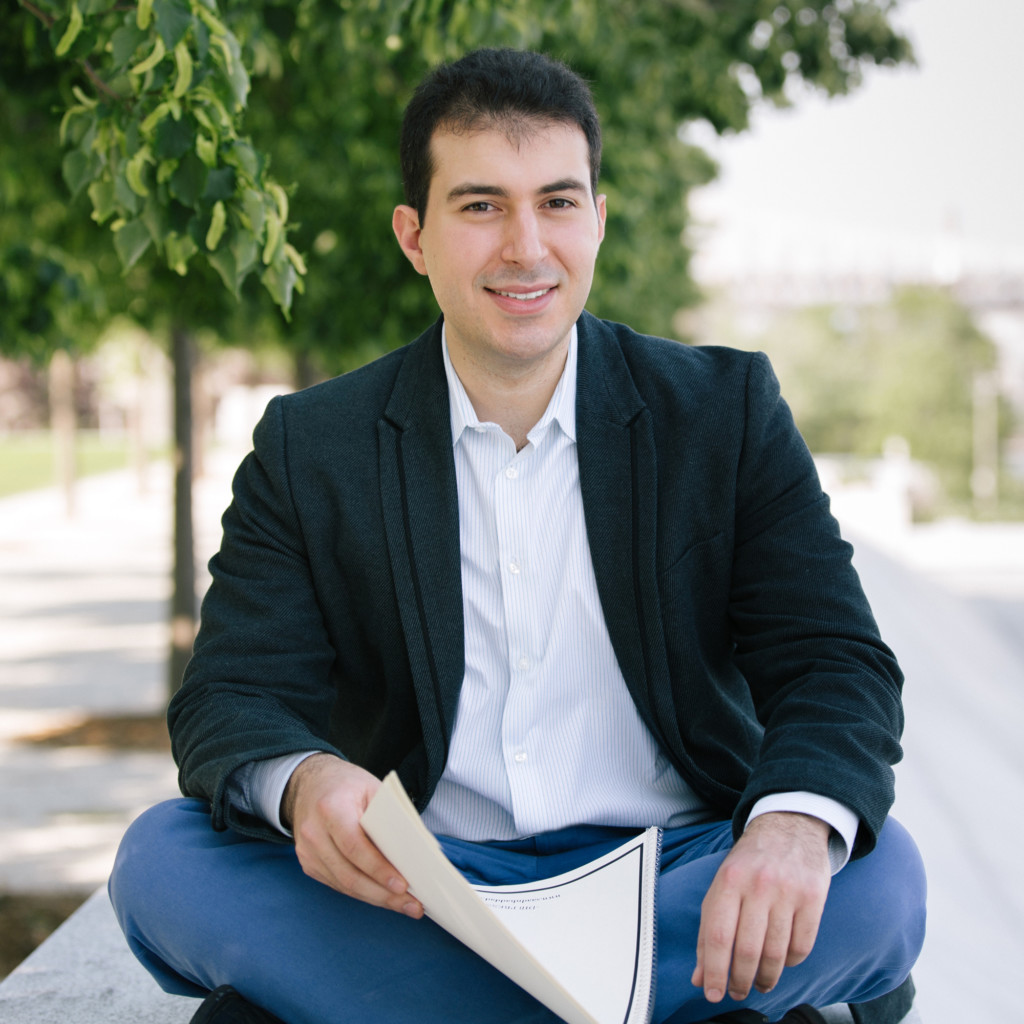 At 25, Haddad's status as a composer is growing rapidly in a career filling up with premieres and commissions. He also is an astute arts entrepreneur who publishes his own scores and oversees the business side of being an independent full-time composer. "It's all part of my approach to be as transparent as possible," Haddad says in an interview with The Utah Review. "In eliminating the middleman, I put out everything musically for everyone to see."
It's a good model for any creative entrepreneur in a time when genres and distinctions have disappeared, hopefully for good. In a 2016 interview with Frank Oteri at NewMusicBox.com, Oteri wrote, "The way that Saad Haddad has forged a balance between being practical and a desire to take risks is almost as seamless as his balancing of Western classical and Middle Eastern musical traditions. It is particularly surprising considering that he has come to such realizations while still a student."
His new work Azwaj, which translates from Arabic to 'pairs' in English, is the 2018 chamber music commission for the Utah Arts Festival and Haddad is the youngest recipient of the composer award in the event's history. The eight-minute work will be performed Saturday, June 23, at 4 p.m. in the City Library auditorium, with Sinfonia Salt Lake, conducted by Robert Baldwin. The program also features works by Ethan Wickman, Chad Cannon and Stephen Jones.
Haddad's latest work marks new territory in the commission program. The commission jury asks works to be scored for Pierrot ensemble instrumentation (created by composer Arnold Schoenberg for Pierrot Lunaire in the early 20th century), which includes a flute, clarinet, violin, cello, piano and usually percussionist but sometimes a vocalist. He had just completed last December a commission for the Lydian String Quartet, which premiered in April, before tackling the festival commission and conceiving ways to enliven the expectations for this familiar model of instrumentation.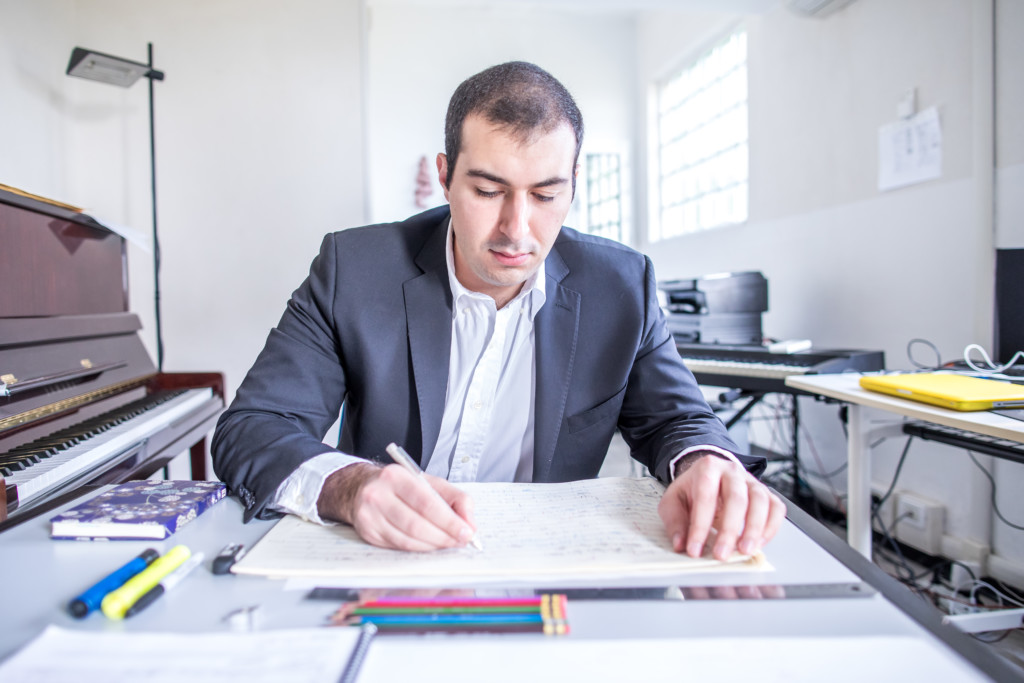 He reviewed and researched the catalogue of works scored for this type of ensemble or some variation of it, including standout examples such as Steve Mackey's Micro-Concerto (1999), a work that the NOVA Chamber Music Series presented last winter, and Gérard Grisey's Vortex Temporum (1996). One work perked up the possibilities for Haddad: Elliott Carter's Triple Duo, written in 1983 as a BBC commission for The Fires of London. In fact, many musicologists welcomed Carter's work dividing the classic Pierrot sextet in duos, an arrangement that approaches Schoenberg's original intentions of having smaller chamber groups within the already compact chamber group.
In Azwaj, Haddad supersedes the conventions by pairing the flute with the violin, the clarinet with the cello and the piano with the percussion. More specifically, the work is a de facto trio because each pair plays in unison.
And, it moves at a fast pace. "There are more than 400 bars in the score," Haddad says. Azwaj will give audiences a good sample of his work that makes use of the maqamat, a system of melodic modes distinctive to Arabic music. In this system, there are dozens of tone rows and scales constructed from major, neutral and minor seconds. Haddad incorporates quarter tones in the two woodwind-string duos which play scales that consistently rove and swirl about in their ornamentations.
Meanwhile, the third pair in Azwaj — the percussion and piano – highlight a prepared sound incorporating the small cymbals that have been removed from tambourines and used with timpani and the low bass end range of the piano. This creates a deeper resonance and dampening effect. "The sounds really are amazing," Haddad says, which should be a treat for listeners in the exceptionally bright, sharp acoustics of the City Library auditorium.
The festival ensemble's performers are well known for tackling some of the most complex contemporary music available and Azwaj offers many challenges. The piece constantly changes time signatures, reminding listeners that maqamat is realized without a defining rhythmic characteristic or a recurring bar pattern. Azwaj will be unlike any other musical commission featured at the Utah Arts Festival, a milestone in a program that started in 1991, the year before Haddad was born.
To understand the unique soundscape of a Haddad work, one should consider Kaman Fantasy (2014) as a worthy introduction. The piece takes its name from the Arabic word for violin, kamanjah, which incorporates the maqamat scales in a traditional classical style setting while challenging the Western-trained musicians to adapt to the work's unique requirements that incorporate microtones, instruct different vibrato uses and encourage string players to move their bows in asynchronous ways. Haddad's works often seek to replicate the sound characteristics of the Arab world's counterparts to traditional Western instruments. In some of Haddad's music, live electronic effects also are incorporated (for example, Manarah).
Haddad's formative experiences are fascinating to visit for such a dynamic young composer. At seven, he first heard of Mozart, who started composing music in earnest when he was just five years old. In his teenage years, he was part of the first group of four young musicians to be selected for The Los Angeles Philharmonic's Nancy and Barry Sanders Composer Fellowship Program (CFP), which was established in 2007. The program fellows worked with Stephen Stucky, the Pulitzer-Prize winning composer.
Meanwhile as he continued to feed his obsession with music and find his voice as a composer, he excelled at his overall studies and was class valedictorian for his high school. He experimented in many ways, including an arrangement of Michael Jackson's 1979 hit Don't Stop 'Til You Get Enough, featuring soprano sax, electric guitar, piano and drum kit.
He wanted to pursue his undergraduate studies at Juilliard but, thanks in part to his parents' insistence, he stayed in the Los Angeles area, when he received a full ride scholarship at the University of Southern California. "It was a totally immersive experience," he recalls.
And, staying in the area near his parents set an unexpected opportunity to explore Arab music in a more serious way than he had considered previously. His parents asked him to digitize their huge collection of home videos, many of which were incompatible to transfer easily onto CDs. This required Haddad to watch the videos in full. Suddenly, the music he remembered as a child at family parties and special occasions came back to him in a new perspective that has been nurtured in the works he has composed. The first work from this revelation came just five years ago, when he was 21, a chamber work for string quartet and live electronics (Mai).
Since then, he has been working at remarkable speed, notable as he is in the second year of his doctorate program at Columbia University. He realized his dream of going to Juilliard, where he studied with John Corigliano to complete his master's degree just two years ago.
He has received 10 commissions since 2015. His Utah Arts Festival piece coincides with other notable 2018 commissions. Risala was a co-commission for the Columbus Symphony and the Princeton Symphony, both of which premiered the work in April and May, respectively. He also has been commissioned to write a clarinet concerto with full orchestra, which also has been supported by the Barlow Endowment and the Princeton Symphony will soon announce a consortium to premiere that work. He has received many honors, prizes and accolades at a pace that one would consider impressive for any composer 15, 20, or 25 years older. He also has scored music for films,
The festival's commission program is made possible by the Marriner S. Eccles Foundation, KCPW-FM radio and Lefavi Wealth Management.
For more information, see the Utah Arts Festival website.