Recently, the administration and staff of the Salt Lake City Public Library met to clarify its strategic roadmap as part of its long-range efforts to continue developing the civic cultural campus that includes the City Library in the heart of downtown. As Peter Bromberg, library executive director, explains, it's continuing the efforts started 20 years ago with the original strategic plan which envisioned the ways we could flesh our promise to the community. "We're about 80 percent of the way there but we wanted to revisit the plan to find out how we could fulfill that promise completely," he says.
One concept is Library Squared, a pilot partnership joining the City Library, The Leonardo, Utah Museum of Contemporary Art and the Utah Film Center. The first prominent example was the Utah Film Center's 7th Tumbleweeds Kids' Film Festival, held earlier this year.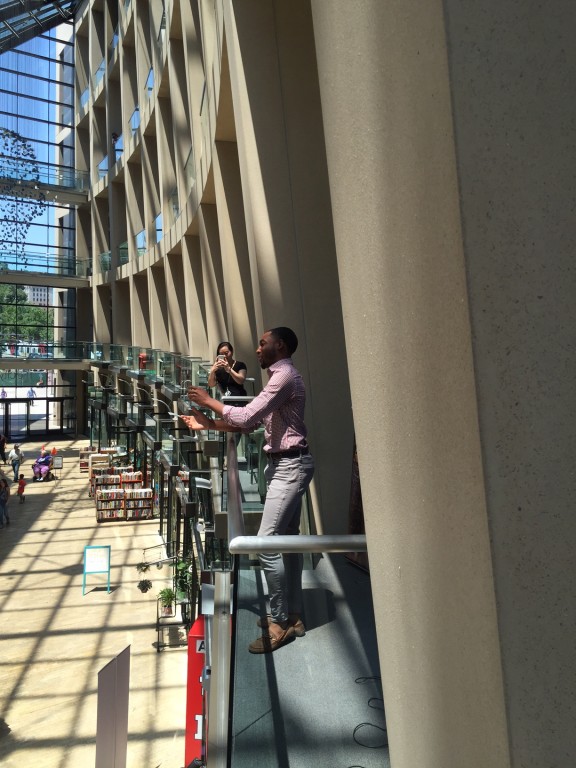 And, since the City Library campus was opened 15 years ago, the Utah Arts Festival has been held on the space, its first truly permanent home. "It is one of our healthiest partnerships," Bromberg says. "It is an honor for us to host such an incredible event and it has helped us to show the community just how much libraries are capable of doing in the 21st century."
Indeed, Bromberg refers to the library's strategic roadmap to explain just how perfectly matched the partnership is with the festival. He cites initially the trio of foundations essential to craft the platform for community and individual transformation: learning, community and social connection. These emanate outward to six strategic areas of focus: arts and creativity, civic engagement, critical literacies, economic success, healthy together and inclusion and belonging. "The festival achieves all of these priorities," he says.
During the festival's four days (June 21-24), the Library will be packed with events, concerts, screenings that are part of many of the festival's multidisciplinary venues. And, its south-facing glass wall will be the performing stage of the BANDALOOP vertical dance company from Oakland, California (two performances daily at 5:30 p.m. and 7 p.m.).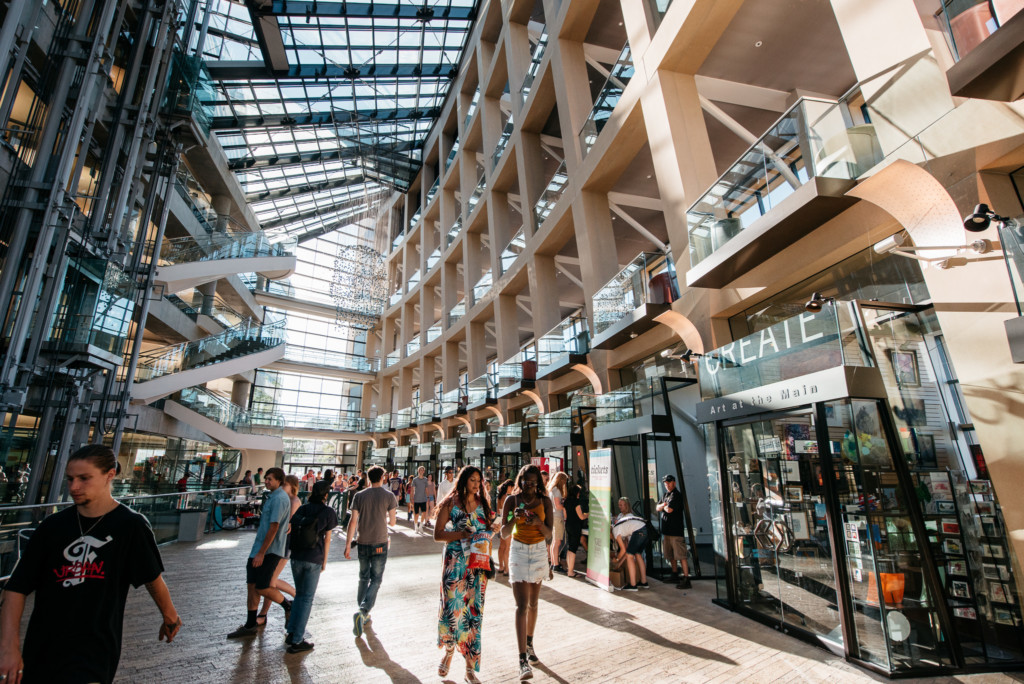 Utah Opera will present Random Acts of Opera on June 22 at 2 p.m., featuring Christopher Clayton with Emily Williams as pianist, and on June 23 at 2 p.m., featuring Clara Hurtado with Williams.
As in previous years, the fourth-floor Gallery at Library Square will be the location of the festival's featured exhibition: Process: Sculptures by Cordell Taylor, an artist based in Salt Lake City. There also is The Spirit of Dance by New York City photographer Marc Santos, located on the lower urban room's exhibition space (see The Utah Review for a recent profile of this exhibition), and Celebration of Colors: Paintings by Betta Inman in the main atrium in the Art at the Main Library shop.
Visitors also should check out the Children's Gallery in the City Library's lower level, which features the Art for Books and Periodicals Exhibition by Robert Neubecker, who lives and works in Park City. He is an award-winning illustrator whose work has appeared in The New York Times, Time Magazine, Newsweek, The Chicago Tribune, The Wall Street Journal and virtually every periodical in print.
The library's special collections room, also on the fourth floor, is the center of several visual arts workshops, which require advance registration because of limited class sizes and a small fee to cover art materials. Professional artists lead the workshops, which are tailored to even accommodate individuals who have never tried their hands at making art. For registration information, see here.
The Encaustic Newspaper Faces Workshop (June 22, 11 a.m.), led by Cindy Lewis Clark, is a two-hour session open to participants 12 and older ($25, which includes admission to the festival). In the encaustic process, color pigment mixed with melted beeswax and resin is applied to a surface such as a wood, canvas board or paper. The application is affixed with heat.
A Partners on Education Workshop, coordinated with the Utah Division of Arts and Museums, will be held Saturday, June 23, from 9 a.m. to 4 p.m. Open to educators from throughout the state, the workshop is good for seven recertification points.
This year's festival also will feature activities and performances from the Intermountain Acoustic Music Association (IAMA), which is making its fifth festival appearance.

IAMA's Song School Academy will hold a series of clinics on Friday, June 22, beginning at 9 a.m. in the library, featuring veteran musicians Kate MacLeod and Guy Davis, one of the country's best known blues musicians who also will be performing at the festival. MacLeod and Davis will lead one session about how stories are inspired, crafted and honed to become effective songs, while Davis also will lead sessions on performance attributes and the blues guitar style with harmonica rack.
Both musicians also will be on hand to critique and recommend edits on songs. On Saturday (June 23), MacLeod will conduct a fiddle workshop at 9 a.m., also in the library. Later that day, Dylan Schorer will lead a session on Dobro and Pedal Steel guitars (3 p.m.) and how to accompany songs on these instruments with songwriters Ryan Tanner and Hollering Pines' Marie Bradshaw. Spaces are limited per clinic session. For registration information and fee schedule, see here.
The Library Auditorium always is a welcome respite from the typical heat and sun of late sun. Fear No Film will screen in a rotating schedule its seven program slates of 40 short films, each lasting approximately an hour, throughout the festival. In addition, two screenings of the six films in the Utah Short Film of The Year competition always draw standing room only audiences. The screenings are free and open to the public.
In addition, the June 23 premiere (at 4 p.m.) of the festival's chamber music commission will take place in the auditorium. This year's commission features Saad Haddad's Azwaj, which will be performed by Sinfonia Salt Lake, with Robert Baldwin as artistic director. Haddad, who is among the youngest winners of the music commission's history at the festival, is an award-winning composer based in Los Angeles and has written music for all types of orchestral and chamber ensembles. The program also will include contemporary chamber music by Ethan Wickman, Chad Cannon and Stephen Jones.
For more information, see the Utah Arts Festival website.