At the Urban Arts venue of The Utah Arts Festival (June 21-24), graffiti art, in its fully elaborated figurative and thematic forms, consistently is explored as the meaningful, liberated, provocative creative expression that is as relatable to the viewer as any other.
This year, the venue's artists and festival visitors will see graffiti art in its various codes of communication in action. A community graffiti wall will give participants the chance to add their artistic expressions throughout the day. For the first two days of the festival, the wall will be refreshed to give participants a new opportunity to place a piece of their artistic statement. Then, on Saturday, the third day of the festival, local graffiti and tattoo artist Gailon Justus (@sweetneedles on Instagram) will create a mural on the graffiti wall that will be on display for the remainder of the festival.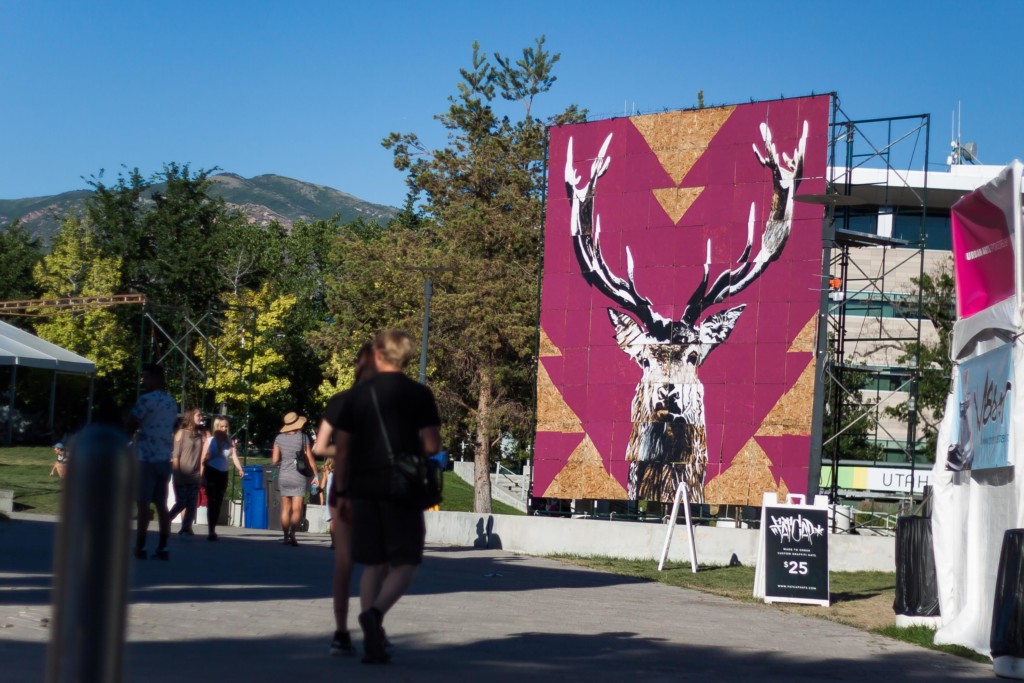 Pablo Pinet and Alexis Rose, the venue coordinators, have earmarked 80 cans of spray paint for the first wave of open mural collaboration. In previous years, it has been illuminating to track the progress of the creative activity on the wall, as contributors work more extensively on colors and shapes than on characters or icons.
Graffiti artists also have their own versatile tools, just as a painter would use different types of brushes, palette knives and other implements to create depth and textures in their work. Graffiti artists might choose from 25 or more different tips for their spray paint techniques. Overall, they show respect to each other's work without letting one overwhelm another. There is a natural, complex harmony that is apparent at the end of the day's work. Pinet says there always will be 10 to 15 graffiti artists on site.
Meanwhile, Rumble and Crew, two local graffiti artists, return this year to do a makeover on a classic Volkswagen Beetle, donated by Pidge Winburn. Last year, the artists did a makeover on a Volkswagen bus, which became a mobile art installation piece displayed at vintage Volkswagen shows around the country. Chew is known for images that include a kid licking an ice cream cone that was spray painted on an old Deseret Industries building in Sugar House, and Rumble gained attention for his renditions of the Popeye cartoon character.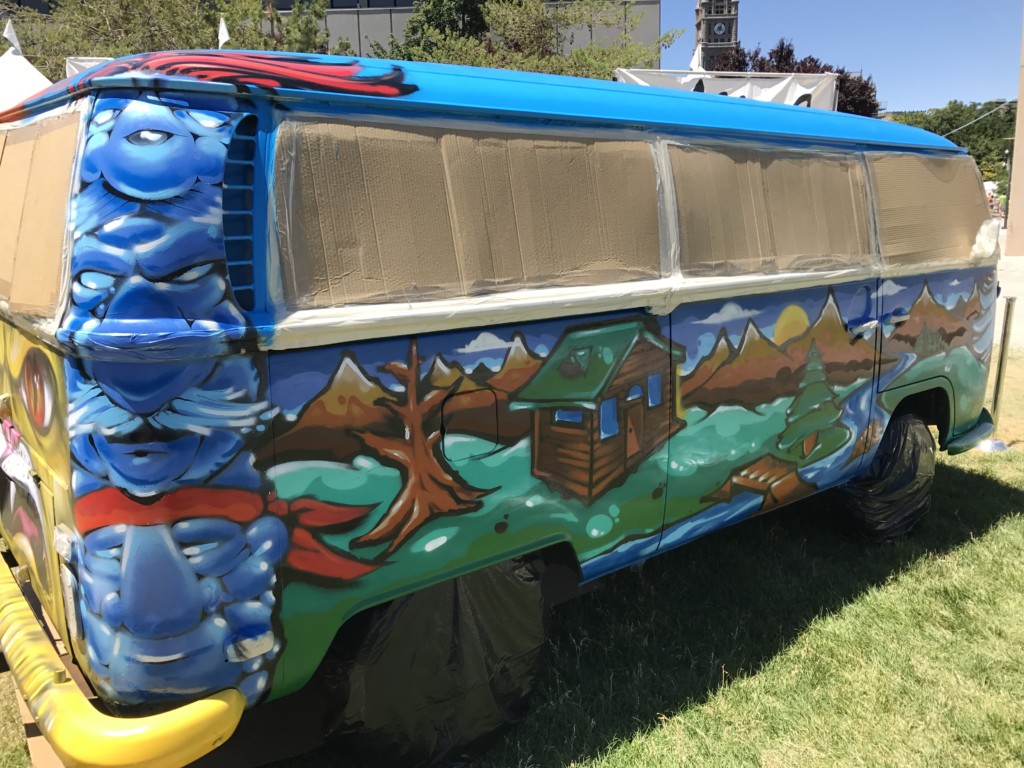 Another popular fixture returns for the eighth year: 100 Artists / 1 image community mural project, a signature event created by Mason Fetzer, a former Urban Arts venue coordinator. Shortly after the festival opens on Thursday, June 22, Fetzer and his crew will invite and guide visitors to start painting one of the 100 plywood tiles in the 20-foot by 20-foot mural.
The progress of watching the mural take shape attracts curious visitors who always try to guess what the final image will be and Fetzer manages to keep the suspense until it is completed. Last year's image of an elk was among the most successful in Fetzer's ongoing experiment in color theory and the ways in which viewers and artists respond to this type of work, as it is being created.
Regarding the "100-piece community puzzle mural," Fetzer says the project informs and enlivens the broader scope of his work and focus as an artist. "I get to meet and paint with strangers, and some strange friends," he explains. "We create one-of-a-kind paintings –100 unique works of art – and then it fits together with their peers' paintings to form a huge masterpiece."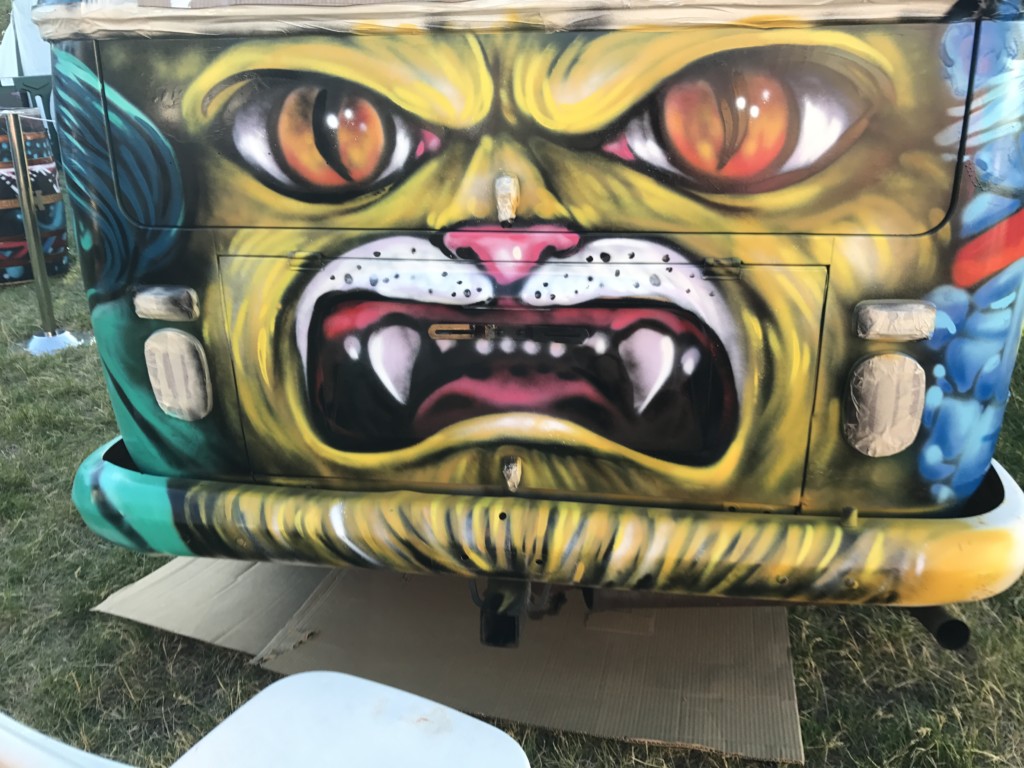 A 10-foot by 10-foot portion of the mural eventually will be installed in the Volunteers of America (VOA)/Homeless Youth Resource Center in downtown Salt Lake City and will be displayed at some point. A portion of the image from each annual mural will be added to the center's permanent public art collection.
Typically, the mural is finished by early Friday evening, the festival's second day. Fetzer says the Urban Arts venue has become an "amazing community of artists and musicians in the Urban Arts," a legacy that Pinet and Rose enthusiastically have embraced as they begin to add their touches to the programming.
New to the venue will be Brody Ism's plexiglass sculpture of a skull, which is solar-powered and three feet by four feet.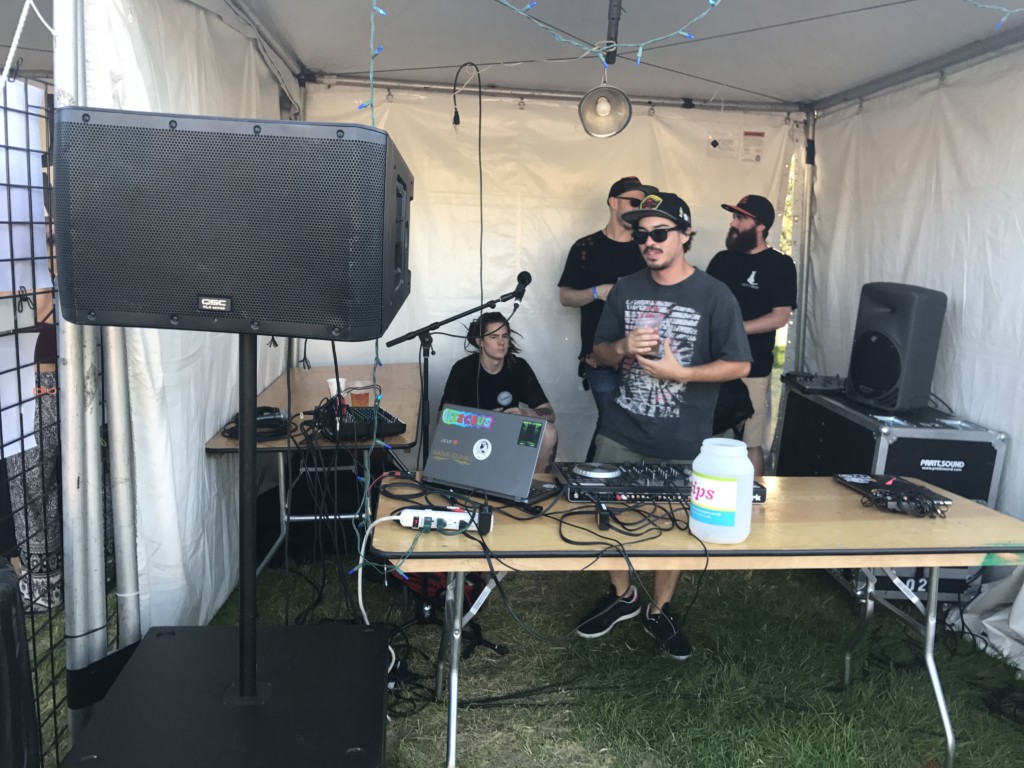 Meanwhile, a rotating schedule of local DJs and MCs (an expected total of 27) will be spinning and remixing beginning daily at 5 p.m. and running throughout the evening. Pinet says the music crew comprises loyal participants at the venue and features a wide variety of hip hop, rap and electronica. Rose adds that the emphasis on the music as well as all of the Urban Arts activities is to make it accessible and approachable to families and their children.
Always a crowd favorite, the FatCap Gallery returns, where local young artists will customize graffiti for caps at $25 each. Patrons tell the artists what they would like and the cap is ready within an hour or two. Artists will typically make between 250 and 300 caps over the festival's four days and they share in some of the proceeds raised from the sales. Some finished caps also will be available for sale.
This year, Fat Cap workshops for participants, ages 8-14, will be available (June 21 and June 23, noon), which includes a $25 registration fee to cover the costs of the cap and the materials. In addition, a workshop with McGillis School also will be held at the venue.