Since its last appearance in 2013 at the Utah Arts Festival, BANDALOOP has expanded its international portfolio of vertical dance works to breathtaking new levels of artistic altitude.
Collaborating with GoPro, BANDALOOP has just released a new short film about its 2017 performance at the CAFe Budapest Contemporary Arts Festival (see below), which captures perfectly the objective and possibilities of public art in a public space. There have been performances in Berlin and Shanghai, as part of the two dozen countries BANDALOOP has visited.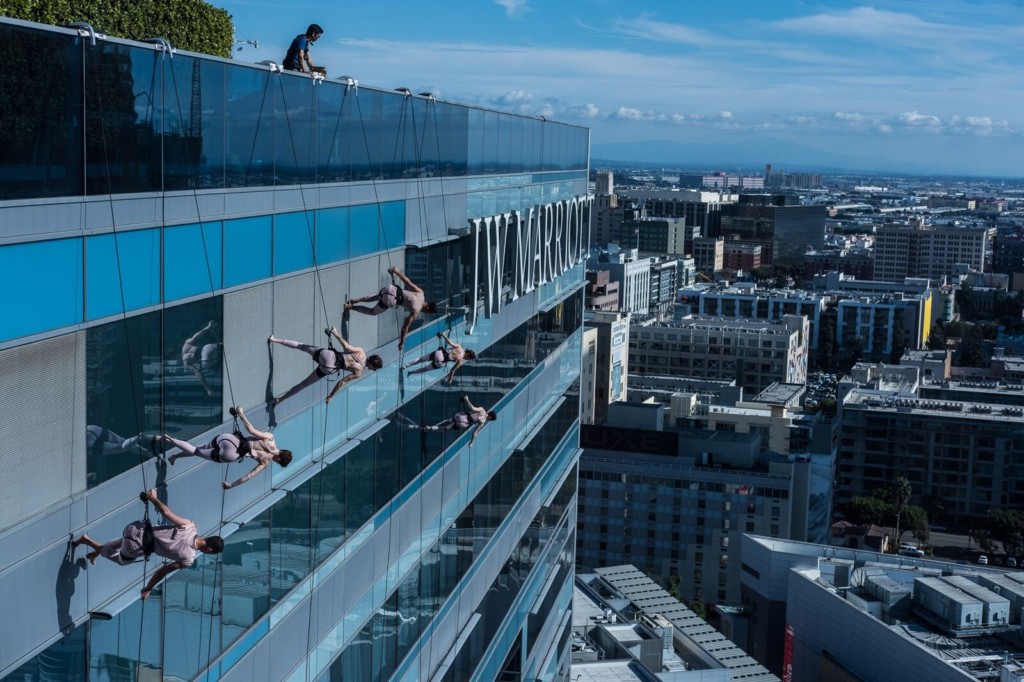 The company remounted Crossing for a short film Shift, directed by Rudolph and Rachael Lincoln, which featured the company performing in one of the Sierra Nevada's most rugged, remote locations in Yosemite high country, including Mt. Watkins, at an elevation of 8,500 feet and more than 3,000 feet above the valley floor.
As jaw-dropping as the choreography is, created and directed by BANDALOOP's founder and current artistic director Amelia Rudolph, the dance movement and its story-telling imagery come through extraordinary muscular demands. One of the signature elements of the company's repertoire is original music by composers and musicians of all stripes and styles, which Rudolph commissions. This included Strings, a 2017 premiere featuring a score created by Gabriel Prokofiev, the British composer and DJ who is grandson of Sergei Prokofiev, one of the 20th century's most famous composers.
BANDALOOP made a surprise appearance at the American Music Awards, dancing on the side of a skyscraper in downtown Los Angeles. Audiences and viewers were thrown for a loop when P!NK, who had been coached for a week prior to the show to perform in the sky, appeared and sang her recent single Beautiful Trauma. In its 2013 appearance in Salt Lake City, BANDALOOP performed to Denmark written by Gideon Freudmann of the Portland Cello Project, which also appeared that year at the Utah Arts Festival.
In an interview with The Utah Review, Rudolph assures Utah Arts Festival visitors, especially those who may have seen the group's performance five years ago, that they will see plenty of new work and choreographed to original music by internationally acclaimed musicians. BANDALOOP will perform twice daily (5:30 p.m. and 7 p.m.) during the festival, June 21-24, on Library Square on the City Library's south-facing glass wall above the newly reconstructed reflecting pool.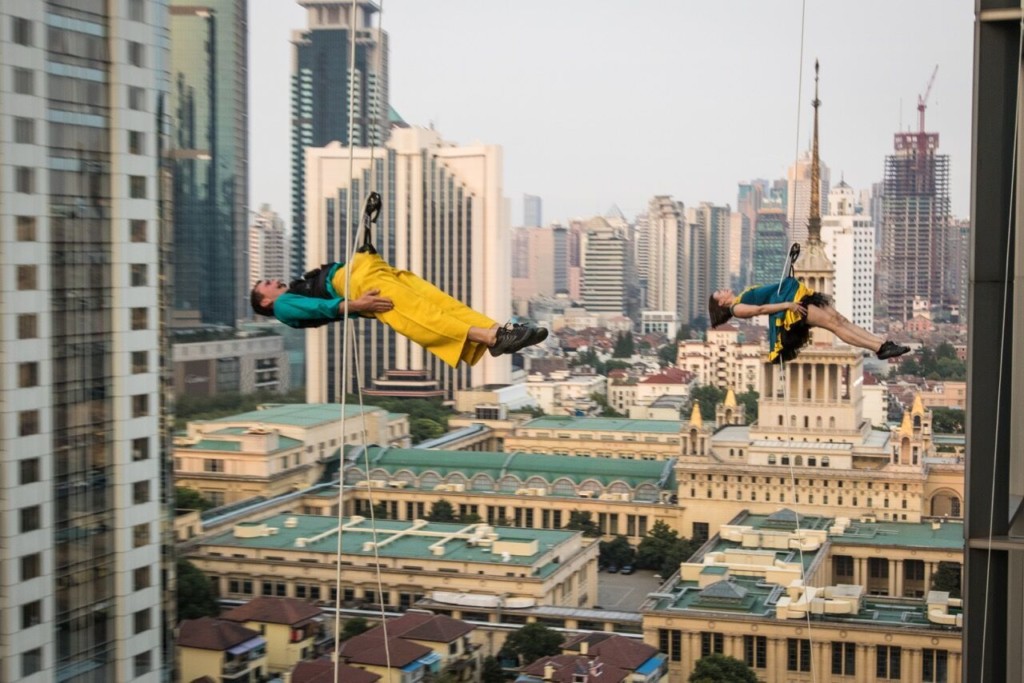 For Utah audiences, BANDALOOP's appearance reminds them of some of the state's most cherished assets: the deep-rooted culture of Salt Lake City's own adventurous dance institutions (which also are featured on various festival stages) and the gift of seeing the sky against a backdrop of mountains and monuments, both natural and human-made. The choreography starts in BANDALOOP's home studio in Oakland, California, directed by Rudolph and Melecio Estrella, associate artistic director. And, then the movement is translated to accommodate the challenges of every high-rise location and the stage surfaces, while preserving the thematic integrity of the dance's expressive message.
From the vantage of the audience, BANDALOOP's performances enchant because the dancers leap, soar, tumble, flip and embrace seamlessly with the same grace and elegance as observed in a contemporary dance or ballet performance on a conventional stage. Dancers condition themselves and train at a grueling level that the best and most serious athletes comprehend. Dancers also study anatomy and the laws of physics and movement that hone their instincts to perform in unique settings at high altitude while mitigating, controlling and avoiding the risks of injuries or collision mid-performance. Their abdominal muscles are tested at a level that would exhaust or intimidate the ordinary person, as they fight gravity to hold themselves perpendicular to the façade or high-altitude platform on which they perform.
More importantly, Rudolph says BANDALOOP's work provokes and stimulates social consciousness as much as it thrills audiences. For example, in her original program notes for Strings, she wrote, "It's about how our relationships tug on us and enclose us, or set us free."
There will be many socially relevant undercurrents in Salt Lake City. The performances will include three premieres featuring a duet, a quintet of women, and a six-piece ensemble, along with other works from BANDALOOP's repertoire.
Rudolph says the sextet is her creative response to seeing her own work performed while she took a sabbatical and was able to witness the audience's reaction at close hand during the Budapest performance, which is highlighted in the short film produced with GoPro. "Compositionally, it's like experimental jazz," she says, which is an adept way of describing how BANDALOOP's dance language consistently is euphoric, entrancing and synergistic. Equally ntriguing is the music composed by Ben Juodvalkis, which sets up the counterpoint even if the sounds are not particularly like a jazz composition. Juodvalkis, who creates sound scores for every type of event or performance from museum installation pieces to dance and ballet companies, has collaborated with BANDALOOP on several major projects, including #PublicCanvas a multifaceted work that included spoken word poets.
The duet will feature Estrella and Roel Seeber, two of the company's most seasoned performers. "It challenges our perceptions and convictions about relationships, including everything that is nuanced and ambiguous," Rudolph explains. "It is a conversational piece as it switches back and forth from a slow, adagio feel to a faster tempo."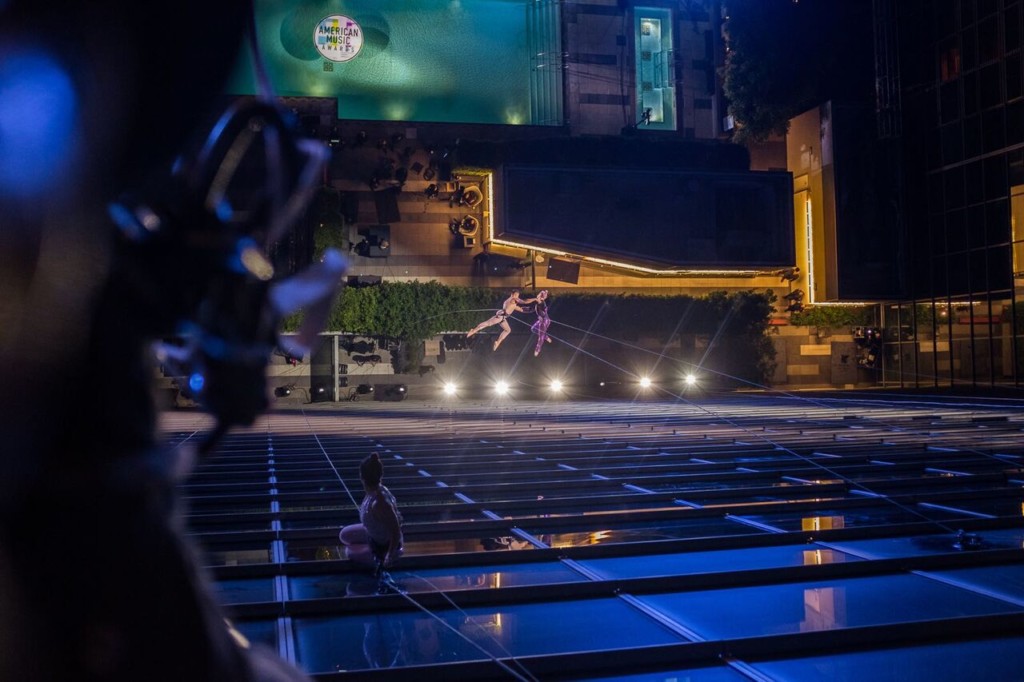 She adds that the work is choreographed with approachable metaphors in mind, as the dancers express the burdens of trying to help each other manage and work through the weights of daily problems and expectations. The music is by Daniel Bernard Roumain (also known as DBR), a Haitian-American violinist who instinctively understands the impact of no-proscenium performances through his own music that incorporates electronic and urban influences. Rudolph says crossing paths with such gifted musicians has leveraged a huge return on the creative capital Bandaloop invests in its work.
The women's quintet piece is dedicated to "current climate where the power of women's voices are collectively being strengthened," she says. Rudolph says the music, which was in the process of being completed at publication time, will come from a composer of color and Hispanic heritage.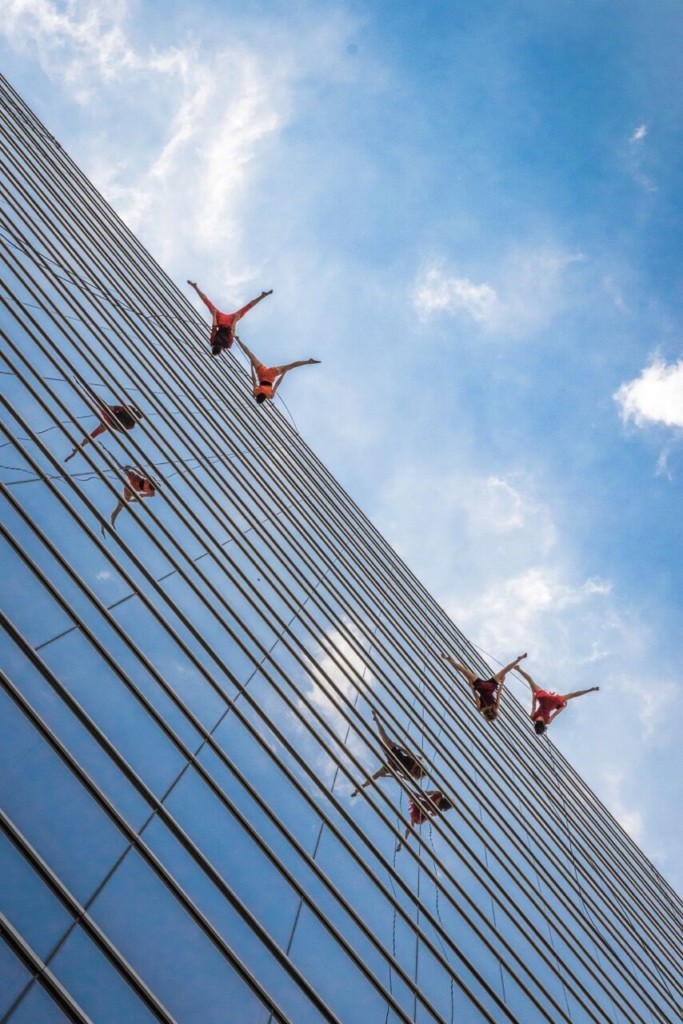 Rudolph also will perform what she describes as a "short and sweet" solo, featuring music by Juodvalkis. "It is a little personal letter of dance to express the joy I have had in making this art," she explains. She founded BANDALOOP in 1991. Other works will include Coyote Waltz, which was part of the Yosemite project and Cliffs, which upends heteronormative perceptions about romance.
As BANDALOOP's portfolio has expanded, Rudolph says its ties with its home base in Oakland have strengthened similarly. While Rudolph and Estrella shepherd the artistic process for the company, the daunting logistics and technical requirements associated with performances now are the bailiwick of Thomas Cavanagh, the executive director who heads up a front office staff of eight. The company's artistic core comprises six dancers and an extensive group of alumni, instructors, technical crews and stage managers and lighting designers. "In the last five years, we have tripled our yearly calendar of activities," Rudolph adds.
BANDALOOP's workshops drive the company's educational programs that introduce young emerging artists and dancers with the concepts of contact improvisation and movement relationships and effects of gravity. Performance intensive workshops introduce students to the principles of aerial dance, repertoire, compositional aesthetics and the incorporation of theatrical elements.
"We believe fervently in reaching out to every type of group in the community," she explains, adding that recent efforts have included individuals interested in hip hop dance and those who have been curious about contemporary dance but typically have not been on the radar for connecting to traditional performing arts companies.The #PublicCanvas project encouraged adding elements to BANDALOOP shows that previously had not been considered, such as spoken word poets.
"In our teaching, it's not just about dance but also about life and how the care and concern of safety matter in every situation. It is about looking out for each other," she says. "And we welcome everybody. We do not discriminate on body size or body type nor tolerate any other form of structural or institutional bias, including racism and sexism."
For more information about BANDALOOP and its schedule, see here.