Setting an appropriate tone in a community gearing up for the upcoming Utah Pride Parade and Festival in downtown Salt Lake City, the inaugural Queer Spectra Arts Festival took place last weekend in the Commonwealth Studios in South Salt Lake. Artists and speakers addressed the impetus and inspirations for the queer creative aesthetic – or, as one organizer described, the 'chicken-or-egg' question of which comes first when queer artists create.
It is a nuanced debate, indeed, given how so many queer artists and performers have emancipated themselves from stultifying conventions of categorizing or labelling themselves and celebrating instead the natural complexities of sexual identity. The day-long festival comprised workshops, discussions, exhibits and performances.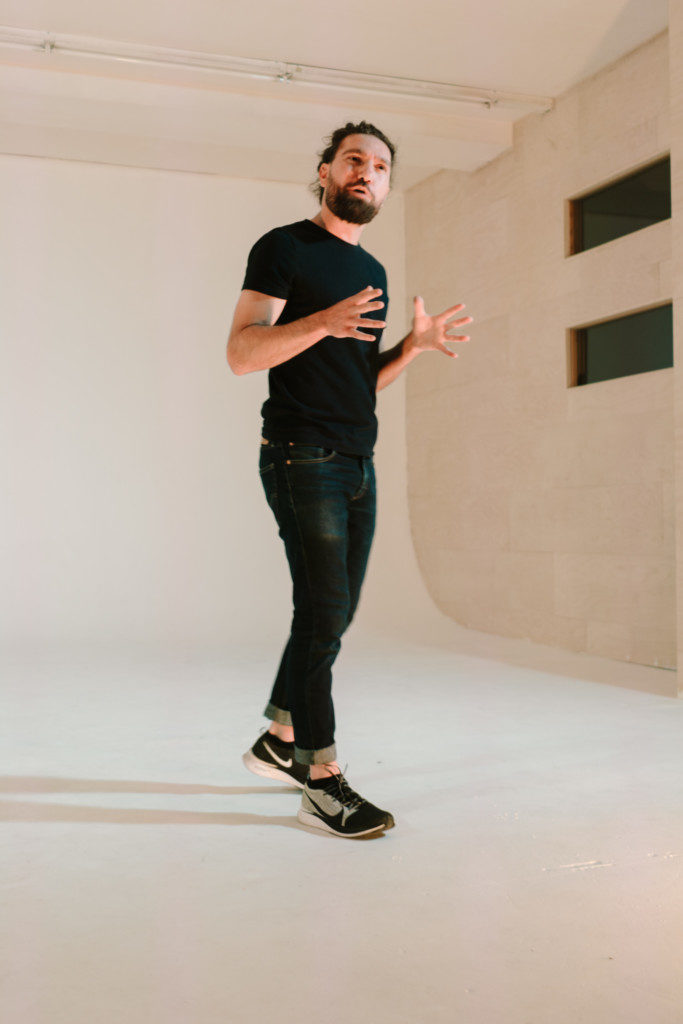 At a closing performance in the evening, featuring works by local and national artists, it was a good glimpse into the multifaceted nature of the queer aesthetic. It can be overtly material or tangible in one instance and so subtle and intangible in another. It can be outright public or disguised in private. The point is that there is no one stylistic definition for how queer artists and performers express their desires, presence or empowerment. The boundaries of their visibility can overlap into the larger mainstream or remain exclusive in a niche where perhaps an audience or community might appreciate the outcome more sincerely or genuinely than others.
The show opened impressively with A Politics of Desire, a literary performance by Alborz Ghandehari. In a talkback with the audience following the performance, he explained that the spoken composition had marinated in his mind and soul for at least six and a half years. He weaved aspects of desire and longing from various dimensions of his personal narrative based in Iranian roots: the revolution 40 years ago that brought about the Islamic Republic, his sexual yearnings, the experience of an immigrant now living in the West, regrouping from a loss of national identity and the pains of war and conflict. Ghandehari's gift was an elegant synthesis, which flowed so seamlessly that one truly could be awed by how within such a terse, concise frame he developed so many rich narrative textures. This was a great opener.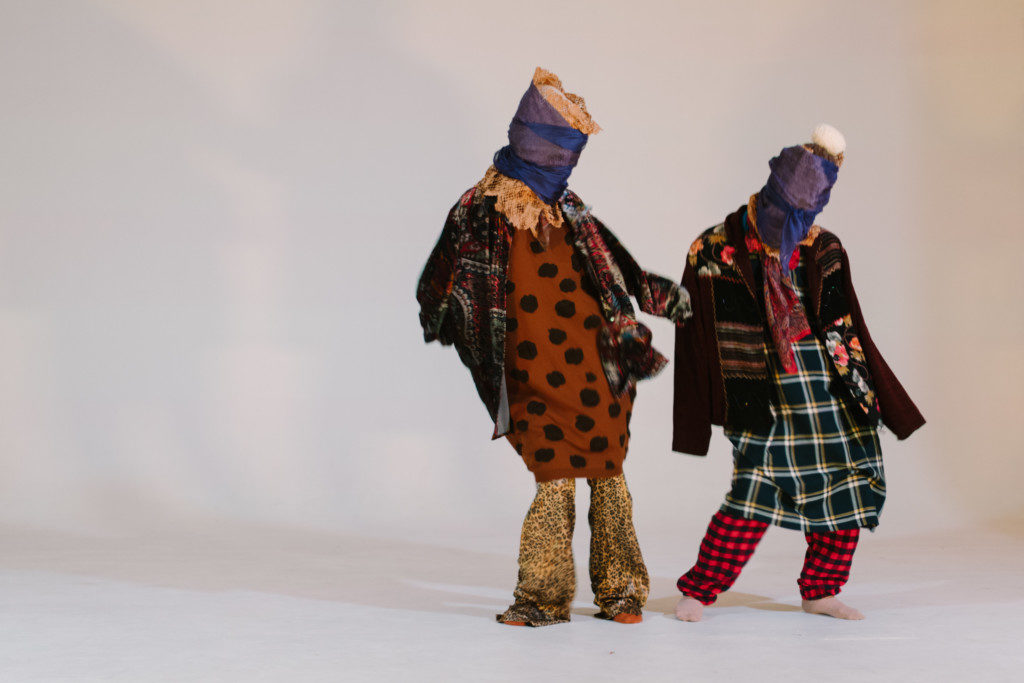 The evening performance offered a commendable variety of artistic approaches. Coming from New York and Massachusetts, Mia Martelli, who has blended her dance major with a minor in women and gender studies at the SUNY campus of Brockport, performed an absorbing duet titled Rinds with Julie Antinozzi, featuring music by Panda Bear. Rounding out the first half were two short films, the first being Nonplussed, directed by Malachi Van Nice with original music by James Westervelt. Nonplussed was a fictional short about romantic boundaries, as a young male consoles his friend who is upset about a quarrel with his lover. The other was an abstract video art piece titled Munfaletat Manifesto, directed by Sara Bahermez. It was a free-form poetic piece about gender fluidity; an affirmation for queer women in the Arab World to define their own unencumbered feminine identities.
Opening the second half was What the fuck, precious, a choreographed composition created and performed by Jordan Simmons and Eliza Tappan, incorporating several musical sources such as Tai Inoue, Cozy Collective and KMB, among others. An intriguing piece ambitious in staging, props and costumes, the dancers set a clear theme in metaphors, shedding layers that transform themselves and eventually bare their bodies. It is a sly but worthwhile commentary that reveals the perceptions of being an introvert or an extrovert are not mutually exclusive, especially when we carry forward our complex, fluid sexual identities. It contemplates what do we expect and want once we make ourselves visible.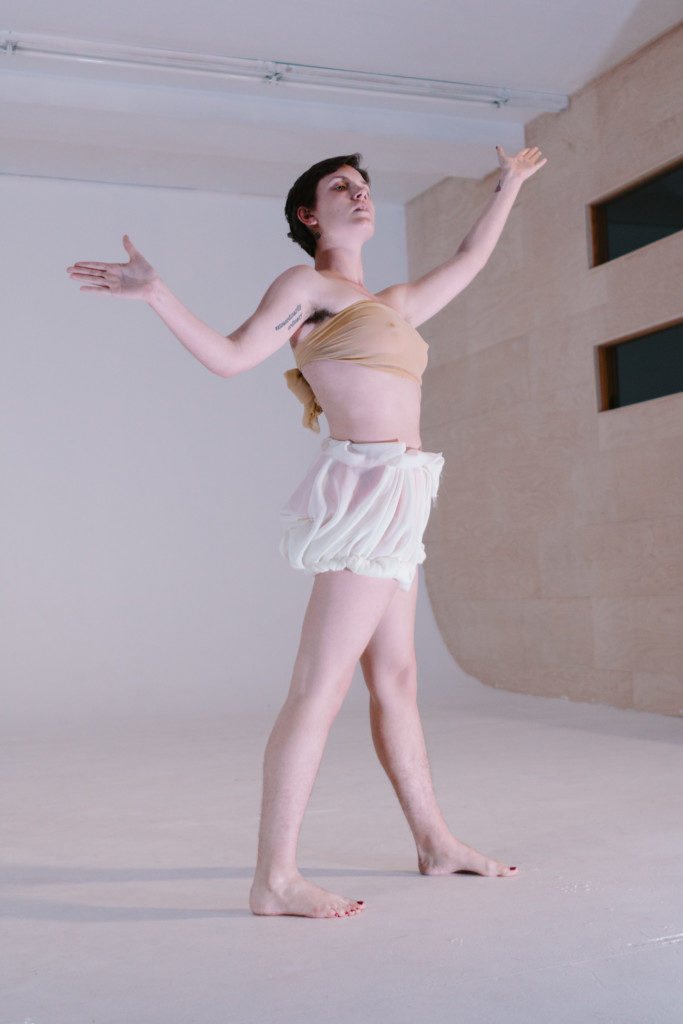 As a worthy counterpoint, Monica Kerr presented Somethingness, a solo dance work riffing off a classic Simone de Beauvoir line: "Her destiny appears even more fraught the more she rebels against it by affirming herself as an individual." The line comes from The Second Sex, a 1949 book by de Beauvoir. Kerr's work, featuring "nipples crafted by Madilyn Cooper" and music by Creedence Clearwater Revival, carries forward the classic book's articulation, as de Beauvoir wrote, "They do not suffice to constitute the basis for a sexual hierarchy; they do not explain why woman is the Other; they do not condemn her forever to this subjugated role."
The performance closed with a whimsical dance piece I Don't Know What's Going On So I'm Just Checking in With My Teammates, curiously enough an apt postscript to an intelligent, compelling exploration of the queer aesthetic. Choreographed by Erin Lynn, the "team" comprised Austin Mangum, Cameron Mertz, Severin Sargent-Catterton, Samantha Simonich, Nick Weaver and Jacob Weitlauf. It included text by Ash Fox and musical excerpts from David Bowie and Mutual Kumquat.
The festival was organized by Molly Barnewitz, Aileen Norris, Emma Sargent and Dat Nguyen.