Five years ago, when Matthew Greene's first play was produced by Plan-B Theatre, Adam & Steve and the Empty Sea centered on how two characters (Steve, a young gay man, and Adam, whose Mormon mission was cut short by illness) in California develop a close friendship then struggle to preserve it as they come of age into very different worlds, one in which 'MTC' unmistakably means 'Missionary Training Center' while in the other it could be heard as 'empty sea.'
Both characters are members of The Church of Jesus Christ of Latter-day Saints. In a review for The Selective Echo from 2013, Mark Alvarez, who is not Mormon, but his wife (Lorena) has been a devout member for more than 35 years, made an observation that seems as relevant as ever in 2018: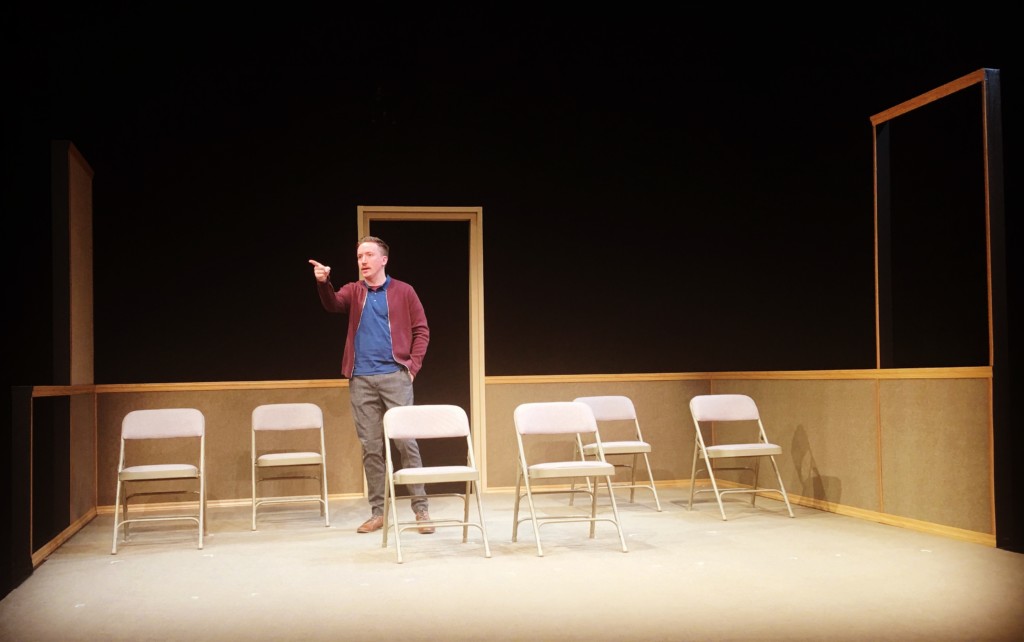 Lorena observed that Adam and Steve came from very different worlds. Lorena does not know whether being gay is natural or not, and she suspects she will never know for certain. She said the question was a complicated matter for church members, and she related perfectly to Adam's lines: 'Steve. I can't just keep…compromising for the rest of my life. You know? I'm starting to see in black and white again. And I forgot how good that feels.'
Citing how a conversation is doomed if one enters it believing they have the truth, Alvarez quoted Adam's lines, "Maybe I can't set aside my beliefs and…maybe neither can you. But that doesn't mean I can't shut my mouth and sit down for five seconds and…listen. Right? And maybe I'll have something to say when you're done and maybe I won't. But if we can't just shut up for a minute I don't know what we're doing.'"
Those uncertainties are expanded significantly with razor-sharp creative strokes in Greene's latest play. Good Standing features one actor (Austin Archer) who takes on 16 roles including the young man being excommunicated along with the members of the Mormon church's high council and stake presidency. The play debuts in a Plan-B Theatre production directed by Jerry Rapier that will run Oct. 18-28 in the Studio Theatre at the Rose Wagner Center for Performing Arts.
Greene's life has been transformed since 2013. A California native, who studied with playwright Eric Samuelsen at Brigham Young University, he was not out although Adam & Steve and the Empty Sea reflected much of what he had kept inside even while he still professed his commitment as a Mormon. Since then he has left the church, is open about his sexual identity, now lives in New York City, writes plays and works at The Official BMI Lehman Engel Musical Theatre Workshop. And, at 32, he is the father of a son, Mohammed Ndiaye, who came from Senegal to New York City and had spent many years in unsuccessful foster homes. Greene became the legal foster parent to the young man in his late teens more than two years ago. The experience for both of them falls somewhere between brother and uncle on the spectrum of mentoring and guardianship, as they indicated in an interview at the time. As Greene explained, "This experience has expanded my understanding of what a family can be. We're letting go of labels. Who your family is — it's the people close to you."
Thus, Good Standing unquestionably embodies Greene's mind, soul and life experiences in ways that, like Adam & Steve and the Empty Sea, enlighten, affect and challenge audience members whether they come from Mormon or non-Mormon worlds. After its Salt Lake City premiere which sold out every show, his 2013 play received six performances at the FringeNYC, the New York International Fringe Festival, that summer. At the time, it was the first Plan-B Theatre production to have a New York venue since the 2007 limited Off-Broadway run of Carol Lynn Pearson's Facing East.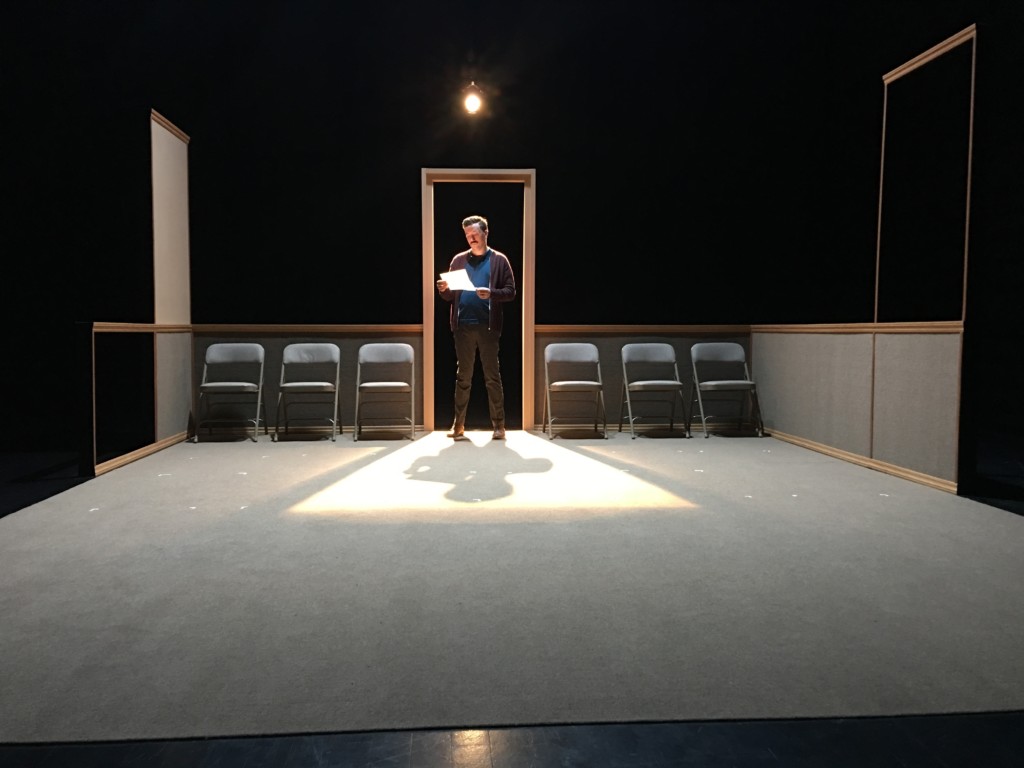 In its prodigious output of original plays, Plan-B has produced an incredible oeuvre of works with LGBTQ themes — 25 since 2001. And, Greene's latest play is poised to be among those works of masterpiece status, such as Facing East. Next month, Good Standing will be the third Plan-B original work to be performed (Nov. 4, 2 p.m.) in New York City at the United Solo Festival.
Good Standing is a unique one-actor play for what it demands from the performer. The main character is Curtis Scott Browne, who has been called to the disciplinary council just one week after he and his husband were married. While we hear Curt in his voice about his personal experiences, the actor shifts voice and tone continuously when he assumes the 15 other characters who comprise his religious jury. Simply, we do not hear Curt's interpretation of what the others are saying or thinking but instead the direct thoughts and sentiments of the men themselves.
Greene has lived these experiences so the script reads with breathtaking intimacy as well as authenticity and credibility. Curt braces himself to hear his brethren recite the litany of his wrongs. "'Brother Browne has willfully and publicly entered into a same-sex marriage, which is contrary to the law of God and to the covenants he has made.' Something like that. And that's it, and I'm relieved because there's a whole long X-rated list they could've gone down. But who wants to hear that? They're already squirming."
Like every Plan-B work with Mormonism and LGTBQ thematic elements incorporated, Greene sets a path that can surprise Mormons and non-Mormons. There are no polemics, apologetics, rueful proclamations or sweeping bitter declarations. But, there are plenty of moments where the complexities of ordinary men reveal themselves, as they struggle to comprehend, abide by and satisfy the demands for perfection as a member in 'good standing' of a church created by imperfect, complicated men.
One of the council members mentions that he doesn't believe he has earned the right to call the young man 'Curt,' even if others have. He says, "I looked at the other men around that table, doctors and lawyers, one of the guys who ran a multi-million dollar company. Just praying for some direction. I know it seems scary, like you're standing trial, like you've got fifteen guys in suits coming after you. But if you could just see that, I mean, just see that kind of humility on those faces. Eyes closed, heads bowed."
Another recalls when he was called to a disciplinary council, "before I was back to being a…they call it a 'member in good standing.'" He was a hard-partying teenager who impregnated a young woman and they gave the baby up for adoption. He says, "I don't always tell the end of the story because, really, it still hurts. That's something they don't tell you in Sunday School classes is how much it can hurt to do the right thing."
One recalls not taking the sacrament during his mid-twenties because he had a "problem with pornography." He explains, "The fact of the matter is, I wasn't strong enough. I didn't 'withstand.' So, and I don't know about the other guys on the High Council, but I'm about as far from…those feelings of same-gender attraction, it's just about the farthest thing from my mind. The other guys, too, I bet. But I tried to imagine."
And, there is an old man who believes the "truth" is that "it isn't natural," and it's time that people "didn't sugarcoat it," concluding that it "makes you wonder if we'd be in this mess." Written many months ago, the themes of the character's words (Skillman) sound uncannily like those uttered just last weekend by Dallin Oaks, first counselor in the church's First Presidency, at the Mormon semi-annual general conference in Salt Lake City. Oaks said, "We find true and enduring joy by coming to know and acting upon the truth about who we are, the meaning of mortal life, and where we are going when we die." Oaks went on to say the truth of gender "requires us to oppose current social and legal pressures to retreat from traditional marriage or to make changes that confuse or alter gender or homogenize the differences between men and women." There are several points in the script that further illuminate just how damaging Oaks' words sounded to Mormons and non-Mormons.
Greene's writing reads effortlessly and moments of humor are never forced. For example, Curt reacts to the old man's exhortations, "You've gotta hand it to the guy, I mean, it takes serious balls to be that much of a dick in such a small world."
Accounting for the fictitious Skillman's earthiness or Oaks' actual attempt at dignifying such dangerous illusions in respectful civility, Good Standing makes clear the dualities of Mormon actions in the "whole gay issue," as Curt explains, culminating in the "coup de grace," this making clear "just how unwelcome all were." This refers to November 2015, when the LDS church announced its exclusion policy as its response to the U.S. Supreme Court decision of Obergefell v. Hodges, which legalized same-sex marriage across the country earlier that year. The LDS policy deemed same-sex couples as apostates but its biggest sting came in excluding children of a parent engaged in a same-sex relationship from receiving church ordinances. Affected children could only be eligible for church sacraments when they reached 18, no longer lived with the parent and disavowed same-sex relationships. And, even then, the decision would have to be approved by the church's First Presidency.
Indeed, it was that announcement which motivated Greene, in part, to write Good Standing and the work developed rapidly. But, to reiterate, uncontemplated anger rarely leads to writing of transformative epiphanies. Wisely so, Greene processes his holistic experience as a Mormon and as one who has left the church to show that if men are allowed to drop the masks of false sincerity they wear to pursue elusive earthly perfection for an equally elusive celestial kingdom they might be more inspired to express themselves with earnest, vulnerable, humanizing emotions of love and fellowship without inflicting necessarily the heartbreak of uncompromising spiritual sacrifice.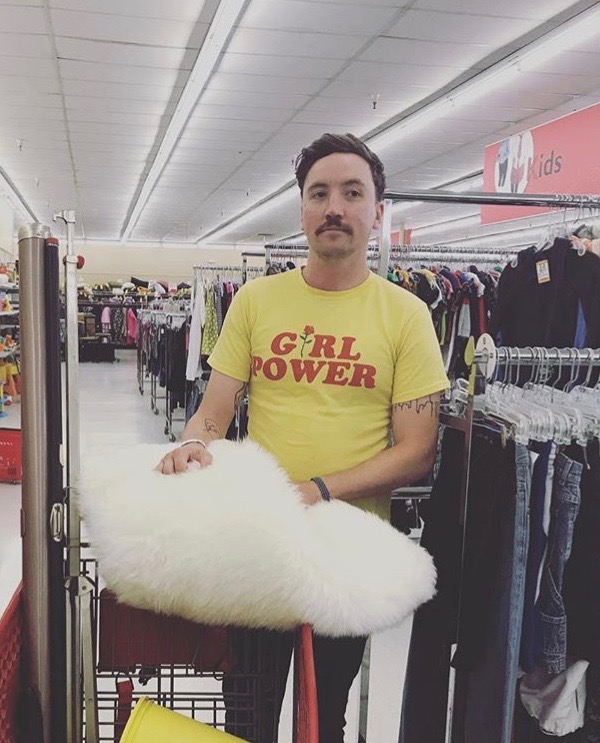 Suited to the huge demands of portraying 16 distinct characters in a 70-minute play, Archer has been one of the local scene's most prominent theatrical figures this year. In July, Archer performed in The Aliens, a play by Pulitzer Prize winning playwright Annie Baker, in a regional premiere production of Riot Act Theatre. Last season, his play Jump! premiered in a production by Plan-B Theatre and the Flying Bobcat Theatrical Laboratory. Another work, Marty Has Cancer, a play which premiered in June at the Hollywood Fringe Festival, received its regional premiere in Utah at the Great Salt Lake Fringe Festival in August with the original quartet of actors from Los Angeles.
The production team includes Keven Myhre, set design; Matt Taylor, lighting design, stage managers Catherine Heiner and Jennifer Freed, rehearsals and production, respectively.
Tickets are selling quickly. Performances are slated to run from Oct. 18 to Oct. 28 on Thursdays, Fridays and Saturdays at 8 p.m., Saturdays at 4 p.m., and Sundays at 2 p.m. More information is available at the Plan-B Theatre website.
A benefit performance for Encircle, a local nonprofit which provides services and resources for LGTBQ youth and their families, will be held Oct. 17 at 7 p.m.