In the upcoming comedy Plan-B Theatre premiere of Singing to the Brine Shrimp, Lorina, a rather unhelpful dramaturg, asks Allison, a playwright from Utah who is in New York City for a Meet the Playwrights event, "So what size playwright do you want to be?"
Allison, 35, is unsure about what that means. So, Lorina says, "Small town size? Mid region size? Or person who has a play in New York and is confident sized?" In explaining why she wants to be "confident sized," Allison says, "I'm already the playwright from Utah. The old playwright from Utah. I don't want to be the old mom playwright from Utah."
In Utah, playwright Jenny Kokai says, "I'm really happy being medium sized. I have seven pets, a son and when I am not teaching, I'm writing plays and making art for people in Utah who enjoy it." An associate professor and chair of Weber State University's theater program as well as a self-described "mermaid and orca scholar," Kokai's newest work Singing to the Brine Shrimp (Feb. 13 – 23) is a fantasia in 12 scenes with sock puppets, ukuleles, wine and an accident. The play features songs with music by Ken Plain, Kokai's colleague at the Ogden school, which accents the spontaneous pop of the playwright's lyrics.
Three of the four actors in the cast (Emilee Starr, Jay Perry and Lily Hye Soo Dixon) take on numerous roles in the play but their signature parts are as the trio of singing brine shrimp, represented by sock puppets created by Shelby Rickart. The show is directed by Jason Bowcutt.
The choice of brine shrimp for the play might be a weird curiosity but what better way to signify the sense of place in Utah for outsiders than the Great Salt Lake and its reputation for brine shrimp. Take, for example, the GSL Salty Sirens. Dr. Bonnie K. Baxter and Jaimi Butler established the Great Salt Lake Institute at Westminster College for research and education. They also have written a well-received children's book titled The GREAT Great Salt Lake Monster Mystery. Another interesting bit of trivia involving brine shrimp: David Cole and Peter Erickson, aquaculture scientists, sold the eggs of the Great Salt Lake's brine shrimp as feed to the international market of fish and shrimp farmers before founding the Epic Brewing Company 12 years ago in Salt Lake City, which now is based in Denver.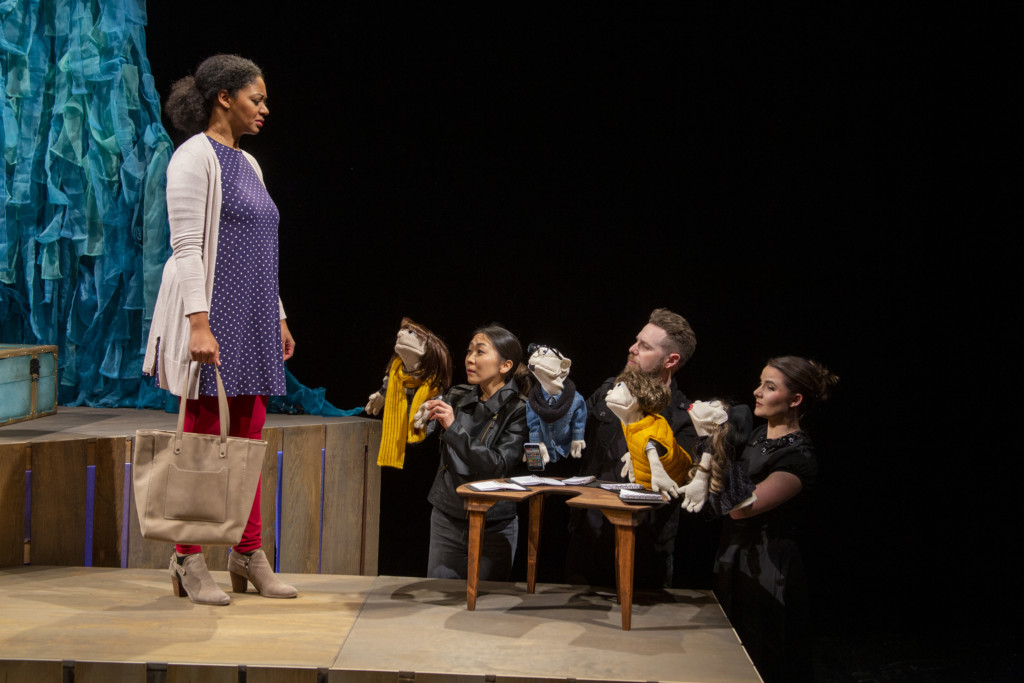 The singing brine shrimp are good natured but they also do not hesitate to be straightforward with Allison or a bit cynical about the state's zeitgeist surrounding their lake home. Sure, the lake might smell like something died, as one of the song lyrics suggest, but the brine shrimp also are proud of being Allison's muse. They sing, "Be inspired by us lake shrimp that thrive," adding "the future is open and deep as the sea."
The madcap script Kokai has written for Singing to the Brine Shrimp resonates with the love, comfort and confidence that many creative artists who realize that, indeed, Utah can be the place for artistic excellence and satisfying personal growth.
Kokai empathizes with the character of Allison (who will be played by Latoya Cameron). She went to a workshop in New York that was as awkward and bizarre as what Allison endures in the play. "I didn't enjoy it," Kokai says, "and then when I was back in Utah, I realized how ridiculous it really was."
In the play, Allison regrets coming to New York and calls her wife Dinah on the phone, hoping for reassurance but she becomes more anxious when she learns there has been a car accident back in Utah and her son has been injured. Unsure of herself, Allison thinks it would be easier to endure this playwrights' event as a "white dude in hipster glasses," and wonders if she could wear a bowtie.
Kokai inflects the script with plenty of delicious bits of irony based on her own experiences. When the moderator introduces the playwrights, she says the following about the nervous Utahn, "Finally, last but not least, we have Allison, who is from Utah of all places! Allison, it sounded like in your application that you hated living in Utah." Meanwhile, the other playwrights either have Ivy League pedigrees and one has a hot series on Netflix.
Allison also must endure ridiculous questions at the introductory event, which will be followed by three rehearsals and a staged reading of their work. One question, for example, is "if your play was a food, what food would it be?" Likewise, based on Kokai's own experience, the director for Allison's play, who does nothing to ease the playwright's uncertainties, opens rehearsal with a bizarre icebreaker, which he learned "at an ayahuasca retreat in the Black Rock Desert – after we stopped vomiting."
Plain says the music came easily, as the song lyrics flow seamlessly from the setup in the dialogue and have a pop dance feel (imagine a Brine Shrimp remix). The ukulele also fits nicely. Allison's character description indicates she has "serious Scooter the Muppet vibes," and these carry over into the songs. "I was figuring out what instrument would a woman on a raft be playing," Kokai adds. The raft reference pops up both in the dialogue and a lyric, when Allison sings, "wherever my raft floats for now I'll figure out what to do."
Bowcutt says staging a show that has so many moving parts with cast members switching quickly from one part to another (three actors cover 14 characters along with the three brine shrimp sock puppets) is complicated but he also credits Kokai with including detailed stage directions in the script. All of this, of course, must be accomplished with Plan-B's well-known brand of leveraging minimalism for maximum believability on the stage. Allison's suitcase is a versatile conduit prop leading into various scenes of her on a raft, in a hotel room or at the Meet the Playwrights event.
As for Kokai, she has enjoyed solid success as a teacher, scholar and playwright. Zombie Thoughts, one of the plays in Plan-B's annual Free Elementary School Tour (FEST) program and which she wrote with her son Ollie (who is now 13 and collaborating with her on a new play), has attracted attention outside of Utah. The play has toured with Building Better People Productions and is scheduled to tour Sydney, Australia with The National Theatre of Parramatta in the fall of 2020. Other performances have been in the Washington, D.C. and Chicago areas.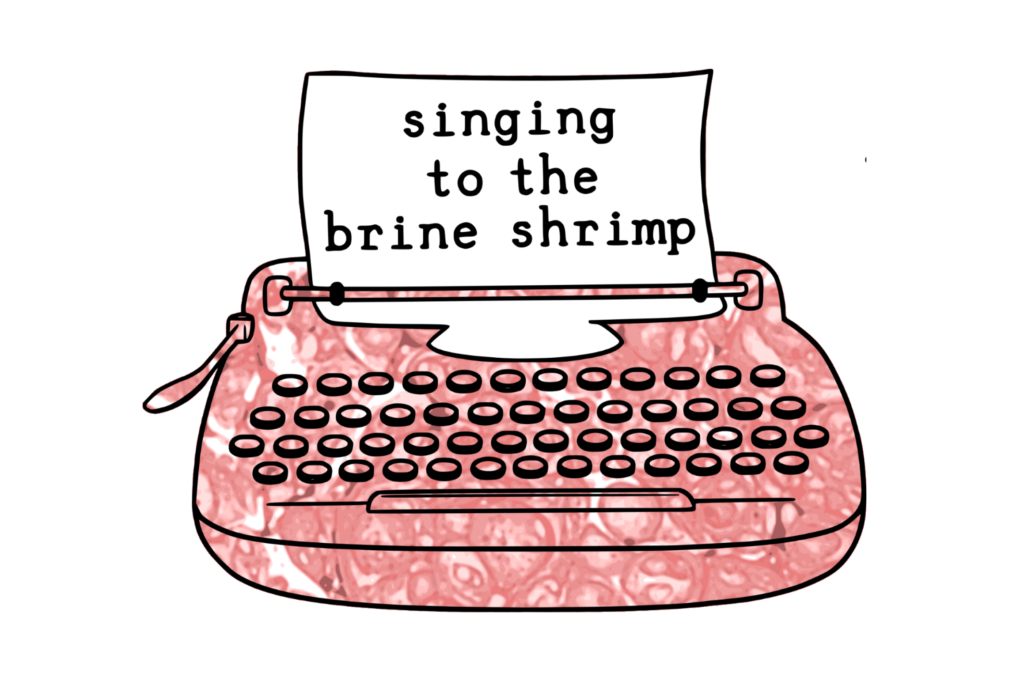 Girl of Glass was selected out of 948 plays for inclusion in the Lark Play Development Center's 2014 Playwright's Week and was a 2015 semifinalist for the Eugene O'Neill Playwright's Conference before receiving its New York City premiere in the spring of 2019. Singing to the Brine Shrimp was a 2019 semifinalist for the Bay Area Playwright's Festival and the B-Street New American Comedy Festival.
Rounding out the production crew are Cheryl Cluff, sound; La Beene, costumes; Jessica Greenberg, lighting; Madeline Ashton, set; Arika Schockmel, props; Gina DiSalvo, dramaturgy, and Jennifer Freed, stage manager.
Performances, which run Feb. 13-23, are scheduled on Thursdays, Fridays and Saturdays at 8 p.m., Saturdays at 4 p.m. and Sundays at 2 p.m. in the Studio Theatre at the Rose Wagner Center for Performing Arts in downtown Salt Lake City.
Brine shrimp merchandise will be available for sale before and after the opening performance on Feb. 13 and both performances on Feb. 15. For tickets, see the Plan-B Theatre website.