In a 2003 lecture sponsored by the U.S. Library of Congress, Harold Bloom, the American literary critic, said Hamlet, Shakespeare's quintessential tragedy for the theater, still is "the most experimental play ever written." He added, "You can make of the play 'Hamlet' and the protagonist pretty much what you will, whether you are playgoer or reader, critic or director, actor or ideologue; push any stance or quest into it and the drama will illuminate what you have brought with you."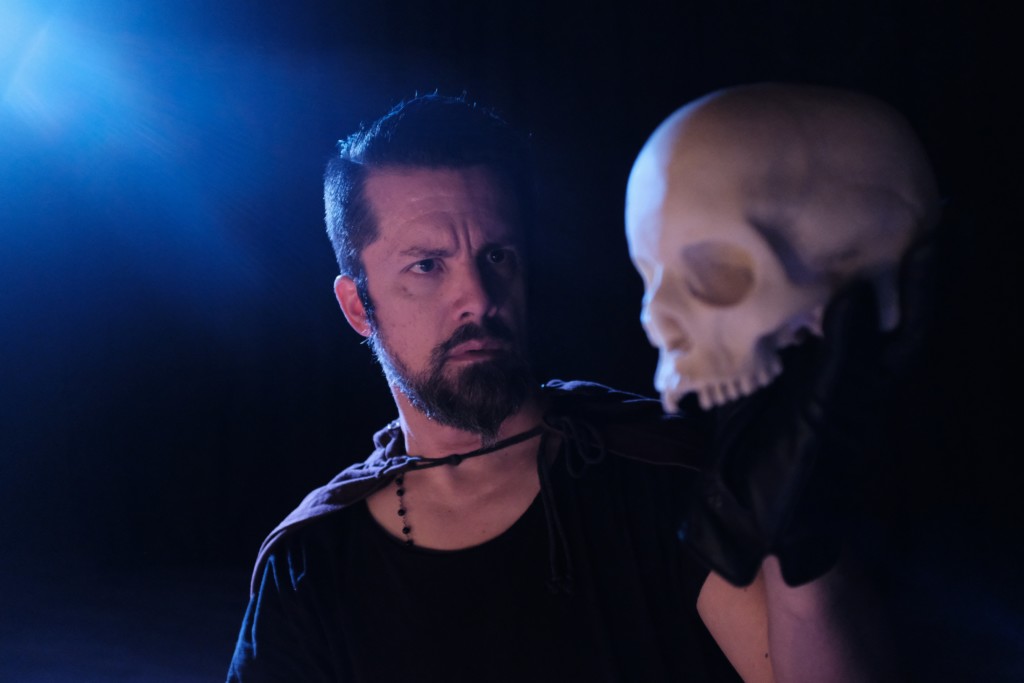 In Sackerson's newest production which premieres in a three-performance run this weekend, Alex Ungerman takes Bloom's counsel to Ten Deaths of Hamlet, a one-actor compacted adaptation of the play starring Barrett Ogden, which the two created and wrote together. In getting to the climactic points of the death scenes that occur in the play, Ungerman has stayed pretty much to the original in a show that runs at quite a fast pace in roughly 75 minutes, as he has culled the select moments from the approximately 4,000 lines that comprise Hamlet. "It has 99.9 percent of Shakespeare," Ungerman says, adding that there's a minor bit of rearranging and a prayer in Latin is included.
Performances will take place at the Art Factory in South Salt Lake Nov. 10, 11 and 12 at 8 p.m.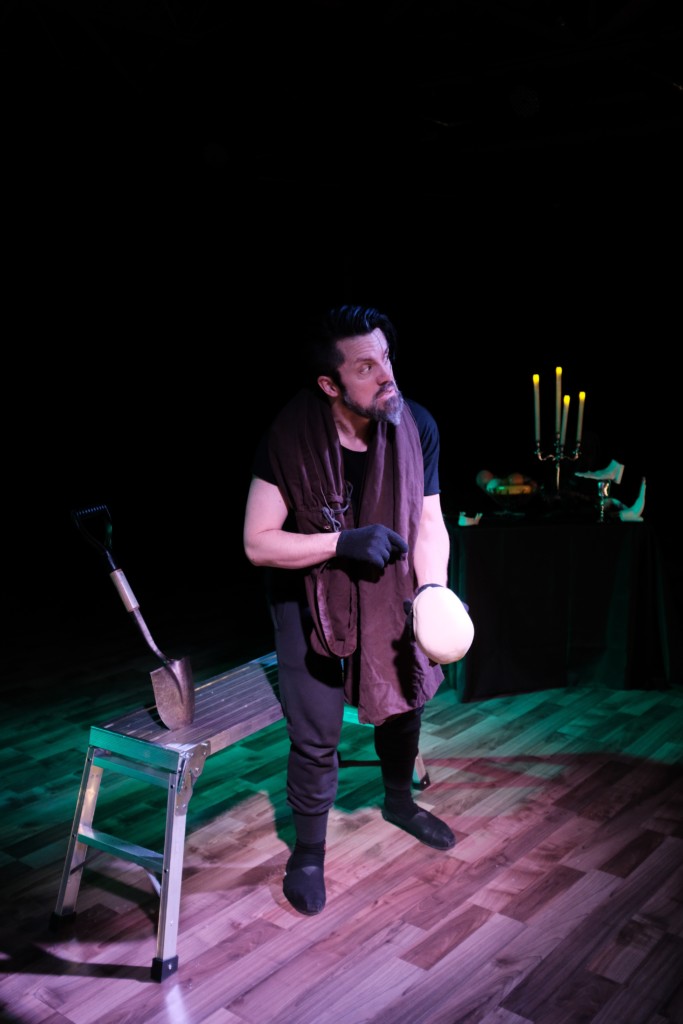 Bloom wrote two books based on Shakespeare's works: Hamlet: Poem Unlimited (Riverhead, 2003) and Shakespeare: The Invention of the Human (Riverhead, 1998), in which he elucidates the body of Shakespearean plays as "secular scripture" that have informed a good deal of our language as well as ideas about social psychology and our own modern mythology. Hamlet contains hundreds of new words (scholars in their aggregated research have identified at least 600) that became part of the English language. And, Shakespeare is experimenting with narrative in ways unlike the other plays of his output. What matters, according to Bloom, "is Hamlet's consciousness of his own consciousness, infinite, unlimited, and at war with itself." This emerges as the theatrical potential in Ten Deaths of Hamlet.
As those familiar with the original are aware, Hamlet opens immediately prior to the ghost's appearance that reveals the murder to Hamlet. The play ends right after Hamlet has taken his revenge. In the original, three deaths occur before the play's action takes places, one in Act III, two in Act IV, and four in Act V. One of the most bedeviled quiz scenarios high school English teachers used to inflict upon their students was to recall sequentially the deaths of Hamlet characters, as they occur in the action.
It is literary history's most famous death toll which includes the following: Hamlet (as a ghost, he revealed that Claudius, his brother murdered him by pouring poison into his ear); Polonius died of stab wounds; Ophelia, overcome with grief over Polonius' death, went mad and drowned herself; Rosencrantz and Guildenstern were killed by the King of England (those who saw the film Rosencrantz and Guilderstern Are Dead will recall they were hanged), Gertrude died from drinking wine laced with poison, Claudius was stabbed by Hamlet, Laertes was felled by Hamlet with a poison-tip sword. When the play ends, only Horatio is the surviving major character of the story.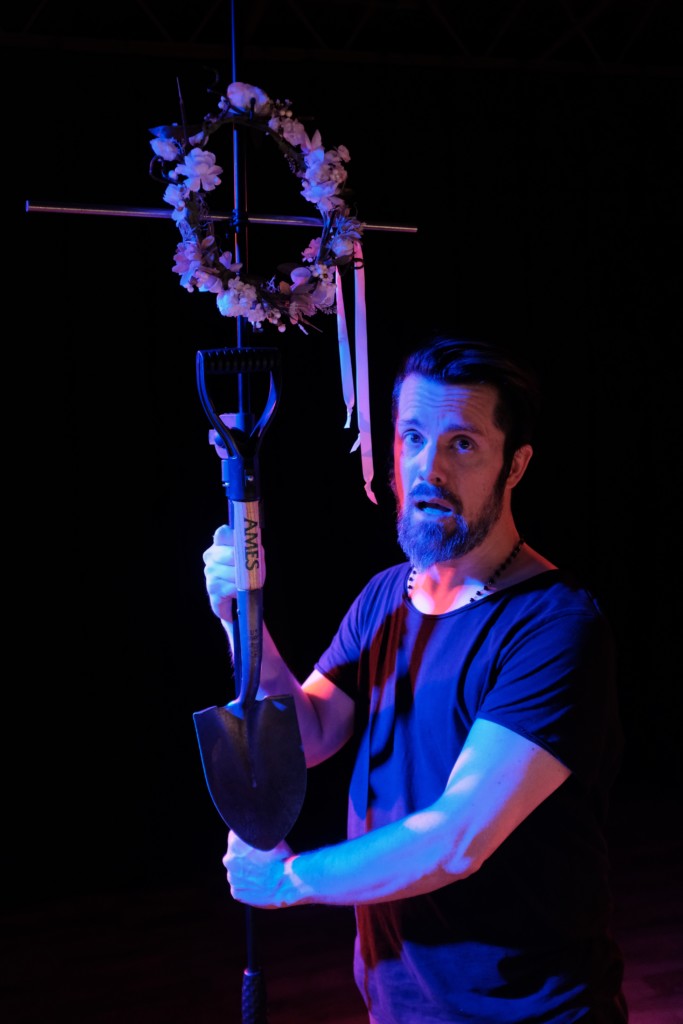 There have been at least a handful of other one-actor shows about Hamlet. David Carl, a comedian who has created several award-winning shows for the New York Fringe, has performed a cabaret-style Celebrity One-Man Hamlet, in which he impersonates actor Gary Busey in a show complete with video stills, finger puppets and paper-cutouts. In Berkeley, Dean Linnard and Amanda Ditmore created their own one-actor version with Hamlet as a clown. On the international scene, Roger Westberg has performed Hamlet: A Stand Up many times. That show includes mime, comedy and singing as he manages 20 characters in the show.
In Sackerson's version, Ogden will handle 16 characters. Ungerman says that he did not want to turn into a "comedy routine." Ungerman and Ogden have tested the show on school groups who have responded favorably to this condensed version of the play. Thus, Ten Deaths of Hamlet is an even slimmer relative to Peter Brook's version of the play, which trims roughly one-third of the lines and some minor characters. Brook's version also has rearranged several scenes. For example, the famous soliloquy ('To be or not to be …') occurs later in his version than in Shakespeare's (the first scene of Act III).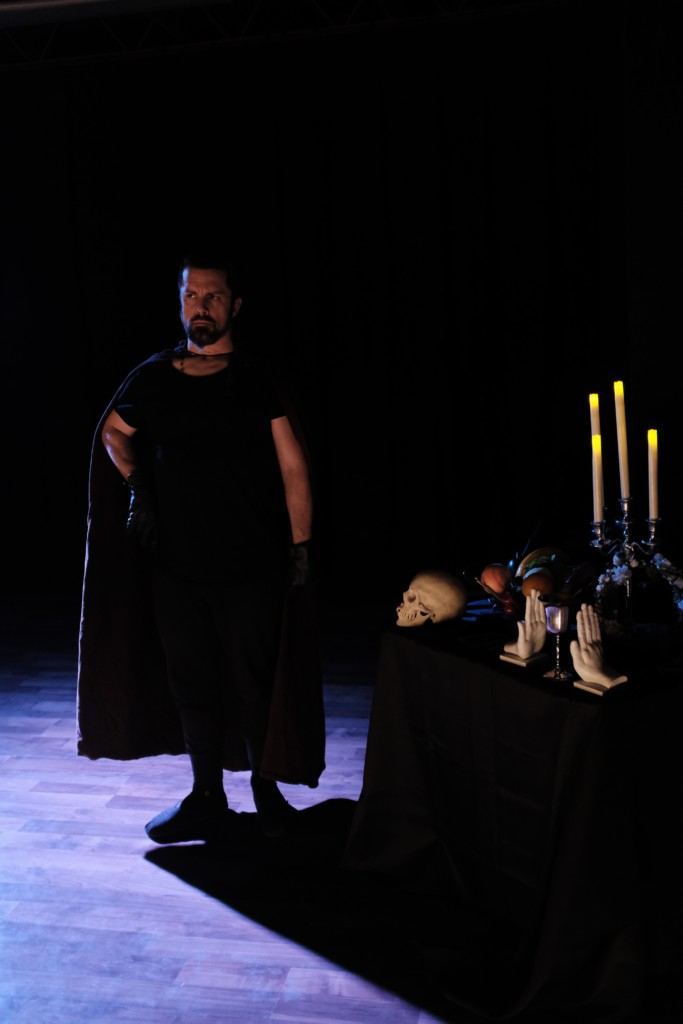 Ten Deaths of Hamlet incorporates a curious set of props, including a skull, candelabra, fruit bowl, dagger, microphone, tarot cards, blindfold, flower crown, ear protectors, rosary, chair, bench, cross, and a mic stand. There are music clips from Mozart, including excerpts from the opera Don Giovanni and The Requiem in D minor, K. 626, his last work. Some of the music is played at significantly slower speeds. At one point, Ogden pantomines donning a smoking jacket while in another he uses fruits as puppets. Rosencrantz and Guilderstern are finger puppets. And, there is at least one instance where the traditional fourth wall of the stage is let down temporarily.
For ticket information, see here.