Three new releases for the fall from Utah's Torrey House Press signal this publishing house's earnest expansion of the literary voices for the environmental and conservation movement. When considered together, two nonfiction releases (Desert Cabal by Amy irvine and The Delightful Horror of Family Birding by Eli J. Knapp) and the novel Mostly White by Alison Hart offer well-crafted thematic strands that resonate and pop up in each book to make a robust counterpoint for the reader. Thus, it's more than worthwhile to read all three books. The reviews for each are below: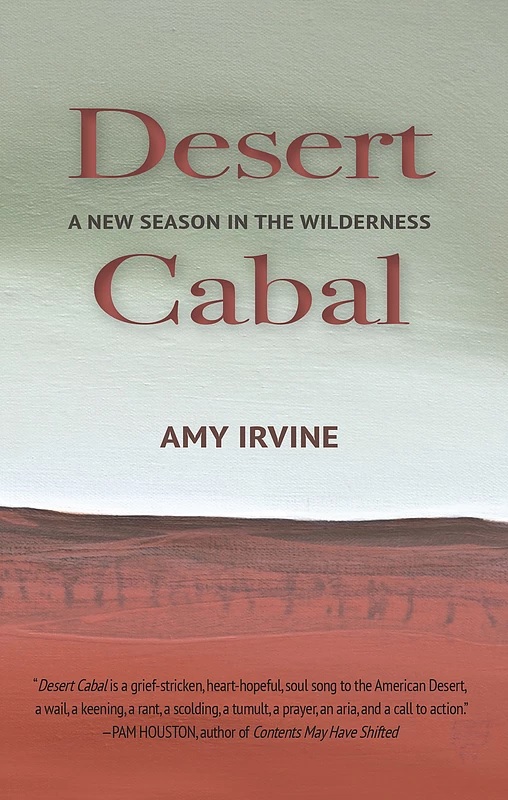 DESERT CABAL: A NEW SEASON IN THE WILDERNESS
One would expect the conservation movement to be as enlightened as possible in acknowledging its own diversity. Even individuals who are not connected specifically to the movement know the most familiar names of advocates and writers, who just happen to be overwhelmingly male. One prominent example, of course, is Edward Abbey (1927-1989), who has been dead nearly 30 years but whose books still command solid interest especially among newer generations of conservationists. This year is the 50th anniversary of the publication of Desert Solitaire: A Season in the Wilderness, a creative nonfiction book serving as a witty autobiographical memoir of his experiences in Utah and Arizona as well as his usual penetrating defense of protecting the wilderness. On the occasion of its anniversary, many op-ed columnists have talked about the book's reinvigorated relevance in the current political climate.
However, as in so many other social movements, it is disappointing that many conservationists and their supporters do not extend their frames of references to earlier periods. Many would miss just how many women were pioneers in the movement and whose names deserve to be as prominent as their male counterparts. Minerva Hamilton Hoyt (1866-1945) founded the International Deserts Conservation League in 1930 and led efforts to convince President Franklin Delano Roosevelt to designate Joshua Tree National Park in 1936. Margie Richard, the first African-American to win the prestigious Goldman Environmental Prize, won a long battle with Royal Dutch Shell regarding a Louisiana refinery whose emissions had increased mortality risks significantly in her Old Diamond neighborhood in Norco. The same prize went to JoAnn Tall in 1993. She is a Lakota environmental activist who worked to end nuclear weapons testing in the Black Hills region. Laurie Marker founded the Cheetah Conservation Fund in 1991. Harriet Hemenway (1858-1960), who founded the Massachusetts Audubon Society, led efforts on numerous fronts that eventually convinced the Massachusetts state legislature to ban the commercial trade of wild bird feathers. Hallie M. Daggett became the first woman hired by the U.S. Forest Service as a fire lookout way in 1913. This list is barely a starting fragment of an even much larger sample.
Abbey may have been a top-shelf star maverick but many women who added substantial political engagement to their work as pioneers have inexplicably been relegated to the status of supporting cast members without the same top-shelf star visibility.
In her new book, Amy Irvine reframes the movement's character as she carries out an interior dialogue with Abbey's work. Her title properly is Desert Cabal: A New Season in the Wilderness.
The book is properly timed for the conscientious questioning we're seeing in many quarters of society and professional discipline. Yes, the established canon not so coincidentally dominated by men of an earlier generation still matters. But, followers, readers and commentators also must accept the complexities and paradoxes of these same men, who did not bother themselves particularly about articulating views that were as racist, sexist and discriminatory then as they are now in our current lenses. Irvine updates the work's message, bringing forward concerns about immigration reform, public lands protection, climate change and equality not predicated on binary identities.
Torrey House Press' acquisition of this book also sends a message to all stakeholders concerned about conservation and preservation that the most effective work today cannot be conducted in isolation. Instead of silos, cubicles and individual workstations, Irvine reminds readers that we should not hesitate to invite many more voices to the table.
As a seventh-generation Utahn, Irvine certainly conveys the connection to the wilderness with the same credible familiarity that lured readers to Abbey's prose. The book reads quickly and it flows smoothly, thanks to her unrestricted voice. Every essay is short and the epiphanies are fierce and clear. Early in this short collection, she references Abbey's headstone which carries the epitaph 'No Comment.' She continues, "but I'm hoping to discuss what we do next. Don't worry. I'm admiring, but not star-struck. You got some things right, but you got other things wrong. Like calling the desert 'Abbey's country'! Can you imagine, in my own book about Utah, if I had called it 'Amy's Country'? I could have justified it; my family has been here for seven generations and counting. Yet even with such credentials the clan of my surname doesn't get to call it ours—because it's all stolen property: whatever the forefathers didn't snatch from the regions' Native Americans on one occasion, they took from Mexico on another. But that's what the white man does. He comes in after the fact and lifts his leg on someone else's turf. You, sir, were no different."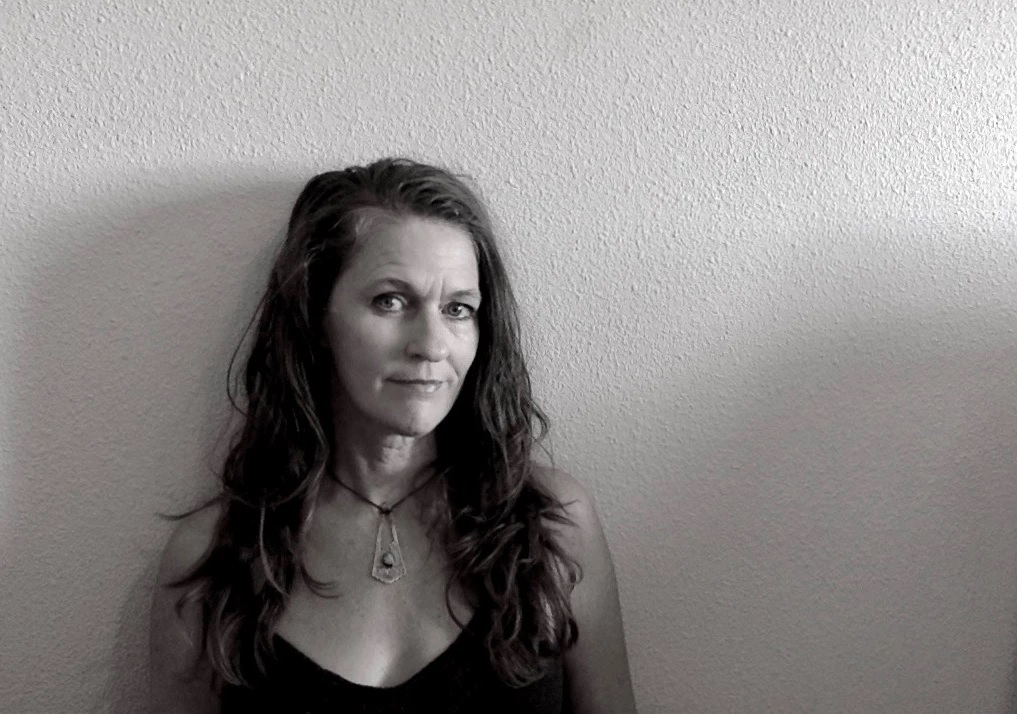 Irvine sets aside the filter. Abbey had five wives. She has had three husbands. She admits that she, too, had strayed. Contemplating the consequences, she says, "Maybe we were late-bloomers—moonflowers who failed, as you put it, to unfurl while 'the sun roared its savage and holy light, its fantastic music in the mind.' Maybe we needed the sky as dark-soft as the background in a velvet Elvis painting so we could dodge our species' tendency to burn daylight, and each other, right down to white ash. Can we love and be loyal to what remains?
She calls out the contradictions. In one essay, she talks about the Cliven Bundy family members and supporters and their acts at the Malheur Wildlife Refuge in Oregon. Irvine says that the "anti-federalist, Mormon part of me agrees with your [Abbey's] words, their actions," but later adds that "it's not the lawlessness that gets me as much as heartlessness," referencing those ranchers who let their livestock starve or who allow non-indigenous "beasts" to graze until the land is no longer usable. She notes there are many independent ranchers (her grandfather among them) who are not extreme or hostile but are consciously aware of how to balance the relationship they have with nature and the land.
This segues into her sharpest fire in the book. She recalls a private posh fund-raising party at a Salt Lake City home in an exclusive neighborhood, where one woman – part of the "good white liberals" – voiced her disdain for "backwoods rednecks" because their "lifestyle is totally unsustainable." As the essay concludes, "No longer can we be tourists, catching mere glimpses from scenic pullouts of the wild, uneven terrain of our collective conscience."
We have a tendency – no, more properly termed an irresistible addiction – to sanitize, mythologize and conflate the complexities of the idols of our social and political cultures. Abbey's reputation has not dimmed since his death in 1989. He is venerated. Returning to those women mentioned above, they achieved significant steps by asserting their independence in those domains precisely dominated by men. Yet, they managed to achieve the goals to which every conservationist aspires. They do not enjoy the same perks of fame or veneration ascribed to Abbey. But, Irvine's book effectively confronts the ritual of veneration and brings the reader closer to appreciating Abbey's work in a more constructive, relevant and productive frame than what has been allowed in the last five decades.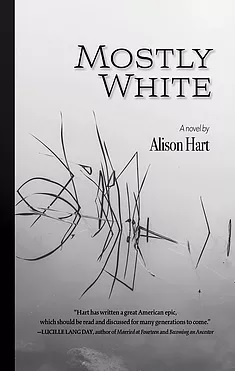 MOSTLY WHITE
Alison Hart, the author of Mostly White, identifies as a mixed-race African America, Passamaquoddy Native American, Irish, Scottish, and English woman of color. The stories of the book, told by multiracial characters and points of view over a period of nearly 100 years, are fiction but they are based somewhat on her own family's experience in Maine. Her mother's side of the family includes Black, Native American and Irish members.
It's an ambitious effort for a debut novel and it is an intriguing selection for Torrey House Press to acquire. Hart's book fits into two strands of public discourse. The lenses on multiracial ancestry and how we identify individually definitely have become focused, particularly as people become more curious about determining their ancestral roots.
The debate has been intense. For example, many have argued about whether or not Cardi B, one of hip-hop's most popular artists currently, is black. Although Cardi B has identified herself as black, others contend that she is Hispanic, not black while others say that she is Afro-Latina and yet others say that she is half-black and half-Hispanic. In an interview earlier this year with CR Fashion Book, she said, "One thing that always bothers me is that people know so little about my culture. We are Caribbean people. And a lot of people be attacking me because they feel like I don't be saying that I'm black." She added, "Some people want to decide if you're black or not, depending on your skin complexion, because they don't understand Caribbean people or our culture."
The characters in Hart's book encapsulate just how often individuals are put into a dilemma when they are forced to specify their ethnic identity or race that certainly does not describe them satisfactorily or even in the slightest bit. The characters of Emma, Deliah, Margaret and Ella are forced to make this choice, solely to make those around them more comfortable so they would not have to think deeply about what it is that really make us who we are. However, as these three women experience, time has not changed these circumstances.
Whatever progress we like to think has been made, the fact that people are forced to choose the categories by which they identity is perpetuated because of its superficial convenience. Ella's experiences in New York City of the 1980s as she aspires to enter the world of entertainment and the arts explain quite well the recent concerns of those who suddenly are thrust into the spotlight but who definitely cannot be easily labeled. The point is that these three women always were left out of the larger discussion about deciding who they decide to be and how they should be labeled.
The second strand of discourse evident in Hart's book is how the women try to cope with the frustrations, disappointments and conflicts that arise when others forcibly take their roots of identity away. It is here where Hart's book moves into Torrey House Press' larger mission of preserving and protecting nature and the environment. Nature is the nonjudgmental place where Emma, Deliah, Margaret and Ella variously go to find a source of grounding, solace and affirmation.
Emma's story opens in 1890 in Maine, just a little more than a decade after the federal government ordered that all Native American children had to attend residential school. The children are subjected to discipline that is outright abusive. When she escapes, she stops at a stone alone the riverbank. She drifts off into a dream about her Bear Island ancestors:
Father Sun peeks through the trees. We walk to the river, to the stones. Father Sun rises, the stones light up and pictures appear. The spirit rocks speak to my mother. She sits and prays listening for the song of our ancestors, waiting for the medicine. I don't speak—the images speak to me: bird men flying, a woman with two dogs her arms raised to the sky world, a salamander from under the earth world, all etched in stone. I wait until sun shifts across the sky and magic pictures disappear. Across the bay a mother bear wades in the river with her cubs, she catches a salmon. My mother speaks to the bear. The fish squirms in the bear's mouth. She heads into the forest with her little ones behind her.
Emma later meets her Irish husband (Patrick) and together they make moonshine although it's enough to sustain their livelihood in the most meager way possible. However, he dies of cirrhosis of the liver because of his heavy drinking. Emma and her daughter Deliah go to Brunswick, Maine to stay with Aunt Julia. We learn more about the family's ancestry from Julia. Her great-grandfather was a slave in Massachusetts during the pre-Revolutionary War days and he gained his freedom after joining the army to fight the British. He then moved to Maine. As Julia tells Deliah and the other young relatives, "So children, you are somebody, you free, you come from Freeman."
A few pages later, Papa Charles comes into the story, who also had Native American roots. Emma remarries and the family moves to an area with other Native American families. Deliah enjoys her new surroundings but the comfort zone is shattered when federal authorities confront Emma, ordering that the children be sent to residential school. Deliah was too old to go to school but her siblings were taken away by force. The stepfather's pain was inconsolable, eased only by drinking. Deliah recalls, "Our neighbor said Papa Charles walked into the bay until the water covered his head and a wave crashed over him and out came a porpoise. He said Papa Charles used medicine to turn into a porpoise and he was watching over us from the bay, that he would protect us from there. I walked to the bay one time and a porpoise leaped out of the water. Maybe it was him, maybe it was Papa Charles."
As the characters mature and the story moves into the 1930s and 1940s, there are many incidents of heartbreak, deaths and emotional betrayal. Hart alerts readers to the ever-shifting point of view from the women to the husbands and to the children. In the 1950s, Margaret is disappointed when the priest dissuades her from becoming a nun. Margaret is desperate to escape a turbulent family life. Despondent about the priest's rejection of her ambition, Margaret wonders why it is that "the rules are the rules" and that she apparently was wrong thinking that God had called her to do his work. The episode ends as Margaret recalls, " The wind picks up. Is a storm coming? A huge shadow casts over me as a majestic bird circles above. The eagle circles around and around and into the horizon. You don't see eagles come this way, ever. This must be a sign from God telling me I will be alright, that everything will be alright."
Decades later, Ella is living in New York City, hoping to land the right role as an actor. After one failed audition and inappropriate advances by a man, she jogs to the edge along the Hudson River, stops to catch her breath and notices the seagulls cawing above her. "Something shiny and grey comes to the surface—a dead body? I move closer to the edge of the pier and a creature leaps out of the water in front of me." The vision startles her. "Was it a dolphin or maybe a porpoise? I search the water. Nothing's there, but I know I saw something." Hart astutely writes many passages that draw this continuous line, reminding us just how deep the roots truly are and how close to the surface of our conscience they reside.
Ella's story brings full circle the pain and the dilemma involved. In Ella's experience, she is not the one reinforcing the color or ethnic line. Even in one of the world's most cosmopolitan cities, people cannot help themselves so they continue to treat it as a stain and contamination. Ella encounters racism and rejection repeatedly.
Even today, as with Cardi B, and the stories of many actors whose stories about their own multiracial ancestry have awakened an appropriately nuanced, complex awareness, it remains evident that it does not matter to audiences or fans who insist on clinging to their racism and bigotry. To them, people who are striving with every effort like Ella to make it in an uncompromising environment will always find others who tell them they are unrelatable or unlikable.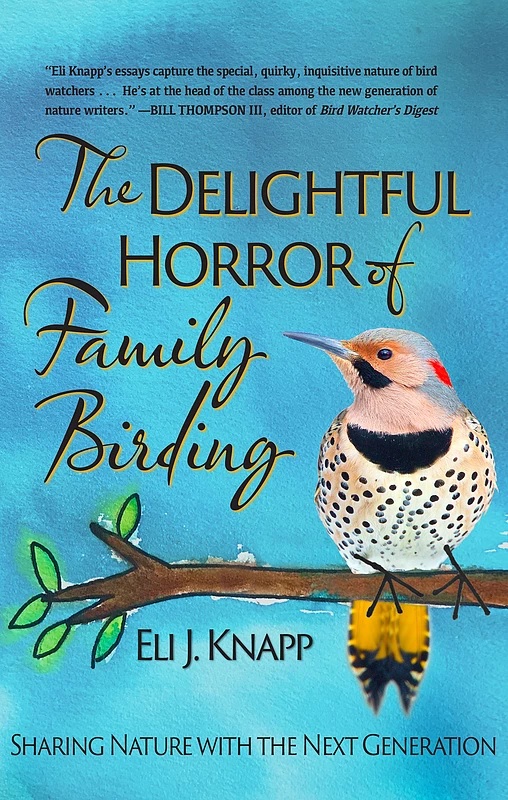 THE DELIGHTFUL HORROR OF FAMILY BIRDING
Baby boomers may remember Miss Jane Hathaway, the prim, cultured, snooty bank secretary on the 1960s hit sitcom The Beverly Hillbillies, who was an amateur bird watcher. The portrayal mocked it with disdain, giving the sense that bird watching only appealed to dowdy, awkward people. When Mark Obmascik's best-selling nonfiction book about a bird-spotting competition (The Big Year: A Tale of Man, Nature and Fowl Obsession) was adapted into The Big Year, a 2011 comedy film starring Steve Martin, Jack Black and Owen Wilson, it bombed at the box office. It barely scraped 20 percent of the revenue needed to recoup the film's production budget. Trying to turn the serious science of birding into a goofy comedy did not match up to the direct appeal of Obmascik's writing.
Eli J. Knapp, professor of intercultural studies and biology at Houghton College, a private school in western New York state, has done a marvelous job capturing a balance of science and humor in his latest collection of essays The Delightful Horror of Family Birding: Sharing Nature with The Next Generation. The book eminently burnishes birding's reputation, making the science accessible in pages that read and are comprehended quickly.
Knapp's voice will be appreciated by novices and experienced birders. There is even one essay that talks briefly about how students in one of his courses were engaged in a competition similar to The Big Year. Oh, there is no doubt about the fever of his scholarly passion, which sometimes rises to a point of awkwardness or embarrassment in the company of family members or when he is on an outing with his students or others. Yet, he also give examples of his demeanor as a teacher and as a scholar, using trial-and-error to find the best way to connect to his students and others in nourishing environmental and conservationist literacy. And, whether an essay is set near his home and college in New York state, Oregon or in Tanzania, where he has directed a study abroad program, Knapp gives the reader plenty of detail to appreciate precisely what the clever book title promises.
His humility is particularly heartening. He describes himself as an "odd duck: A hybrid anthropologist-ecologist by trade who happens to have a special of birds and nature. While I haven't forced these interests on my kids. I have immersed them in it." In his introduction, he uses an anecdote about a flat tire in Tanzania and a goatherd, a "knobby-kneed boy whose head maybe reached my belly button" and who likely was no older than 12, to make a point about education. "In Tanzania, my education was upended. It became experiential, and much of it came from nature itself. And my learning, I quickly realized, came from unexpected sources, including small goatherds."
This kernel of truth resonates throughout his essays, which are presented more so in thematic development than in chronological order. Epiphanies come from numerous sources. One example comes in an outing with his son Ezra, when he was just four. The boy is eager to accompany his father on a birding excursion and Knapp relents reluctantly, reminding Ezra that he has to stay as quiet as possible. His son obliges perfectly but then is struggling to hold back a sneeze as long as he possibly can. Knapp congratulates his son on doing so well and then asked if he saw the merganser ducks. The boy said, "what mergansers," which deflates his father immediately. Now with the boy no longer obligated to be silent, Knapp answers the questions one would expect from any curious young child. Knapp sees it as a bonding experience not based on an "either/or" proposition but a "both/and" one. "We had time together, made a priceless memory, and I even saw my birds. Next time maybe Ezra will see them, too."
One essay recalls a surf scoter (a coastal sea-duck) whose elusiveness practically drives Knapp to "Neanderthal-like madness." He talks about a Ralph Waldo Emerson (1803-1882) quote about patience from the Transcendetalist's lecture on "Education" ("adopt the pace of nature: her secret is patience"). Knapp explains, "it's a palpable irony that makes me grimace," adding that patience in a college professor's "hectic life … routinely proves the most elusive of virtues." And, he acknowledges that "whenever and wherever I've been truly patient in nature, I've been rewarded."
Knapp also articulates the paradoxes and complications of envisioning conservation efforts as solving all problems unconditionally. Going to the coastal inland areas in the Pacific Northwest region, Knapp offers the example of the nationally known spotted owl story. Enter the barred owl, which emerged as the U.S. Forest Service chopped down old growth ahead of plans to restrict logging on millions of acres of public land in Oregon, Washington and northern California. But, the barred owls, according to Knapp, turned out to be "imperialistic" – even "outright bullies." As he explains, spotted owls were less likely to procreate with the barred owls close by. "Barred owls couldn't care less," he wrote. "The more, the merrier."
To solve the problem, the U.S. Fish and Wildlife Service decided the obvious "but morally questionable" solution was to kill the barred owls. Quoting the Service's ethicist who sanctioned the action but did so with explicit reservations, Knapp contemplates the concerns about ecological sloganeering reduced to "monolithic, bumper sticker viewpoints."
Knapp does not hesitate to admit his own hypocrisy and double standards. He writes, "Even so, the spotted owl is worth it. So too are the barred owls and the yellow jackets. All species are. But all species are also different. … All these differences add up to one thing: how we go about conserving each one has to differ too."
A fantastic essay Sole Recipients of Grace opens up on reverse sex polyandry, which segues seamlessly into an astute personal reflection that adds a proper riff to Amy Irvine's Desert Cabal themes. The concept was so foreign that it confused the greatest celebrity of the birding culture, John James Audubon, who mislabeled the males and females. "It turns out that sexual size dimorphism – when the sexes are visibly distinct – is also reversed, causing the females to loom larger and appear more colorful than the males. They're not just larger; they're nearly twice the size, rendering males entirely subordinate." Knapp finishes the point nicely about how the "deck of discrimination has been stacked unevenly" against women. "So I'm doubly inspired by the women, who often by sheer will alone have found ways to wiggle out of this historical yoke and lift off."
He recalls one of his most regrettable moments in the essay OCD Ecology, when he was working on his dissertation and decided to explore the indigenous Hazda people who lived south of the Serengeti National Park in Tanzania. The sight which struck him the most was how uncluttered and minimalistic their lives were – "the whole band's goods would maybe fill a wheelbarrow."
The episode was the pretext for the question: "Beyond the obvious rudeness of my intrusion, why did indigenous people enchant me so much?" An admirer of Henry David Thoreau, Knapp thought about a 1981 essay by Walter Harding (Walden's Man of Science) that deconstructs the image of Thoreau as loner in the wilderness. The essay documents the blunders of identifying and erroneous conclusions written in Thoreau's famous journals. At this point, Knapp makes an excellent point about Western science framed in a non-indigenous world and his increasing "leeriness" as he continues in his work and teaching.
Emphasizing that indigenous knowledge is as valuable and as endangered as the Hadza people he encountered, Knapp concludes that "if indigenous knowledge disappears, so too does a view of nature. … Nature is not, to people like the Hadza, a mere collection of commodities." It is a point that is lost frequently in Utah's debates about public lands and the true priceless value of the Bears Ears Monument and other natural areas.
This, too, dovetails nicely with Irvine's account about an elite party for environmental and conservation supporters in one of Salt Lake City's toniest neighborhoods. There are two worthy paths, as Knapp acknowledges, but "we emphasize one over the other only at our peril."
It's a wise, prudent perspective that Torrey House Press has acknowledged in its literary mission. To wit: Edge of Morning: Native Voices Speak for The Bears Ears, a 2017 collection edited by Jacqueline Keeler along with Native-American writers who contributed to the anthology Red Rock Stories, edited by Stephen Trimble. Likewise, all three of these new releases expand and fortify Torrey House Press' diversifying and expanding objectives in American West literature.