PYGMALION THEATRE COMPANY: SWEETHEART COME
One of the most extraordinary renderings of Emma Hauck's story came in 2000 with In Absentia, a 19-minute film made by Stephen and Timothy Quay. The BBC commissioned the short film as part of a series matching filmmakers with music selected by BBC producers. The Quay Brothers already had chosen their subject before they learned of the music they would be given to incorporate: Emma Hauck who had been diagnosed with an extreme form of schizophrenia and admitted to a German psychiatric clinic in 1909.
Hauck was consumed with writing letters to her long-absent husband. However, the content of those letters was almost completely filled with scrawls that were difficult to discern and made even more difficult to figure out as they were layered one upon another. The Quays were inspired after they had seen the letters at a London exhibition featuring art and artifacts created by patients at European hospitals for the mentally ill.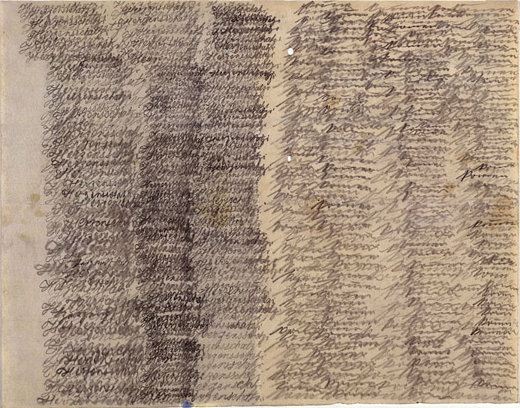 Mostly shot in black and white, the film's interpretation of psychosis is intensified by the music the Quays were given – a most serendipitous occurrence. It was part of an opera score composed by Karlheinz Stockhausen, a pioneer in electronic music. The music resembles the anguished, guttural cries and pained yelps of an individual. While the actor playing Hauck does not appear in earnest until past the midpoint of the short film, the directors focus on pencils and stationery with close shots of her fingernails and clenched hands. The last scene closes in on the large pack of letters, none of which had been sent, jammed into a grandfather clock. An interesting aside: Stockhausen was moved to tears by the film and only later did the directors learn that the composer's mother had been arrested by the Nazis and confined to an asylum where she died.
A phrase that was comprehensible and found repeatedly from Hauck's dense scrawls was "Herzensschatzi komm," which translates from the German to "Sweetheart come." That phrase has become the title of Melissa Leilani Larson's newest play, which is being staged as a premiere by the PYGmalion Theatre Company.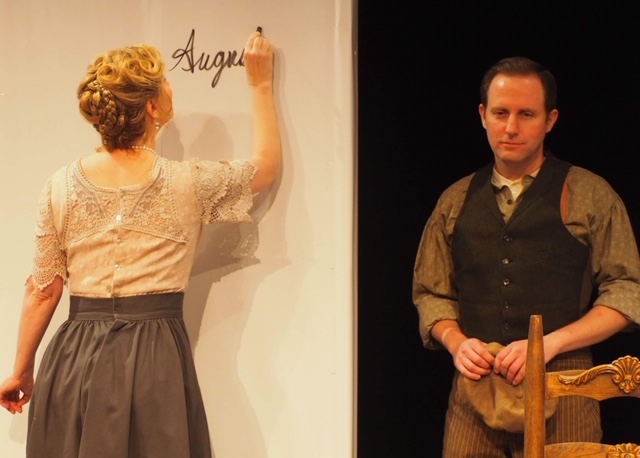 Larson, an award-winning Utah playwright, has produced a fascinating, cogent interpretation of Emma Hauck's story, which is equal to the artistic impact of the short film made nearly two decades earlier. Larson sets the play, beginning in August 1908, with the same basic details of her subject's actual life. Michael, the husband, was a teacher in Mannheim. They had two children (who are mentioned in the play). Larson's cast for the 80-minute play comprises three actors: Emma (Christy Summerhays), Michael (Patrick Kintz) and August, the gardener (Roger Dunbar). Mark Fossen directs the production.
Larson has a unique gift for inflecting the sound of language and idiom from a specific period with a texture that rings relevantly to the ears of a contemporary audience. And, the script is served well subconsciously by her own love for elegant pens, penmanship and the art of writing letters and notes. Hauck's descent into terminal mental illness is subtle and heart-breaking. Larson's script evokes a superb sense of chamber ensemble theater but more about this aspect later.
In the opening of Sweetheart Come, Emma is the ideal of composure. She is writing a letter to her husband. Of late, Michael has become more prominent in Mannheim, as he sets his sights on being elected to the city council. Early in the play, in a magnificent scene of foreshadowing, there is an exchange with August, the gardener. Emma notices August has been watching her, "caught up" in her words, forgetting momentarily what he was going to ask her: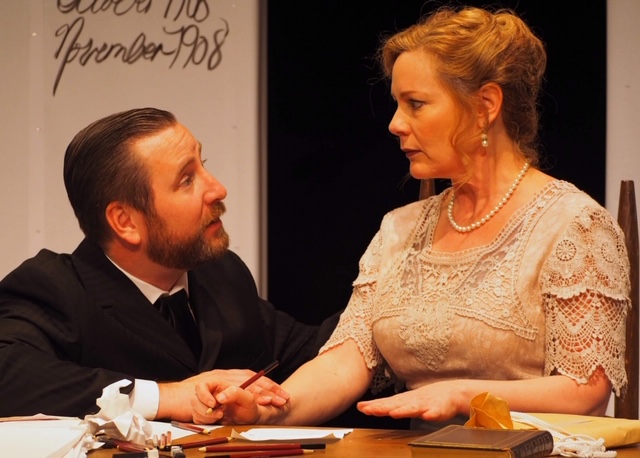 AUGUST
The willow out front. It's quite ungainly. The—er—the trunk is growing up against the fence. It's making the boards bulge out toward the street. All of those long branches, reaching beyond your property. Blocking your view.
EMMA
Oh! But the way its leaves drip over the fence…
AUGUST
Someone could trip and hurt themselves. Especially now that so many people are calling.
EMMA
I hate it.
AUGUST
The willow?
EMMA
People calling.
AUGUST
I don't suppose it can be avoided. At least, not anymore.
EMMA
No. It wasn't my choice, but I must live with it. May I take a turn and ask you something?
Summerhays and Dunbar handle this important scene well. Larson has carved out beautifully an interstitial space between abstract symbolism and literal manifestation. She uses her artistic license wisely, expanding on the concrete details of Emma's life to give a humanizing portrait that transcends the clinical curiosities of her medical condition.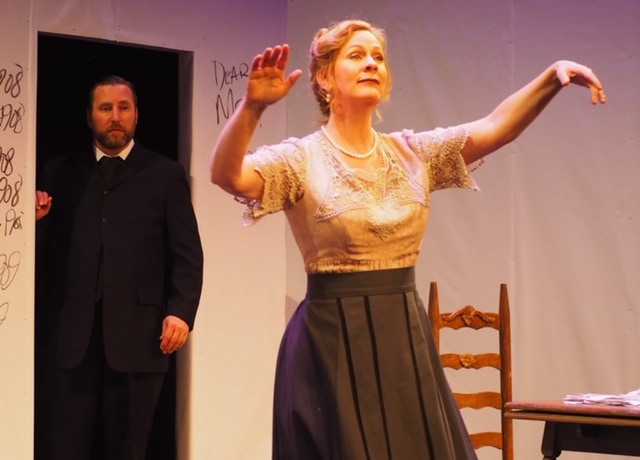 August gently encourages her to venture into the public and be herself. Emma responds, "Ah, but I'm the wife of a prospective city councilman. There are expectations." She continues, "Michael is much better at this than I am. It's his chosen career, after all. But politics— For him it's a job. For me, it means society. I need to open our door to the public and put our imperfect home perfectly on display. Which is also a job, and not one to which I've either aspired or applied." This is not an unfamiliar story today for spouses and families of public figures, as they struggle to abide the unforgiving and piercing gaze of a public that has ever-diminishing patience for flaws or mishaps, even minor slips.
Preferring not to take on the role as "ambassador to the city" for her own benefit as well as that of her husband's campaign, Emma expresses her interest in poetry. She would aspire to other art forms if she could. "I wish I could paint, but the landscape in my mind is too pure. It never translates properly," she says.
Meanwhile, August returns to the matter of the willow tree in front of the Hauck home. He believes it should be removed because it could be dangerous. Emma resists, explaining the tree's shade gives her so much pleasure. August replies, "Sometimes danger comes at us cloaked, winsome and alluring." For those listening closely to this dialogue, the remainder of this scene anchors everything from that point through the play's climax and elucidates every character's purpose.
The staging is simple: a diorama of the house interior with three sides. The walls are paper, on which Emma and August write and draw, at key points throughout the play. As time passes, Emma writes the month and the year. The first entry of August 1908 is made elegantly. By the final month, her writings resemble scrawls, executed with more agitation, restlessness and frustration than previously. The portrait of composure gradually disintegrates over the nine months covered in the script.
The play is staged in the Black Box Theatre of the Rose Wagner Center for Performing Arts where seating arrangements can be altered easily. It was perplexing to see the standard riser setup for audience seating for this production, which does not make sense for this stellar example of chamber theater. It would have been more interesting to bring the audience to stage level in seating arranged in an arc spanning the length of the diorama set. The emotional impact would be far more intense for the audience.
Also, it was disappointing to see such a poor turnout for the show's first two performances. Hopefully, the numbers improve through the second half of the run. Larson is a must-see Utah playwright with works and commissions that include Plan-B Theatre, Brigham Young University and Utah Valley University. She also has written screenplays for two films. The play was a 2016 O'Neill National Playwrights Conference semifinalist.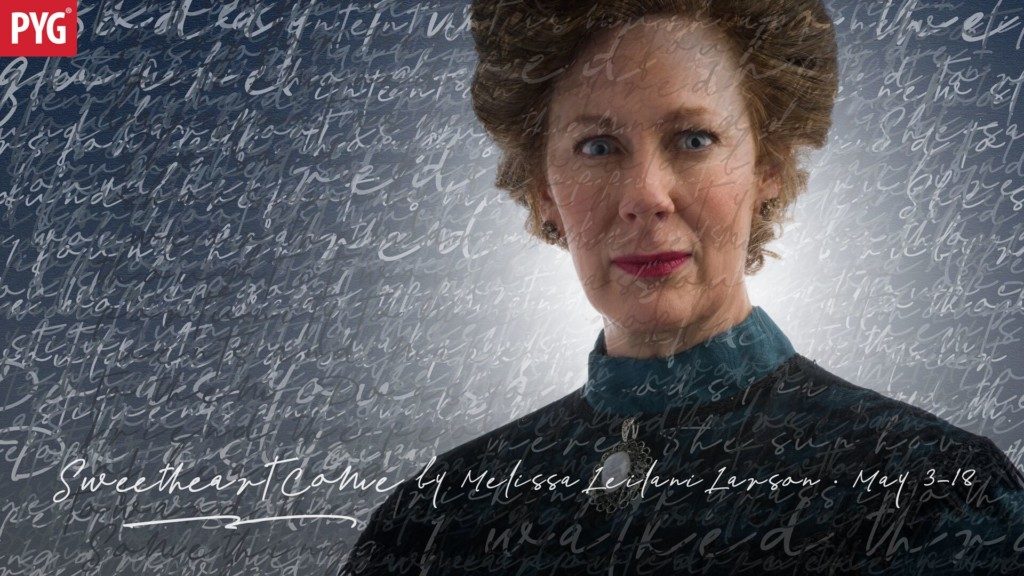 Sweetheart Come succeeds on two major levels. It is an original interpretation of a woman's tragic true story, achieved with utmost sensitivity and respect. It also is a potent artistic expression about removing the stigma of mental illness and the value of empathy and compassion in educating ourselves about the disease. Solid performances abound in all three characters.
Performances continue through May 18, on Thursdays, Fridays and Saturdays at 7:30 p.m., Sunday at 2 p.m. and Saturday, May 17, at 2 p.m. Tickets are available here.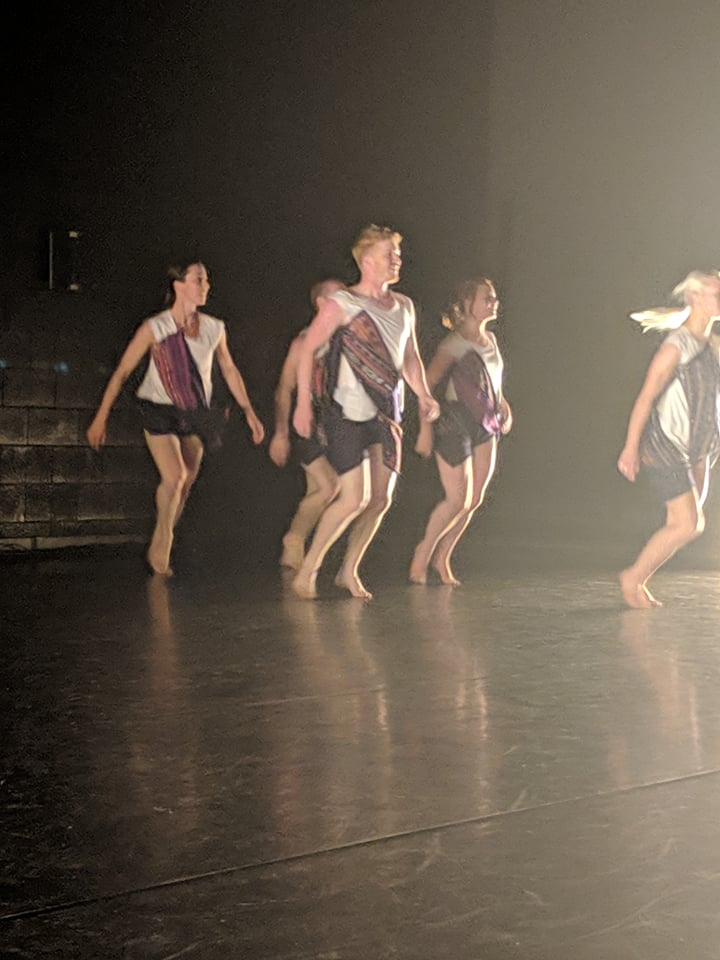 EFREN CORADO: DUST. BREATH. PLACE.
Efren Corado, who just left Repertory Dance Theatre (RDT) after six memorable years as a company dance artist, truly has a gift for translating a compelling story that he has told both in English and Spanish into a dance movement language that enhances the epiphany of his personal experience in the most generous way possible.
In the books I have treasured the most, my favorite characters always have been the individuals who come from different origins and faraway places. The memories of those reading experiences always are vibrant. And, then there are moments when the story told in movement and music shines as bright as if it would have been rendered in text.
The story of immigration that choreographer Efren Corado shares in Dust. Breath. Place. goes just as deeply into the characters and thoughts that define our humanity as any literary telling. This was the perfect valedictory gesture for Corado, who created the work for the RDT Link Series. The five dancers — Tyler Orcutt (RDT), Sarah Donohue (Utah Valley University) and Tiana Lovett, Austin Hardy and Natalie Border (SALT Dance Company) – became adept storytellers who share a story that might have never been told.
Whenever Corado has recounted his story of migrating from Guatemala to Los Angeles, as an 11-year-old boy who joins his mother in Los Angeles, he has chosen the precise words to describe his experiences along with the feelings he coped with during that journey in the 1990s and his coming of age in his new home. Likewise, the dance he created conveys the same dedication to precision but not because he structured the piece to be a literal recounting of his immigration journey. Instead, he created a vocabulary that clarified the dance's emotional and spiritual impetus for the audience as it did for the five dancers he selected to premiere the work.
The intimate setting in the Studio Theatre of the Rose Wagner Center for Performing Arts heightened the exhilarating sensation that surely embodies the recollection of Corado's personal story as much as the artistic experience of the dancers who were given the task of transmitting the larger theme of Corado's memories of that transformative journey. Often the focus is on the challenge of the immigrant's capabilities to assimilate into his new home and society. However, Dust. Breath. Place. — thanks to the smart, deliberate artistic choices of Corado — resonates with a richer ideal of longer term implications. The dance espouses a community where bridges are created to connect the different cultural backgrounds of individuals; where the cross-cutting dynamics of solidarity and diverse identities that encompass a broader landscape of ideals, idioms and influences become possible.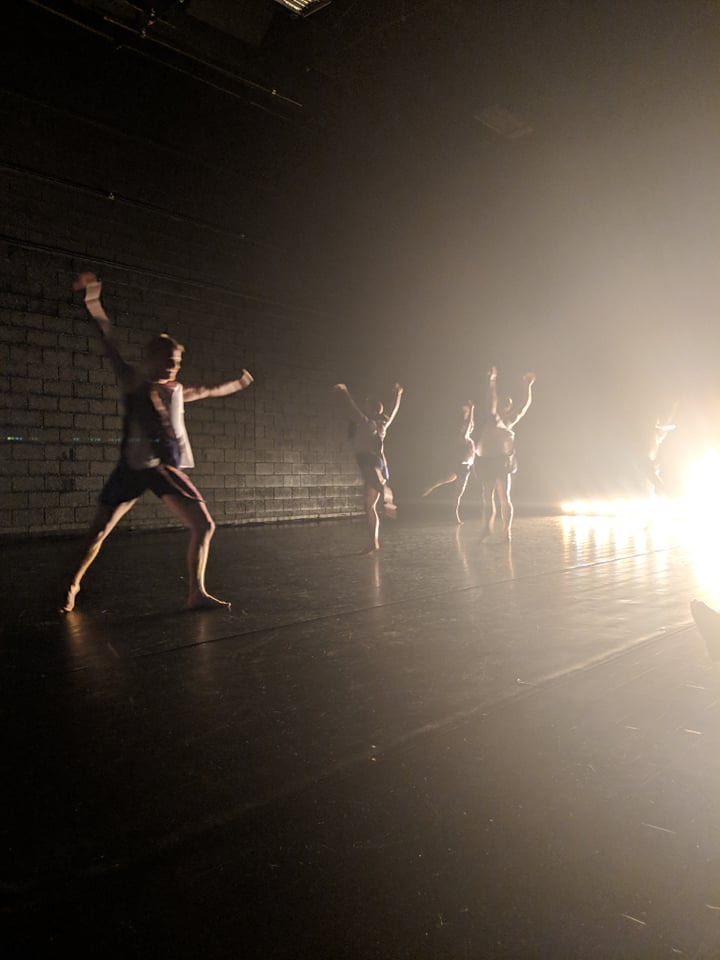 This was embedded in significant ways throughout the work. The choreography blended the Guatemalan folk dance roots of Corado's subconscious cultural DNA, the theatrical leverage of Laban Movement influences and the synergistic impact of the impressively diverse range of choreographic languages he encountered during his RDT tenure. And, as mentioned previously in The Utah Review, musical choices were exemplars of cosmopolitanism including Melao Boricua, Bia, Mary Lattimore and René Aubry.
The work moved effortlessly at a glorious pace and the segues from one section to the next — a mix of solos, partnering and other combos suggesting textures of emotional counterpoint — underscored the feeling of turning pages in the choreographic chapters comprising this eloquent narrative. The dancers were sincere and animated: smiles sparkled, eye contact focused with laser-like precision, and movements synchronized perfectly to musical rhythms. Borders dissipated. Feelings of hesitation and skepticism vanished. Hope and resolve were strengthened. Corado's choreographic statement is a capacious articulation of "we" in the most positive sense of what "we" are: a national community of immigrants.