Many artists at the Utah Arts Festival's Artist Marketplace have unique stories to relate not only about their art but also about the creative and educational path they took toward becoming artists. Also, many now work full-time as artists. Among the 68 newcomers to this year's Artist Marketplace, the largest ever for the Utah Arts Festival at 177 artists, are Dustin Lyons and Tera Ptacek of Alkahest Leather in Joseph, Oregon. The artists (Booth 116) make moccasins with leather, hardware, stone and antler.
Lyons answered some questions for The Utah Review about their upcoming appearance at the festival (June 20-23, noon-11 p.m.).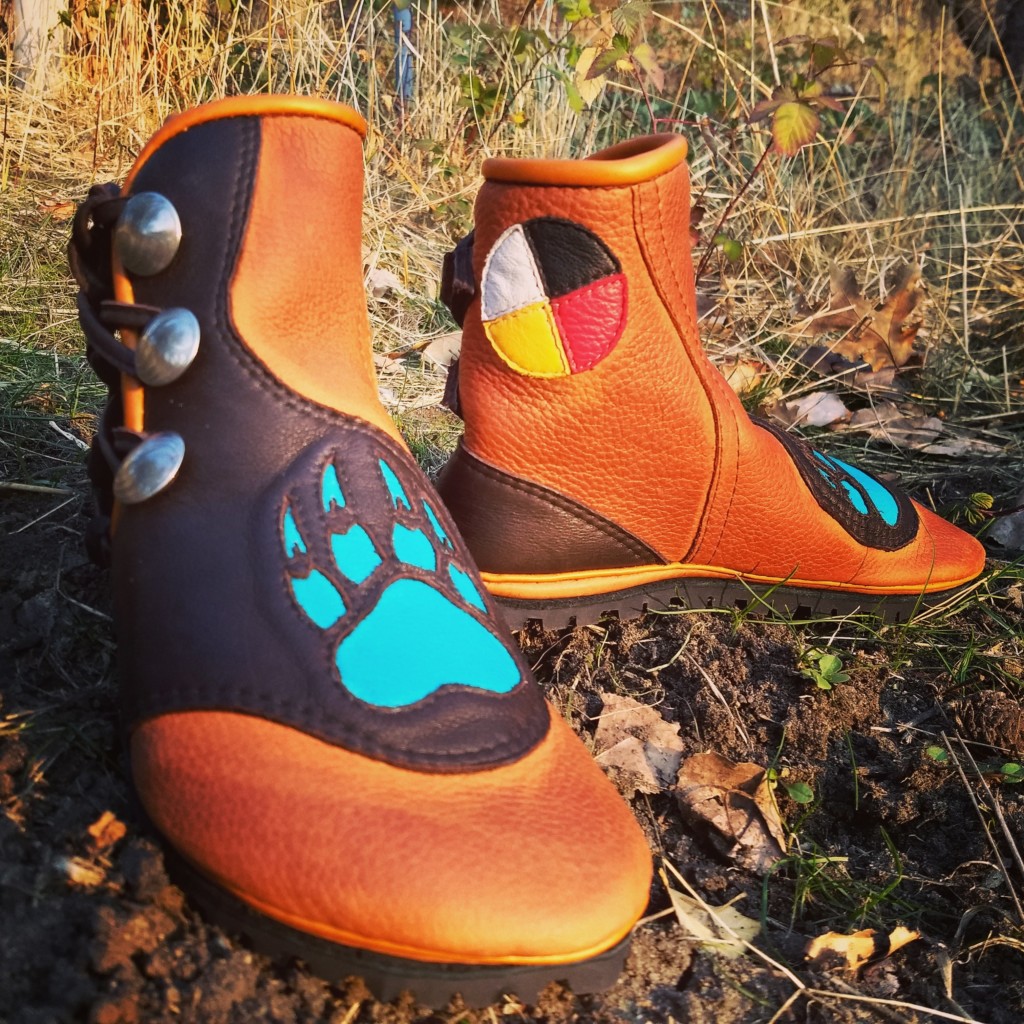 TUR: How have you used art media forms in helping to create an holistic body of artistic work that searches for a more complete expression of your own innermost and most powerful states of emotion, inspiration, contemplation, and self-identity?
DL: Leather is a timeless material whose appeal is both utilitarian and sensuous. Today we can get our hands on a wide variety of hides with varying grain-patterns, colors, finishes, etc. With this plethora of options and the addition of antler, semi-precious stones and various hardware we can fashion our wares to capture the over-arching themes of our artistic sensibilities; namely, flora, fauna, mud and moon…the natural world that we so cherish and take every opportunity to get out in.
TUR: What is your training as an artist? Who do you consider your most significant influences and inspirations? Do these influences shift as you progress both in your work and life?
DL: Tera and I came across shoemaking and leatherwork almost by accident. In 2008, on our way back up to Alaska (our most consistent home at the time) after wintering in Bisbee, AZ we followed some friends to the Arizona Renaissance Festival where we encountered another moccasin maker and fell head-over-heels in love with this style of footwear. It captured our imaginations. It took another couple years of living the rambling life of Alaska seasonal worker to overseas backpacker before we decided that we needed to find a vocation and settle down. That's when Tera found William Shanor at Bonney & Will's School of Shoemaking in Ashland, OR. We decided to pack up our Chevy Metro and move to Southern Oregon so we could take a class on Renaissance moccasins and continue to learn from a master shoemaker like Bill. We dedicated ourselves to it. Scrounged up enough money to purchase the equipment and materials we needed and got started. That's 8 years ago now.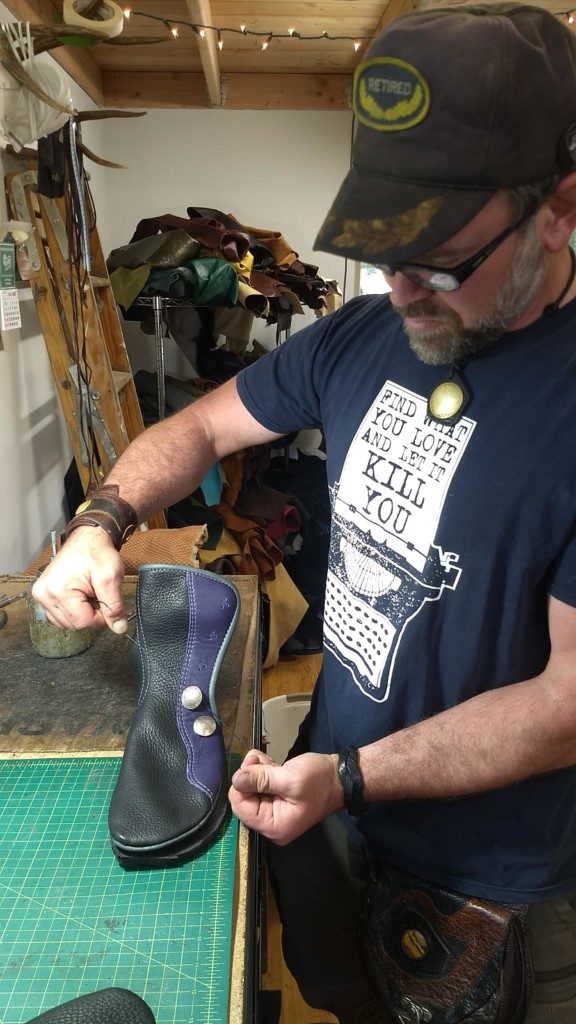 TUR: Do you work full-time exclusively as an artist? Or, how do you augment your work as an artist?
DL: Alkahest Leather is our full-time job. For the first 5 years we did supplement our business income with side-jobs but for the past 3 this has been our sole source of income and it's working. We aren't rolling in money by any means but we live simply. We figure the best way to escape the bustle and bedlam of the rat-race is to have modest needs, live small, foster a deep appreciation for sunup and moonrise; ie, a walk in the woods; nights around a campfire.
TUR: Do you find it easy or difficult to start new work? And, typically, how do you prepare yourself to handle both the creative and physical demands of creating your art?
DL: As with anything there is tedium involved in what we do. As well there are the distracting and compelling aspects of life outside of work. Given this it can be difficult at times to get started on a project. It's always exciting to try something new: a new design or product, a different color scheme, etc. Whenever the work begins to feel at all oppressive we remind ourselves that we're working from home, not punching a clock for someone else, that we're lucky to have the satisfaction of a livelihood that requires creativity and resourcefulness on many fronts. We get the best of both worlds, we foray out to fairs and festivals where we get music, art, conversation and then we retreat back to our "island of coherency" in the mountains and hammer away!
TUR: With regard to participating in the Utah Arts Festival, please share your feelings about being a part of this enterprise? Have you been in other festivals and do you plan to explore other festival venues?
DL: We are very excited to be a part of the Utah Arts Fest for the first time! We've been hearing about this show for years now and finally decided to give it a shot. Now that we live in NE Oregon (we were in SW Oregon for the first 6 years of Alkahest's existence) we're exploring shows in new areas. When we were in Ashland, OR we stuck to Northern California, Oregon and Washington. We've now done shows in Idaho and Montana and this year our first shows in Utah and Nevada. We had a great time at the St. George Art Fair in April. Our biggest show of the year each year is the Oregon Country Fair in Veneta, Oregon the second weekend in July. We hope to make Utah a yearly stop every year, what a fantastically, stunningly gorgeous state to visit and do business.
For more information about all events, see the Utah Arts Festival website. Ticket information can be found here.