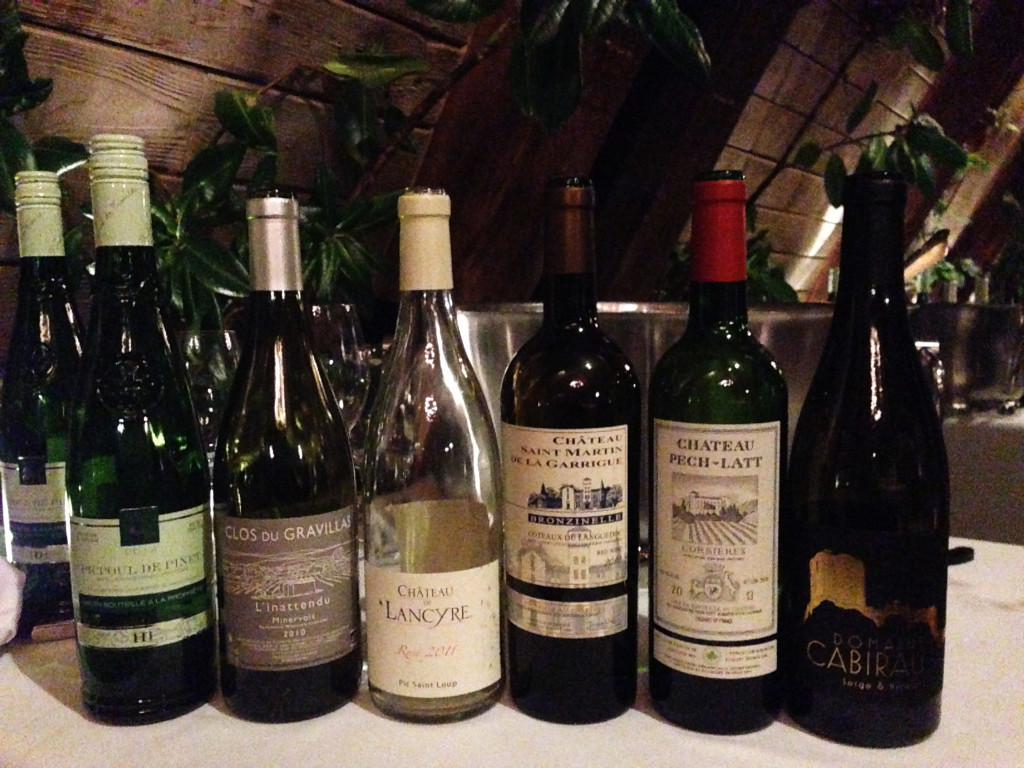 Technically, Languedoc and Roussillon are in fact two distinct regions with separate historical and cultural backgrounds. However, in 1972 they were joined administratively and together comprise the largest winemaking region in southern France and share the same grape varieties. The area is more frequently referred to as "Languedoc Roussillon".
The limestone soils of Languedoc are known as "garrigue". The only things that can survive in these poor soils are herbs such as lavender, thyme and rosemary as well as grapevines. The smell of garrigue is aromatically identifiable and is found throughout the south of France.
There are 56 grape varieties allowed in Languedoc IGP (Protected Geographical Indication) wines and all of these, in addition to Muscat d'Alexandrie and Tourbat (both whites), are also found in Roussillon.
IGP wines represent 73% of Languedoc-Roussillon's production and IGP Pays d'Oc alone accounts for 58% of France's total IGP production—making it France's largest wine export.
Roussillon is also know for its fortified dessert wine. The region is one of France's sunniest, receiving an impressive 325 days of sunshine per year.
Foods of both regions are Mediterranean based with seafood in heavy rotation.
Wine wisdom from Languedoc Roussillon
Languedoc was the first area to be replanted with European vines grafted onto phylloxera-resistant American rootstock.
Roussillon gets its name from the color of the iron-rich, sandy red clay soils of the area. Rousse is translated as russet or red.
Languedoc-Roussillon has 1,029 organic wine producers—the highest number in France.
And now for the tasting!
| | |
| --- | --- |
| | Cave De Pomérols Picpoul De Pinet 2014: For the bargain price of $12.29, you can pick up this 100% Picpoul wine in Utah. Aromas of briny sea air lead to grapefruit, lime and lemon zest flavors. Not surprisingly, this wine is known as the "Muscadet of the South" and is great with any food you would squeeze a fresh lemon over such as shellfish and other seafood. |
| | Clos Du Gravillas L'Inattendu Minervois 2010: The 80% Grenache Blanc and Grenache Gris and 20% Maccabeu grapes are farmed organically and even crushing is done manually in rubber boots. This dry white wine presents lemon curds, brioche and dried stone to the nose. Great paired with fresh sardines and anchovies, goat cheese or a cassoulet. |
| | Château De Lancyre Rosé Pic Saint Loup 2011: Pic Saint-Loup has a reputation as one of the Languedoc's best wine districts and Lancyre is one of the top estates. The 50% Syrah, 40% Grenache, 10% Cinsault blend is big and bold with raspberry and pear aromas and spicy notes on the tongue. This rosé pairs well with salads, grilled vegetables and all types of lighter Mediterranean fare. Robert Parker gave it 91 points. It is available in Utah for $17.99. |
| | Château Saint Martin De La Garrigue Bronzinelle 2010: "Bronzinelle" is an Occitan word describing the humming of bees heard as they gather pollen. This blended wine includes 43% Syrah, 18% Mourvèdre, 18% Grenache Noir and 21% Carignan giving it intense flavors of black currant, blackberry and spices. This is the perfect barbecue wine as it pairs perfectly with grilled meats and stuffed vegetables. You can find this wine at DABC stores for $21.03. |
| | Château Pech-Latt Corbières 2013: In 1991, this vineyard was certified organic. Intense flavors of fruits and flowers, primarily violet and blackberry, lead to tastes of spice and licorice. This powerful wine made with 30% Carignan, 30% Grenache, 25% Syrah and 15% Mourvèdre pairs well with grilled meats and cheeses. It's available here for $14.99. |
| | Serge & Nicolas Domaine Cabirau Maury Sec 2013: This vineyard is just 20 miles north of the border of Spain in Roussillon. The 60% Grenache is grown on steep sloes of schist which gives the wine a mineral character. Other grapes in this blend include 28% Syrah and 12% Carignan which add spicy and peppery elements. Wine Advocate rated this wine 91-93 points. Enjoy this wine with rich meals. |
Read the full series of articles for the Wasatch Academy of Wine's French Wine Scholar program.