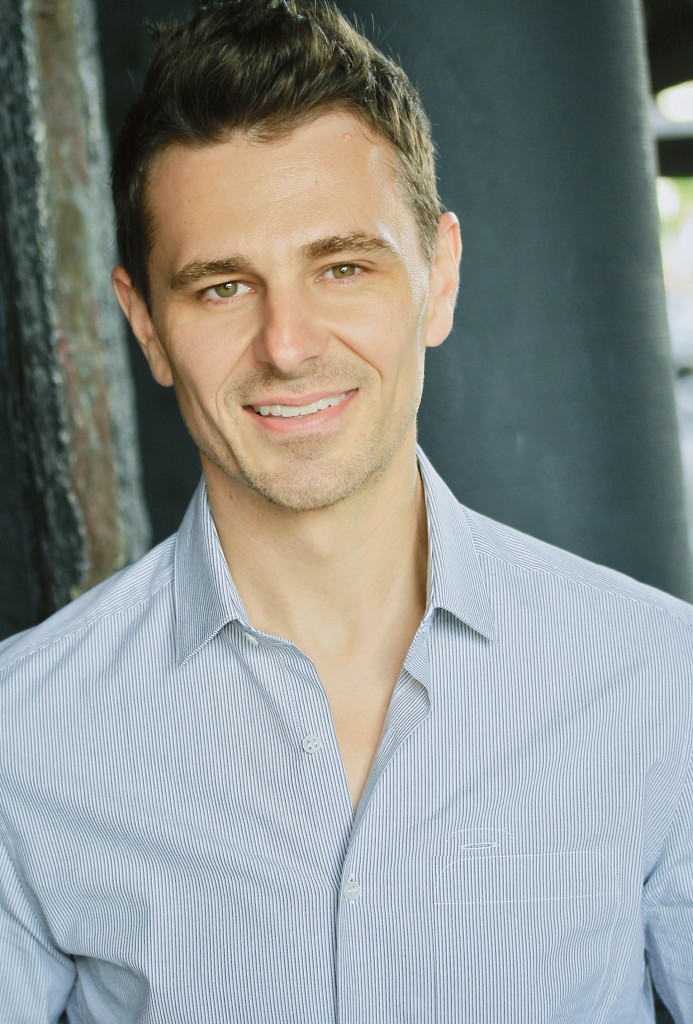 NOTE: This is the second part of the preview of Plan-B Theatre's 25th season. See Part I here.
But I say unto you, That whosoever looketh on a woman to lust after her hath committed adultery with her already in his heart. (Matthew 5:28).
His disciples say unto him, If the case of the man be so with his wife, it is not good to marry. But he said unto them, All men cannot receive this saying, save they to whom it is given. (Matthew 19:10-11). — Biblical verses at the introduction of Leo Tolstoy's The Kreutzer Sonata.
As much as a live performance of The Kreutzer Sonata, Beethoven's masterpiece for violin and piano, clarified the daunting project of translating Leo Tolstoy's novella by the same name into an hour-long play to open Plan-B Theatre's silver anniversary season, playwright Eric Samuelsen knew what he now needed to carry forward his creative process.
"I listened to punk rock – The Clash, Sex Pistols, Ramones," says Samuelsen, who always listens to music when he writes plays. "It helped me get pretty close to where I wanted the play to be."
He takes expansive liberties with Tolstoy's original 19th century novella, a story of nearly 32,000 words about a man, caught up in a jealousy-fueled rage, who murders his wife, after returning from a business trip and discovering her in the dining room (fully dressed, incidentally) with a strikingly handsome violinist.
What emerges in Plan-B's newest play, directed by Jerry Rapier, is an audaciously experimental, unquestionably unique treatment – a script of less than 3,500 words — that synthesizes the spirit of Tolstoy's story and the relentlessly visceral energy of Beethoven's music in a work that only a few producing directors might consider feasible enough to pull off convincingly. In a couple of other adaptations, a separate companion performance of the sonata is offered but here the music and its performance are deeply woven into the textual fabric. Samuelsen narrows the focus down to the man of Tolstoy's narrative (played by Robert Scott Smith), now imprisoned for the crime. He allows the audience to witness the man chronicle his own descent into madness — driven, haunted and ultimately imprisoned by the force of Beethoven's music. And, that's where the daunting unique wrinkle comes in this production: Not only does Beethoven's music serve as the mise en scène but the musicians performing live on stage – Kathryn Eberle, violin, and Jason Hardink, piano – become integral characters in the action. The uncompromising fierceness and ugliness of the murderer's mind are revealed in what surely will be an unforgettable collaboration.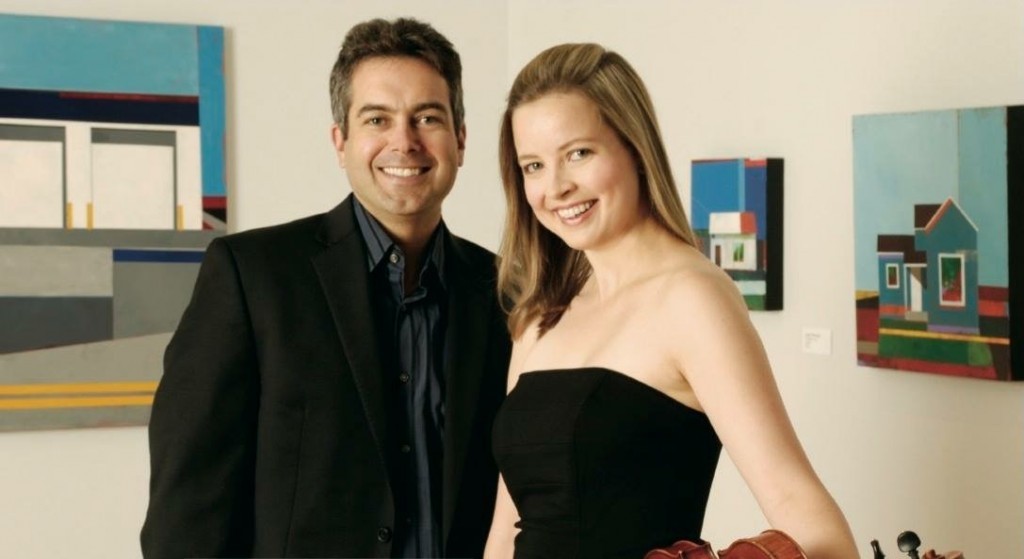 In 2013, Plan-B and NOVA Chamber Music Series collaborated on an outstanding performance of Igor Stravinsky's The Soldier's Tale. Moved by the results of the collaboration, Hardink approached Rapier about another project. "I said, "Hey, what could we do next?'" he recalls. "We met to see how we could integrate what each of us do so well on a more intimate basis."
Hardink's idea arose naturally. Before his twins were born and his wife (Kimi) was working in Texas on her doctorate from Rice University, he used the free time to read great works of literature, including Tolstoy's War and Peace as well as The Kreutzer Sonata. Hardink, whose music career takes him all over the country, had never before played the piano part of the famous sonata but he and Eberle were planning a performance series covering all of Beethoven's violin sonatas as part of NOVA's gallery series. "The idea of the Kreutzer seemed to be the best place for us to work together," he explains. Of course, a significant difference at the outset is that the genders of the musicians had to be switched (as Tolstoy's story cast the woman as the pianist and her friend as the violinist).
It might surprise some people outside of the professional musical world that at the time when the project possibilities were being discussed, Hardink and Eberle did not know each other all that well personally outside of the realm of rehearsals and performances. "I initially hesitated about asking her if she would be interested in doing this," Hardink recalls. "After all, it is a 19th century tale of a misogynist who really is this terrible asshole." Hardink adds that Eberle thought immediately it would be a great project and she did not hesitate on agreeing to participate.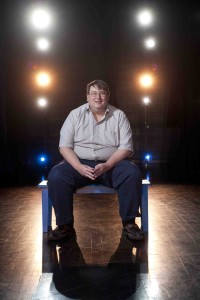 Samuelsen always leavens his tautly written work with the appropriate overarching historical context to make the narrative credible and sensible. An important scholar of Scandinavian literature, Samuelsen thought initially of August Strindberg's novel Inferno, which explores a variety of psychological conditions, paranoia, neurosis and persecution complex in dramatic effect.
Without explicitly stating it, Samuelsen frames The Kreutzer Sonata as a critique of marriage norms and mores of the century of Romanticism and their accompanying double standards of sexuality. And, then there is Beethoven's music. "By our estimation he is a really dreadful person but I also want to help the audience hear the music the way he hears it," he explains. Early in the play, the man says, "Music is frightful. It can lead to terrible acts; it seduces men to commit them. The Chinese are right to ban it. And I have the right to insist that you listen, because of what I have done."
The prologue leads directly into the live performance of the first movement in its entirety: a roller coaster of emotion, drama, and brutally demanding technique. Hardink says the music for the violinist can be physically discomforting at times. The man says, "Watch, learn. Listen. I have come to understand, however, that her relations with the musician, whatever they may have been, are now of no importance. This man came into our house when the very air was poison. If it hadn't been him, it would've been someone else. If not jealousy, I would have found something else to obsess over."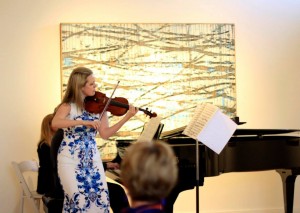 Samuelsen's script follows the music's architecture in exquisite parallels. Moments of ecstasy are interposed with those of rumbling turbulence, an element Beethoven manifested magnificently in much of his music. The music of the 19th Century Romantics could generate beguiling and tempestuous sensations of heroism juxtaposed with defiant misanthropism. An interesting side note is that Rodolphe Kreutzer, the French violinist, was not the original beneficiary of the sonata's dedication. Beethoven had dedicated the sonata to George Bridgetower, who publicly performed the work the first time without any rehearsal at a morning concert –an unbelievable feat but not all that uncommon in the days of the early 19th century. Beethoven removed the dedication after Bridgetower had disparaged the character of a woman whom Beethoven greatly admired.
This is Samuelsen's 10th play being premiered by Plan-B.
Performances will be Sundays and Mondays at 7 p.m. between Oct. 18 and Nov. 9 in the Studio Theatre of the Rose Wagner Center for Performing Arts in downtown Salt Lake City.
Ticket information is available here.