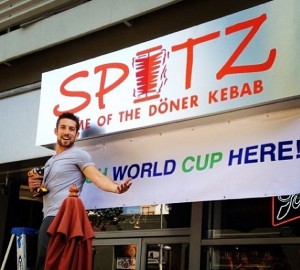 As a Brit living in the states, there's nothing more confounding than America's long standing distrust of football, sorry, soccer. Well, maybe the way my adopted home insists on serving tea with ice – that's problematic too. Side note: tea should be hot, strong and served by the gallon, on the hour.
I understand the skepticism though, some soccer players demonstrate about as much resilience to a full blooded tackle as a dandelion suffering from the duress of a light breeze; plus a game that ends in a draw, yeah, I hear you.
Things are changing for the better (yes better, you heard me!), Major League Soccer and Real Salt Lake in SLC have changed the sporting landscape dramatically over the past decade. It probably hasn't hurt that a certain Jazzy team of perennial under performers has left local sports fans yearning to cheer and celebrate sporting success.
Which brings us neatly to the 2014 FIFA World Cup, which kicks off today in Brazil – a global celebration of 'The Beautiful Game TM'. A number of savvy local businesses are getting in on the party and here are my picks for where you can enjoy this month long celebration in Salt Lake City:
Fiddler's Elbow
Over the past couple tournaments, you would've found me camped out here; more than likely cheering annoyingly one moment before weeping loudly the next – such is the life of an England football fan. Fiddler's Elbow opens early, closes late and is plastered with TV's, not to mention a big screen front and center for the centerpiece games.
You can expect to see every game at this Sugarhouse bar and restaurant which just so happens to have an affordably priced and extensive dining menu, supported by a massive range of beer on tap and a full bar.
Spitz
During the 2014 World Cup Thursday – June 12th through July 16th – Spitz has a special treat. The downtown doner kebab focused eatery is offering free pita and hummus to anyone wearing their teams jersey anytime a game is on. Other specials are promised throughout the event too. Keep an eye on the Spitz SLC website and FB page for more info.
Dick N Dixie's is a bar that wears it's soccer pride on its sleeve. The bar serves as the home base for many an RSL fan – offering a bus to the Rio Tinto on game days for fans to pre and post game. Expect to catch every game here in a great atmosphere not to mention cool signed soccer giveaways.
Gracie's
Catch all the excitement of every World Cup match at Gracie's in downtown SLC. Imbibe from an extensive full bar menu, dine from their gastro-pub styled menu and if the excitement gets too much – pop outside onto their excellent patio to take a breather.
Green Pig Pub
Another downtown pub proudly showing all the World Cup action. The Green Pig Pub is even opening earlier on days with early games too – so you've no excuse not to support your team.
Bourbon House
Another fun downtown bar and also an 'Official Pub Partner of Real Salt Lake', Bourbon House will be opening early for any early kick offs too. Come for the game, stay for atmosphere, full bar and enjoyable pub grub (don't miss the tater tots – no really).
Got any tips for the 2014 World Cup in Salt Lake City? Let us know and we will add them to the list!
Gracies, Green Pig and Dick N Dixie's were all awarded best of our recent best bars in SLC article too.