As noted in the centerpiece curtain raiser, organizers of the 47th Utah Arts Festival have packed impressive numbers of participants into its multidisciplinary programs. The following summarizes the top line highlights. Follow The Utah Review in the days leading up to the June 23 opening for features about the following: 
ARTISTS MARKETPLACE
For example, the Artist Marketplace will have among its largest representation ever, with 177 artists representing many different media forms. This year's marketplace includes 57 who are making their first appearance at the Utah Arts Festival. There will be 101 from outside of Utah. Among the 74 Utah artists are eight who are part of the festival's Emerging Artists program. This year's pool included 581 applicants. The slate includes seven artists who won awards at the 2022 festival.
STAGE HEADLINERS
While there are new faces, there also are some notable retuning performers, artists and filmmakers. Headliners include Lyrics Born, the veteran Bay Area rapper who spent part of his childhood in Salt Lake City, is returning after a dynamite show at last year's festival. His latest release is Vision Board, his sixth solo album. Appropriately, one of the album's most intriguing expressions of self reflection comes through Who's the Best? (Dear Young LB), a lyrical letter to the Tokyo-born artist's childhood self. 
In a 2022 interview with The Utah Review, he talked about his formative years in connecting with rap. "I realized that I could do this rap," LB said, adding that "even at a very early age, people were watching me perform in front of an audience." He learned his artistry on his own, save for clarinet lessons he took in the Berkeley schools. "I was surrounded by so much new hip hop that I realized that I didn't need musical training to do it. It continues to be one of the most accessible self-taught mediums that there is. The accessibility of the low barrier of entry really appealed to me," he explained. Indeed, LB encapsulates the magic and beauty of hip hop perfectly, noting how, as he described it, the music can easily jive with everybody's personal metabolism, appreciating its rawness and discovering naturally its beauty.
In addition to Lyrics Born, other festival headliners include The Greeting Committee, a band from Kansas City with two full-length studio albums and a portfolio of numerous sold-out headline shows in major music markets, along with an appearance in Netflix's To All the Boys: Always and Forever.
Making their Utah debut and heading to the Grand Ole Opry just after their UAF performance, Adeem Maria is a seventh-generation Carolinian, whose songs open up a enlightened path about storytelling in songs from the U.S. South. With Joslyn Hampton and her stepfather, Marty Charters as the creators of a new funk and soul band, Joslyn & The Sweet Compression will make their Utah debut as they continue a national tour, riding the waves of their self-titled debut album, which was released in 2019. Bassist Karina Rykman, known for her work with Marco Benevento's live trio and whose debut single Plants quickly surpassed the one-million mark when it was released in 2019, will make her Utah debut, just ahead of her first studio album.
Other featured stage bands include songwriter-musician Tony Holiday, a former Salt Lake City resident who now lives and performs in Memphis with his band The Soul Service; Los Mocochetes, a Chicano funk band based in Denver; Triggers & Slips, a local band with Morgan Snow, a sixth-generation Utahn, as lead singer and songwriter and Mowth, an indie dance-punk band from Salt Lake City with a female fromt.
DANCE IN MANY FORMS
Utah and Salt Lake City specifically are internationally known dance meccas in all forms of classical, contemporary, folk, acrobatic and avant-grade dance. Eight dance programs on this year's festival slate. There are the familiar hallmarks: Repertory Dance Theatre (RDT), the only group which has performed in every UAF except one. While RDT is preparing for its 58th season, Ririe-Woodbury Dance Company returns to the Festival Stage, ahead of its 60th anniversary.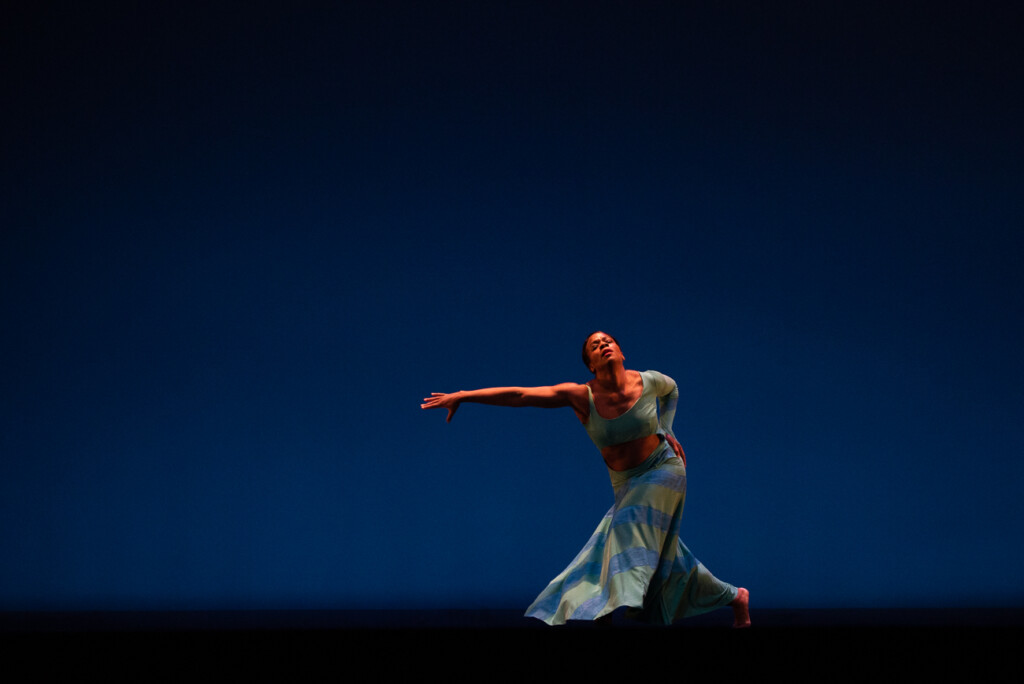 Meanwhile, 1520 Arts, a multidisciplinary hip-hop music, dance and art organization, will return all three days to perform at The Round stage. As mentioned earlier. Carnaval de Barranquilla dance group will be back for a second consecutive year. Junction Dance Company, which was founded in 2018 by Megan Adelsberger, will make its first UAF appearance.
The locally based Flamenco del Lago is a Spanish-trained musical group in which the dancer (bailaora) is also the percussionist, alongside two guitarists and a cantaor (Flamenco singer). Lakshmi Parimala, who is trained in the Indian classical dance tradition of Kuchipudi from India, which has its roots back in the 10th century, is a newcomer to the festival as well. Fresh from Utah Pride, Devoncé (Devan Kinnear), an Utah native, who is trained jazz, hip-hop, jazz funk, dancehall and heels, will perform with vocalist Esther Reina.
LITERARY ARTS (WORDFEST STAGE)
Wordfest (Literary Arts), in its 29th year, continues to grow. In addition to the youth, individual and team slams and a full slate of literary performers representing every imaginable genre, the Wasatch IronPen Literary Marathon returns for the 15th time, as coordinated by the Salt Lake Community College Community Writing Center (CWC). This writing competition is open to adult and youth categories in fiction, nonfiction and poetry, participants will receive their visual prompts at the CWC offices on the Friday of the festival and will have 24 hours to complete their submissions. Winners will read their work on the final day of the festival at the Wordfest Stage.
This year's slam competition brings performers from Utah, Arizona, Nevada and California, including the winning Utah high school team. The CWC, located on the Library Plaza, has revamped and expanded its workshop program. They include workshops about writing about Utah's wilderness within the contexts of environmental conservation and interdependence, travel and nature writing for teen authors, basic and intermediate sessions in creating graphic novels and novellas and the basics of writing and creating a tarot deck. Others explore writing about different sensory experiences including proprioception and balance and understanding echolocation and electroception. Another session explores writing for multimedia and screenplays. There also will be two workshops conducted in Spanish, focusing on Latino and Hispanic American experiences, which will be led by Artes de Mexico en Utah. Other workshops focus on songwriting, its structure and lyrical impacts and  summer romance storytelling, including how to approach narratives about unrequited love, tragic love, fan fiction, slash fiction and any other imaginable romance setting.
There are two state poet laureates as well as a county poet laureate making festival appearances this year: Lisa Bickmore (Utah), Kealoha (Hawaii) and Heather Lang-Cassera (Clark County, Nevada). Among the poetry teams returning from previous years attending Plumas Colectiva, who also will coordinate a BIPOC open mic on the festival's first day; Ghost Poetry Show from Phoenix, Spoken Views Poetry Collective from Reno, and Johnny Osi from Denver. Newcomers include Loud Mouth Poetry Jam from California's Central Valley and the locally based Butterfly Effect teams. Poetry Outloud, made possible by the National Endowment for the Arts and the Poetry Foundation, will feature high school slam poets and spoken word performers.
ART YARD
Forest and Trees comprise this year's Art Yard theme. The venue will have trees and forests, upcycled from common objects, which will be available for young festival goers to add leaves, bark and paint to decorate them. The forests cover common climate zones, including temperate, tropical, boreal and desert. Students from the Wasatch Charter School also have created forest animal sculptures, which festival goers will be able to decorate. Also, Art Yard staff will provide toilet paper rolls so children can create trees for their own tiny forest.
Make and take projects also will be available. Part of the festival's Emerging Artists program, the local nonprofit What's Ya Vibe? will be in the Art Yard providing materials for making flowers and masks. Led by Shalandrea Houchen, the organization's team will provide flowers, branches, paints, oil,pastels and jewels to festival goers to make their own flower or a tribal mask representing Oshun, the goddess of love important to Yoruba-based religions, which originated in West Africa and became part of Afro-Caribbean and Brazilian cultures and spiritual practices.
Various organizations also will have booths for activities including Tree Utah, Craft Lake City, Make Salt Lake, Utah Film Center, Utah Museum of Contemporary Art, Utah Museum of Fine Arts and Visual Arts Institute. An Art Yard staple returns: Summerhays Music Center's Instrument Petting Zoo. Summerhays is the state's oldest family-owned music store, which opened in 1936.
URBAN ARTS
Urban Arts returns in yet another extensive format, highlighting art and music that epitomizes the wider culture of street, graffiti and public art. There is no doubt that Urban Arts' presence at the festival over the last decade has inspired and fostered the growth in large public mural art projects, as well as becoming a force in highlighting multimedia visual and musical artists whose works and performances are frequently found in galleries and venues around Salt Lake City. The slate of more than a dozen DJs will bring live music from EDM (electronic dance music), trap, house, R&B, hip-hop and other genres. There will be a fan favorite, Fat Cap Hat Gallery where patrons can purchase a made-to-order graffiti-style hat.
For the 10th edition of his fascinating color theory experiment in a collaborative public art installation, Mason Fetzer will bring 100 Artists/1 Image, a 20-foot-by-20-foot piece. Festival goers are invited to paint a tile for the installation, which will be completed and revealed Saturday evening.
FEAR NO FILM
The City Library is host to some of the festival's most popular and significant activities. Marking its 20th anniversary, Fear No Film has cemented its reputation as one of the largest international short film programs in Utah.Fear No Film's slate, which will be screened in nine rotating hour-long programs in the City Library auditorium. There are 59 short films representing 21 countries (including the U.S). . With films from countries ranging from Russia and Moldova to Spain, Greece and Turkey and to Venezuela, Chile and Argentina, the Fear No Film slate now has a majority of international short films (59%). Audience members, as usual, will have the chance to vote for their festival favorites, including the 10 Utah films in two programs, for Utah Short of the Year honors.
The slate includes several directors who have either won awards at past Fear No Film programs or have had other selections juried previously. While this year's juried slate has one of the fewest numbers of short documentary films, the narrative and animation categories are the strongest in quality and technical execution for the event's 20-year history. Lovers of horror, dark comedy, thrillers and experimental treatments in story treatment and genre flexing will find many films suited to their respective tastes.
CIRCLES OF INFLUENCE
The Gallery at Library Square on the fourth floor of The City Library will feature Circles of Influence will feature works by six female artists (Sheryl Gillilan, Jaye Rieser, Kandace Steadman, Camille Wheatley, Virginia Catherall and Rebecca Klundt) who explore the natural world's ubiquitous presence of circles in many forms. The artists worked independently in creating their pieces, being inspired by their own circles of influence, signifying how their creative influences have external ripples or internal reverberations. An example of using the library's unique acoustics to produce soaring musical sensations, Random Acts of Opera will return, featuring Jasmine Rodriguez, Utah Opera soprano resident artist, and Nicholas Maughan, Ballet West Company pianist.
For more information and tickets, download the Utah Arts Festival app for free, available to Android and iOS users. There also are links to the UAF's standard website.