For the 12th annual Fear No Film portion of the Utah Arts Festival, curator Topher Horman has crafted seven sequences of presentations in the most imaginative interpretations of the various sources and origins of stories. Each program is described below.
Your Boundaries (June 27, 2 p.m,; June 29, 6 p.m.)
These films, representing our propensity to confront our innermost fears, passions, turmoil and potential either with honest courage or illusory hesitation, traverse as many multicultural boundaries as they do our most intimate ones.
The screening opens with one of the festival's strongest entries in 'Voice Over,' by Martín Rosete, a young rapidly rising cinematic director from Spain, who has woven three scenarios of life-and-death narratives into a compact, dramatic short film. The film explores fears in an abstract yet quickly approachable fashion. One of the most harrowing scenes captures what it would feel like if one was drowning. Miriam Harris' piece 'Warsaw, January 2011,' made in conjunction with Juliet Palmer, pays tribute to her mother's birthplace in an exquisitely poetic work of animation. Her mother, who is Jewish, had fled Europe to Auckland. The film's rich artistry — in collage form and original music — is a definitive examination of how an artists renders a place that she long had held in her imagination.
'The Russian's Machine,' by Spain's Octavio Guerra does something similar to Harris' work, as he uses his new video camera to capture images that will tie him back to his childhood. The experience falls short until he discovers his father's old super-8 footage. Ethan Millspaugh of Germany follows the same artistic arc in 'November,' that stands out for not having a single bit of spoken dialogue but we learn through an omniscient narrative view that the protagonist witnessed a man who died outside of a restaurant on the same day his mother died.
Oguzhan Kaya's Turkish short 'A Perfect Day,' an experimental short which deals in part with the topic of urban ecology and organic agriculture, recently won a prize as best experimental film at the Ankara International Film Festival. A perhaps even more unconventional film comes from the United Kingdom in the form of Mariana Conde's 'C.T.R.L ,' in which a mobile phone app interferes with a young man's quest to make contact with a potential love interest. Conde writes in her artistic statement that, "it's a visionary short. The idea of an app that can control people hasn't yet been portrayed in film and it will add another spark to the discussion of how far we are willing to take technology."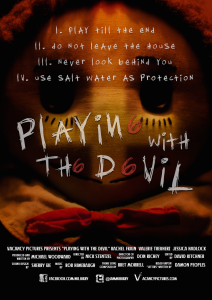 A strong Utah entry leads the closing segment of three films in the screening with Nick Stentzel's 'Playing With The Devil,' which was filmed in Ogden with the assistance of Underfunded Film Productions. The film's eerie dimensions take hold as three young sisters engage in the Japanese ritual Hitori Kakurenbo, or "One Man Tag." Neysan Sobhani returns to Fear No Film with 'Passages',' a follow-up to 'Dimensions,' which screened last year at the festival. The work, using original music in a modern silent film format, chronicles a couple of days in a child's life who is trying to come to grips with a major transforming event in his life. 
Horman closes the screening with a joyful 'palate cleanser' in the award-winning music video treatment titled 'Mulligan's Island,' by Massachusetts' Jeffrey Blake Palmer. Based on the single of the same title by the indie band WeGovernWe, Palmer adds numerous fantasy touches to the dance tune in an interpretation that has won a few awards, including a jury prize at this year's Los Angeles International Film Fest. 
 The Way You See Others (June 27, 10 p.m.; June 29, 4 p.m.)
These films underscore just how common others truly can surprise us, whether it is their courage, their pain, their sense of self-esteem or in their loneliness.
The screening opens with one of the four Spy Hop Productions films which were accepted into this year's festival. 'The Woman Inside Me,' by Alisha Archibad and Kassandra Cervantes, features the story of Dominique Stroni, one of Utah's most prominent transgender activists, whose courage seems to leap off the screen. From Spain, Emilia Ruiz's 'Such A Small World' has struck a powerful chord in its many festival appearances, winning half a dozen awards at international festivals. The story leads to a startling revelation concerning an octogenarian woman who has spent much of her life in recluse. Written and directed by Collin Fracke and Adam Tomashek from Canada, 'Stood Up' concerns a woman who is fed up with being stood up by her man so she decides to pursue her own fun.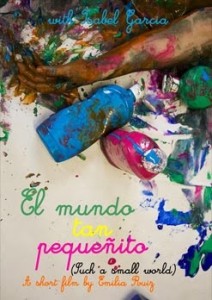 Maria Armanini's '37 Kilogram of Pain' is a sharp piece about anorexia and the consequences of the abuse of one's body. From Australia, Tony Lawrence's 'Holiday' is an experimental short show in black and white super-8 film and then projected through a homemade refraction chamber. The film's subject is a beautiful woman who discovers a new dimension beyond the reflection she sees in the mirror. One of the festival's two selections from Serbia, 'The Needle' by Đorđe Stojljković follows, as a solid example of what the Belgrade Documentary and Short Film Festival has generated. The screening closes with another Spy Hop Production — "Almost Magic,' directed by Mickey Randle with cinematographer Matt Merrill, a wonderfully done mini-documentary about a group of Utah college students who have taken up seriously the passion of playing Quidditch, as portrayed in the 'Harry Potter' series.
Relationships (June 26, 2 p.m.; June 28, 6 p.m.)
Separation and loss of contact carry the most stunning effects in relationships. Consider these films where the revelations are manifested in both humorous and tragic consequences.

Kevin Meul of Belgium, who won Fear No Film's grand jury prize in 2012 with 'The Extraordinary Life of Rocky,' returns with 'Cadet,' a firmly noirish tragicomedy about a 13-year-old track athlete who is being doped with performance-enhancing drugs by his father, who happens to be his coach. Recently, the film won the Belgian Press Award for Best National Short Film at the Brussels Film Festival. The fear and hesitation about separation in a relationship goes full tilt in Hollis Sherman-Pepe's 'Valediction,'  about a woman who just cannot part with her boyfriend who died accidentally. Sherman-Pepe plays the lead in the film, which has nabbed several awards, including audience choice for best picture at the Los Angeles Underground Independent Film Fest. 
Marta Renzi has directed and choreographed numerous films, narrating the stories in dance movements. One of her most recent, 'Her Children Mourn,' tells the story of a brother and sister dealing with the emotional difficulties of a loved's one funeral. From Spain, Ciro Altabás directs 'Bono,' a thoroughly entertaining short about the lead singer for a U-2 tribute band who is refusing to go on stage. A music video from Norway, by Eline Thorp realizes a recent single 'Violence Done Well' from her album 'Mirror's Edge.'
'Four Frames' is a curious entry from France. James Honeycutt, a filmmaker in his 20s from Texas completed his bachelor's degree in filmmaking at an international film school in Paris and has continued his studies at the Sorbonne while working for a television station. His film is about an absurd couple stuck hopelessly in a relationship cycle.
Societal Boundaries (June 27, 4 p.m.; June 29, 2 p.m.)
Some boundaries suddenly seem inane and ridiculous while others, when confronted, lead to hidden feelings erupting in shocking fashion. Others lead to the most unexpected, even liberating, decisions.

The opener should help viewers quickly find their groove for this screening. 'Apple Pickers,' by Nick Douglas and Alex Schmidt, takes aim at that most obnoxious form of poseur who might go ga-ga at pumpkin carving, leaf peeping, decorative gourds, harvest craft beers, and, to round out the usual festivities of the fall season, apple-picking in the park. Er, that is, Central Park. Making a dramatic switch, 'Needle,' by Anahita Ghazvinizadeh, an Iranian-born graduate film studies major, unleashes a torrent of relationship layers in a story that starts simply with a young woman's desire to get her ears pierced. Likely, one of the festival's strongest candidates for the grand jury prize, the film already has won major awards — for example, the Cinefondation Award at last year's Cannes Film Festival. Horman eases things a bit with a palate cleanser in the music video for 'When He Comes Home,' a song by Banditas from their 'Save The Rats' album, which is directed by Ben Phillippo.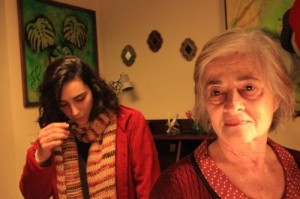 The other major dramatic standout in the screening is 'Drops of Smoke' from Brazil by director Ane Siderman, which represents a huge breach of conventional societal boundaries when a woman who lives alone in her apartment decides to help her neighbor during a personal crisis. Horman follows that up with two quick music videos from contrasting sources – Holly Sider's 'Crucivixen' from West Virginia, complete with body modifications and piercings, and 'It's Too Late' by Serbian DJ Dragan Roganović, also known as 'Dirty South.'
The screening ends with a snarky yet effective sendup of today's Occupy and protest movements in '#Democracia Real,' an entry from Spain directed from Chedey Reyes and written by Paco Sanchez. 
Artistic Boundaries (June 27, 6 p.m.; June 29, 8 p.m.)
The essence of Fear No Film is that no territory is off limits. Every boundary, visible or not, is fair game for creative expression. There are no dark spaces to apologize for, as artists transcend even technical limits and scarce resources to narrate compelling tales.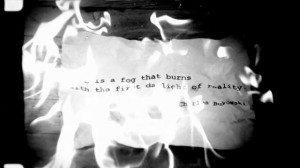 'Tag,' a short directed by Aneil Karia and written by Katherine Chandler, turns a playground game into a game of individual will and determination. 'Thomas Stellmach of Germany has created a beautiful piece of video art in 'Virtuoso Virtual,' which incorporates orchestral and operatic music to give life to strokes of ink being applied in abstract ink drawings. The animation is elegant and majestic. Stellmach is an exceptional artist with many awards, including the 1997 Academy Award for Best Animated Short, which was 'Quest.' A solid piece of experimental film work is demonstrated in Emanuele Michetti's 'Love in The City' from New York, an award-winning 16-mm piece about love and its absence. The film is the first installment of a trilogy. Good filmmaking can be made for pennies, as evidenced in the Canadian entry 'One Little Accident Away' by Jeff Gladstone. This delightfully noirish video was made on a $13 budget.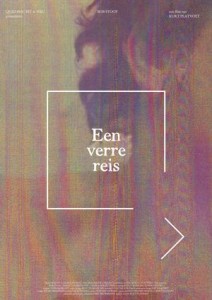 One of the most interesting entries in the festival comes from Kurt Platvoet of The Netherlands, 'A Journey Far Away.' No dialogue is spoken in the fictional film about an elderly man who runs a small bookshop and starts losing his limbs without any explanation. Desperate because no one can satisfactorily diagnose this disease, the old man is invited by another elderly man, a wealthy individual who also suffers from the same affliction. It is during his visit where he learns that there is a cure for the disease — derived from a plant that is found many miles away.
'Slit Scan Tango,' by Robert Logan of Illinois, is a stylish video that is a bit raw in its use of effects by shows a woman entering a different world where she cannot ignore the compulsion to dance. The closing entry in the screening is David Pantaleon's 'Safer in The Dark,' a film from Spain where one of three friends during an outing where they are hunting, admits he has never killed an animal.
Global Boundaries (June 26, 4 p.m.; June 28, 2 p.m.)
As much as we take comfort in believing that all humans share universal beliefs, desires and emotions, how often do we forget that crossing boundaries willfully ignorant can not only be risky but also can lead to unhelpful and unproductive misinterpretations that might not ever be reconcilable.
The few mini-documentaries that are in this year's festival are exceptional for their poignancy. One comes from Germany, in which Eric Esser's 'Chaja and Mimi' follows Chaya Florentin and Mimi Frons, who fled from Berlin to Palestine in 1934. In a  Tel Aviv cafe, they reflect about their relationship to Berlin. Equally fascinating is Yannis Zafeiriou's 'Meaning of Life' who asked nearly 100 individuals, friends and colleagues seven questions about how they see meaning in their lives. From the responses, he culled a script that asks compelling questions about how each of us, despite our cultural and social distances, decides to define our lives and their meaning.
As Daniel Goldberg suggests in the New York short he directed, 'The Master Cleanse' which might also be described as 'Rosemary's Baby meets Portlandia.' The story is set in a Brooklyn commune about two friends who decide to have a love affair. Goldberg, who considers David Lynch to be among his major influences, suggests that the master cleanse is not your typical juice mixture. Likewise, the film pokes good fun at the Park Slope cultural fascination with yoga and body healing.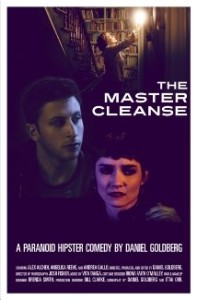 Another worthy documentary is Virginia Manchado's 'Modou Modou' from Spain that gives a tight, well-informed overview of the migrant rights issues from the perspective of Africans who have moved to Europe in the hopes of finding a thriving economic livelihood. One of the best horror entries for this year's festival comes from Portugal by Basil and Rashad Al-Safar in 'The Jigsaw' about a strange puzzle and the final piece that completes the picture. Closing the screening is 'Understated, Overstepped,' a Spy Hop Production by Gabriella Huggins, Mary Elizabeth Morgan and Ola Yungai, examining the taboo of the N-word from the perspective of black residents in Salt Lake City.
Historical Boundaries (June 26, 6 p.m.; June 28, 10 p.m.)
Memories and souvenirs are as powerfully metaphorical as they are physical and tangible. In our quest to preserve our identity, we are confronted with deciding just how much of our past we can carry in new ventures.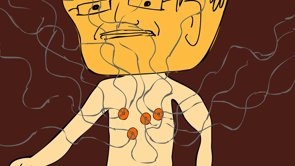 Yunus Yildirim's film from Turkey, 'Lame Lambs' is a strong opener for this screening. It is a powerful statement in the form of a fictional narrative concerning a Kurdish nomad who makes a difficult decision about his brother's widow and his nephew as they try to carry out their lives in Kurdish territory. From Minnesota, John Akre has put together a short animation piece titled 'The Morning I Almost Died' which chronicles a heart episode that sent him to the hospital in the early morning hours one day. Ken Glaser, who has recorded under the moniker Glaserbeam a wide spectrum of music incorporating influences of classic rock, folk and alternative rock, flavored with pop, classical and minimalism, makes videos for various songs and one of his latest 'It Doesn't Make Sense' is an ideal candidate for this particular category of "Boundaries' films. 
The larger sociocultural meanings of tourism is explored cleverly in 'Souvenir' by Gerardo Carreras of Spain. The director brings to life movies his father shot in the super-8 format, even long before Carreras was born. He juxtaposes the images from both generations which comprise a deeply intelligent, approachable lesson about how we imagine and fashion memories of our vacations and leisure travels.
Music videos have proven to be of solid quality among this year's festival selections. The Canarian band The Moustache, whose members live in Berlin, offer a video of 'Momentary Dystonia' one of the tracks from its album 'Botón Elemental.'
Closing out the screening is an impressive entry by Dallin Cerva, who graduated last year from Brigham Young University's media arts program. In 'Your Cocoon and You,' two roommates who also are best friends are coming to terms that soon they will be separated as one is engaged to be married. However, one day the roommate finds the potential bridegroom  unconscious and hanging from the ceiling enveloped in a gigantic cocoon. The man emerges from the cocoon sporting an impressive set of wings and the two must decide what to do before the wedding day.
Fear No Film KIDS!
Once again, Fear No Film has slated a series of half-hour screenings customized to meet specific age group interests. And, in curating the selections, Horman turned once again to his children to confirm the selections. Indeed, these films have been thoroughly kid tested for approval.
For ages 3 and up: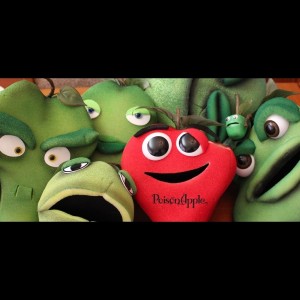 From France comes 'LAMI,' a charming bit of animation by Christophe Defaye about a boy 'La' who meets a girl 'Mi' and they become friends, soon discovering ways to expand the melody of their newfound friendship. Last year, Fear No Film audiences were charmed by Gwyneth Christoffel's 'A Recipe For Love,' and the Canadian director returns this year with 'A Purrfect Pair,' about a cat and dog who give friendship a chance.
Looking for a fresh perspective on a classic fairy tale? Dana Neves 'Poison Apple' takes the view of the apple in a smart retelling of the classic Snow White tale. The screening closes with Alvaro Granados' "Eideann,' a story from Spain set in the 1300s about a Scottish shepherd and how one of the sheep becomes one of the greatest pioneering entertainers of all time.
For ages 8 and up:
What if choosing between Superman and Batman could be a deal breaker for a young couple falling in love. Sasha Fox's  'SuperDate' follows two teens who finally meet after months of exchanging texts by phone and discover that their personal superhero preferences could doom the relationship even before it blossoms. Following is a sensitive, mature film by United Kingdom's Alex Campili, a 16-year-old filmmaker. In 'For Them,' he explores the sacrifices one makes for another who is loved unconditionally. In Thomas Schultz's 'Kickstand,'  bullies get their comeuppance after a suburban boy decides to reclaim his stolen bike.
Do not let the title 'Regione Caecorum: "In The Land Of The Blind,"' distract from Drew Goldsmith's simple-stop motion animation which carries a powerful punch in theme. It turns on its head Erasmus' take on the proverb "in the land of the blind, the one-eyed man is king." The Wisconsin filmmaker suggests that those with normal vision might be the ones who are truly disabled.
In the French animation short by Damien Stein, 'A Ride Towards The Sea' tells the story of a character who sets out to liberate fish and ocean objects so they can return freely to the sea. The final film is 'Black Rock Creek,' by Malone Lumarda, about a young girl on a mysterious creek side walk. Lumarda just recently graduated from high school in Monrovia, California.