A tremendously diverse, logistically solid venue, the City Library will have perhaps its most extensive presence ever at this year's Utah Arts Festival with the 40 in 117 exhibition featuring work from Utah artists representing the last 40 years from the state's Alice collection established in 1899, numerous visual arts and musicians' workshops, performances of operatic arias, and, of course, the entire schedule of screenings for Fear No Film as well as the premiere of the chamber music commission.
"We are really lucky to be a part of The Utah Arts Festival because both of our missions share the ideals of hands-on learning and exploring every type of creative expression," says Debbie Ehrman, acting director of the Salt Lake City Public Library. "This big celebration demonstrates perfectly what the builders hoped for in designing a large gathering space for the community. And that many of the activities are free and open to the public fits perfectly with the mutual desire to provide as wide an access to the arts and culture as possible."
The library campus, which opened in 2003, has become a strategically important place for the festival's greatest phase of growth.
As in previous years, the fourth-floor Gallery at Library Square will be the location of the featured exhibition, which celebrates the festival's 40th anniversary with selected works by Utah artists of the past four decades from the Utah Division of Arts & Museums' 117 year old Alice Art Collection. The state collection was started in 1899, thanks to a bill drafted by Alice Merrill Horne which was passed by the Utah Legislature (see tomorrow's The Utah Review for a feature about the exhibition).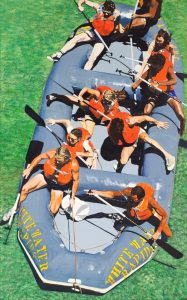 The library's special collections room, also on the fourth floor, is the center of numerous visual arts workshops, which require advance registration because of limited class sizes and a small fee to cover art materials. Professional artists lead the workshops, which are tailored to even accommodate individuals who have never tried their hands at making art. For registration information, see here.
Sculptor Brent Hale will lead a workshop where participants will use non-baking professional clay, which dries to hard by air, to make their own pieces (June 23, 1-3 p.m., $25). Mary Wells will demonstrate how to make a leather-bound journal using fine paper (June 24, 1-3 p.m., $25). Participants also will have the opportunity to learn the classic Japanese shibori techniques using a dye vat of natural indigo to create simple designs on a silk scarf and a cotton bandana (June 25, 9 a.m.-4 p.m., $30 including fabric and dyes). Lisa Chin will demonstrate how to make prayer flags, incorporating surface design techniques with fabric paint, stencils, stamps and handwork (June 25, 1-3 p.m., $25).
Among the activities in the Library Atrium will be Random Acts of Opera, featuring Utah Opera artists, including baritone Markel Reed, soprano Clara Hurtado Lee and pianist Emily Williams, who will perform "randomly" on Thursday, Friday, and Saturday (June 23-25) at noon and 1 p.m. Each performance features three sets in the Library Atrium.
This year's festival also will feature activities and performances from two prominent Utah musical associations, including the Intermountain Acoustic Music Association (IAMA), which is making its third festival appearance, and newcomer Utah Blues Society.
IAMA's Song School Academy will hold a series of five song writing clinics on Friday, June 24, beginning at 10 a.m. in the library. On the festival's last day (June 26), Sierra Hull, one of the festival performing headliners, will conduct a mandolin workshop at 4 p.m., also in the library. The workshops will be led by musicians who also will be performing during the festival, including Hal Cannon, Cori Connors, Kate MacLeod and Michael James Greene. Spaces are limited to 20 per clinic session. For registration information, see here.
The Utah Blues Society will offer three workshops in the library where participants will be able to obtain or make their own instruments. Dennis Gruenling, one of the world's most widely known blues harmonica player who also will be performing during the festival, will lead an hour-long workshop in which participants will receive a harmonica along with an instructional booklet. Space is limited to 100 (June 25, noon, $20).
James Major will lead an hour-long session on making bottleneck slides along with demonstrations and a slide guitar lesson (June 25, 1:30 p.m., $20). Space is limited to 40. Gus Wheeler, Connell Crook and Jordan Young will demonstrate how to build a cigar box guitar while offering tips on how to play the instrument participants have made (June 25, 2:30 p.m., $20). Space is limited to 20. For registration information, go here.
The library's Urban Room on the main level, popularly referred to as the community's living room, will feature numerous activities sponsored by the Art at The Main Gallery. All demonstrations are free and open to the public.
They include Caryn Feeney, who will demonstrating painting by using only three pigments with pouring, blending and negative painting (June 23, 11 a.m.-1 p.m.); Mary Pusey who will lead a session for kids on how to paint with tempera on watercolor paper (June 23, 1-3 p.m.; June 26, 11 a.m.-1 p.m.), and Brent Hale will show how to sculpt animals from clay, including dragons, elephants and monkeys (June 24, 11 a.m.- 3 p.m.).
Others include Sandy Williams on still life painting techniques in oil media (June 25, 11 a.m.-1 p.m.) and Bill Reed will demonstrate how to create an acrylic abstract on large canvas (June 25, 1-3 p.m.).
The festival's closing day (June 26, 1-3 p.m.) will feature a demonstration workshop with Christine Kende on fused glass art focusing on crushed and powdered glass painting. Participants will be able to make their own paintings with alcohol inks on sandblasted glass, as purchased for a nominal fee.
The Library Auditorium always is a welcome respite from the heat. Fear No Film will screen in a rotating schedule its seven program slates of 56 short films, each lasting approximately an hour, throughout the festival. In addition, two nightly screenings of the seven films in the Utah Short Film of The Year competition always draw standing room only audiences. The screenings are free and open to the public.
In addition, the June 25 premiere (at 4 p.m.) of the festival's chamber music commission will take place in the auditorium. This year's commission features Randy Bauer's Five Grand Micro-Adventures, which will be performed by The Vertigo Ensemble, with Andrew Rindfleisch as music director. Bauer, a composer and accomplished jazz pianist is associate professor of music at Macalester College in St. Paul, Minn. (watch for a preview of Bauer's work later this month at The Utah Review). The program also will include new contemporary chamber music by Brian Ferneyhough, Stephanie Ann Boyd, Timothy Beyer and Clint Needham.