Works by two prominent American composers along with a precedent-setting chamber piece for pianos and percussion by one of the 20th century's greatest composers and three of Chopin's most exquisite nocturnes for piano will comprise the opening concert for NOVA Chamber Music Series' 42nd season.
The Night Music concert also is the first being programmed by NOVA's new music directors, members of the Fry Street Quartet, which also continues its residency at Utah State University. As highlighted in a feature last spring at The Utah Review previewing the new season, NOVA's revolutionary move offers an opportunity to leverage the collective personalities of the quartet's members in innovative ways: Robert Waters, Rebecca McFaul, violin; Bradley Ottesen, viola, and Anne Francis Bayless, cello. The concert will take place Sept. 15 at 3 p.m. in the Libby Gardner Hall on The University of Utah's main campus.
In one tangent, the 2019-2020 opener resembles last season's first concert, programmed by Madeline Adkins, which was curated with the theme of The Road to Night. In their own take on Night Music, the Fry Street Quartet signals the beginning of its own equally thrilling journey for NOVA audiences.
Twilight Music, a trio for horn, violin and piano, is part of this year's opener. Composed 35 years ago by John Harbison, the chamber piece epitomizes a compositional approach he developed and which has become quite common in 21st century works. As composer Robert G. Patterson summarizes concisely, Harbison's "recipe mixes non-traditional triadic progressions, lyric chromaticism and rhythmic patterns taken from pop music."
Harbison, now 81, is one of the most prodigious American composers. Twilight Music came shortly before he received two significant honors that any creative artist would appreciate. This included the Pulitzer Prize in 1987 for The Flight into Egypt, a cantata which had been submitted for consideration by his publisher (Associated Music) without his knowledge. Two years later, he received one of the MacArthur Foundation Fellowship awards, more familiarly known as a genius grant. Harbison also is among the most engaged advocates for other composers, especially for the 13 years he served as president of the Aaron Copland Fund for Music.
The Chamber Music Society of Lincoln Center commissioned the work, which Harbison, in his own notes, indicated that "such virtuosity as possessed by these artists allowed me to write with reckless subtlety for instruments which I heard meeting best under cover of dusk."
In a 1990 Los Angeles Times feature article, he was quoted, explaining to an interviewer for a cable television show, "that his work appears simple, but 'has been known to fool people.' He has a complex oboe piece he begs people not to play, he said, adding that one player played it at Aspen and fainted and another required aerobics to build up the strength to play it. So he 'sort of shelved it. You have to challenge but you have to be within the realm of reward.'" To wit: Twilight Music underscores NOVA's well-branded fearlessness in programming music that challenges performers sometimes even more so than in connecting to audiences who often hear these exemplars of contemporary complex music unexpectedly as natural and approachable.
Women composers were featured frequently in NOVA concerts last season and the trend continues this year, with the first example being Gabriela Lena Frank, 46, and her trio for flute, clarinet and piano, Canto de Harawi: "Amadeoso", which was composed in 2005.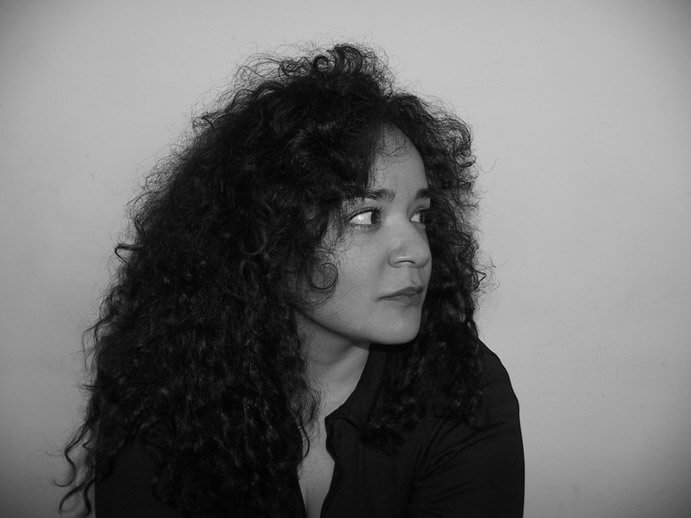 This tone poem emanates from the composer's Peruvian heritage and her childhood dreams about meeting Mozart, as inspired by her love of the Amadeus film, which was released when she was 12. As mentioned last spring at The Utah Review, Frank is an American whose family roots include Peru, Lithuania and China and she has noted that this work "attempts to portray my childhood dream where I walk hand-in-hand with Mozart, passing through such unlikely scenes as my old backyard garden, a deserted playground, and an ominous cavern that frightened me during a family camping trip." Her musical roots embody many dimensions, such as classical (Mozart, Bach and Beethoven), Peruvian and Andean music featuring the charangos and pan pipes and Lithuanian-Jewish interactions with her paternal grandmother.
Frank, whose passions for photography match those for music, earned the enviable distinction of being invited at the age of 30 to have her music published exclusively by one of the most prestigious in the industry, G. Schirmer, Inc. It is that type of visibility which leads to numerous commissions and requests to perform and record a young composer's work with some regularity, definitely a part of Frank's successful career. Schirmer's executives do not make these choices capriciously. The publisher has signed some of the best known modern composers at roughly the same age as Frank, including John Corigliano, Samuel Barber and Gian Carlo Menotti.
Frank joins that trend. For example, last season, Frank led four composer residencies across the U.S., including performances of her recent works as well as large-scale commissions: composer-in-residence with the Philadelphia Orchestra through 2021, visiting artist-in-residence at Vanderbilt University, a composer residency with the Pensacola Symphony Orchestra and the featured composer for the Orchestra of St. Luke's Music in Color concert series.
The Fry Street Quartet always has maintained an intimate relationship with the music of Hungarian composer Béla Bartók (1881-1945). Over the course of two earlier NOVA seasons, the group performed an atypical but most enlightening cycle juxtaposing string quartets composed by Franz Joseph Haydn and Bartók.
However, the Bartók work for this season opener does not feature any strings but is the first of its kind as a composition set in three movements for two pianos and two percussion, the Sonata for Two Pianos and Percussion, completed in 1937.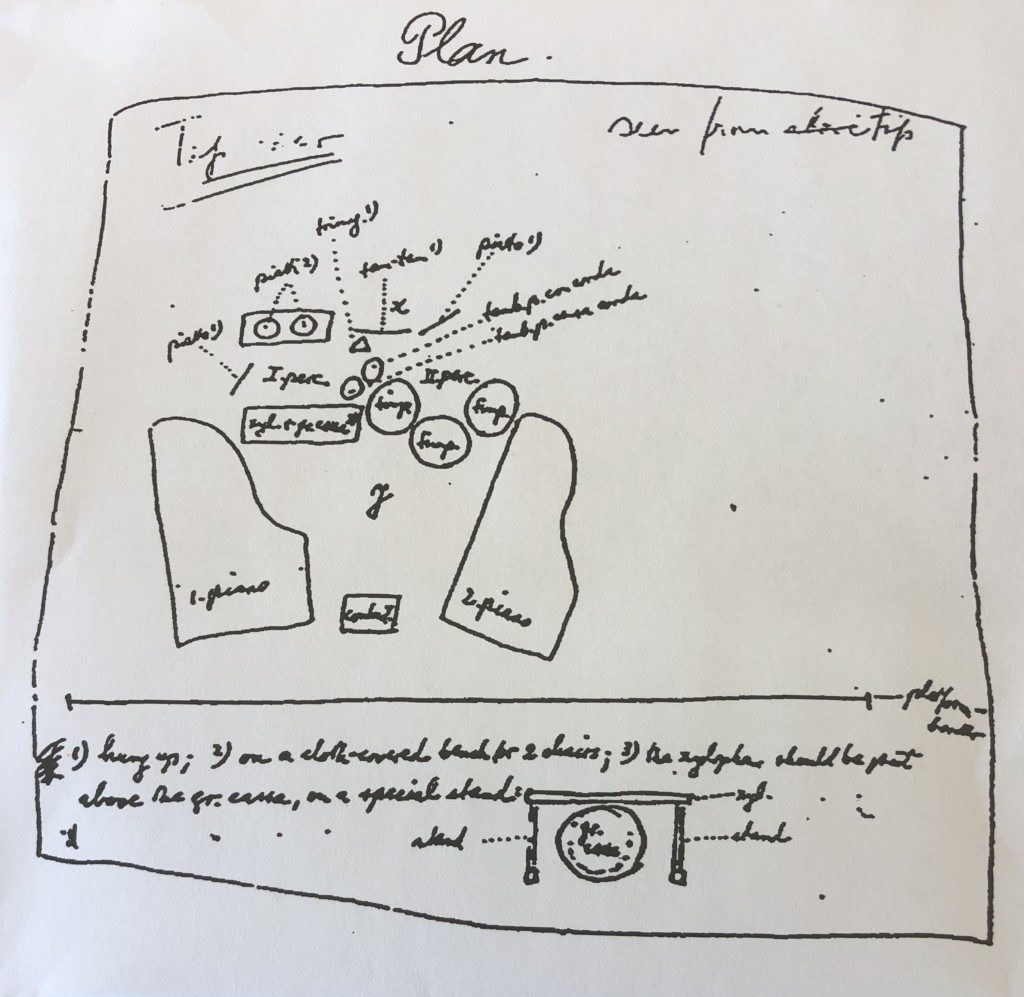 Eighty years after its premiere, the score retains all of its innovative character. The work is scored for four performers (two pianists and two percussionists), who play seven instruments between them: timpani, bass drum (gran cassa), cymbals, triangle, snare drum (on- and off- snares), tam-tam (gong) and xylophone. In an accompanying essay, Bartók explained why he decided not to title the work as a quartet: "The final title, Sonata for Two Pianos and Percussion, was given in case two percussionists are not enough. A third performer may perhaps also be needed, so that the 'quartet' may turn into a 'quintet'."
As customary with many of his compositions, he was precise in his instructions, which includes the stage layout for the work (as the image portrays). He was so meticulous, even indicating the type of stick to be used in striking a specific spot on the suspended cymbal. There even are markings asking for a pen-knife blade or fingernail. The piano takes on effects suggestive of percussion.
This work came during a major period of creative productive energy for the composer, unquestionably signifying the culmination of how he developed his musical language. This included a pair of commissions from the Basle Chamber Orchestra. The first was the phenomenal Music for Strings, Percussion, and Celesta, completed in 1936, which the commissioning orchestra had requested specifically. For the second commission, Bartók was allowed to choose whatever form he wanted.
The three short Chopin nocturnes to be featured come from different phases in the composer's short 39-year lifespan. Chopin was 17 when he wrote Nocturne in E minor, Op. 72, No. 1, but the work was published in 1855, six years after his death. Apparently, he was not satisfied with the quality at the time of its composition. Opus 9, No. 1 came in Chopin's early twenties, and reflects the composer's freedom to break out of traditional rhythmic patterns in keyboard music. Opus 27, No. 2 in D flat major was completed in 1836, when Chopin was 26 – a masterpiece of keyboard ornamentation. Audience members likely will recognize various musical quotations from these extraordinary miniatures, which have been featured variously in films from the 1970s onward including The Secret Garden, Tombstone and The Spy Who Loved Me along with other examples of pop culture.
Featured performers for the concert include pianists Jason Hardink (NOVA artistic director emeritus) and Frank Weinstock, percussionists Keith Carrick and Eric Hopkins, violinist Claude Halter and flutist Lisa Byrnes.
A short pre-concert talk will take place at 2:30 p.m. Tickets for the concert are available at the NOVA Chamber Music Series website, along with information about the Libby Gardner Series and the Gallery Series for the 2019-2020 season.