THE POST OFFICE
In the fading daylight, Ash (Alexis Bitner, Olympus High School) tells the others surrounding her bed, "I can see the courier riding down the narrow road that winds like a ribbon through the trees. She's traveled that road many times, a lantern in her hand and a bag of letters on her back. She climbs down and down, where the foot of the mountain becomes a waterfall that becomes a stream that becomes a brook. And she takes the footpath on the riverbank and cuts through a field of rye, and then a field of sugarcane, and then an open meadow where crickets chirp. I can feel her coming closer."
It is a magnificent moment in the excellent production of The Post Office, featuring a cast of high school students representing immigrant, refugee and citizen communities at Cottonwood, Granger, Kearns, Olympus and Taylorsville High Schools – all in the Granite School District.
Personally, it also was a moment that sparked an unexpected emotional reaction. Ash is gravely ill but has become obsessed with the idea of exploring the world. She is awaiting the queen's courier to deliver a letter. Surrounding her bed are Maddox (Elaia Echeverria, Cottonwood High School), her foster caretaker, and Badger (Carter Wagstaff, Cottonwood High School). Earlier, Badger tells Ash, "You can conquer any ocean, but it takes faith in the unseen and belief in one's self. Your aunt, and the doctor… They believe in science and sitting quietly. But sometimes a good adventure can cure anything." In a moment that truly was moving to see, Ash talks about how she would go to the Queen to become a courier so "that I may travel the country delivering letters on your behalf. I'll do anything as long as I don't have to stay inside all day."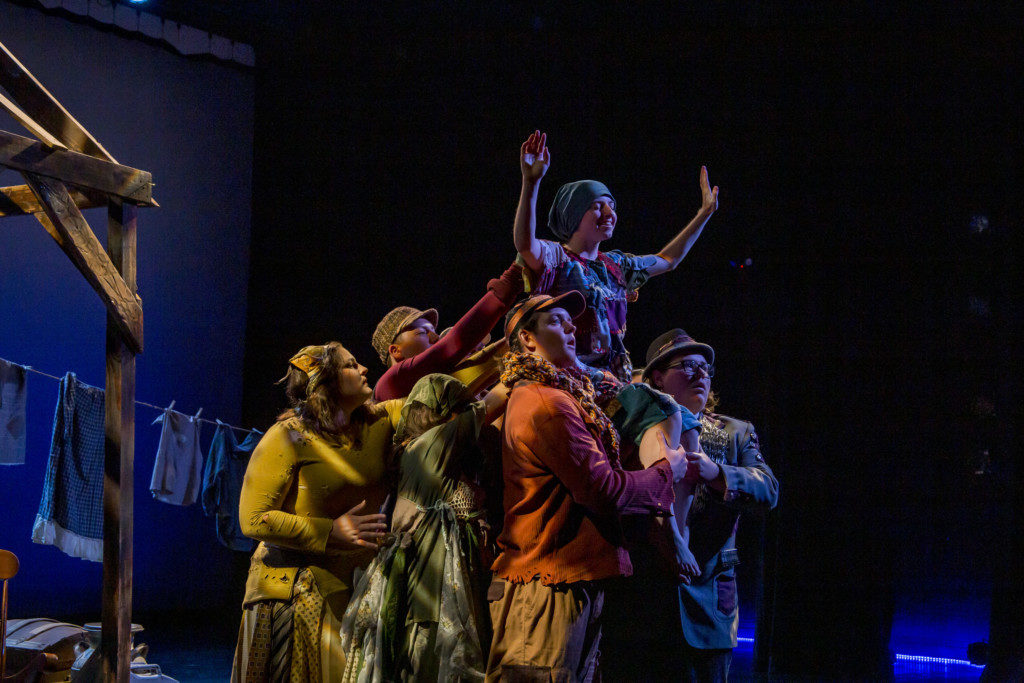 Playwright Melissa Leilani Larson's exquisite translation – a more appropriate term than adaptation – of Nobel Laureate Rabindranath Tagore's (1861-1941) most famous play flows with elegant, accessible symbolism. And, as the story progresses in the one day it takes place and as daylight begins to dim, the cast finds its best rhythm in performing this marvelous script.
Sometimes theater can embrace openly its political voice and animate the quest for truth to power. In others, it can be so intricately crafted that its nuances emerge in the right moment. Listening to Ash, one recalls the children in cages in concentration camps, separated from their loved ones because anti-immigration forces in our federal government unashamedly emphasize just how cruelty is the point. One imagines how many families have to hide with their children in fear or how many have become ill and died in detention. We are saddened they never will have the opportunity to experience what it would be like to run free and realize their dreams of adventures in a land where they hoped to be welcomed as newcomers.
Written in 1912, Tagore's original Bengali drama, as translated in English by W. B. Yeats, teemed with symbolism that foreshadowed the dream and commitment to India's independence and break from British colonial rule. Larson impressively translates the story to an unspecified time and location while finding the right pitch to accentuate the universal tone of Tagore's symbolism in her script. Literary critic Shalini Yadav wrote that "Tagore's symbols and images are charged with profound intimations." The same can be said for Larson's 'translation.'
The premiere performance indicates the young actors, too, understood the inimitable potential of the literary tools so effectively designed by Larson and conveyed by the production team. Bitner, Echeverria and Wagstaff bring a finely tuned interpretation of the symbolism in their respective roles as Ash, Maddox and Badger, respectively. In her various appearances throughout the play, Sarah D'Anella (Cottonwood High School) effectively conveys the multi-layered symbolism in her character, the Stranger.
Directed by Adam Wilkins, Cottonwood High School drama teacher, the 55-minute production is a part of a quintessential civic collaboration, bringing together Plan-B Theatre, the Granite School District, Gandhi Alliance for Peace and the United Nations Association of Utah. An equally perfect note: All of the proceeds raised from the premiere run of five performances benefited Adopt-A-Future, a program of the United Nations Association, providing direct support for refugee education at the Kakuma refugee camp in Kenya.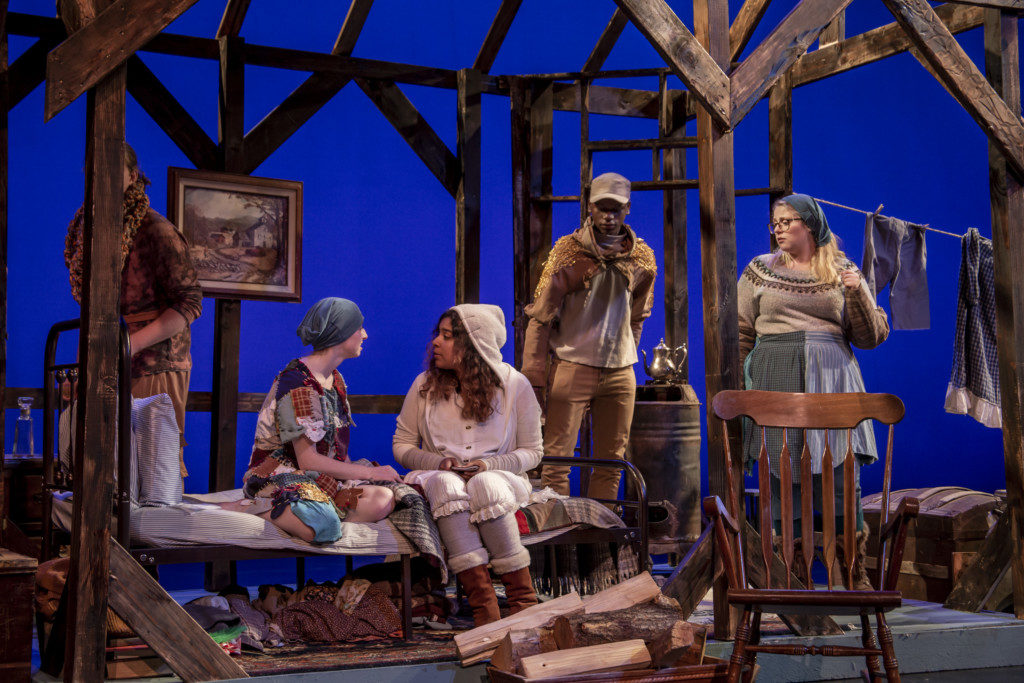 Clearly relishing their respective roles, the cast included Kaplan Keener as Doc (Cottonwood High School); Melainey Isaac as Cheese Seller (Taylorsville High School); Hunter Oliphant as Soldier (Cottonwood High School); Andrew Pankey as Sheriff (Cottonwood High School); Emily Tippetts as Sage (Cottonwood High School); Jevahjire France as Herald (Cottonwood High School) and Tyrah Sanchez as Royal Physician (Cottonwood High School)
In addition, several major production roles include a student assistant. For costumes, Maddiey Howell-Wilkins was assisted by Caitie Neilson (Kearns High School). For lighting design, Pilar Davis wss assisted by Angela Larson (Granger High School). For set and props design, Madeline Ashton was assisted by Zach Scarborough (Cottonwood High School). For sound design Cheryl Cluff was assisted by Travis Fullerton (Granger High School) and for stage management, Roey Howell (Weber State University) was assisted by Zoe Fossen (Cottonwood High School). There also was a student dramaturge: Mason Turton (Cottonwood High School). Graphic design was by Addison Welch.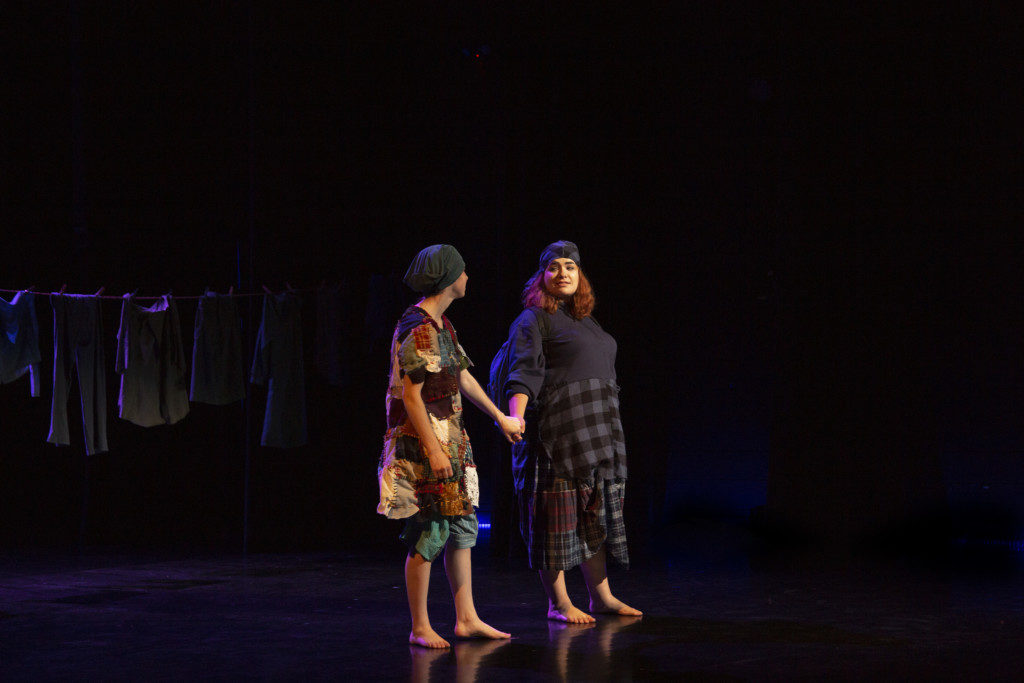 In a time where outrage and frustration are so loudly vocalized and rightly so in many moments, The Post Office reveals how simply and beautifully a genuine sense of humanity can be restored within an hour along with a message whose power is amplified by its understated nuances.
The play also will become part of Plan-B Theatre's In The Classroom project, which augments and expands upon the ongoing live theater offerings of its fellow Free Elementary School Tour (FEST) program.
ROSE EXPOSED!
The idea of social media trending might have been one of the easiest concepts for the six resident companies of the Rose Wagner Center for Performing Arts to realize in their performances for the 8th annual Rose Exposed! show.
However, to do it in such expertly synchronized thematic unity was a significant accomplishment. Every company delivered a superb take on the theme and most of the offerings were created the day of the performance.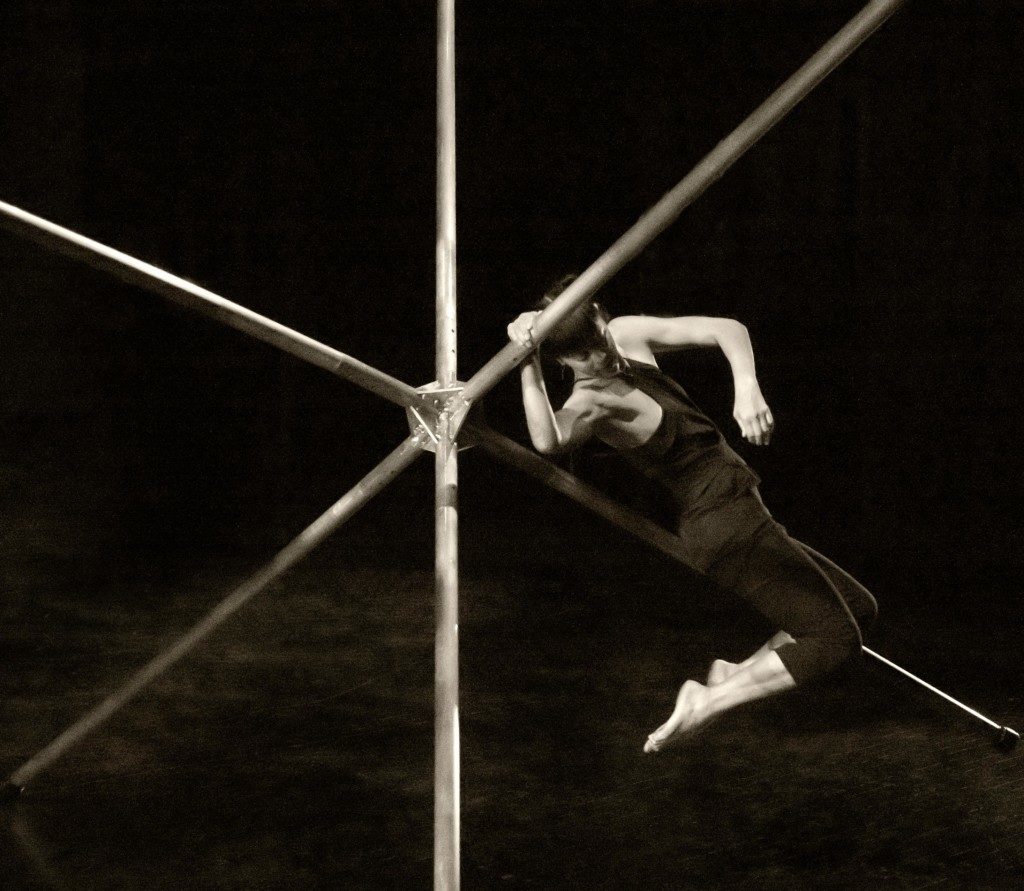 Smart choices were the mainstay. As customary, the Gina Bachauer International Piano Foundation anchored the musical through-line with pianist Peter Klimo, a Hungarian-American pianist who was a finalist in the 2018 Bachauer International Artists Competition. Klimo enhanced his role wonderfully throughout the show with several non-musical moments, including a brief elegant slow dance with Nathan Shaw to bookend SB Dance's contribution to the evening, created by Stephen Brown. To the accompaniment of Liszt's Bénédiction de Dieu Dans la Solitude, SB Dance's choreographed theatrical piece was voluptuous pleasure superseding the relentless cycle of our social media obsession.
This was a genius selection because while Liszt is known for unloading tons of virtuosic fireworks in his solo works, this particular piece is not as well known as it should be. It is a stunner of meditative beauty and one that the composer likely wrote not for the purposes of a concert recital but for his own spiritual nourishment. SB Dance's interpretation was the perfect contemplation on the value of "me time" or "alone time," with dance artists Shaw, Christine Hasegawa, Annie Kent, Arielle Hassett and Eliza Tappan.
The muscular, earthy character of piano works by a trio of Hungarian masters — Bela Bartók, Ernő Dohnányi and Liszt – kept the pace throughout the show. Klimo's solo moments imbued the pieces with the right natural touches of his own ancestral roots. And, then there was the Repertory Dance Theatre, which had the first movement (Allegro Vivace) of Beethoven's Piano Sonata No. 2 in A major, Op. 2, No. 2, a piece known for its bright keyboard athleticism. With RDT's well established reputation for flawless execution, the Beethoven work became the canvas for a rip-roaring, hilarious take, developed by Nicholas Cendese and Daniel Higgins as choreographer and director, respectively. The cute playful opening of the dancers imitating Klimo's keyboard work was interrupted when Olivia Custodio, whose new short play premiered later in the program, stood up in the audience to ask what was the dance's connection to the theme.
The company called Linda Smith, its executive and artistic director, to the stage, who explained that it was treading. Smith eventually realized that she had misheard the theme and announced that she would retreat to her office with some sharpened pencils, a paperback and a quarter for a phone call to rework it. Of course, the dancers stepped up immediately and, with visuals of captures from Twitter #hashtags as backdrops, proceeded to continue swapping out costumes and props, as appropriate. This included pool toys and beachwear (including water wings and flippers), props for #foodporn and fashion including drag, leather and sequins.
It was fabulous choreographed comedy with the right hints of Cirque du Soleil and Les Ballets Trockadero de Monte Carlo thrown into the mix. The dancers, a tight-knit group as ever, set the high bar for the evening: Jaclyn Brown, Daniel Do, Higgins, Elle Johansen, Jonathan Kim, Tyler Orcutt and Ursula Perry.
Offering its through-line creation for the evening, The PYGmalion Theatre Company provided brief snippets in between the other pieces as #TRENDING (1847-2027), written by Julie Jensen, directed by Fran Pruyn and acted by Tamara Howell and Barb Gandy.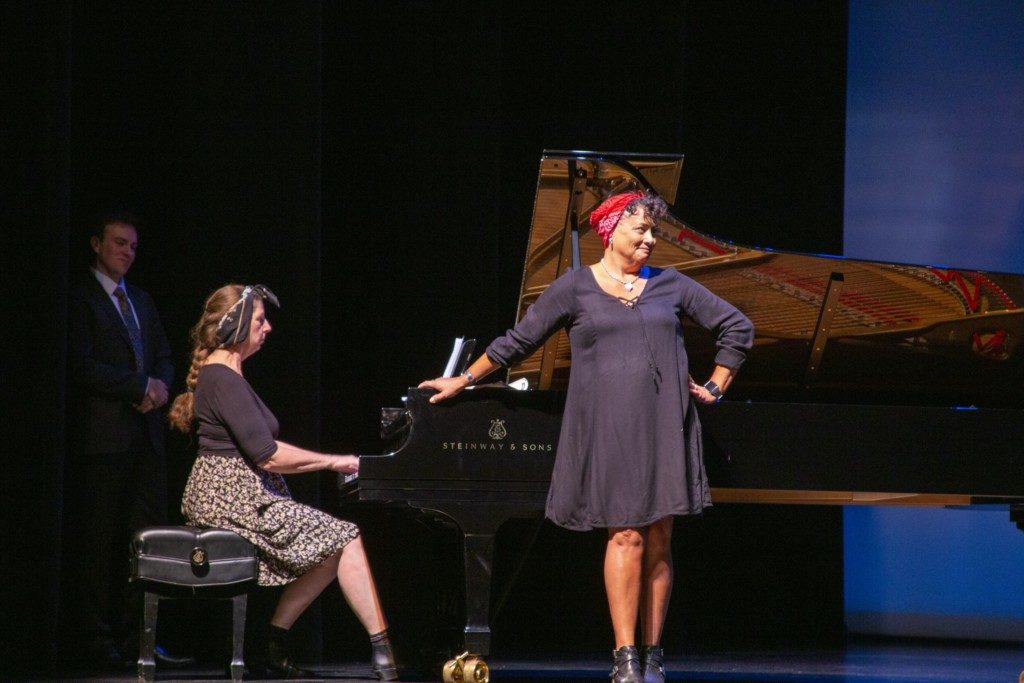 Each snippet was filled with the saucy, spicy and honest-to-goodness insights of Jensen and various musical selections marking the different eras. They touched on Mormonism, women's rights, Utah politics, national politics and even the well-received 2027 prediction of an all-female U.S. Supreme Court deciding to uphold the current president's prison sentence.
Rounding out this clever sociopolitical take was the performance with Gandy's straight-faced posture and sober countenance along with Howell's exuberant call to arms, coupled with cabaret-style singing. Their props coincided with the specific eras and augmented the sharp sociopolitical comedy that percolated throughout the entire range of snippets. This included Gandy's washboard accompaniment to the 19th century Let Us All Press On by Evan Stephens (Hymn No. 243 in the 1985 English-language edition of the LDS Church hymnal) and the maracas on Copacabana by Barry Manilow, Jack Feldman and Bruce Sussman (1978).
From Plan-B Theatre, Custodio's 10-minute play premiere of Bombastic Blue rocked the house with plenty of laughter. But, this playwright's gift also is leavening the comedy with the right touch of dark sober realizations without skipping a beat. It's tightly written and the three actors, Latoya Cameron, Jay Perry and Emilie Starr, bring out every worthy bit of this miniature gem in a production directed by Morag Shepherd.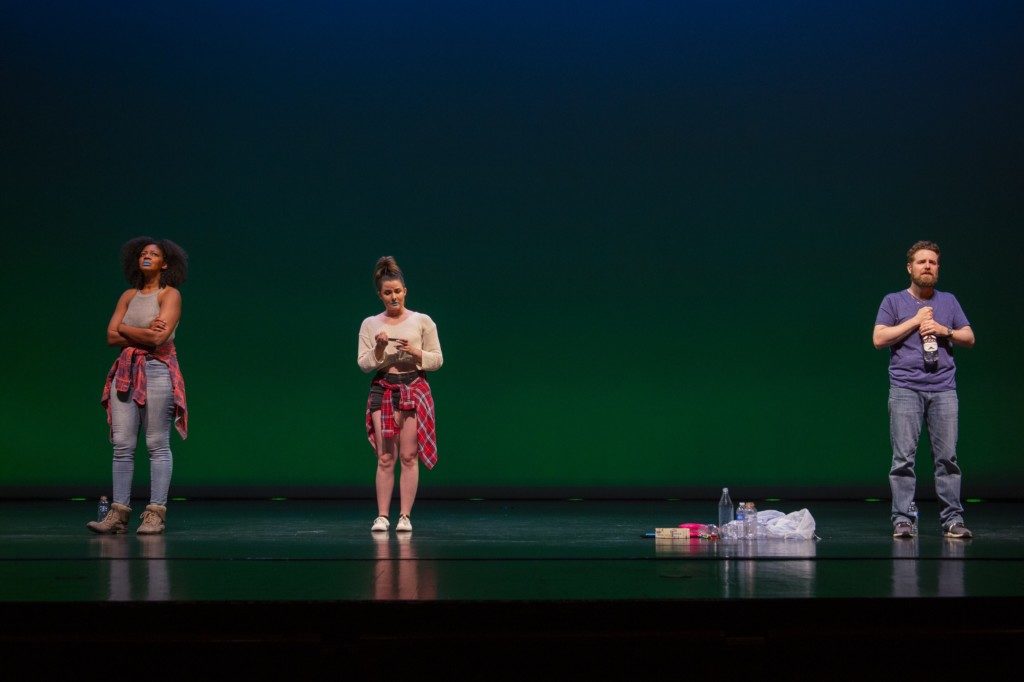 Fred (Jay Perry) and Julie (Emilie Starr) are in an underground bomb shelter after the dreaded nuclear attack has occurred. Fred is considerably older than Julie and both are a couple of sorts but they could not be more different than imagined. Fred is completely distressed, wondering how he could have missed signs of the apocalyptic attack when he stayed as informed about the news as possible and constantly shared posts on Facebook. He avoided plastic straws and used paper bags. He ate kale.
Julie's surprisingly positive attitude frustrates Fred. First, she marvels about the irony of having an expensive tube of lipstick with the color identified as "bombastic blue" and how she and her date (not Fred) won first prize at a "famous couples" costume party for going as Jack and Rose from the Titanic film.
The actors elucidate the contrasts spot on in their performances. Fred worries about toxic air, indiscriminate murder in the open and rolling tanks. Julie's? "People could be wearing overalls. Ugh. They are so in right now and I don't understand it." This drives Fred to more frustration: "'In right now?' There is no 'in.' There is barely a 'right now.'"
Fred also underestimates Julie. He is convinced that she is only interested in her Instagram account and how many likes she gets for a photo. When he discovers that Julie's mobile phone is still functional and she has been trying to fetch a signal, he assumes that she only is interested in social media. The truth, of course, is that she has been trying to locate a signal for outside contact.
An even more significant truth is Julie's own pragmatism: "What did re-sharing political articles on Facebook get you? I lived my life as a social butterfly and you lived yours as a beige slice of Wonder Bread– a cheating, mouth-breathing financial analyst. And guess what? We're both here. You and all of your friends ragging on my generation. Who do you think is responsible for our destruction? Certainly not the millennials! Get over yourself. I enjoyed my life; can you say the same?"
Fred seems even more hopelessly lost when Dolly (Latoya Cameron) arrives. She had been in another bunker and decided to venture out to search for her sister, despite the risks. Fred and Julie are the first survivors she has encountered. Julie welcomes her immediately. Dolly is simpatico with Julie: "And quite honestly, if I had a choice between dying alone on the side of the road or dying underground with a bottle of vodka and a flawless makeup application, I know which I'd pick."
Near the end of the play, Custodio inserts the stage direction for Klimo to play the musical selection: Liszt's Transcendental Étude No. 12 in B♭ minor, also known as "Chasse-neige." It's the perfect parallel. In a well-known edition of this particular set of etudes, composer Feruccio Busoni described it as "the noblest example, perhaps, amongst all music of a poetizing nature – a sublime and steady fall of snow which gradually buries landscape and people."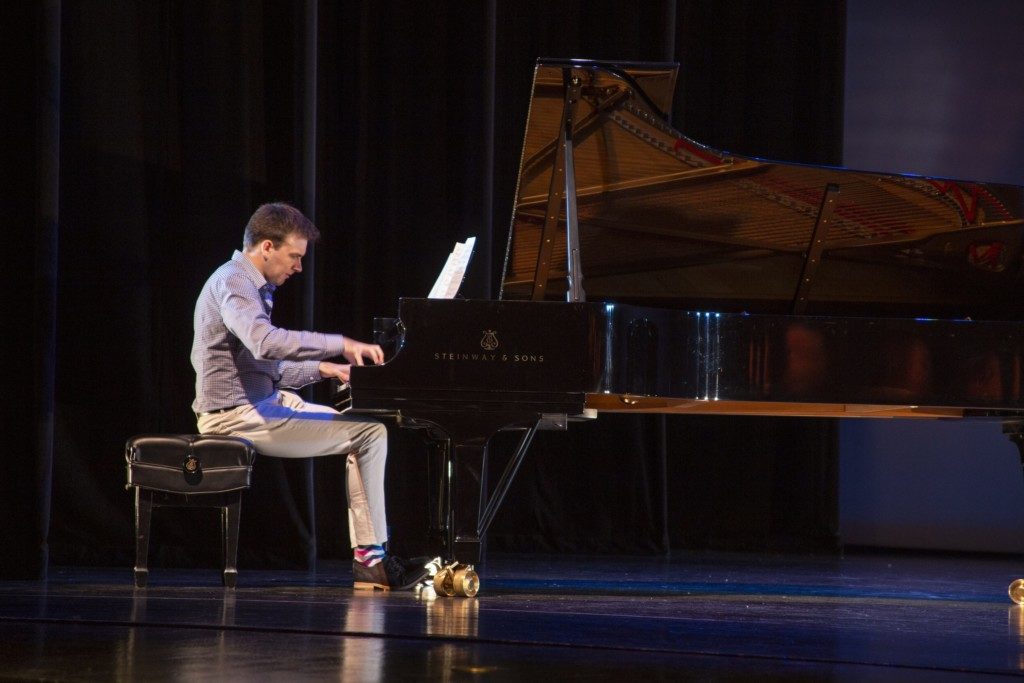 Julie speaks Liszt's own line in translation: "I carry a deep sadness of the heart which must now and then break out in sound." And, then it returns to a quick bit of dark comedy to end the play.
The six dancers of Ririe-Woodbury Dance Company gorgeously captured the invigorating array of pantomimes that propel Bartók's Three Burlesques, Op. 8c, written during the composer's younger years and completed in 1911. The piece was choreographed by Daniel Charon, the company's artistic director. Dressed in business wear with some carrying folders and papers that were in constant motion, the dancers translated the character of each of the burlesques – quarrel, slightly tipsy, molto vivo – to the modern-day world where being on top and plugged into the competition mean recognizing every trend in social media and knowing when a new one arrives to replace the previous buzzing topic.
The dancers (Dominica Greene, Nicholas Jurica, Megan McCarthy, Brian Nelson, Bashaun Williams and Melissa Rochelle Younker) were clear, delightful and convincing in replicating the character of Klimo's live playing in their movement interpretation.
Bartók wrote in 1909, as cited in Judit Frigyesi's excellent 1998 book about the composer in Budapest at the time, true art comes from the experiences and impressions absorbed from the surrounding world. He wrote, "It is strange that in music the basis of motivation has so far been enthusiasm, love, sorrow, or, at most, despair – that is, only the so-called lofty feelings. It is only in our times that there is place for the painting of the feeling of vengeance, the grotesque, and the sarcastic … the music of today…extends with honesty to all real human emotions without excluding any."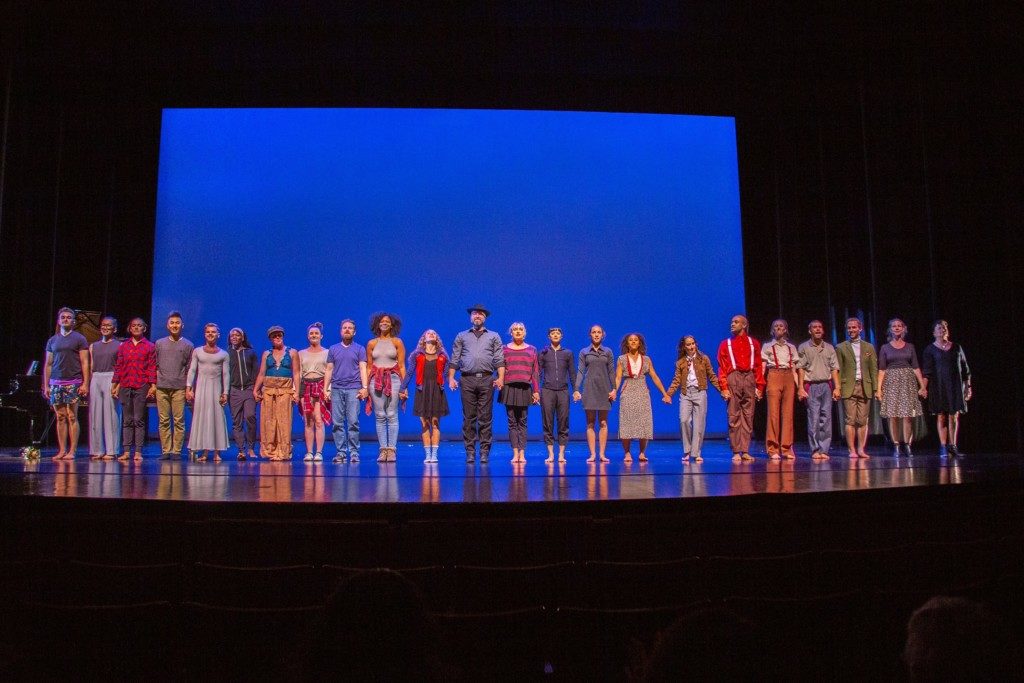 As a sampler for the quality of creative expression that these six companies will bring in their respective seasons, beginning this fall at the Rose Wagner center, the 2019 edition of Rose Exposed! was an outstanding example of the honest representation of the whole range of human emotions that the young Bartók described.