The remarkable Sackerson theater company's latest production A Brief Waltz in a Little Room: 23 Short Plays about Walter Eyer is one of the most incisive renderings of the consequential meanings and impact of a sense of place in Utah.
Since Utah was settled more than 170 years ago, an all-abiding cult of perfectionism has shadowed, disturbed, frustrated, challenged, inhibited and even devastated ordinary individuals struggling to find their personal place of joy and confidence in a land originally settled as an oasis of safety, promise and provenance. To preserve it, especially in the most gingerly fashion, we relent to performing the identities we perceive that align with prevailing social norms. Occasionally, the struggle is so overwhelming that some of us surrender ourselves to the most unnatural and damaging calls to conversion.
In breaking from practically every standard logistic of theatrical convention, A Brief Waltz presents the unorthodox opportunity – frankly, brilliant beyond expectation – to transform what has been destructively judged as and perceived to be a moral failure into an emancipating expression of self.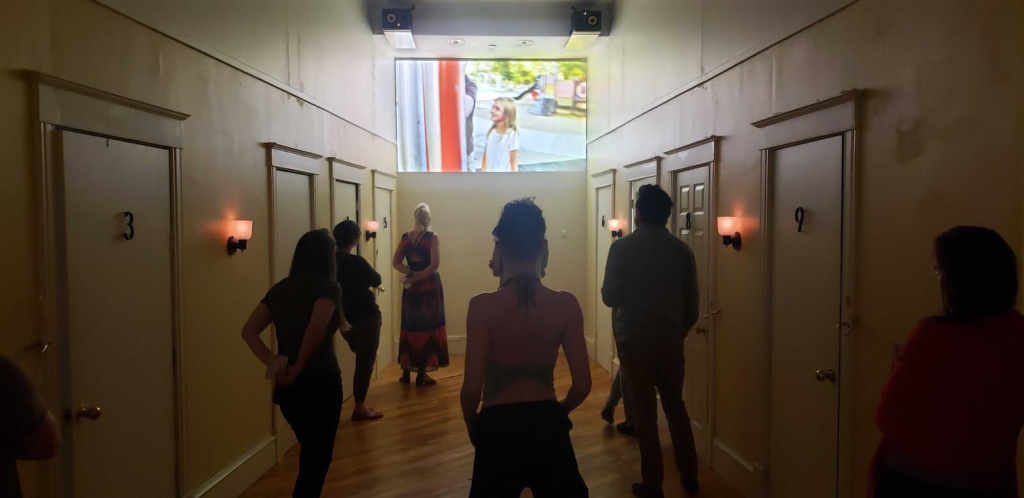 However, the most extraordinary part of this experience is that each individual is immersed and, in fact, steps into the realm of 'becoming' Walter Eyer. As mentioned in an earlier preview published in The Utah Review, Eyer is a forty-something Mormon man of familiar circumstances and conventional means but also who is embroiled in his own identity crisis.
The audience, limited to just 10 members for specific reasons that gives the performance its full spectrum of emotional impact, is introduced to Eyer (Robert Scott Smith) at the beginning with a short film projected on a wall in the back of the Urban Arts Gallery of the Utah Arts Alliance at The Gateway, the show's venue. The audience convenes together in only three brief instances: the opening, the entr'acte and the conclusion.
After the opening, each individual 'waltzes' through each of 10 tiny rooms in randomized order as indicated on a card, which they check off with a Sharpie (in Act 1) or a hole punch (in Act 2). The calculation of randomized probabilities virtually assures that every member will see and participate in A Brief Waltz in their unique way.
There are so many surprises in the play that justifiably cannot be described in detail because of the unique structure that encompasses the 23 short plays and how each individual essentially creates their own experience in engaging with Eyer's life and story. Personally, it was a panoply of emotions – jarring, intimidating, vulnerable, humbling, empathetic, weirdly arousing, rueful, contemplative, puzzling and strangely uplifting and liberating. And, the impact of this theatrical experience has yet to be fully processed.
This is not a minimalistic show. The scenes in each room have been designed specifically to signify key moments and incidents in Eyer's life. Because they do not ever occur in any chronological order, it is fascinating to consider how each audience member absorbs and interprets the nature of each scene.
There are just three scenes in each act with live actors and the relative infrequency of their appearance is startling enough but then one realizes just how emotionally potent those roughly 18 minutes of live actor appearances in a one and a half hour performance become. Other scenes incorporate audio or video. Some are presented in silence or with minimal lighting, sounds or voice-over, occasionally with instructions for the audience member to follow. Regardless of the randomized order, continuity and clarity emerge gradually as the experience progresses. The story's core anchoring A Brief Waltz is straightforward, as indicated in the recently published preview.
The show is masterfully coordinated. Each scene is timed to begin and end at nearly the same time. Once a scene is completed, music comes up and each individual goes to the next room, as instructed by their card, marks it and waits for a chime to enter the room. The rhythm of the show is crafted beautifully, as one does not have time to process immediately the scene they have just experienced.
Playwrights Morag Shepherd, Matthew Ivan Bennett and Shawn Francis Saunders wrote the 23 scenes. The waltz metaphor matters as a significant creative point. As a familiar reference, the waltz is a highly structured dance form with the flourishes and whirls that engage its participants in harmony, moving toward a delightful destiny or conclusion. However, each of us also has our own symbolic waltz – sometimes with our bodies, more often with our minds and, in the most consequential moments, both.
How do we waltz when we are challenged by our innermost galaxies, as they evolve and attempt to cope with the turbulences we tried to suppress for fear of being discovered by others who demand order and perfection? How does our own waltz compare to the life dance that Walter Eyer has made? On the outside, our dance partner might smile, convey a stoic confidence and appear happy. But, our inner dance partner might also have become cheerless, empty and superficial. It's a dance that all of us might engage in, at one time or another, particularly when a consequential event or life decision faces us. A Brief Waltz opens a door for each of us to confront the collisions of superficially bright surfaces and dangerous undercurrents in our own lives.
Actors include Robert Scott Smith, Brenda Hattingh, Claire Stucki , Emily Nash, Holly Fowers, Jesse Nepivoda and PJ Volk. Joining Shepherd and Mortensen as directors will be Jamie Rocha Allan, who is now based in the U.S. after completing the master of fine arts degree in theater directing at Birkbeck College in London. Designers for the rooms include Cara Pomeroy, Adam Day, Brookelyn Morgan, Dan Evans, Heather Paulsen, Iris Salazar, Madeline Ashton, Sophia Luker and Spencer Potter.
Produced by Shepherd, Dave Mortensen and Alex Ungerman, A Brief Waltz is being mounted with Umbrella Theater Company and additional support through the Utah Arts Alliance (UAA) and the Salt Lake City Arts Council.
There are double casts for this 90-minute production (scheduled to run through Oct. 5), given that there will be eight performances each weekend: two on Thursdays at 7 and 8:30 p.m. and three each on Fridays and Saturdays at 6, 7:30 and 9 p.m. This means only 80 audience members will be able to see the show during any given weekend of the production run. As a trigger warning, Sackerson advises audience members that one scene involves conversion therapy. Also for those who might suffer claustrophobia, the rooms are small spaces (measuring six feet by eight feet), some of which are dark or dimly lit.
Tickets for the performances are available through the Sackerson website. As audience size is limited for each performance, Sackerson advises individuals to purchase tickets for desired dates and times as early as possible. Additional performances may be added throughout the run, depending upon demand. Occasionally the company will offer a performance in which any audience member can receive one or two tickets free. This will be announced with a discount code for each opportunity.