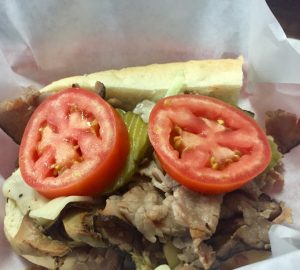 The Philadelphian sandwich shop is proof that you don't have to have fancy digs to produce great food and a large fan base. Locally owned and operated since 1988 by Scott and Nate Pearson, this strip-mall gem is a favorite among Sandy residents. Just try getting a table at lunch time–customers are often packed in tight.
No frills might be an understatement. The diner-esque space is pretty old school. The open kitchen allows you to watch your foods being prepared as you wait, as every order is made fresh. The service is friendly and as fast as they can handle with the limited amount of space they have and the number of customers that come in on a daily basis.  The place is a buzz with chatter from customers and the cooks preparing food. Simple yet satisfying on many levels.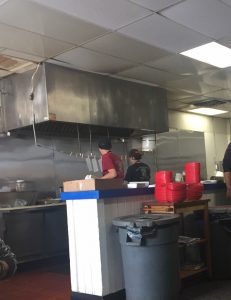 The menu offers both hot and cold sandwiches in addition to a variety of fried foods.
Sandwiches come in either four ($4.45) six ($5.45), eight ($6.45) or 12 inches ($9.70). Options for cold sandwiches include Krab, avocado and sprouts, a ham and cheddar cheese, a turkey, a club and a variety of Italian meats. The vegetarian option is loaded with green peppers, onions, mushrooms, two kinds of cheese, avocado and sprouts.
Now on to the hot stuff. The good 'ole fashion Philadelphian steak sandwich is of course the number one seller on the menu, and with good reason. The thinly slices steak is sautéed with mushrooms and onions and then topped with a generous amount of Provolone cheese. This tasty combination is piled onto a soft, sub roll that is has an ample amount of mayo on each side. In addition, you can get lettuce, dill pickles, raw onions, hot peppers and tomatoes. The other top-selling fan favorite is the pastrami. Thin layers of spicy beef are sautéed to perfection then smothered in Provolone cheese. Same condiments apply, although a touch of mustard is recommended. If these two hot sammies are satisfying your cravings, there is a hearty French dip, a barbecue beef and even a meatball sub.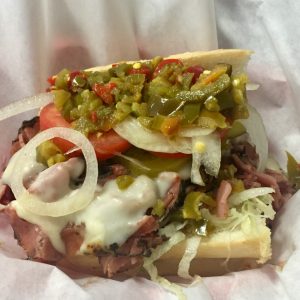 Party size sandwiches are also available with 48-hour notice. They offer a three-foot ($56), four-foot ($66), five-foot ($76) and six-foot ($86).
You might have a difficult time passing up their fresh cut fries, homemade onion rings or the fried mushrooms whether you dine in or take out. They are just the right balance of crispness to greasiness. And true to a locally owned and operated Utah eatery, they have fry sauce for your dipping pleasure.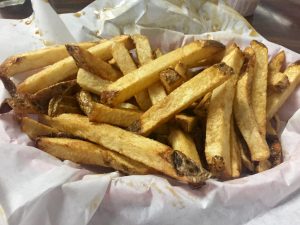 Several options are offered for kids too. A PB&J sandwich ($.99) or any four-inch sandwich, kids size fries and drink ($6.45). Mini corn dogs and chicken tenders are also on the menu.