Utah Opera kicks off its 2016-2017 season with one of the most beloved and often-performed productions–Carmen.
Bizet's opera Carmen is a spectacular work, brimming with fiery passion, ceaseless drama and memorable music. Utah Opera's 2016 production is a solid and straightforward telling that is pleasing enough, but falls a bit short of greatness.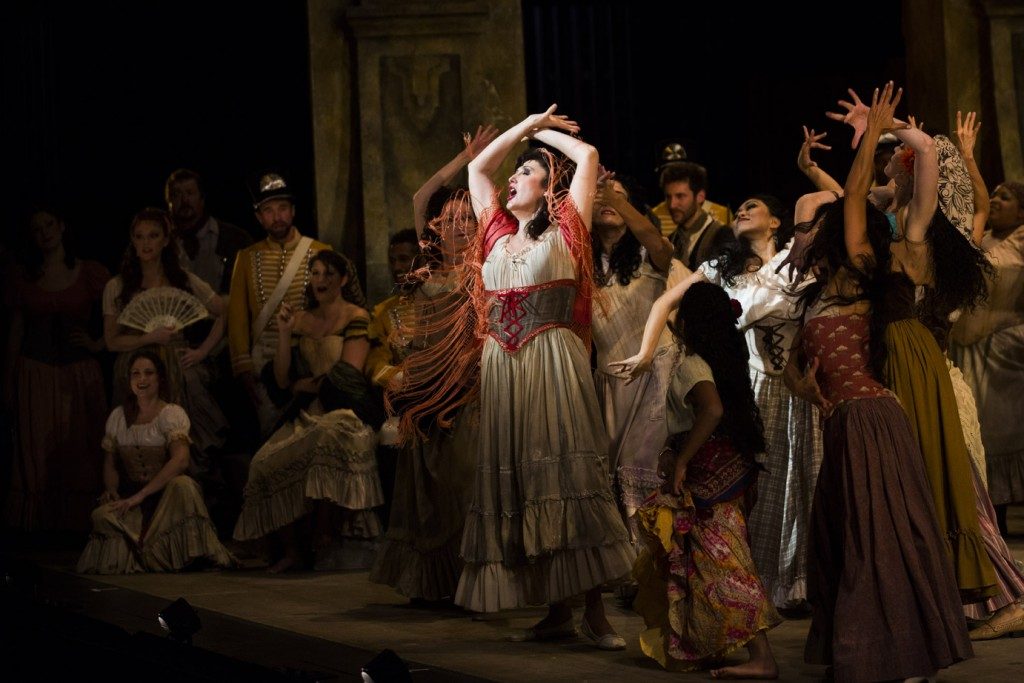 Carmen follows the tale of a gypsy woman, Carmen, and the love triangle between her current conquest — Don Jose, a soldier — and her future conquest, Escamillo, a toreador. Elise Quagliata, as Carmen, was a pleasure to listen to and portrayed the iconic title character with a great deal of depth. Dominick Chenes, who played the infatuated Don José, also brought a great voice to the stage. Unfortunately, their lukewarm chemistry left something to be desired, and more believable romance could have elevated this production into something great. Christian Bowers, as Escamillo, had great chemistry with Quagliata, however his voice on opening night was not as strong as others in the cast.
In this production it was really the smaller parts and choruses that stood out. Sarah Tucker portrayed an absolutely riveting Micaëla, balancing lovely tone and delivery with a well-rounded character of virtue, beauty and gumption. The smugglers quintet (Nous avons en tête une affaire) featuring Quagliata along with the current Utah Opera Resident Artists Abigail Rethwisch, Sarah Coit, Markel Reed and Christian Sanders was a highlight. Their delivery as a group was bright and energetic. Both the Utah Opera Chorus and The Madeleine Choir School children's chorus were in great form.
Tara Faircloth's direction worked quite well, giving the opera more comedy in the first two acts than I am accustomed to, which was a pleasant surprise. And her translation of the libretto for the supertitles was very poetic, and a joy to read. The set worked very well for most of the opera, but the third act in the mountains could have been better served with a change of scenery.
Utah Opera's Carmen continues through October 16, 2016 at the Janet Quinney Lawson Capitol Theatre. Tickets can be purchased at utahopera.org or arttix.org
Editor's note: Enjoy cocktails inspired by Bizet's Carmen at local Salt Lake and Park City restaurants as part of the Utah Opera's Libretti & Libations collaboration. More details can be found here.