As part of its artistic residency at Westminster College's school of music, the Red Desert ensemble, the duo project of clarinetist Katie Porter and composer/percussionist Devin Maxwell, will present a blockbuster sampler of contemporary music including a world premiere by Maxwell and music by Stockhausen, Cage, Xenakis and Tenney along with works by 21st century composers Johannes Kreidler and Lucie Vítková.
The concert is part of a fascinating multifaceted residency focusing on 21st century opportunities for creative entrepreneurship that features workshops on new music technology and the philosophy of risk taking in creative endeavors; a symposium on electronic, improvised and experimental music; and a spring 2020 concert featuring new works commissioned by Red Desert. The upcoming concert will take place Oct. 28 at 7:30 p.m. in the Vieve Gore Concert Hall in the Jewett Center for the Performing Arts on the Westminster College campus.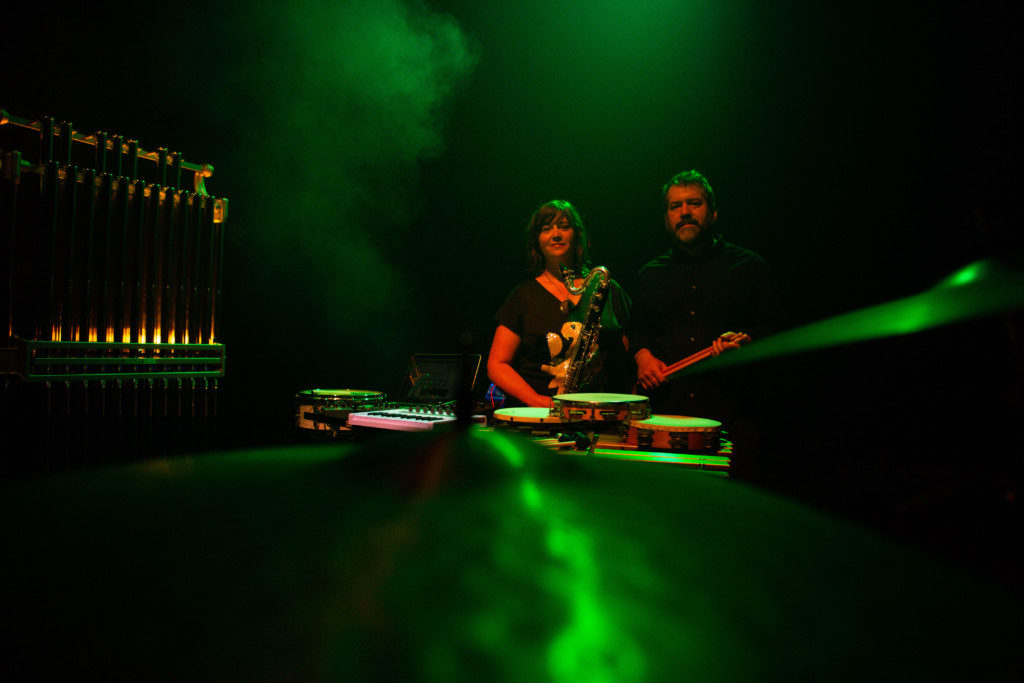 As in recent Red Desert concerts in Salt Lake City, Porter and Maxwell have programmed an ambitious slate that emphasizes how new music actually is accessible and approachable and offers as compelling and enriching a listening experience as any other music.
Among the works to be featured is Karlheinz Stockhausen's (1928-2007) TIERKREIS Melodies, which Red Desert has arranged for clarinets and percussion – an appropriate first course for this event. Completed in 1977, Stockhausen developed this work from an earlier composition Musik Im Bauch (Music in the Belly) that incorporated 12 clockwork music boxes. Each box contains a melody Stockhausen composed to associate with a sign of the zodiac. Various recordings of these melodies have been described as jazz standards.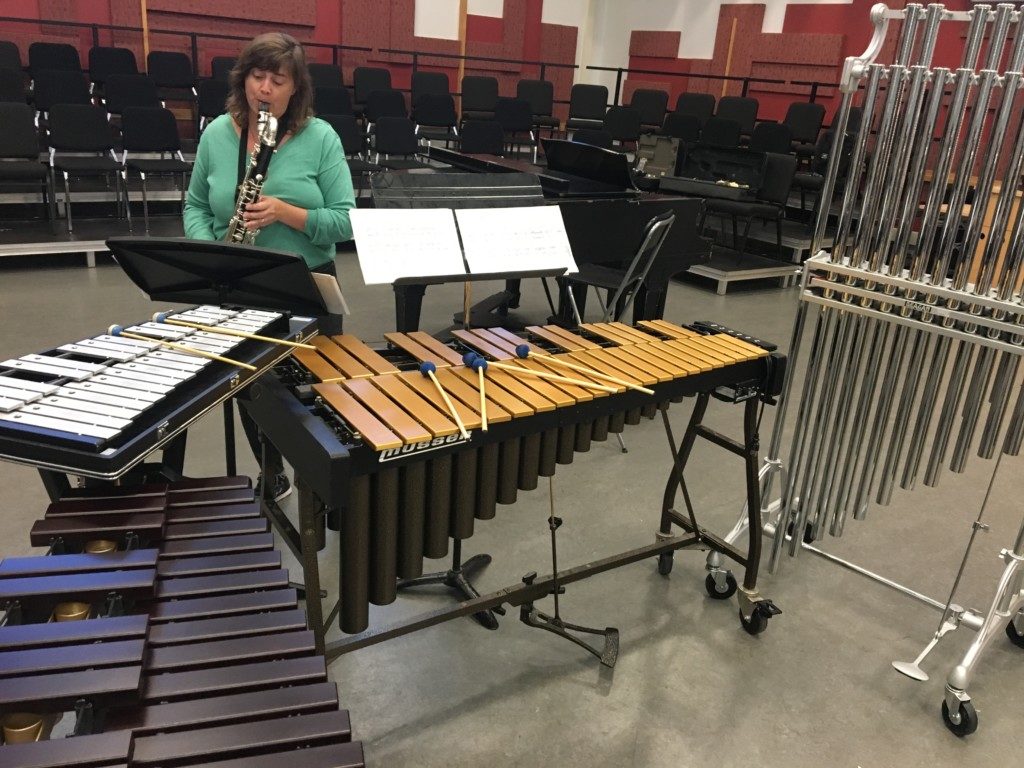 Exploring yet another avenue of technological integration will be Johannes Kreidler's Fantasies of Downfall for vibraphone, audio and video playback (2015). Kreidler (1980-), who describes fantasies of the Apocalypse as "nonsense, quasi-religious eschatology," has created "musically different, very accurate or complete representations of the downward movements." The work incorporates physical-concrete representations of downward movements, as the composer describes, featuring images of the foot and shoes, including one with the shoe touching an individual lying on the floor.
For the second time in 18 months, Red Desert will feature a work by Lucie Vítková, a Czech Republic native living in New York City. In 2018, Porter played Vítková's Five for solo clarinet and cell phone (2018), a work the composer wrote for her. Porter wore headphones, as she imitated a recording the composer made of noise on the clarinet and was accompanied by a cell phone.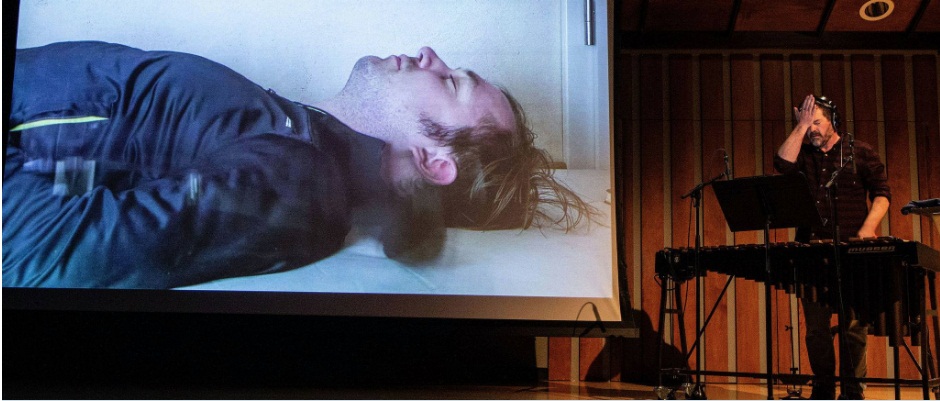 For this concert, she will perform Vítková's Choral no. 13 for clarinet/bass clarinet and vibraphone/percussion, which Red Desert commissioned two years ago. In an interview published earlier this month, the composer says, "I see music as a potential force or resource for change. Often times, music functions as an alternative to the mainstream or extends it. It can elevate people, and people can find some kind of release, motivation or even hope in it. It can contribute to social change and influence the way we live. It keeps things moving."
In previous performances, Maxwell has presented various works from his Cloudseeding series but recently he introduced a new series called Dissent. For this concert, Red Desert will premiere Dissent 2 for clarinet and percussion, inspired in part by Greta Thunberg, the young climate crisis activist whose speeches have stirred passions and controversies. Maxwell says it is a "musicalized version of the speech," adding that it has contrapuntal effects swinging from high to low extremes.
Both performers will play solos from among their most loved composers. Maxwell will perform the first movement of one of Iannis Xenakis' (1922-2001) best known works, Rebonds for solo percussion (1989). A true masterpiece, Rebonds' two parts A and B can be in either order. Maxwell will perform A which only uses skins: two bongos, three tom-toms and two bass drums. Next spring, Maxwell will conduct Xenaki's Eonta (1964) for two trumpets, three trombones and piano at a NOVA Chamber Music Series concert. In Eonta, the brass players walk around on stage and modify their instruments' position to create unique spatial effects.
Porter will perform James Tenney's Monody for solo clarinet (1959). Last year, Maxwell played two movements from the composer's Three Pieces for Drum Quartet (1975/1982). Porter and Maxwell studied with Tenney (1934-2006) at the California Institute of Arts. Tenney was an electrical engineer and a composer, who studied with John Cage, Carl Ruggles and Edgard Varèse. In 1983, Larry Polansky, in an excellent monograph about the composer's early works, wrote that "what is striking about Monody, aside from the obvious skill and beauty of the composition, is its disarming lack of cliché, and above all, the very direct and elegant use of the clarinet (though the piece remains quite difficult to play well). He noted the surprising use of complex rhythms to create a lyrical effect in the composition. Polansky added, "The listener gets the feeling that the rhythmic interest of the score (at least from a visual standpoint) is there because of a desire to make the instrument sing in almost speech/song rhythms."
The second half features three Cage (1912-1992) works performed simultaneously. Porter will play the first three parts of Atlas Eclipticalis for (1961), originally used as music for Merce Cunningham's choreography for Aeon. Porter also will perform Lecture on Nothing (1949), in which the text is printed in four columns to facilitate a rhythmic reading, as the composer instructed.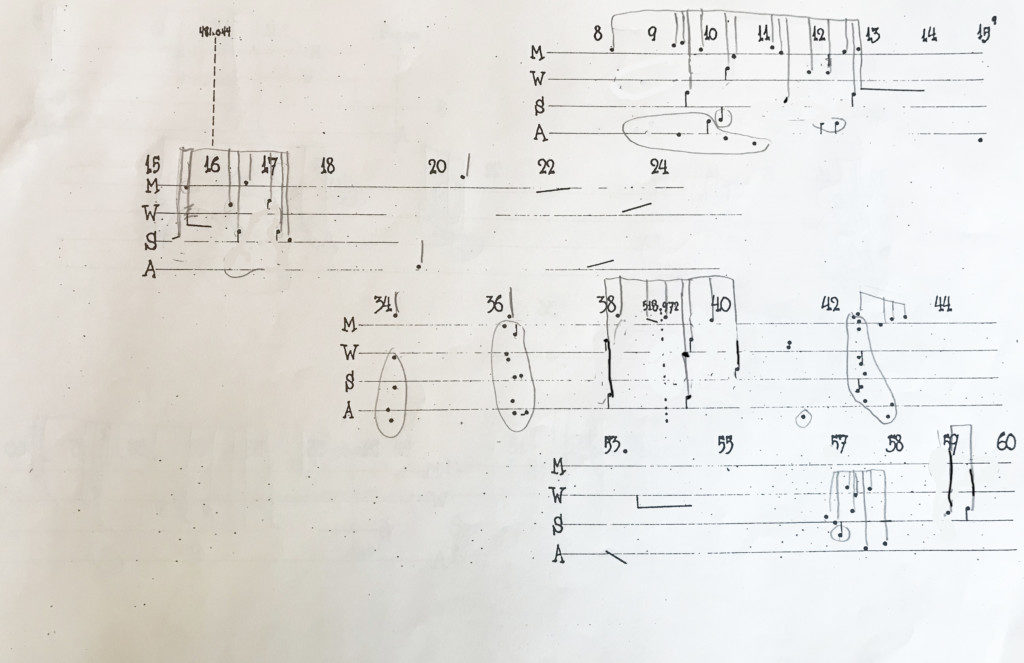 The text is to be read from left to right but not down the columns in sequence. Cage adds, "This should not be done in an artificial manner (which might result from an attempt to be too strictly faithful to the position of the words on the page), but with the rubato which one uses in everyday speech. Maxwell will play 27'10.554″ for a percussionist (1956), which was Cage's last work in The Ten Thousand Things project. As Cage explains, "the notation is in space, with one page equaling one minute. The work may be performed as a recording or with the use of a recording. The compositional means included chance operations and the use of the imperfections found in the paper upon which the work was written."
During its Westminster College year-long residency, Red Desert's activities include three evening-length concerts, ten free workshops, an Ableton Live workshop, a Music Technology Pedagogy Summit and the VU Symposium utilizing the musicians' shared expertise in music entrepreneurship, digital music, experimental music, music technology, electro-acoustic composition, DIY spaces, forming ensembles, new works, contemporary techniques and other aspects to highlight career opportunities in music and the arts.
The concert is free for students, faculty and staff at Westminster College, with ID presented at the box office. For the general public, tickets can be purchased for $10 or $5 for students at schools other than Westminster. Tickets can be purchased online at this Westminster College website.