The world that Amali Wilson is about to experience as an adolescent who has just begun her menstrual cycle is, on one hand, a turbulent one marked by police brutality, sexual assault, discrimination and disenfranchisement. On the other hand, it is a resilient, vibrant one where Black women are at the forefront socially, politically and culturally as activists, writers, performers and community leaders. "More of our voices are being heard and people are learning the undeniable truths about Black women," Feminista Jones, author, social worker, and a community activist based in Philadelphia writes. "We know we aren't literally magic. But it sure can seem like it."
In the Salt Lake Acting Company world premiere of Form of a Girl Unknown, a play by Charly Evon Simpson, Amali (in an exceptional performance by Amanda Morris) is fascinated, on one hand, by the changes her body is undergoing and, on the other, by the story of two siblings (unrelated) who were killed nearby as she imagines what was going through their minds.
The play's opening pops with electricity, as Amali introduces herself. She is loquacious, playful, sparkling and über-curious. Her childhood may have been filled with fairy tales but Amali, who proudly announces her age as "twelve and three-quarters years old," is ready to confront the occasionally gruesome dimensions of those childhood stories and create her own magic.
Simpson's script is constructed brilliantly with subtle sociopolitical and cultural undercurrents that do not disrupt the vivacious rhythms of Amali's lines but instead integrate the story structure in expert fashion. Her hard-working mother (played with supreme nuance by Latoya Cameron) worries about Amali, realizing that her daughter's transition to womanhood cannot already be happening. Unprepared for her daughter's awakening to all of the serious tribulations of adulthood, she prefers to reinforce her maternal instincts to protect her child.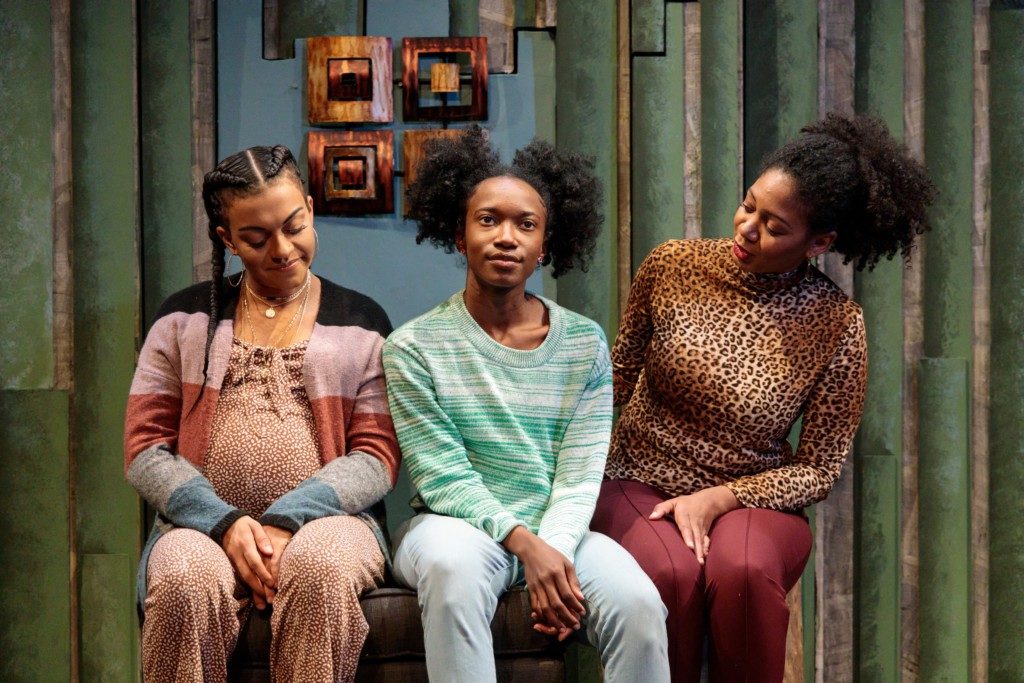 Amali's older sister (Charise, solidly acted by Aaliyah Ann), who is at the end of her teenage years, does not have the time nor focus to listen as closely to her younger sibling as she probably could, especially as she nears the full term of her pregnancy. Meanwhile, Marina (Daisy Allred), Amali's friend, is too distracted herself to be an effective sounding board, so Amali turns to Finn (Bradley Hatch), who still is not ready to give up his boyhood games and play. Like Morris, Allred and Hatch are convincing in manner and style for their youthful characters.
Rounding out the excellent cast is Susanna Florence, who plays two minor roles, as a physician and police officer.
Simpson's writing percolates in a counterpoint of humorous delights and profound epiphanies. The play received a 2018 Davey Foundation Theatre Grant and was given a weeklong developmental workshop at SLAC. Two of Simpson's plays, including Form of a Girl Unknown, are listed on The Kilroys' List, a group dedicated toward efforts for gender parity in theater, as part of the Top 4%, representing 33 works most recommended new plays by women, trans and nonbinary playwrights.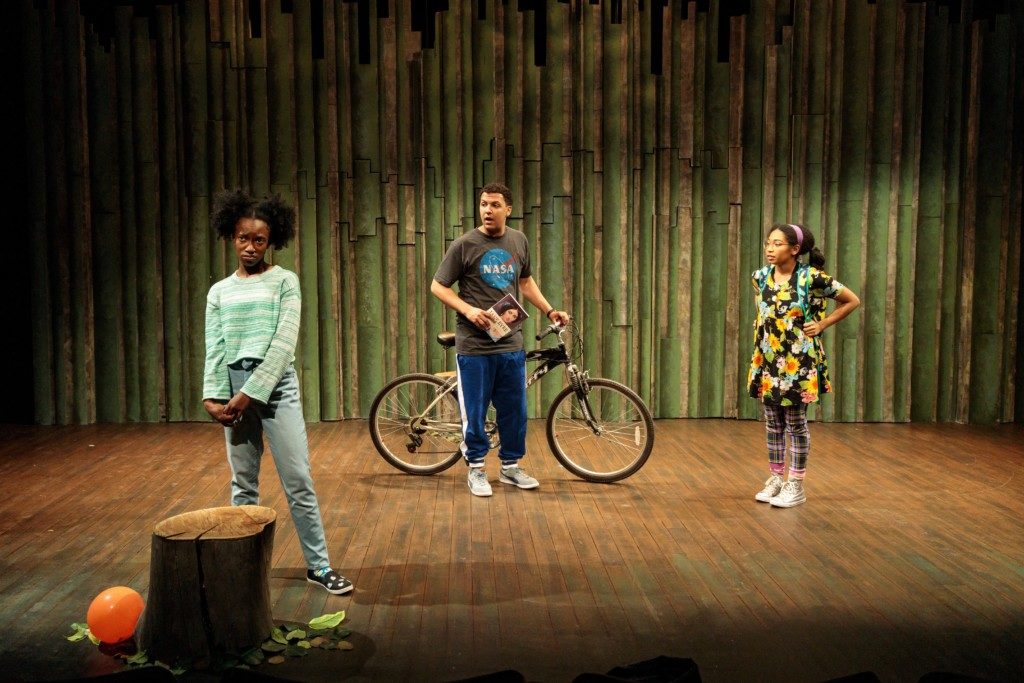 The other Simpson work listed is Behind the Sheet, set in the 19th century and based on the history of Dr. J. Marion Sims in Alabama (cited as the father of modern gynecology) who invented the surgical procedure for vaginal fistulas but also had tormented at least 11 enslaved Black women with great pain as part of his experiment. She imagines the lives of three slaves and their story before the days of the Emancipation Proclamation.
As Liv Jones notes about Behind The Sheet, which was funded in part by the Sloan Foundation, "It is the lack of gravity — the lack of drama and exceptionalism — in Evon Simpson's writing, as each character slowly reveals her personal story and experience, that is the gleam of brilliance amongst brilliance in this work. The brutal use of the disenfranchised — women who could not give their consent because consent was not in their power — are not simply historical or factual. They are personal stories told through the daily lives and daily tasks of each of the four women."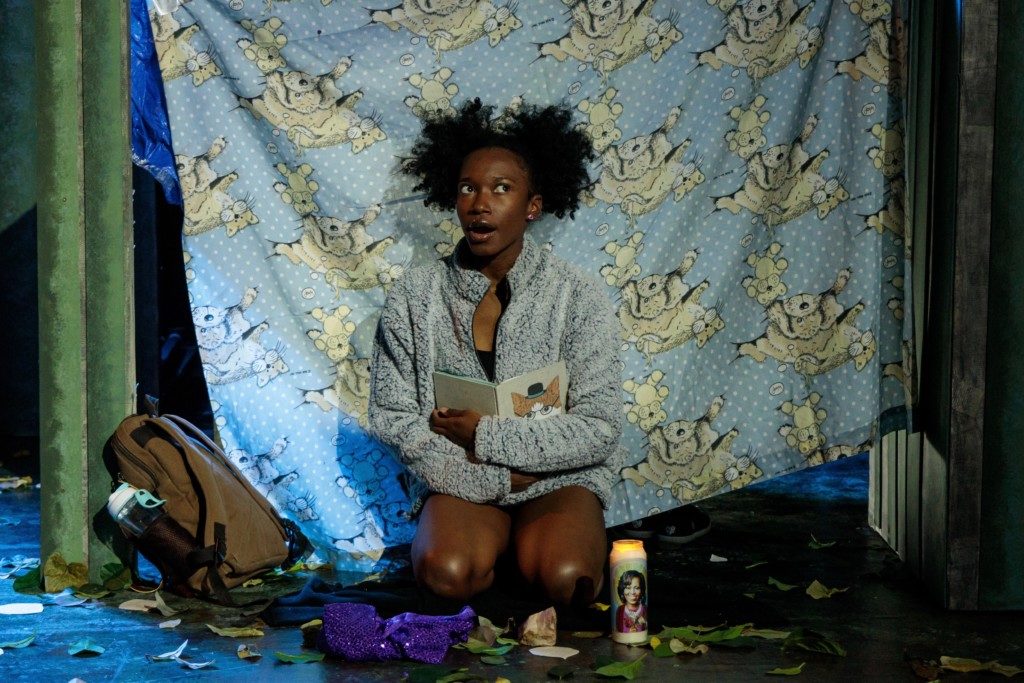 Simpson's writing in Form of a Girl Unknown is equally compelling and its humor certainly does not distract from the intense epiphanies of Amali's story. Amali's growing sense of confidence is reassuring. Amali is determined not to make mistakes in her new status as an independent young woman. Her mother hopes that her youngest daughter will not experience any pain about the social disparities that have not disappeared from history. On stage, Amali signals powerfully the potential for a better future.
Coming on the heels of another outstanding production Death of a Driver, Form of a Girl Unknown, directed by Melissa Crespo, has consolidated an impressive start to SLAC's 49th season. Shoko Kambara's set is ingeniously constructed to open onto different sets for scenes and eventually into the depths of a forest.
Other production team members include Alicia Washington (costume design), Jessica Greenberg (lighting design), Jennifer Jackson (sound design), Linda Brown (specialty prop design), and Jennie Sant (stage manager)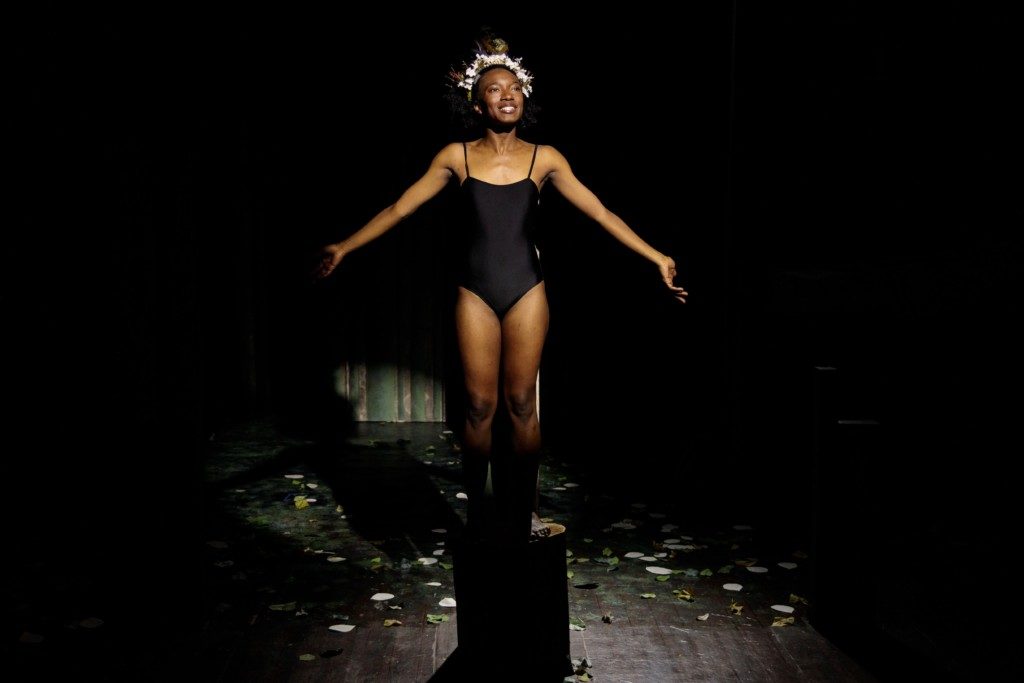 During the run, which continues through Nov. 17, the company will collect donations of feminine hygiene products on behalf of the Volunteers of America, Utah's Youth Resource Center.
Performances in SLAC's Upstairs Theatre (168 West 500 North) will take place Wednesdays through Saturdays at 7:30 p.m. and on Sundays at 1 p.m. and 6 p.m. Additional performances are slated for Nov. 2 at 2 p.m. and Nov. 12 at 7:30 p.m.
Ticket information can be found at the SLAC website.