Even quick research will show that many of the stretching and relaxation classes that go by the name of yoga in the U.S. barely resemble the religious yoga practices of a devout Hindu. But, there also are other implications of stripping away Hindu and Vedic elements from contemporary yoga. The Hindu remains an inscrutable foreign image in the mainstream of American culture. Unfortunately, far too many have missed or ignored opportunities for meaningful intercultural conversations and transfers of yoga's core principles, which could be achieved by reconciling and reconnecting Hinduism and yoga.
These observations about yoga set the foundation for Dipika Guha's Yoga Play, a 2016 work which is receiving a splendid Utah premiere by the Salt Lake Acting Company (SLAC), which is directed by Penelope Caywood. While the play is an immensely successful comedy, Guha also expertly raises a host of intersecting cultural sensitivities and concerns that have major impacts upon the play's characters.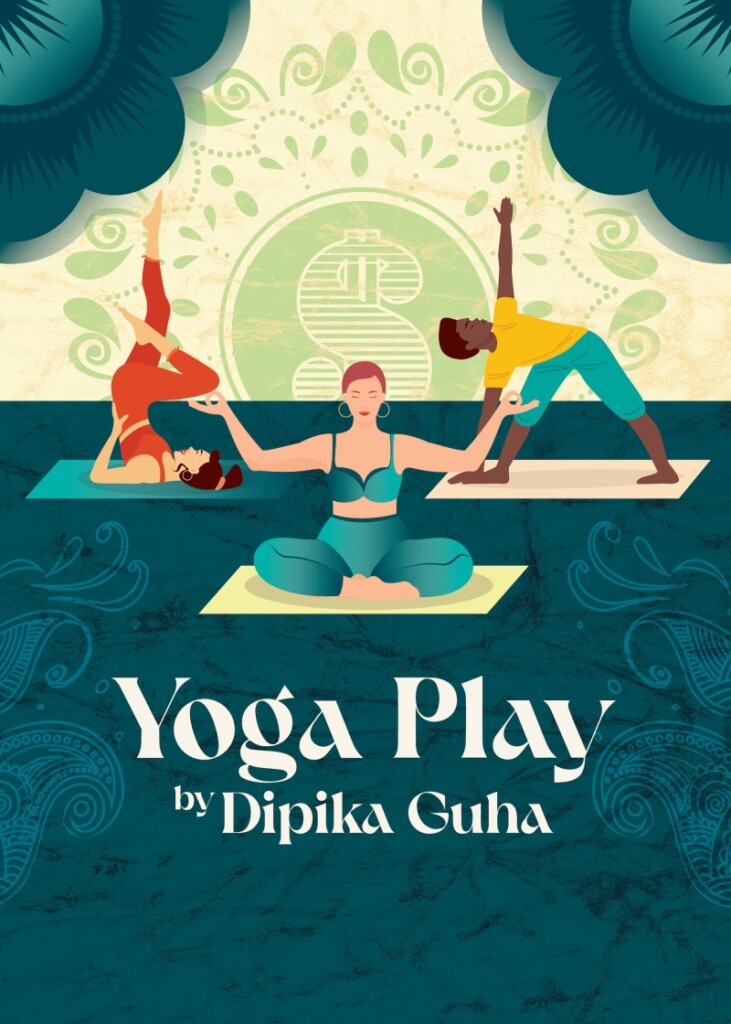 The play races off to a brisk pace that is sustained through its entirety. Jojomon, a giant global athletic and yoga apparel company, is already dealing with one public relations crisis. John (Robert Scott Smith, who is an understudy and appeared in this specific performance) has been widely criticized for body shaming because he believes that carrying clothing in sizes larger than eight will gain no revenue traction. Joan (Tracie Merrill-Wilson, who is an understudy and appeared in this specific performance), who has returned to the company as CEO while John goes on retreat, wins the argument, by offering estimates of its profitability for broadening its consumer base.
But, barely after this public relations problem has been resolved, an even bigger one arises. A BBC investigative report reveals that a manufacturer in Bangladesh is using child labor to produce the apparel. The reference to corporate exploitation here is important. A decade ago, the Rana Plaza complex collapsed in Bangladesh, where five garment factories were located that were producing items for global apparel brands. Some 1,135 people were killed and eventually 38 people were charged with murder, including the owner of the plaza.
But, half-sincere apologies and regret statements are not going to rescue Jojomon from this PR crisis. Insisting that the company find a real yoga master to use in a PR campaign to restore the company's reputation as authentic, Joan has yet to realize how outrageously her plan will unfold.
This is comedy that takes lots of risks and the SLAC cast handles the challenge with skilled delivery and timing. Fred (Archelaus Crisanto) is from Singapore where he cannot live safely and comfortably as a gay man. Jojomon also has promised to help him secure his green card to stay in the U.S but they have yet to deliver on it. Fred's colleague Raj (Mohan Sudabattula, who is an understudy and appeared in this specific performance) is an Ivy League alum who is from Delaware and knows practically nothing about his family's Hindu heritage.
Among the many humorous scenes in the play include Ram's phone call to his parents for suggestions to find an 'authentic' yoga leader. Meanwhile, Joan visits a local yoga business in the hopes of finding an authentic connection. She meets Romola (Jennica Anusua), who epitomizes the American practice of yoga, which is far from being described as even a semblance of the Hindu spiritual tradition. Joan is so desperate to fix the crisis quickly that she is condescending to Romola and mispronounces her name frequently.
When the Jojomon team believes they have found an authentic candidate, they are shocked to discover that Guruji (Robert Scott Smith) was once a disenchanted English teacher in California who discovered the ascetic life on the subcontinent. Despite his pale skin and his fake accent, Guruji could fit the desired tone and demeanor well for this atonement campaign. However, Joan's obsession with coming off as authentic and not as a corporate failure gets the better of her need to be prudent and wise. And, this is where the play heads into its funniest territory. Regardless of its ludicrous premises, Joan decides that Raj will portray the guru and she recruits Romola and Guruji to help prepare him.
The second act pops with all of the right chemistry. In particular, Sudabattula and Crisanto nail the comedic ensemble play between their respective characters of Raj and Fred. But, it is not all light and fluff. In one scene, when Raj is frustrated by Guruji's unresponsiveness, he says, "Look here, we both know I'm the real Hindu because I was born Hindu and that's the only way you can be Hindu so …as ironic as this transaction is — and believe me, the irony is very present for me, I'm willing to concede that an outsider might understand my culture better than me, because that's what the whole idea behind anthropology is, right?"
This is a smart production and kudos to SLAC for bringing on Sidikha Ashraf as dramaturg. Born and raised in the Queens borough of New York City, she is a Tamil-American Muslim who also is a writer, comedian, yoga practitioner and arts festival curator. Her connection to the production is evidenced by the actors' astute grasp of the complex layers of identity their characters possess. Born in Calcutta, Guha, who is now based in Los Angeles, was raised in India, Russia and the United Kingdom.
In a Bomb magazine interview with colleague Jen Silverman, Guha, who also has extensive writing credits for television, explained the approach she uses in all of her plays. "I suppose I see who we think we are as a kind of elaborate fiction. Our personas seem to me to be so temporary," she said. "I think theater is a place where we openly acknowledge that 'who we are' is, at best, a loose assemblage of things. It's so loose, in fact, that you can put it down to become someone else for a time. This is very freeing to me because it acknowledges what I believe is a spiritual fact: We all contain playful multitudes or aspects, and our 'self' is really a collection of narratives about past experiences. None of these stories about who we are need be permanent. The theater allows for this very direct truth to be unarguably present. That has always felt fun and real and liberating."
Undoubtedly, the SLAC production achieves these critical objectives, with a fun, liberating experience that puts the on-the-nose undiluted truths on stage. The production run continues through May 7. For more information and tickets, see the SLAC website.