Nearly 50 years ago, Philip Glass (now 81) composed some of the most brilliant pieces of early minimalism. They were the seeds of a new complex music practice that only in the 21st century has been clarified for its utmost significance. Alex Ross, the eminent music critic for The New Yorker magazine, has written about the "almost occult power of early Glass." Five years before he completed the opera Einstein on the Beach, Glass composed Music with Changing Parts in 1970, an epitome of minimalistic flexibility rounded out by precise rhythmic character and a surprising sense of warmth in musical textures.
The first recording by the Philip Glass Ensemble featured seven musicians, most of whom doubled on other instruments that included winds, trumpet and electric violin, piano and guitar. Some of the musicians vocalized the tones in the score. Glass' score does not dictate a specific instrumentation for the piece and successive recordings and performances have interpreted the piece through various distributions of instrumental sounds.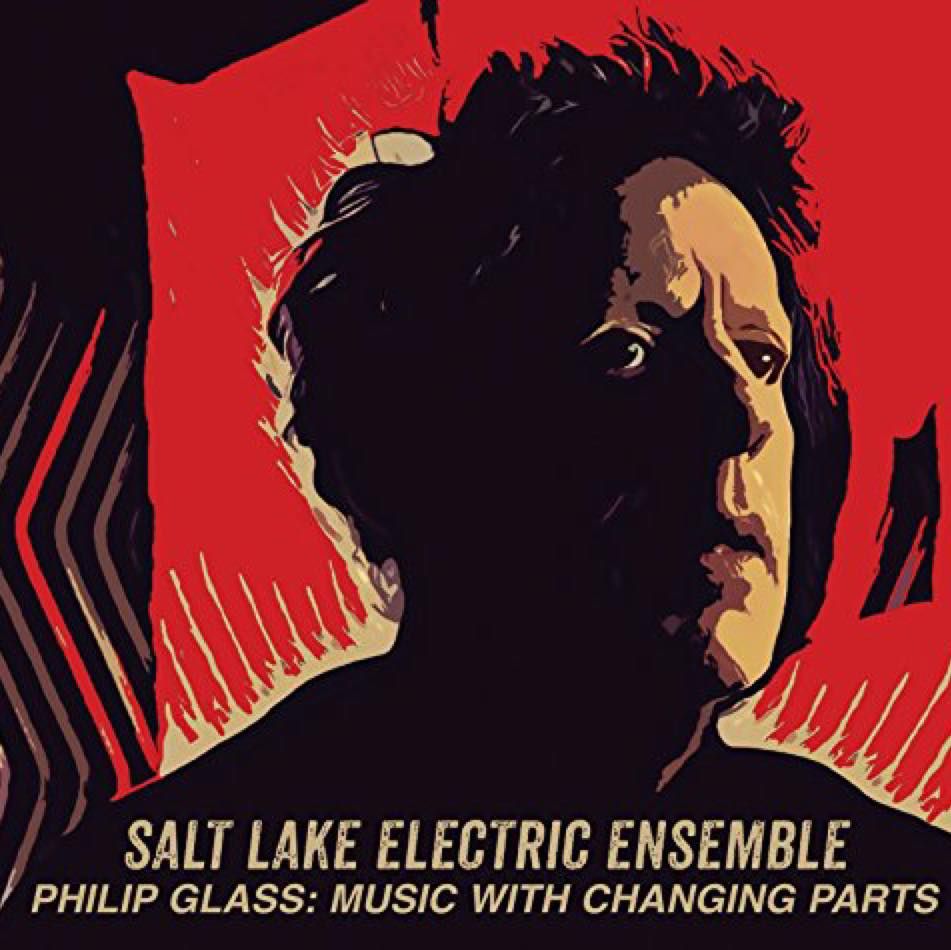 An ensemble now has approached the work by emphasizing the latest computer music technology that has pushed the boundaries of music production toward new creative paths. And, Orange Mountain Music, Glass' recording label, has just released the Salt Lake Electric Ensemble's (SLEE) rendition of Music with Changing Parts, realized with multiple laptop computers and Ableton Live software along with acoustic instruments. It is a major achievement for an ensemble that started in 2009 and already had been acclaimed for its performances and recording of another classic of minimalism, Terry Riley's In C.
With the Glass recording, SLEE has expanded its potential musical terrain, demonstrating the artistic value, musical problem-solving capabilities and creative magnitude of in-studio composition. In a 1983 issue of Down Beat magazine, Brian Eno wrote about what it means to come to the studio without a fully explicated conception of the piece. "Once you become familiar with studio facilities, or even if you're not, actually, you can begin to compose in relation to those facilities," he wrote. "In a compositional sense this takes the making of music away from any traditional way that composers worked, as far as I'm concerned, and one becomes empirical in a way that the classical composer never was. You're working directly with sound, and there's no transmission loss between you and the sound — you handle it."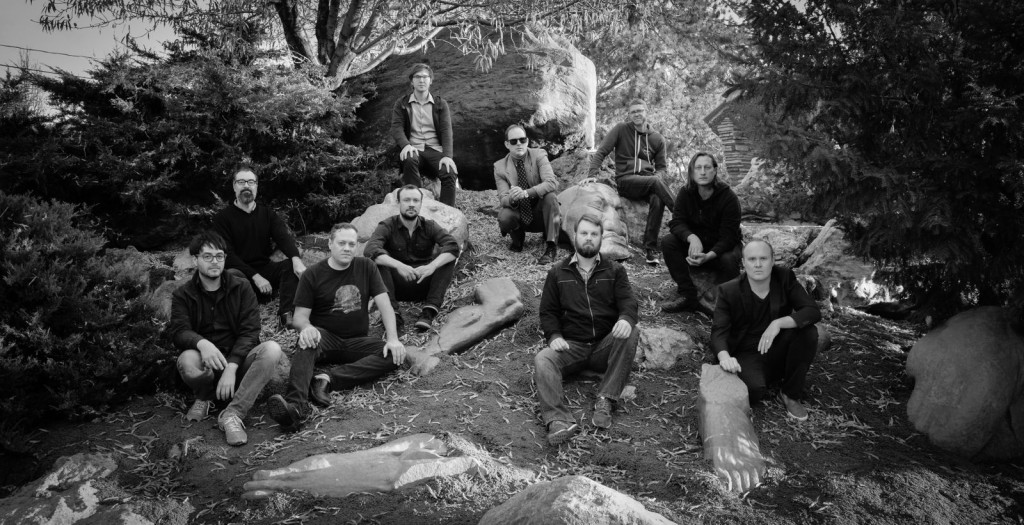 Eno's prescient essay is key to comprehending what SLEE has achieved in this recording. Indeed, Glass' score for Changing Parts is bedeviling. The score shows as many as eight musical lines occurring simultaneously, along with the sustained tones.There are 76 repeating harmonic patterns and with their varying lengths (some as few as four notes while others have many more, up to 48) Glass juxataposes them to create waves of rhythms that are never anticipated in the way a listener might expect.
Meanwhile, it's up to the musicians to choose and blend instrumental colors and textures with the sustained tones. SLEE's instrumental palette certainly rivals some of the best known recordings of the work. In addition to the eight laptops, the musicians (Austin Booth, Daniel Clifton, Ryan Fedor, Nick Foster, Charlie Lewis, Oliver Lewis, Greg Midgley, Matt Starling, Mike Wall and Scott Wasilewski) handle duties on keyboards, guitar, bass guitar, cello, saxophone, flugelhorn, trumpet and synthesizer. Guest artists provide additional long tones including Laura Summerhays, vocal, and Roger Falck, guitar.
However, that flexibility is not approached haphazardly. Artistic democracies still need cohesion to produce coherent, cogent sonic experiences. The challenge is deciding how to achieve that overall sound without compromising the structural aesthetic that has fortified SLEE's artistic mission since its founding.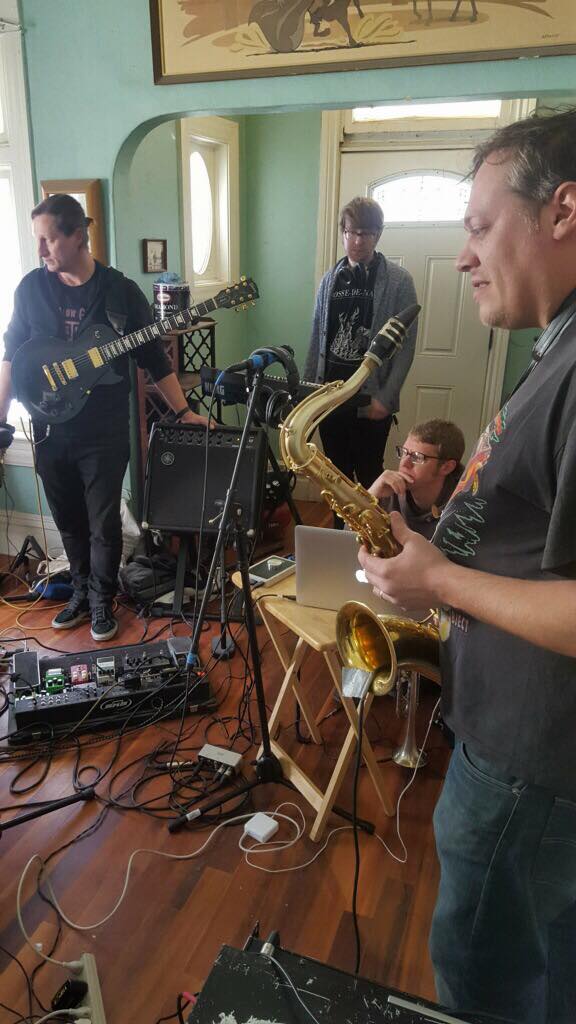 At first, SLEE members were unhappy with how the repeated melodic patterns sounded. The members thought they were boring, steely and unemotional. Performing the work seemed more like a slog than a spiritually liberating experience. Glass had been experimenting with moving and flexible parts in other works but Changing Parts stood out for its use of series of sustained tones that individual musicians would select and play judiciously to contribute to the overall warming and mesmerizing sound of the ensemble.
"We were thinking that we might need a visual conductor to pull this off," Matt Starling, one of the original SLEE members, says in an interview with The Utah Review. "We were struggling with aligning how to change sounds and move on in the music," Charlie Lewis adds.
SLEE solved its problem, taking to heart Eno's perspective on in-studio composition and leveraging the expertise of some of its newer members. They include, for example, Scott Wasilewski, who has brought advanced coding knowledge and practice, and Mike Wall for his skills as a DJ and music producer, which includes the website soundFORMovement.com that offers a collection of more than 400 tracks of sound design made for dance and film. SLEE's members bring an impressive palette based on the experiences of classically trained musicians as well as those in rock music and from other performing arts genres, including Daniel Clifton, dancer and choreographer.
The ensemble set up a computer-controlled platform that would issue commands indicating when musicians should move to the next pattern. The five members interviewed by The Utah Review variously voiced the consensus: With Ableton Live, "the sky's the limit" for how it allows performers to manipulate musical material in real time in a way not conceivable at the time Glass composed Changing Parts, much less even later, such as in the 1980s when MIDI technology had given musicians new tools.
Wall determined the pacing of the commands. "This freed everyone so we could focus on producing live sound, instead of worrying what the next cues were," Lewis says. This generated a level of internal networking for SLEE's musicians, which has made them aware of their capacity to take on more complex music than previously. To wit: Wasilewski astutely notes, the technology is more than just solving the problem. "It's finding the next batch of problems," he adds.
The resulting 46-minute recording, completed after approximately 200 hours of studio work, is sure to tantalize listeners, especially those who purchase the CD as opposed to downloading streams for digital audio players. One can hear the intricate shifts in instrumental voices throughout the work and each listening experience offers up a fresh set of audible discoveries. And, every hearing of Changing Parts makes the music sound progressively transcendent and psychedelic in the most positively harmonizing way. The best sound quality comes in the Studio Master (24 bit) FLAC format.
The experience highlights new opportunities, a point noted by Austin Booth who talked about how various members' contributions have allowed SLEE to navigate a steep learning curve with such demanding music and to maximize the opportunities of in-studio composition. As Eno noted in his classic essay, "It puts the composer in the identical position of the painter — he's working directly with a material, working directly onto a substance, and he always retains the options to chop and change, to paint a bit out, add a piece, etc."
Likewise, the project of recording Glass has primed the ensemble for its efforts in making original music. This spring, SLEE has been invited to compose and perform the original score for the final installment of the Together Alone trilogy, a work choreographed by Daniel Charon, artistic director of the Ririe-Woodbury Dance Company. Charon has been interested in the social impact of technology and how it also plays in creating new dance works. It is an ideal collaboration for a group that has learned how to leverage its talents and skills to maximize its overall musicianship, which the international music community now is beginning to acknowledge.
The recording is available on CD from Amazon.com and the SLEE website, as a download from Apple's iTunes, and will be streaming on Spotify and Apple Music.