The artistic promise of Ririe-Woodbury Dance Company's upcoming concert evokes every imaginable aspect of spring. There is the uplifting, rejuvenating force of Netta Yerushalmy's new choreographed composition that vividly uses the extensive movement vocabulary of dance along with costume changes and fast-shifting designs of stage lighting to deconstruct metaphorically traditional narratives. It is the dancers' invitation to the audience to make free associations; to give words, metaphors and images new or expanded meanings and interpretations.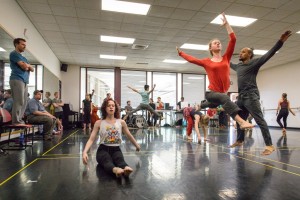 And, there is one of the boldest, most widely anticipated experiments of artistic collaboration in Salt Lake City of recent years, represented in '53 Rooms.' Daniel Charon, the company's artistic director, created the new work which incorporates 20 dancers on stage and a live performance of Terry Riley's 'In C,' a pioneering work of the minimalist music period, by the Salt Lake Electric Ensemble (SLEE).
Three performances of Ririe-Woodbury's spring concert will take place April 9, 10 and 11 at 7:30 p.m. in the Rose Wagner Center for Performing Arts.
"There is that enthusiasm to try new things in the spring," Charon says. "I am always looking for ways to collaborate because the experience really pushes you as an artist. And, in this collaboration with the Salt Lake Electric Ensemble, I am discovering why it's so exciting because it motivates me to make artistic choices that I typically wouldn't make."
Likewise, the experience has proved equally fulfilling for SLEE's members, who have gained an extensive reputation for their innovative explorations of the musical potential of experimental ambient, rock, and electronic music along with a widely praised recording of Riley's iconic composition from 1964.
"It has been a remarkable collaboration for us as musicians and for many of us to see first hand the creative process of contemporary dance," Matt Starling, an SLEE member, explains. "This is what is called for in Riley's score and it's been wonderful to see this philosophy extend out to the art form of dance. Daniel has immersed himself completely in the philosophy of the musical score."
The process which culminates in Charon's new '53 Rooms' is worth exploring. Called "the global village's first ritual symphonic piece" by critic Janet Rotter, 'In C' is based on a concept with stunningly deceptive simplicity. Each performer works from sheet music with the same set of 53 short musical phrases that range anywhere from a half-beat to 32 beats. As with any traditional musical composition, each performer begins on the first phrase repeating it an undetermined number of times before moving on to the second phrase and so on.
For five years, SLEE generally has performed and recorded the work as, in the simplest description, a 'laptop orchestra,' with between seven and nine musicians rendering Riley's composition in electronically synthesized sounds and tones accompanied by electric and acoustic instruments. Many critics have praised SLEE's recording of the work. Robert Carl, a musicologist who has written extensively about the composer (Riley), called the recording "an unusually ethereal interpretation" which "offers new ways to think about this postwar classic." One of the longest running online indie music publications DOA (Delusions of Adequacy) wrote the recording "provides a new twist on an old story but succeeds in maintaining the spirit of the composition by creating sprawling ambient atmospheres similar to Fripp and Eno's Evening Star and morphing through various electronic music archetypes, including Kraftwerk-like syncopations, while staying grounded with the acoustic touches."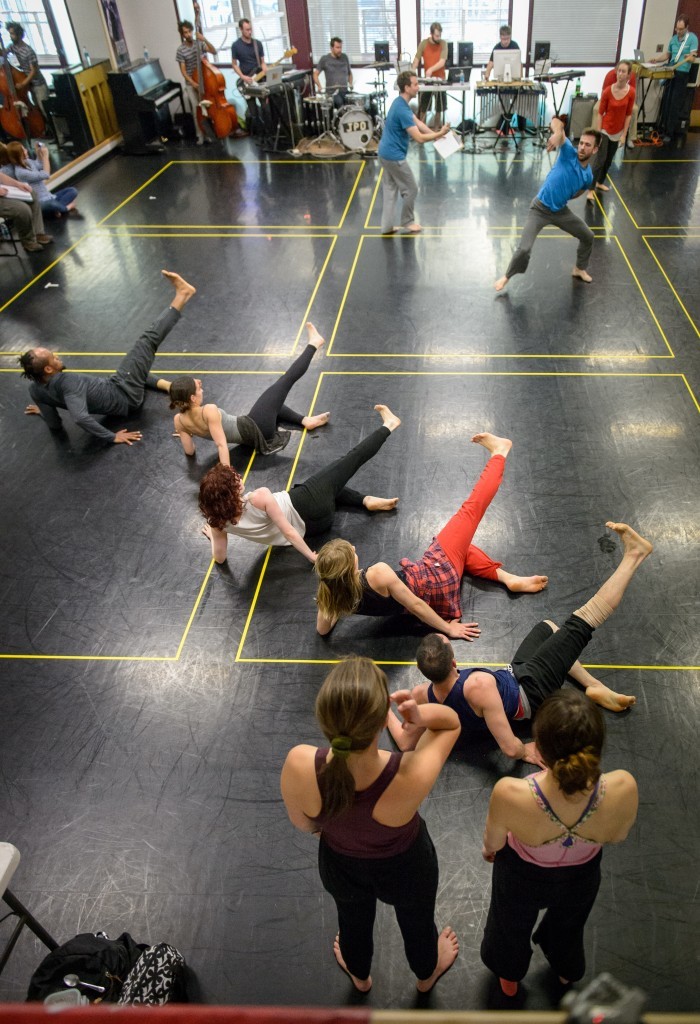 For the premiere of '53 Rooms,' SLEE has rebuilt the laptop orchestra from the ground up, taking advantage of recent advancements in electronic sound quality, which extend the timbre and textural possibilities of the music. In addition, SLEE's musicians will also perform on various instruments including electric bass guitar, traditional drum kit set and percussion, electronic drums, stand-up bass and flugelhorn.
However, for the purposes of choreography to fit the music and to 'harmonize' both the dance and musical ensembles, this is where the extraordinary complexity of Riley's 'In C' emerges. Keep in mind each performer moves at a different pace through the modules, while simultaneously shifting and reshaping gradually the musical tones, timbres and textures of the piece. There is, musically, no clear leader at any point in the music.
However, as Starling indicates, there are sufficiently distinct landmarks throughout the piece which have proven helpful for the dancers and musicians to work through the complex logistics involved with rendering the music in a contemporary dance concert setting. For example, the work normally can last from an hour to 90 minutes but for '53 Rooms,' the musicians have adapted quite well to the choreographic demands and the work is coming in at approximately 40 minutes. In the plainest terms, '53 Rooms' exemplifies the range of creative possibilities when two groups with different performing arts experiences collaborate.
Charon, who normally has not used structured improvisation in his choreography, embraced the flexible possibilities of Riley's music, essentially creating his own sets of modules or loops of movements for the dancers – seven from the company and 13 from The University of Utah's dance school. Likewise, Charon initially was undecided about where SLEE's seven musicians would be placed for the performance. Typically, the musicians would be in a traditional orchestra pit but Charon realized early on in rehearsals that the best spot for the musicians would be on stage.
"For those of us who have been so heavily focused in music and uneducated or underexposed to dance, it has been fascinating to tap into the energy of how the dancers respond to Riley's music," Oliver Lewis, a SLEE member, says.

Indeed, from both ends, the preparation for '53 Rooms' has been a mutually significant educational experience in terms of sharpening visual and listening skills for dancers and musicians with both groups gaining an enriched sense and deep respect for each others art. Hence, individual artists are realizing spring's promise, according to Charon, by learning to embrace their personal freedom, engaging with others and then fitting it all into a cohesive group.
The only other work Charon commissioned for the program is Yerushalmy's new 27-minute piece entitled 'Norwegia,' which is for six Ririe-Woodbury dancers and includes various music including Bach, Russian and Israeli folk song strains, and original electronic music by Holly Herndon. "I wanted to give audiences a good program of two strongly contrasting works that distill feelings of joy and energy in different ways," Charon explains.
Earlier this year, Yerushalmy, who is a recipient of a Guggenheim fellowship, spent an eight-day residency with the dancers creating the five sections that comprise 'Norwegia,' which she quickly explains should not be construed on hearing the work's title as being about Norway. "Absolutely not," Yerushalmy said in a phone interview this week. "It works with the challenge and expectations of meaning and to become more comfortable with the ideas of disjointed composition that don't have to follow one line of thought." Unlike '53 Rooms,' Yerushalmy only allows, as she describes it, "the tiniest bits of improvisation" in 'Norwegia.' She adds the work is created to be bold, lively, passionate – with frequent costume and lighting changes and then switching these elements without necessarily resolving them.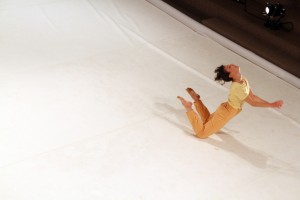 One gets a clear sense of her artistry from a review of effusive praise last fall in The New Yorker magazine about the performance in her work 'Helga and The Three Sailors' at St. Mark's Church in New York City. Andrew Boynton wrote, "Yerushalmy is a fearless dancer; when she moves, she moves fully; she takes risks, existing at the edge of being off balance. She came downstage, toward the audience, and continued on past the border of the white floor, getting right up close; as she travelled back and forth, she made direct eye contact with people in the audience. She crossed behind the backdrop and, lit from behind, became a shadow that gamboled past, her silhouette shrinking and growing as she varied her distance from the backdrop. The beautiful sanctuary at St. Mark's felt alive."
Charon, who came to Salt Lake City from New York City, has worked extensively with Yerushalmy, who is based on the East Coast and has a long list of awards and commissions from dance companies in the United States and elsewhere. A guest artist and visiting faculty member at the University of the Arts in Philadelphia, she has visited Salt Lake City numerous times, including the 2013 Salt Dance Festival at The University of Utah.
Tickets for performances are available here.